Excellent audio quality used to demand separate bulky speakers, which were anything but practical (not to mention expensive). Today there are endless options for monitors with integrated speakers – many of which resolve the space issue, but not all deliver when it comes to visual and audio quality.
With so many options, we've worked through the best of the best to come up with our top-five countdown of the best monitors with built-in speakers.
This review weighs up a number of features, including audio experience and display quality, of five affordable options.
Before we begin our countdown, let's first talk about the benefits of monitors with in-built speakers – beyond cost and compactness.
List Of Best Monitors With Built In Speakers
The Benefits of Getting A Monitor With Built In Speakers
We live in a world of minimalism. Whether at home or at work, most consumers are signed up to the thinking that a cluttered desk is a cluttered mind. So for the majority, monitors with built-in speakers are the clear choice when given the option between bulky separate speakers or a slim monitor with speakers which offers comparable sound quality. For those that opt for the later, they also eliminate unsightly wires.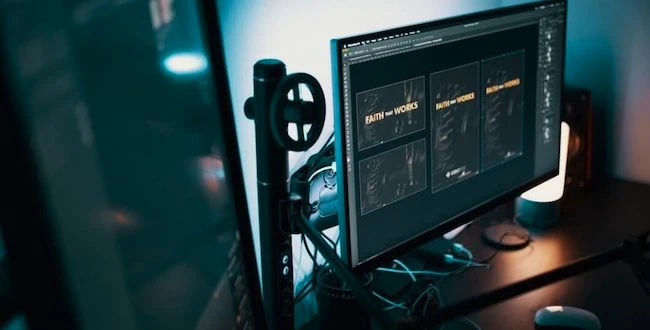 Another downside of a separate speaker/monitor set-up is that you might need to choose between which technology will be high quality – your speakers or your display, if you're working to a limited budget.
Finally, monitors with built-in speakers needn't involve a heavy price tag. As you're about to see, the following monitors won't break the bank.
HP VH240a 23.8-Inch Screen
The HP VH240a 23.8-Inch monitor consistently scores high with tech reviewers. Digitweek called it a pleasing on the eye, impressive bezel-free monitor for the home-office, while DisplayNinja noted the great image quality and exceptionally versatile stand.
Featuring a 178-degree viewing angle means ZERO color shifts even when looked at from extreme angles, and the screen also has an anti-glare coating.
The monitor delivers no less than 16.7 million colours, but you will need to test and tweak different settings to get to the crispest, most vibrant calibration (head to an online LCD monitor test website to work on this).
The integrated speakers are 2 watt, for which there's an audio jack, but no audio line-out headphone port.
A final noteworthy feature is the stand – which is seriously flexible. Lift the screen up to 130mm, tilt it by -5°, 30°, swivel by 360°, pivot by 90°, and VESA mount it.
Sceptre E248W-19203R 24-Inch Monitor
The Sceptre E248W-19203R 24″ is a solid monitor that puts in a good performance for an excellent price.
Designed for everyday home and office to-dos – from browsing online to watching videos, the Sceptre E248W-19203R is a rather sleek looking monitor that will easily keep up with everything but the heavier of demands (such as professional gaming).
The ultra-thin bezels make for a screen that accounts for the majority of those 24 inches (23.8 inches, to be precise).
The screen features LED backlights, with a resolution of 1920x1080p and a 16:9 aspect ratio, (which equals a full HD display).
A big plus point of this monitor is how responsive it is, with a low lag that is on par with monitors that are far more expensive.
Acer R240HY bidx 23.8-Inch Display
The Acer R240HY features full HD display resolution of 1920 x 1080 pixels and a standard 16:9 aspect ratio, finished with an anti-glare coating.
This monitor with in-built speakers is marketed as a gaming monitor, which makes for snappy response times and provides for a picture quality on par with a pricier IPS monitor, set within a super-slim bezel of about 0.5 cm.
The stunning display is thanks to a 100,000,000:1 contrast ratio. And while the monitor has a standard refresh rate of 60hz, gamers and serious movie fans will be happy to hear that this Acer monitor can be overclocked to a rate of 75hz.
This monitor with integrated speakers has HDMI, DVI, and VGA input ports, as well as a headphone jack. However it does not have any USB ports, audio peripherals, or a DisplayPort input option.
HP 24ea 23.8-Inch Panel
The HP 24ea easily contends to be the most elegant monitor on this list, but it's perhaps the screen brightness, vibrancy of color and higher quality IPS display (rather than cheaper VA or TN panels) that set this bit of kit apart.
The HP 24ea weighs just 3.07kg, for ultra-easy lifting and shifting from one place to another.
Expect a crystal clear image (you can thank the 250 nit brightness and 10 million to one dynamic contrast ratio for that).
ViewSonic VA2759-SMH 27-Inch Monitor
The ViewSonic VA2759-SMH is a good choice whether at home or work, offering full HD and refined details.
Connectivity provides for plenty of options, however you work or play – offering POS systems with HDMI, and VGA inputs for laptops, PCs and Macs.
ViewSonic has thought carefully about who'll be using this product, with settings for different users. Named 'ViewMode', this monitor can be flipped and switched through "Game," "Movie," "Web," "Text," and "Mono" presets.
Another feature worth noting is the 'ViewSplit', which allows for customising a workspace by dividing the screen into multiple windows, for working on several applications at once.
Our Top Monitor Choice
External speakers have had their day. While every monitor on this list here features integrated speakers that deliver sharp sounds on a budget, the 2 x 2-watt speakers are complemented with a host of other high-end features.
With the HP VH240a, users get quality audio and a versatile monitor with plenty of features you'd expect from the more expensive of monitors.
Its flat back is ready for sitting flush with a wall when mounted, and while on its stand it tilts and turns, with adjustable height, swivel and pivot (making it fully ergonomic).
Features To Look Out For With Integrated Speakers
Ultimately, the goal will be to find speakers with 5 Watts or higher because when you start dropping to the 2 range, things start to get disappointing very quickly. However, you need to [highlight-it color-1]consider the specifications of the monitor[/highlight-it] too and weigh it up with the wattage of the speakers.
You're likely not expecting audio dominance, but try and find the monitor specs you want while combining 5+ Watt speakers if possible.
Here are other monitor features to consider before making your purchase.
IPS Display
In-plane switching panels are a type of LED display and are considered as providing the best colors. Furthermore, colors vibrancy isn't affected greatly when viewed at different angles, like with other monitor types, such as TN monitors.
For this reason, IPS displays are more popular for artists and designers alike, due to their image quality.
However, do not expect a high refresh rate if used for gaming. TN displays are better suited for this application.
Headphone Jack
This goes without saying, but if you have speakers integrated into your display, you will also want to have an option to use your headset.
Like external speakers that have an audio jack to redirect the audio to your headphones, make sure your monitor offers one too!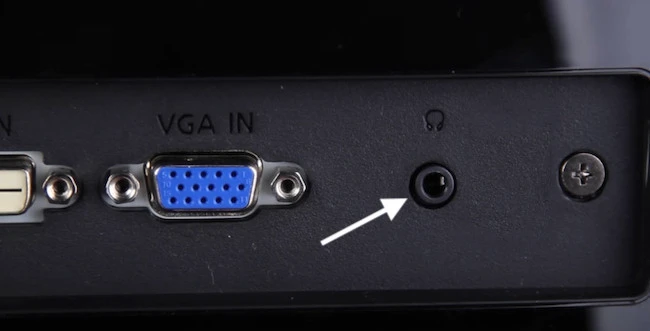 DC Power In
What does DC power have to do with anything?
Well, having a power brick external from the monitor, means it's not built into the monitor. This would likely make your monitor thicker in profile, especially when it comes combined with in-built speakers.
Screen Bezel Thickness
Bezel thickness is not a feature many think about until it is too late. Not only does the display monitor look streamlined and appealing, but a thin bezel has an other advantage.
Duel screens workstations are almost the norm in today's working environment. No longer do we have to flick through browsers multiple times on one screen, when we can simply split them up on two.
Having a thick bezel means a substantial "gap" when placing the monitors side-by-side. We want to create the illusion it's one screen throughout, and this can be better achieved with thinner bezels.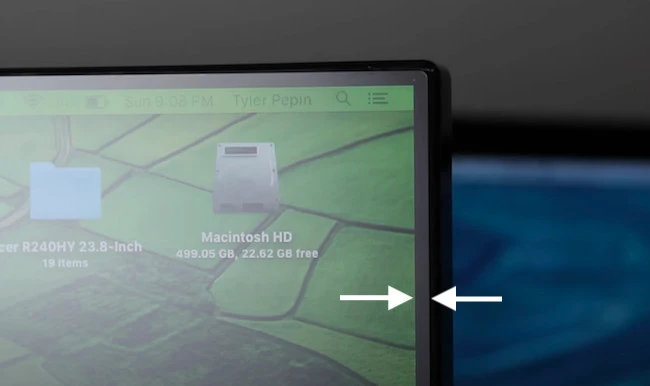 Eye Care Technology
It's no secret we are spending unnatural amounts of time sitting on chairs during working hours. With that comes staring at screen monitors emitting blue light into our eyes for hours on end.
Some manufacturers are taking eye health seriously and finding ways of reduces stress on the eyes. For example here are 3 examples of different technologies that can be used to help protect your eyes:
1. Flicker less technology
This technology eliminate screen flickering that puts stress on your eyes over long periods.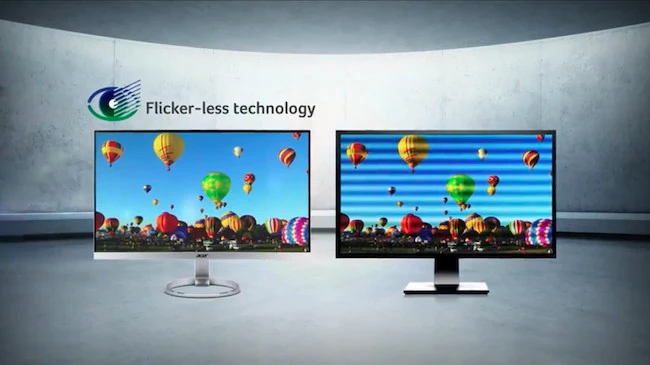 2. Blue light filter
The screen technology filters out blue light that can be harmful to the eyes over prolonged periods. I know first hand the impact this can have on the eyes, you have only one pair, so be sure to take care of them.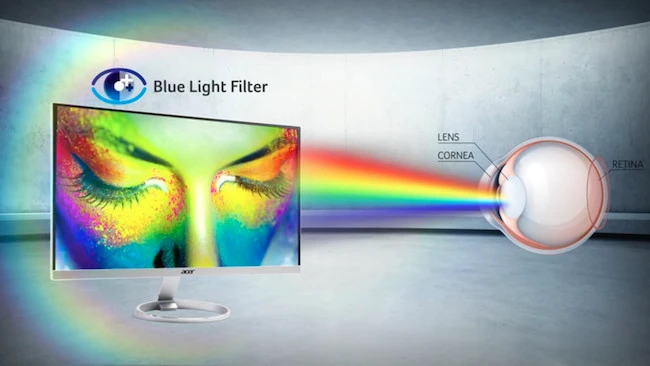 3. Anti-glare technology
Although not directly designed to protect the eyes, annoying background reflection is a real issue and can impact work performance. Some panels have technology to reduce and even eliminate this reflection.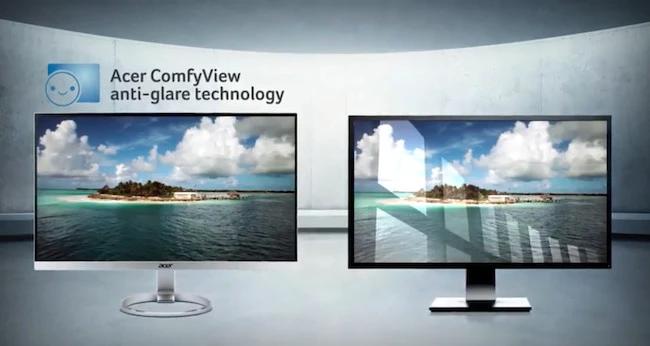 Tilt, Height Adjustability & Colors
Looking at your screen at the wrong angle may compromise the vivid colors on offer. Which is why easily being able to tilt to different angles and adjust height, is convenient for posture and for clearly seeing those colors.
Note: This will also depends on the type of display you have. For example, IPS displays have much better viewing angles than TNs. meaning vibrant colors still show when viewed from an angle, therefore, tilt and height adjustably is more useful for TN displays.
Being Realistic & What NOT To Expect From These Displays
Let's be honest. It is unlikely you're looking for audio superiority with built in speakers, and that you're aware there's going to be a compromise somewhere for the convenience of not having separate dedicated speakers.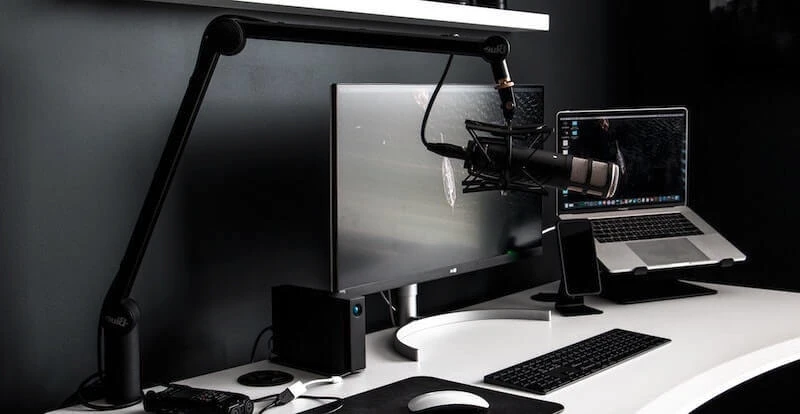 Monitors are thin, so it goes without saying that there's limited space to integrate an impressive sound system that can produce rich sound quality and a pumping bass. If you're an audio prodigy or a music fanatic, this option is not for you.
Remember these PC monitor speakers are designed to bring you audio to assist you with the job at hand, such as conference calls, watching short clips such as YouTube, notifications and essentially everyday digital work.
Final Thoughts on Visual & Audio Combination
If both image and sound quality is a must, you might need to reconsider getting a monitor with integrated speakers. Sure, it means less cables, more compactness and ultimately more desktop space, but often when we get a 2-in-1 system, there is a trade off.
One feature gets in the way of the other. For example, a good quality speaker may need more space to perform well and vice versa. Bettering one factor would mean compromising the other unless you pay big money! At this point it's certainly cheaper to get external speakers.
FAQ
Do all monitors have built-in speakers?
No. Only a small number of monitors feature built-in speakers and some of those that do, don't provide the best audio quality.
Do all HDMI monitors have in-built sound?
HDMI wires are responsible for transmitting sound from one place to another, however that doesn't necessarily mean that HDMI monitors will feature in-built speakers. Always double-check the details.
What's the average price I should expect to pay for a monitor with built-in speakers?
The average price of the monitors with integrated speakers on this list is around $240. However, the price may significantly rise depending on your requirements. For example, if you're a gamer, you will want a display with a fast enough refresh rate to deal with the frames per second your console operates at. Response time is an other factor to consider with usually anything at 5ms or lower being ideal for gaming.
Are built-in speaker loud enough?
Usually monitors with integrated speakers have two speakers at 2 Watts each. They'll have to be small in order for the monitor to retain its slim profile, which ultimately means delivering flat sound. The volume can be turned up to create loud sound, but they generally lack volume and bass. 
For that reason, integrated speakers are good enough for conference calls, watching occasional Youtube videos and day to day office tasks. Do not expect these speakers to performs well for generating music for parties or social gatherings.
What are the top monitors with built in speakers?
Our top three monitors with inbuilt speakers are:
1. HP VH240a 23.8-Inch Screen – Developed by HP with a 23.8″ screen size, impressive response time of 5ms and 2 x 2W speakers.
2. Sceptre E248W-19203R 24-Inch Monitor – An Amazon favorite, has a resolution of 1920x1080p and 16:9 aspect ratio that equates to a full HD display. Integrated speakers are 2 x 2W.
3. Acer R240HY bidx 23.8-Inch Display – With IPS W-LED, this monitor shows-off color and vibrancy. It boasts the fastest response time on our list of 4ms, and has a widescreen aspect ratio of 16:9.