As a freelancer, my laptop (and internet connection) is my office. As much as I love my work, I like to detach myself from it. This means putting my laptop out of site and freeing up desk space for other uses.
Working from home comes with benefits, but it's hard detaching your work space from your living space when you have a home office.
I believe by removing "office products" out of the way, you can transform your mindset and make your home feel more homely and less "officey". No longer do you have to transfer your office mess into everyday life.
Solution To Declutter & Protecting Your Device
Placing your device vertically, with the help of a vertical laptop holder, helps partly solve the problem of desktop clutter, and all at a low price.
However, I am a sucker for finding products with multiple functionality, as I feel I get more money's worth.
For example, like with the Mount-It stand, you can use it to vertically store your laptop away or use it as a work station during office hours.
Here is what vertical stands basically look like…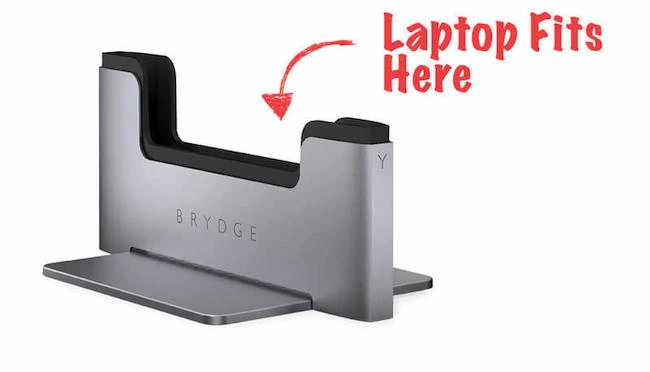 What Is A Vertical Laptop Holder?
A basic stand that holds your laptop vertically in place, nothing more, nothing less, and therefore can be done at a budget.
This not only provides more workable space, but also protects your device that would otherwise be laying flat. How often do we rest things on our devices because we are too lazy to move it out the way?
Having said all that, there is some thinking behind purchasing the correct stand which we shall discuss.
Space Saving Laptop Docking Stands
Our Vertical Stand Choices For Your Laptop
There are plenty vertical stands for laptops on the market and to be honest, this is not some complicated device that has moving parts to it.
Having said that, there are features to look out for that can make or break your opinion on the product.
Let's take a look at which product hits the #1 on our list?
#1 OMOTON Aluminium Desktop Stand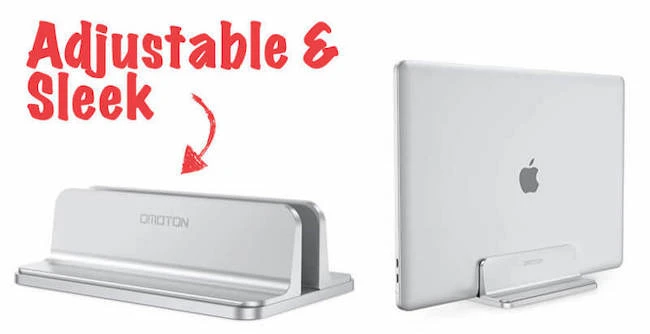 The wide base on this aluminum product is designed to hold heavier laptops (such as MacBook Pros) without toppling over. This is further reinforced with a non-slip silicone mat at the bottom to grip the surface it rests on, making it slide-resistant up to 40° slopes.
The non-slip silicone material is also used within the clamp itself, which holds your device in place securely and stop scratching your worktop.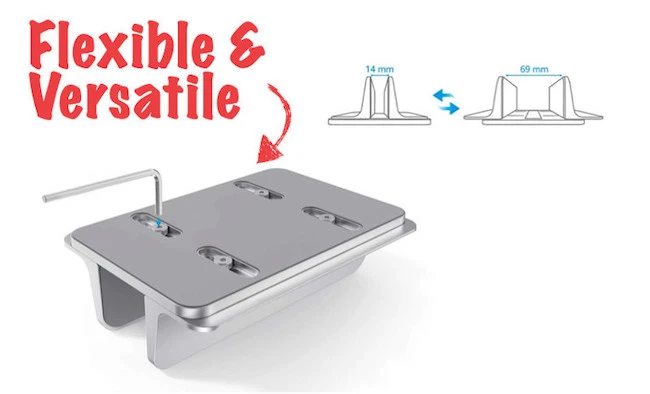 The best part, this holder can be manually adjusted (using a screw bit) to accommodate devices of different widths. In fact, the minimum width can be set at 14mm (can hold a MacBook Air), while the max can be opened as much as 69mm… allowing you to use the stand for more than just laptops.
#2 Mount-It Vertical Laptop Stand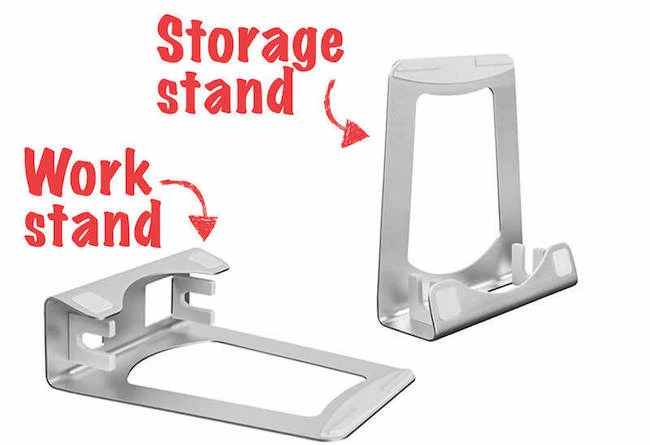 This may not be the most popular or get full 5-star reviews, but man, it's a simple but clever 3-in-1 design.
Works as a laptop stand (a portable one at that)
Provides sufficient air flow (keeps your machine for overheating)
Works as a vertical stand (save desktop space after use)
The idea of having a 3-in-1 unit that takes up no more space than their single counterparts is appealing. Although not the tiniest of units its 9.7 x 2.9 x 8.1″ dimensions still makes is portable enough to fit in your backpack while travelling.
The unit also has interchangeable inserts for different laptop thicknesses (0.63″ & 0.55″ wide). Some would say this is a downside were others won't mind considering their laptop thickness fits within the provided slots.
#3 HumanCentric Vertical Laptop Stand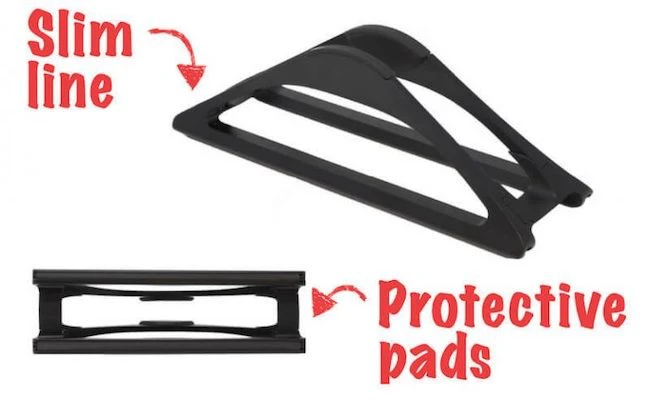 A small United States (Chicago) based company providing you with an inexpensive solution for storing your laptop away while freeing up your desk space.
This stand is designed to fit laptops up to 1″ thick and works on the principle of gravity. Essentially the weight of the laptop pushed down on the stand which in turn closes the clamps to grip sturdily on your machine.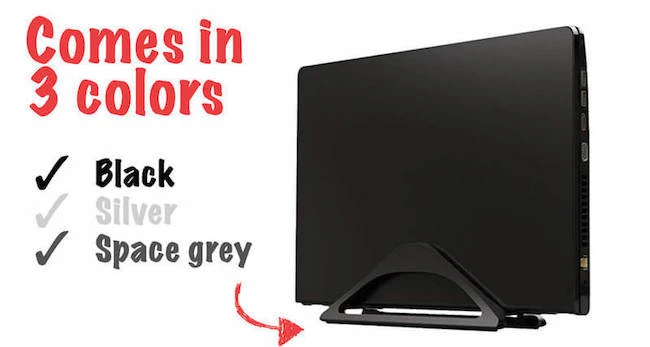 However, for thinner laptops such as Macs, the grip is not as sturdy as with thicker laptops, but still steady enough to story it safely away.
Things To Consider Before Buying A Vertical Laptop Stand
Unfortunately laptops come in different shapes & sizes and therefore it is imperative to select a stand that your laptop fits in.
However, there are other factors to consider too, such as: