With pen and paper being a thing of the past for professional designers, the tablet is now the replacement. Being smaller and lighter than any laptop or PC, this type of device provides probability, convenience and the ability to store hundreds, if not thousands of designs on the one device.
Further yet, high spec tablets are reaching levels that are almost on par with PC performance. This is a dream for any designers having to visit clients. No more lugging around high permanence laptops to project your visions!
We've pick out a selection of tablets and don't for one minute think these are a heavy compromise over a laptop or PC. These babies are high spec, high performance devices, that take screen resolution, weight, screen sensitivity and much more into account.
But first, let's find out a little more about these tablets and factors to consider before making your purchase.
Things To Consider When Choosing The Best Tablet
Here are 5 things you might want to look out for when choosing the best tablet for your needs. These are particularly catered towards tablets that are designed for drawing and note taking.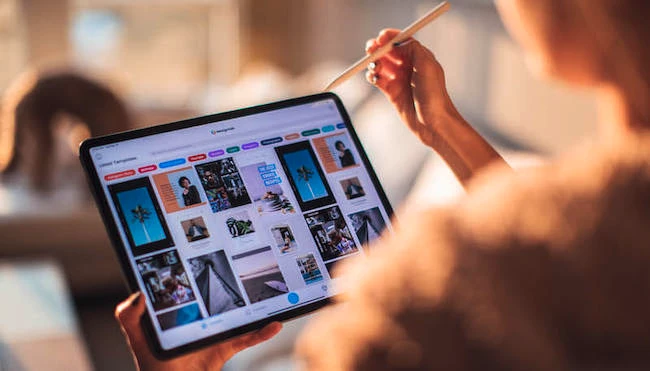 It's paramount to consider these 5 factors, because get it wrong and you are left with a tablet the ends up annoying you more than assisting you and your business.
Screen Size, Shape & Active Area
In general tablets start at around 7 inches and get bigger from this point… anything smaller than 7 inches will essentially be useful for productive work.
Most display shapes follow the shape of wide-screen TVs that are more of a rectangular shape, where as devices such as Apple iPads, have a more square shape. This can be important to know as subconsciously this can make drawing and note taking more comfortable depending on which shape you prefer.
Display Resolution & Sharpness
For the professional drawer, screen resolution is of importance for cleared and sharper lines of your drawings. This also applies for avid readers and note takers as you want your machine to display clear, crisp text.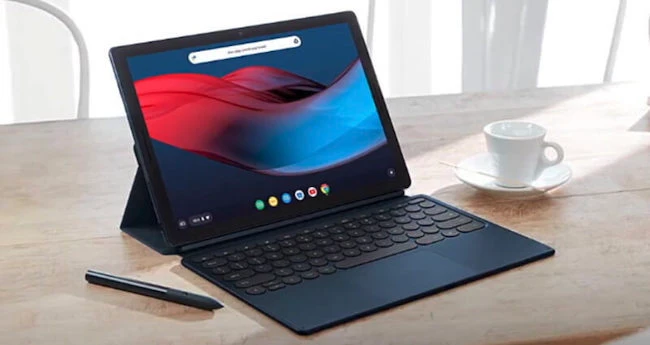 Resolution is not the only factor for providing superior display, for example, the most modern tablets (and now cheaper ones) have features such as anti-glare that enables users to work under bright light conditions such as outdoors in the sun light… you can have an amazing resolution, but that can easily be rendered useless the moment you want to do work outdoors.
Portability & Battery Life
Let's face it, the invention of tablets was based around portability and three factors come into consideration when discussing the ease of carrying a device with you:
Weight
Battery life
Size
Tablets in the 7 inch range weigh under one pound whereas those in the 15 inch range can weigh up to two pounds, so be sure not to get something too heavy if you find yourself out and about often.
The next important factor to consider if you find yourself out in areas that do not have mains outlets for charging your device is battery life.
Consider size, weight and battery life if your work takes you on the road often!
This is where the balance can be a little tricky. You want a fast performing machine, that is solid, but not too heavy and at the same time having a good battery life in order to get a decent amount of work done without having to constantly charge it up… Annoying!
Performance & Versatility
When talking about versatility I'm talking more than a tablet that allows for good drawings and note taking.
If a tablet is going to be bought anyway, you may want to get one with a little extra performance so that you can do more on it than its main intentions.
Maybe you are travelling and want to play some video games to pass the time. Maybe you want to watch a two hour long movie during your break and have enough battery power to get in a 6 hour work session.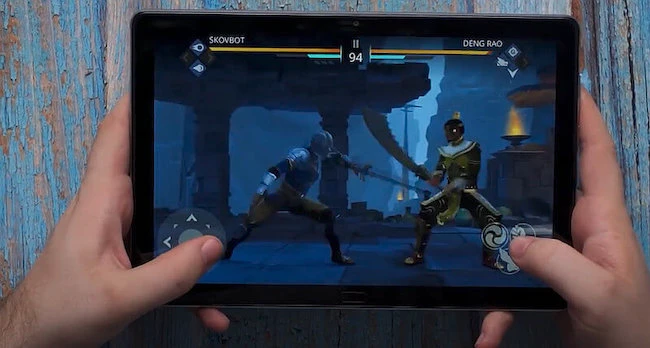 In fact, maybe you want to have something that has the performance of a computer but the portability of a tablet like the Surface Pro by Microsoft (if you're a Windows fan) or the iPad Pro by Apple (if an iOS fan).
Memory & Ports
Note taking may not require immense amount of memory, but drawing can and if you are using your device for things like gaming. or downloading videos for your travels, you may find yourself running out of space sooner that you think.
Sometimes it is inevitable that your device's internal hard-drive memory may not suit your requirements. That's not to say you should rule it out if it has features and a performance that suits you!
It's all about balance and compromise when seeking the best tablets for drawing & note taking!
Many tablets can be expanded using a memory card and a few (not many) have read USB flash drives.
Stroke & Pressure Sensitivity
For a graphic artist, it is very important to have a tablet that displays drawings as they would look if they had been created on paper with a real pen or brush.
Strokes on paper vary according to the pressure you apply with your instrument. In the same way, the sensitivity feature of a drawing tablet should vary the thickness and opaqueness of the drawn lines.
The numbers of sensitivity levels are wildly different when you compare models of tablets (though some models don't have this feature at all). Some models have about 300 sensitivity levels and others the astronomical 8000 of them.
However, another thing to have in mind when assessing the needed sensitivity of a tablet is the program you will be working in. The reason is that some programs recognize only a limited number of pressure levels. The type of art also plays a role here as different drawing styles require different stroke variations.
Screen Resolution
It is not only the size of the screen that is important but resolution as well. These two features should be considered jointly when choosing a tablet for drawing. A screen with a higher resolution will allow you to do more detailed art while a lower resolution is enough to do basic sketches or for beginner artists.
Resolution is usually given in pixels; however, when it comes to drawing tablets, LPI is the measurement you will find most often. LPI stands for 'lines per inch'. The higher the LPI, the finer the picture.
As is usually the case, we are astonished by big numbers, so many tablet producers brag with insanely high resolutions. In reality, though, the numbers don't have to go over 2000 LPI for you to make high-quality drawings.
Overall Weight
Tablets have been created to be something between a laptop (that stands on a surface) and a smart phone (that is held); it is basically a small computer that you can hold in your hands. With this in mind, we can understand that a drawing tablet shouldn't be too heavy.
Manufacturers usually design tablets distributing their weight all over the product so that you can hold it in any way that suits you. But there are some that are slightly heavier on one side, showing the producer's preference for how it should be held.
The most reliable way to assess the weight of a drawing tablet and whether it is acceptable for you is to take it into your hands before buying it.
#1 Microsoft Surface Pro 7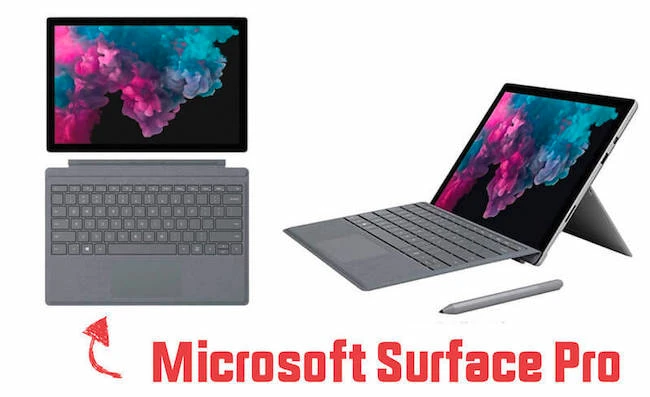 A futuristic looking machine with a premium finish quality at a relatively affordable price. This is not the cheapest tablet on the market, but when looking for reliability, comfort and speed, this machine will undoubtedly be a great return on investment.
The magnetically detachable Type Cover allows you to transform it from a PC into a tablet and back… but don't think Microsoft are pretending to make it "seem" like a PC just because of the keyboard, the Intel quad-core chip certainly contributes to giving you that "PC experience".
Included is Surface Stylus that can be classified as one of the best styluses on the market as it has a fantastic grip, over 4000 levels of pressure sensitivity and is powered by standard batteries.
Surface Pro 7 Hardware Specifications
[table id=7 /]
#2 Apple iPad Pro 12.9″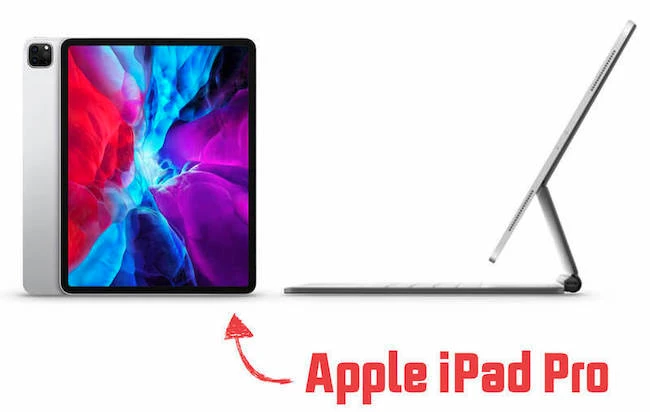 Coming at a close second, the iPad Pro 12.9″ tablet houses the impressive A12Z Bionic chip and is accompanied with an 8-core graphics engine that rivals the processing power of a decent laptop (while being jam packed into a hand-held device).
Although screen resolution isn't the most important factor when note taking, it is important when drawing is concerned. This is precisely why users will be stunned by Apple's famous Retina display and the range of wide available colors.
Continuing on the subject of drawing, it has a large 12.9″ screen (bigger the the Surface Pro) leaving plenty of canvas space for doodling and professional drawing alike.
However, drawing isn't just about space, but all about feeling which gives us the perfect opportunity to introduce the magnetically attached Apple Pencil. This pencil acts like a real life pencil and reacts to applied pressure along with tilt sensitivity allowing for accurate drawing capabilities.
iPad Pro Hardware Specifications
[table id=9 /]
#3 Microsoft Surface Book 3 – 13.5″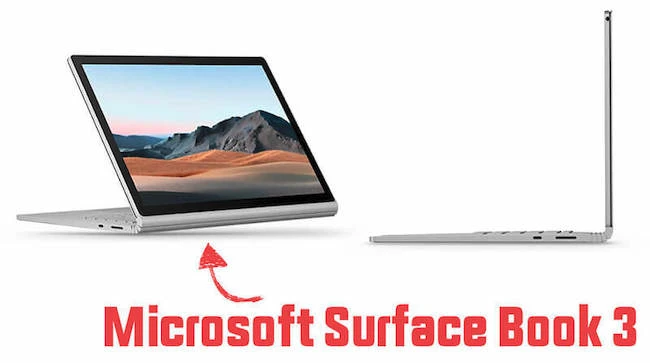 Despite this unit having the same look and feel as the Surface Book 2, all the upgrades are on the inside of this combination laptop, slash tablet.
It comes with a 10th Get processor, Intel's quad Core i7. The graphics card has also been upgraded with a GeForce GTX 1650 Max-Q GPU and the RAM cap has been increased. All these upgrades are noticed when browsing and loading websites, while also giving a smoother scrolling experience compared to the Surface Book 2.
Truth be told, there isn't a huge difference between the two models in everyday tasking, but there's a notable difference when gaming and using demanding applications such as drawing, illustrations and 3D.
Surface Book 3 Hardware Specifications
[table id=11 /]
#4 Wacom Cintiq 22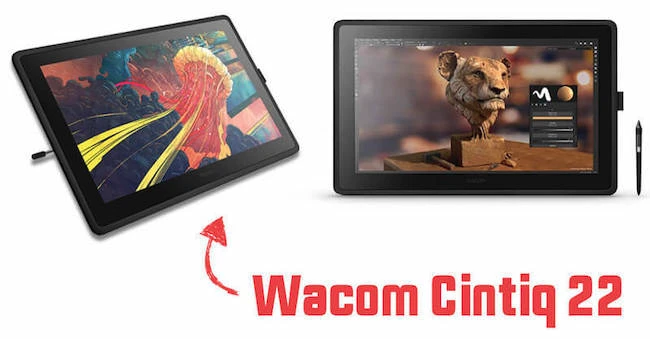 As the name suggests, this baby is big at 22″ and at 18.7 lbs is the least portable in our list. It has a 1920×1080 HD Display that provides clarity at every detail of your design work.
What makes this device perfect for drawing is it's 190+ pressure levels, low activation force and tilt recognition, which provides a natural drawing experience.
The human eye dynamic range is very high, so it's also important to feed it as much vibrant and clear colors as possible if you want your artwork to shine. Wacom do exactly that with the Cintiq by pumping out 16.7 million colors.
Furthermore, no longer do you have to worry about forgetting to charge your pen, as it charges off the screen as you create.
Wacom Cintiq Hardware Specifications
[table id=12 /]
#5 XENCELABS Drawing Tablet Medium Bundle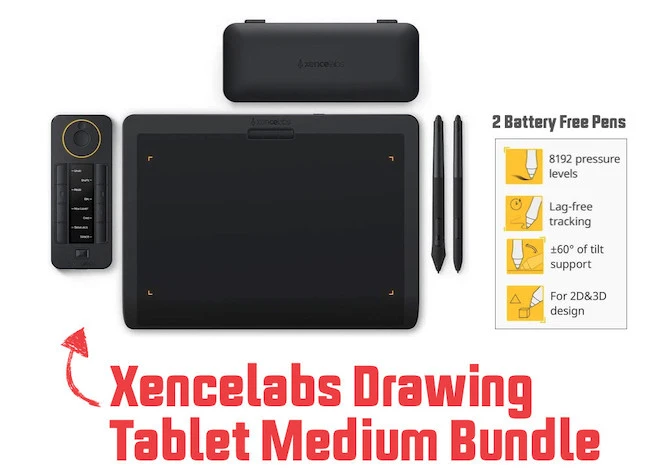 This Xencelabs bundle comes with several pieces of equipment designed to take the technical burden off the creative process. It contains a drawing tablet, a Quick Key remote pad, and two pens. They are only instruments that you use connected with your computer.
The tablet's front edges are curved, designed to be comfortable for a hand to rest when you are drawing for a long time. Its surface is hardened and its texture provides enough friction for drawing, imitating the real paper.
The battery-free pens are also designed to look and feel like fountain pens. There is a two-button thin pen and a three-button thick pen and they come with 10 replacement pins. At their opposite ends, there are erasers that can be configured to perform other actions.
The Quick Key remote eases up the access to the options you use often. With 9 buttons and a small wheel, as many as 40 shortcuts can be customized.
Overall, the Xencelabs Drawing Tablet Medium Bundle is a very solid product, of high performance, and reasonably priced. It is the first product of this type created by Xencelabs, but they really did an excellent job.
XENCELABS Drawing Tablet Hardware Specifications
[table id=13 /]
[table id=16 /]
[table id=17 /]
#6 XP-Pen Artist Pen Display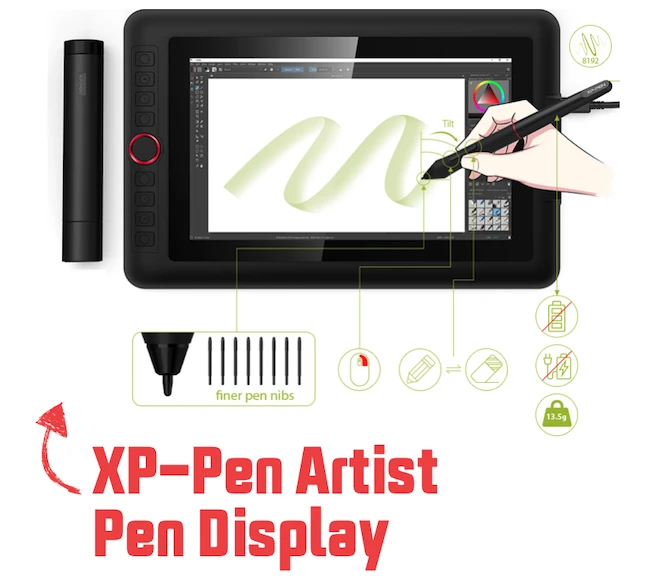 The XP-Pen Artist Pen Display is a drawing tablet of the newest generation from the XP-Pen brand. You need to connect it to a laptop or a computer in order to work with it.
The stylus that comes with it is battery-free, which allows uninterrupted long periods of drawing. The 8192 pressure levels and supported tilting, natural drawing and shading experiences are easily replicated. And just like a regular pen, there is a digital eraser on the other end.
The visual side of this product is enhanced with a very wide color range. Also, the display is laminated, so the light reflection is avoided. The image you see on the screen is thus closer to what it would look like if it had been drawn without electronic technology.
XP-Pen Artist Pen Display Hardware Specifications
[table id=14 /]
#7 HUION Inspiroy H430P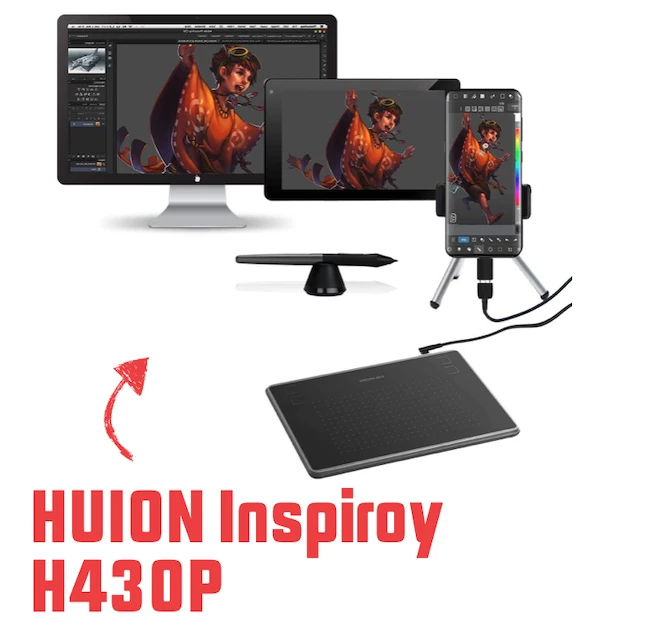 So, this is one of the most affordable drawing tablets on the market. It can be found for less than $50! But this doesn't mean that it is not worth buying. It is a good choice for artists who are still inexperienced with this kind of art or for logos and simpler sketches.
It comes with a special two-fingered glove whose purpose is to prevent fingerprints to appear on the tablet and a driver disk for installation. The plastic stylus has 4096 pressure levels and is lightweight. It can also be used to move the cursor on your computer.
The Huion Inspiroy H430P is battery-free, it is used attached to a computer or a smart phone. The size and weight make it comfortable to carry and use. The four shortcut buttons are placed in the upper part of the tablet and they are easily accessible.
HUION Inspiroy H430P Hardware Specifications
[table id=15 /]
Which Tablet Should You Buy?
As the specific theme of this article is based on drawing specifically (particularly if you are an artist or graphic designer), we say the Wacom Cintiq 22 is the way to go. It's size is spacious enough to allow for comfortable drawing, it quality is renowned and it is has an affordable price tag. If the size and price are still a bit of an issue, then the XENCELABS Drawing Tablet is a good alternative as it comes with a great bundle of accessories.
Having said that, each tablet on the list has been picked to help any subset of artists. For example, some may want a multifunctional tablet that works as a computer as well as being creative through art. In this case, we would recommend the Microsoft Surface Pro 7 which has the power of a full blown PC, allowing you to use it as a computer while also having 4000 levels of pressure sensitivity for an amazing drawing experience.