By Alex McIl – 29th Apr 2020
My laptop is literally my office as long as I have internet. And just like any other digital nomad, I love my laptop.
However, one issue that persists when travelling, is finding yourself in a new place with a new desk height and a new chair that doesn't meet your comfort requirements…ergonomics is paramount for comfort & health!
However, travelling in itself can also be an issue. Resting your laptop on your lap during your journey is far from ideal or comfortable.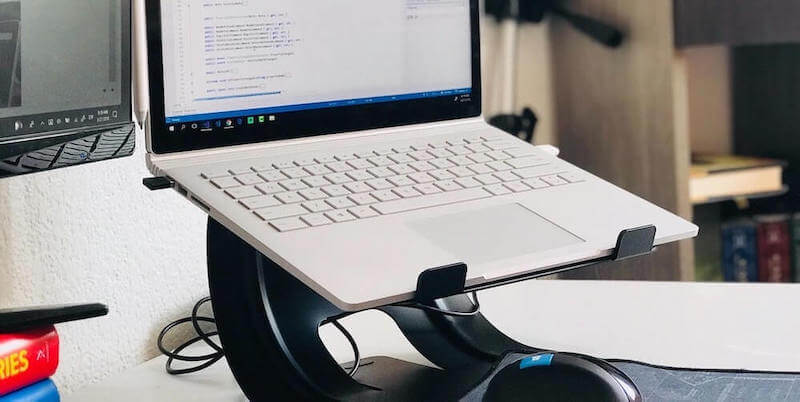 Combine that with spending many hours staring at your screen (resulting in sore eyes), developing neck & back pain and feeling overall stiffness.
That's where I think portable laptop stands come to the rescue.
The time comes where you need to try and address at least some of these issues for health reasons.
One such solution is an ergonomic portable laptop stand and depending on which one you select, it can help with posture, reduce muscle strain and eliminate pain in the upper back, neck, shoulders, hands, wrists, and arms.
… and it can even help your laptop's health and performance by preventing overheating through free flowing ventilation
Our Top Netbook Stands For You
| | | | |
| --- | --- | --- | --- |
| #1 | Boyata Travel Holder | | Huge load-bearing of 44 lbs (20 kg). Made out of aluminium so is light, strong & durable. |
| | | | |
| --- | --- | --- | --- |
| #2 | Rain Design mStand | | Made from aluminium and has an Apple "feel" to it. Has no moving parts, so little can go wrong with it. |
| | | | |
| --- | --- | --- | --- |
| #3 | Nulaxy Portable Tray | | Truly portable and folds into a tiny area of 11″ x 2″. Super light with 6 height levels of adjustability. |
Six More Reasons To Consider A Laptop Stand
Here are 6 other reasons to keep in mind when purchasing a laptop stand. These stands aren't that expensive (although they can be), however, it is always a good idea to chose one that suites your needs so you do not have to return it and start over again.
External Monitor
If using an external monitor with your laptop, it's important to have both screens at similar levels to prevent neck & eye strain. This will also result in a more comfortable working environment.
Air Ventilation
The raise of your laptop above your desk, allows for more ventilation / cooling of your machine, which increases its life span and performance. The less overheating endured, the longer your computer will last.
Portability
Most laptop stands are light and foldable. Just like a laptop you can transport it to your next destination.
Posture & Body Pains
Having a laptop at desktop height means arching your back to type. This can cause more than just back problems, including, neck, shoulders, hands, wrists and arm pains. An adjustable laptop stand allows you to position your laptop at a height that is somewhere between the ideal monitor height (center of the screen at eye level).
Screen Angle & Glare
Direct and constant glare can lead to eye strain. Ergonomic laptop stands for desks can help you position the angle so your eyes don't get the full brunt of light… think about this, you only have one set of eyes.
Space Management
Think about it, you can reduce desktop clutter but placing your cables, mouse, keyboard etc under your stand.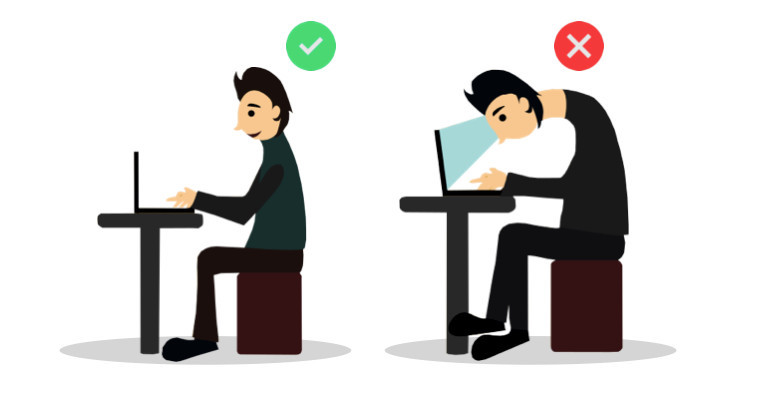 Factors To Consider Before Buying An Adjustable Laptop Stand?
There are a few factors to consider before buying a stand for your laptop. Some of which may not be that obvious until after you made your purchase. To prevent you from making that mistake, I have 5 things to consider before hand.
Let's expand a little more on these four factors.
Compatibility & Size
Laptops and stands come in different sizes, therefore, it's vital the stand you buy isn't too small for your laptop size and shape.
When choosing a portable laptop stand, many on the market are adjustable and made to fit laptops of many shapes and sizes… there should be no problems finding the one suited for your needs.
Portability & Foldability
Let's be honest, a laptop is a portable machine designed to be carried from destination to destination. Therefore it goes without saying that a stand should be portable too!
If like me you travel plenty, it's important your stand can fold up nicely or be as slimline as possible to save much needed space for when you embark on your journey to other parts of the world. This is why they are sometimes called travel laptop stands, but not all are as portable as they may first appear.
Adjustability & Set Up Process
Many stands are solid units and all that's required is to place your laptop on top of them (no height settings required). These units tend to be the most solid as they are one piece and have no moving parts to them. The downside, they aren't foldable and tend to take up too much space while travelling.
On the other hand, stands that are foldable / have moveable parts may require some thinking in terms of how to set them up and although this isn't rocket science, some designs may be annoying to set up.
Stability & Sturdiness
Many of the above factors will directly influence how sturdy your laptop stand ends up being.
The use of cheap materials such as thin metals or plastics can make your stand feel wobbly and likewise, the same thing can happen depending on how many moving parts the stand hands.
Adjustability and portability are great things but laptop stands that are once solid piece are more sturdy… something you want when you are pounding away at your keyboard!
Which Are The Best Priced Portable Laptop Stands For My Needs?
Disclaimer: I haven't physically tested all these laptop stands / trays, it would be very hard to do so and very costly to test out all products. I do however, spend time researching each product so you don't have to.
So without further ado, here are my recommended portable laptop stands that can bring you comfort, keep aches & pain at bay, reduce glare to the eyes and can even look stylish on your desk.
Oh and before we continue, most mentioned here are designed for desk use rather than a tray used for resting horizontally on a sofa… ah what a way to work!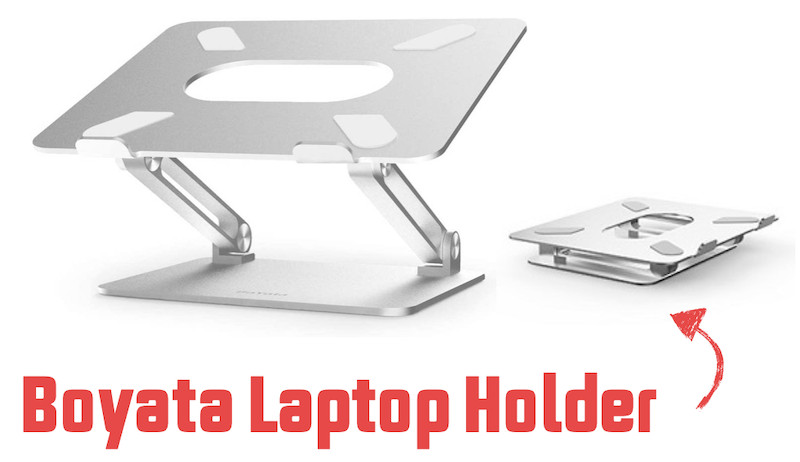 With a load-bearing of 44 lbs (20 kg), this portable laptop stand will be sure it will hold in place any laptop weight. Further to this you can incline the base at different angles while being able to elevate / lower to your required height.
The aluminium frame doesn't only provide strength & durability while being light-weight, but will absorb laptop heat and then reflect it for instant cooling effect. There is also a hole cut out on the tray that provides even more ventilation and lightness.
The tray is designed to hold a variety of laptops up to 17-inches. So you'll be sure your MacBooks, HP, ASUS and Lenovos (plus many more) will fit snuggly.
Pros
Can handle heavy loads
Able to position screen to almost any angle / height
Sturdy, strong and durable
Cons
Solid unit and might be a little heavy for your travels
Requires a little oomph to get hinges moving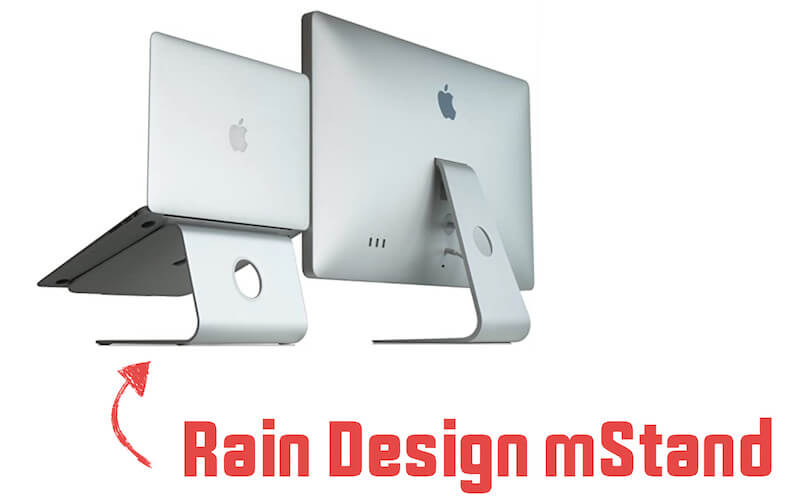 This baby has a stylish aluminium design that most MacBook users will recognise and love. This design compliments the look and feel of Mac users and more importantly is solid.
There are no moving parts to this stand, so little can go wrong with it, but that also means no foldable capabilities and therefore not easy to travel with.
Pros
Solid & sturdy design
Stylish, having an Apple feel to it
Weight makes it hard to knock over
Cons
Known cases of rubber bumpers coming loose
Slight bouncing effect when typing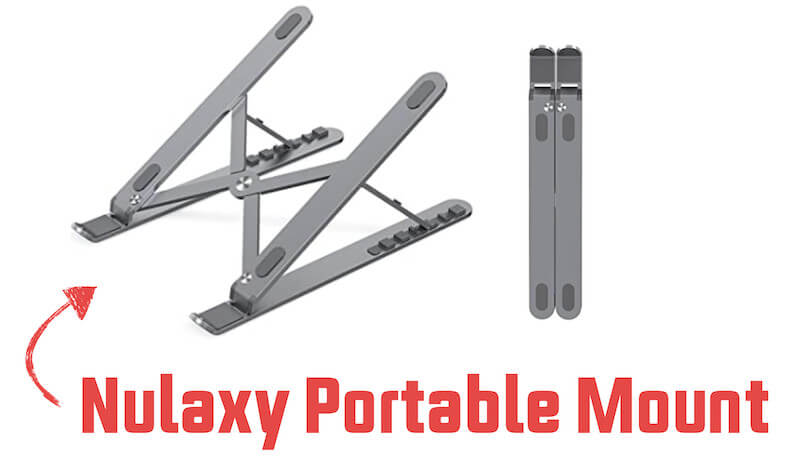 This is a true portable piece that can fold away into the tiniest of areas (11″ x 2″). It's so slimline and light (while being sturdy that you can throw it into your backpack along with your laptop after you're done doing your work on the go.
To top it off, it's adjustability is second to none with 6 levels of height adjustments, so that you can find optimum comfort.
Pros
Sturdy & secure design
Minimal metal provides more cooling for laptop
Folds compactly into a 11×2 inch area
Cons
Some complaints that lip holding laptop in place should be angled more
Some wish it opened wider for larger laptops