Last Updated: April 20th 2020
You've purchased your brand new Blue Yeti mic. The solid weighing quality piece of equipment is standing there proudly on your desk ready for use.
Thanks to its simple plug & play USB connection, all you have to do it connect it to your PC / Mac and you are good to go.
You want to become a Youtuber and make your first video, where good recording quality is a must! Or maybe you want to be a podcaster where you rely more on audio quality for your broadcasting?
And WOW, you're in shock! The sound is just outstanding (at least comparing to your old set up).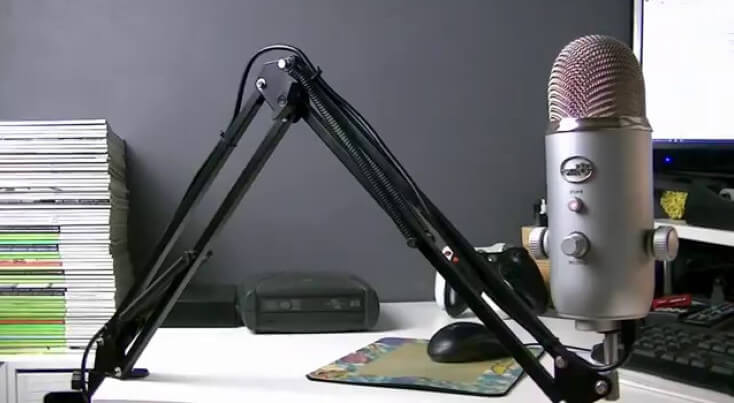 You get better at the tasks at hand, you spend more time perfecting your videos, editing them, listening out for any audio distractions that may need filtering out (you know, the ones that can put viewers off).
You're entering the realms of audio nerdness (yes, I made up a word), and before you now it, you've stepped up your game and demand even more sound quality so you can stand out from the rest!
The time has come to throw out that Blue Yeti mic and find something newer and better, right?
Well not necessarily.
Compatible Microphone Arms For Blue Yeti
| | | | |
| --- | --- | --- | --- |
| #1 | InnoGear Mic Arm Stand | | Comes in small & large version, has 38″ (horizontal) & 37″ (vertical) reach with a maximum load bearing capacity of 4.4 lbs. |
| | | | |
| --- | --- | --- | --- |
| #2 | Blue Compass Arm | | Modern looking with dual mount and a max reach of 32″. Can hold up to 2.4 lbs and has cable management grooves. |
| | | | |
| --- | --- | --- | --- |
| #3 | Aokeo AK-35 Mic Stand | | Adjustable scissor arm constructed from steel for strength. Swivels 360° and has a max load of 3.3 lbs. |
Why You Should Get A Mic Stand Or Boom Arm For Your Yeti
Let's be clear, the intension is not to unnecessarily get you to spend money on a stand or boom arm. The Blue Yeti already comes with a solid and stylish mini stand that is designed to rest on your table, and for the most part, this is perfectly sufficient for the average user.
Having said that, as we develop our skills, we find that we want more quality and instinctively want to level up in search for betterness.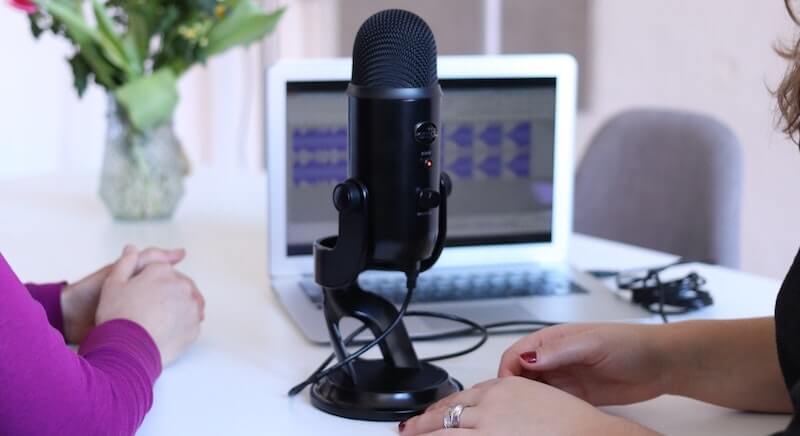 All that's being said, is not to be too hasty. Your Yeti might still possess all the qualities that you require and might just need a little help to prove itself.
Audio Issues From Blue Yeti
Now note, these audio issues might be occurring without the understanding that you (not your mic) may be at fault.
If we want to remove blame altogether, we can at the very least say that your audio quality can be drastically improved using the same hardware.
Here are some reason for poor audio quality (hint, it's your stand)
Microphone Desk Noise Pickup
Often when your mic is in use, you likely will need to be doing things on your computer or write things down… you might even accidentally kick your table leg.
All of these will send shockwaves into your mic as the the original stand is in contact with your desktop. However, having a boom arm mount set up, eliminates these unwanted shockwaves, even the ones that come fixed to your desk.
Lacking Microphone Arm Extension & Adjustibility
The existing Blue Yeti stand allows you to pivot it along the x-axis about 270° (but even that is limited as the cable gets in the way).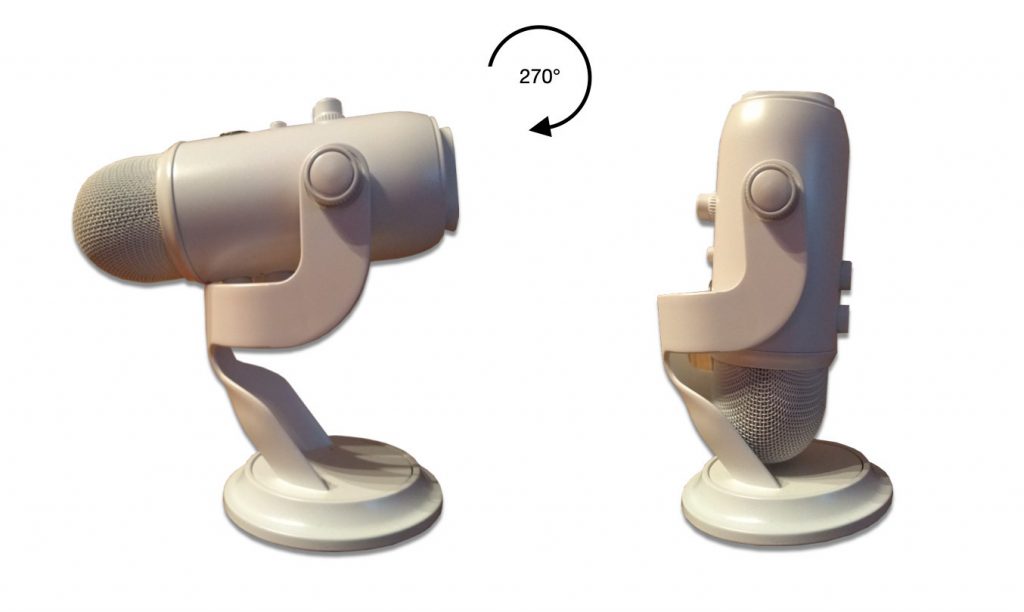 However, this involves handling the mic itself which will pick noise. Alternatively, you can adjust it by pushing or pulling the whole stand (& microphone), but this still picks up unwanted noice as opposed to having say a boom arm mount that clamps on your desk. Simply move the arm that is designed to glide softly (reducing shock) in different directions.
Hunching Over & Vocal Issues
Ideally finding the best position for your Yeti before production would be the best solution. However, you will inevitably need to hunch over to get closer to the Yeti which is not good for your back and can even effect your voice.
This is particularly true if using the device for singing, where desktop height is not ideal.
Recommended Blue Yeti Mic Stands To Buy For Perfect Positioning
OK, to be clear, there's no way I can physically review all these products. I simply do not have the funds to buy them all and rate them. And let's be honest, non of us really believe that review pages have had all the products physically tested under various applications?
What I can do is carefully research and look at the hits and misses of each product so you don't have to.
So without further ado, here are my recommendations for which blue yeti mic stand to pick from.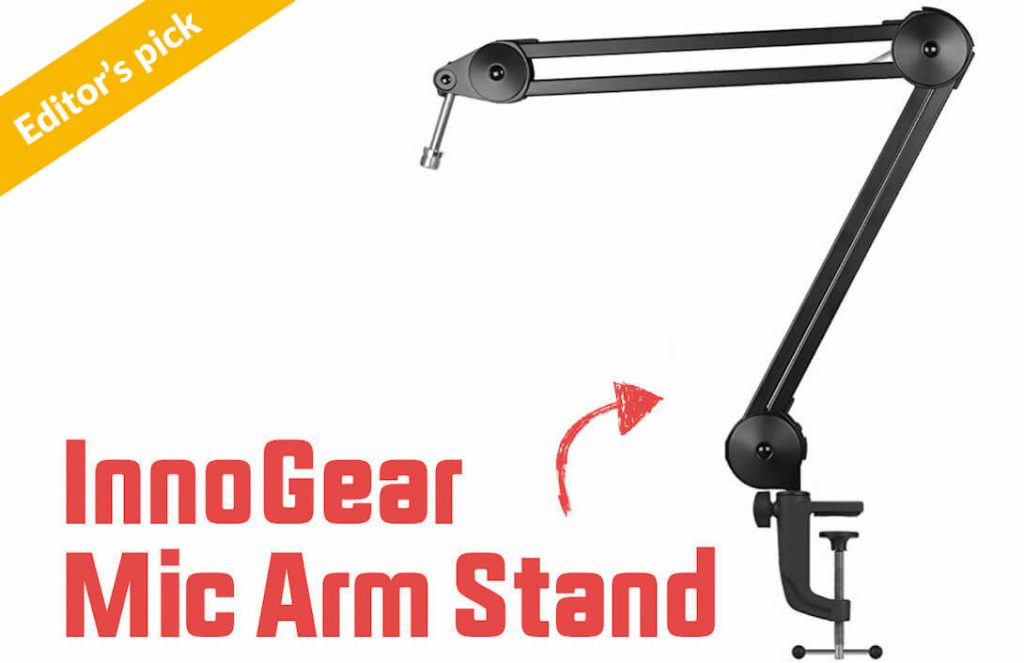 Pros
Beefed up clamp for added desk support
Wire ties along arm
Built-in springs (sleek look)
0.53″ square tubes (stronger than standard 0.39″)
Cons
Stiff fresh out of the box, needs time to loosen
Lacking smooth movement control due to stiffness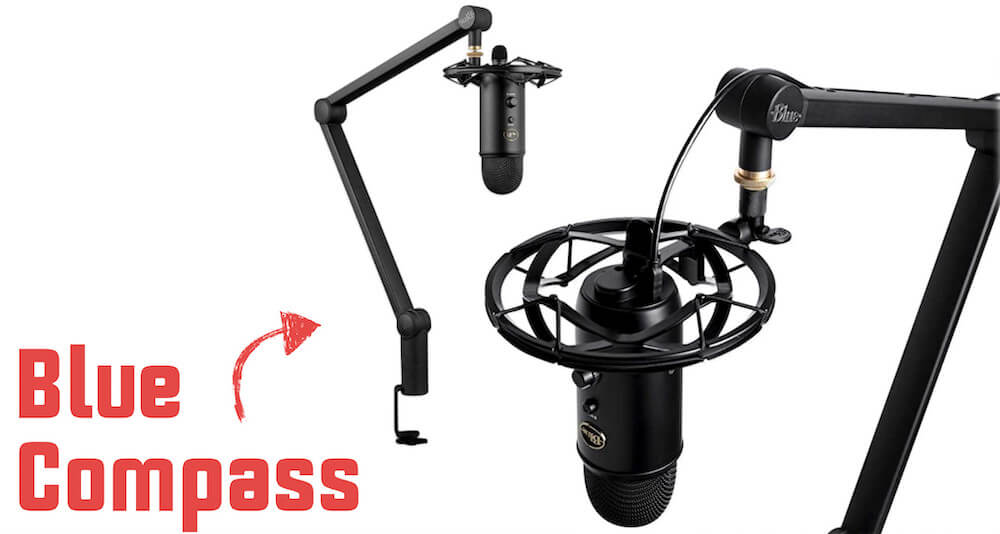 Before we start, let's look at some specifications in list form for an instant visual of what this arm has and can do.
What a good looking aluminium tube-styled desktop boom arm featuring internal "quiet" springs and a built-in cable system for clean lines. It's shape gives it a more futuristic look over its competitors as everything is designed to be hidden within the design
As it is manufactured by Blue, you can be sure the Blue Compass is compatible with your Blue Yeti microphones and a whole range of non Blue mics (provided they don't weight over 2.4 lbs (1 kg).
This mount is ideal for desktop setups and perfect for game streaming, Youtube videos, podcasting, voice-over, radio, and more.
Pros
Toolless setup
Tubular design (hidden springs)
Hidden cable system
Easily adjustable
Cons
Known issues with friction hinges
Complaints about not supporting Yeti's weight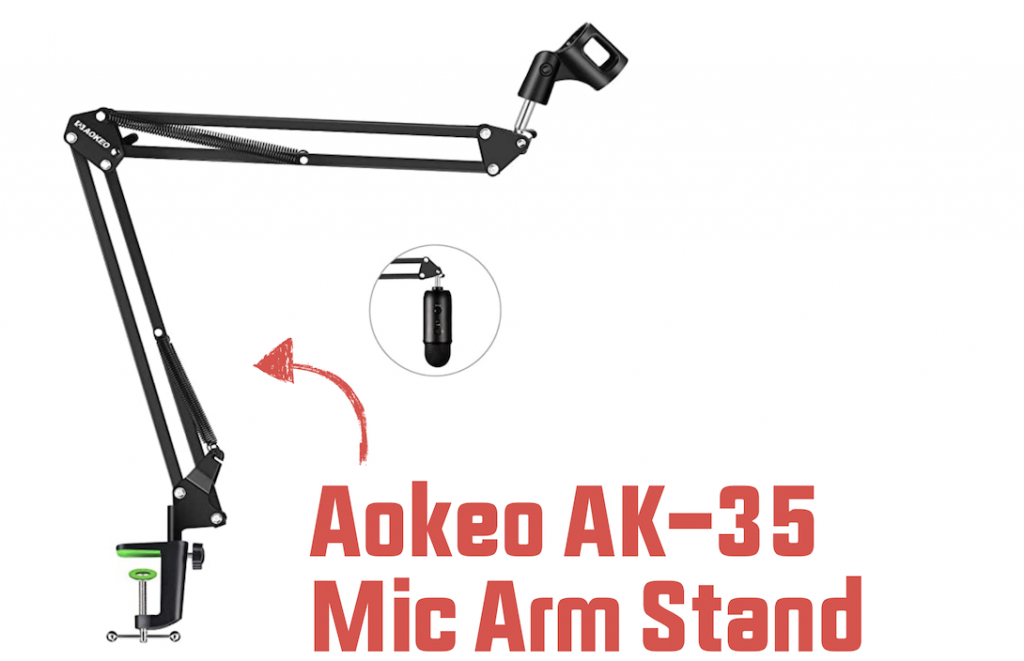 Although somewhat old fashioned in look and feel, this stand gets the job done at a budget. It's an adjustable scissor arm stand (with spring mechanism) made out of all steel construction, making it sturdy AND easily foldable for transportation.
The Aokeo AK-35 has a threaded screw adapter at the end of the mount to give you the flexibility to attach a variety of mics including the Blue Snowball, Yeti and many more.
The base clamp / clip has been redesigned for improved grip and can be attached on a desktop thickness of up to 10cm. The design also allows for 360° swivel giving you the option to position your microphone any way you want. Furthermore, the adjustable arm is easy folded for safe stowaway and portability.
With a Max Load of 3.3 lbs (1.5 kg), it is not the strongest in the list, but is strong enough to support the Yeti's weight of 2.2 lbs (1 kg).
Not bad for a budget microphone stand that also offers a life time warranty.
Pros
Perfect for Blue Yeti / Snowball mics
Fast & easy adjustability
Good load-bearing capabilities
Great value for money
Cons
Issues with foam pads disintegrating
Arm length might be considered short for some users
Why You Might Consider Replacing The Original Yeti Mic Stand?
The original Blue Yeti stand is stylish and a very solid piece of metal, giving it stability and rigidity. However, depending on what your microphone needs are, it might not fit your requirements.
As mentioned before, imagine being a singer, a job that generally requires standing. Somehow, I cannot imagine standing hunched over a table being very comfortable or productive?
On an other note, being a podcaster requires having your mic close to your mouth for optimum audio performance, with the ability to move it out the way silently when needed… something hard to do with a table stand.
Disadvantages Of Using The Blue Yeti With The Original Stand
The Yeti microphone is a decent bit of kit, but there are disadvantages to using the existing stand which can promote noise interference.
So here are but four examples of disadvantages when using the default stand.
No Extension Arm Or Reach
Users need to position their bodies to get close to the mic, instead of being able to do it the other way. The stand is simply too short and cannot extend.
Blue Yeti Audio Directional Pickup Issues
Blue Yeti is a side address mic, which picks up audio from the sides of the receiver and not the top. This limits the use of the mic even further… something that can be overcome with boom arms.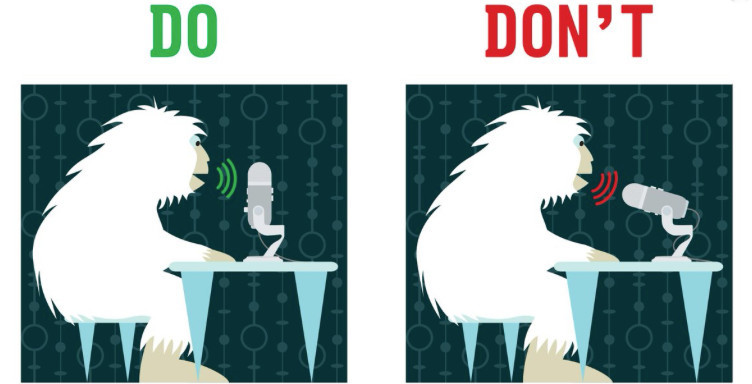 Mic Noise Sensitivity
Being a mic with a stand designed to rest on your desktop, the Yeti easily picks up vibrations from your desk, such as keyboard typing and tapping on your desk.
Shock Mount Fixtures
The original stand is simply not designed to accommodate shock mounts in the same way boom arms can.
What If I Want To Go Back To Using The Original Stand?
It goes without saying that you can revert your Yeti back on the original stand. Put it in location and tighten the side nuts and you're done, right?
Well, there's a flaw, and that's lining up the inside spacers… a simple task made tricky.
Watch this video by Easy Vocal Harmony, to get what I mean. ↓
Factors To Consider Before Buying A Stand For Your Blue Yeti?
There are several factors to consider when buying your first mic arm and to make things a little easier, I break down 4 of those important reasons below.
#1 Mic / Arm Compatibility
As you've likely found this page through searching Blue Yeti mic stand, it's obviously important that the mount screw thread is compatible with the Yeti's screw hole in order to attach the microphone to the stand.
If these don't fit each other, you then have a big problem. So when doing your own research, be sure to find an arm that has a mount with a 5/8″ male mic screw thread.
Failing this, it's possible to find a screw adaptor that increases the thread's diameter to fit the Yeti.
#2 Microphone Weight Restrictions
OK, this is a no brainer but a factor easily forgotten while being too eager of buying your mic stand.
However, it's important to check the mic's max load and if that load is capable of handling your Yeti's weight?
The Yeti's weight (without the stand) = 1.2 lbs (0.54 kg)
So does your stand of interest support this weight? If yes, then you are good to go!
#3 Shock Mount To Fit Blue Yeti Mic Stand
If you're really getting series about your audio setup, the next step would be investing in a shock mount that cradles your microphone and stops it from absorbing those unwanted vibrations being picked up from the floor, your desktop or even while moving it out the way.
Shock mounts essentially work like a basket held in place by elasticated strings / springs that absorb any shockwaves moving up the arm. The idea is for the mic to stay in one place while everything attached to it does the moving (a little like shock absorbers in a car)
#4 Mic / Pop Filter Compatibility
When buying your Yeti microphone stand, you might want to spending a little more and get yourself pop filter to stop popping sounds. It's important that the pop filter can attach to the stand.
Author's Final Thoughts
In this article I purposely left out desk mic stands that rest on your office desk / work area. I felt it made no sense to replace one desk standing mic with an other, especially when the Yeti's one is solid and sturdy enough.
The idea was to recommend boom arm models which are better at eliminating vibrations or knocks that run through your desktop area.
My number one choice is the InnoGear Stand, not because I think it is better than Blue Compass which is specifically catered for the Blue Yeti, but rather because of price.
I feel although there are some differences, their performances are on a par and equally reviewed positively, so why pay more if you don't have to?
---
Other Accessories For Further Audio Greatness
You may want to further your set up one step closer to professional level, but still keeping it at a somewhat budget cost… Having a Youtube channel or podcast doesn't have to be expensive.
There are essentially only two more accessories that could be used to further improve your audio quality and these have already been mentioned above:
The difference here is, these recommendations will fit your Yeti microphone.
Shock Mounts Recommendations
AUPHONIX PRO Blue Shock Mount
Record like a pro without the premium investment. Comes with noise isolation technology combined with suspension bands to absorb vibrations, audio distortion and shock pops… save time during production.
Blue Radius II Mic Shock Mount
Vintage style looking suspension mount designed for the Yeti and Yeti Pro mics as well as virtually any microphone on the market with standard thread mounts. Has improved hinge design that locks in place for stable microphone positioning
Pop Filter Recommendations
Frequently Asked Questions
✅ Do you need a mic stand?
Not necessarily, it will depend on your needs and if sound quality is paramount to your goals. However, as a general rule it will help eliminate unwanted noise.
✅ Do all mics fit all stands?
In terms of threads, most mic stands should use standard threads that fit most mics. If not, they usually provide a thread adapter. There are other factors to consider such as your mic stand supporting the mic's weight.

✅ What is an average cost of a mic stand?
It depends on how serious you are about audio. If just starting out, there's no need to go high end (between $50 to $80) can do a decent job. Professionals will invest more to achieve even better levels of audio clarity.