You've purchased your brand new Blue Yeti mic. The solid weighing quality piece of equipment is standing there proudly on your desk ready for use.
Thanks to its simple plug & play USB connection, all you have to do it connect it to your PC or Mac, and you are good to go.
You want to become a Youtuber and make your first video, where good recording quality is a must! Or maybe you want to be a podcaster where you rely more on audio quality for your broadcasting?
And WOW, you're in shock! The sound is just outstanding (at least comparing to your old set up).
You're now entering the realms of audio nerdness, and not before long, you've stepped up your game and demand even more sound quality!
The time has come to throw out that Blue Yeti mic and find something newer and better, right?… Well not necessarily!
Why You Should Replace Your Yeti Stand With A Studio Scissor Arm
The intension is not to spend too much on a studio arm mic stand. The Blue Yeti already comes with a solid and stylish tabletop mic stand, and for the most part, this is perfectly sufficient for the average user.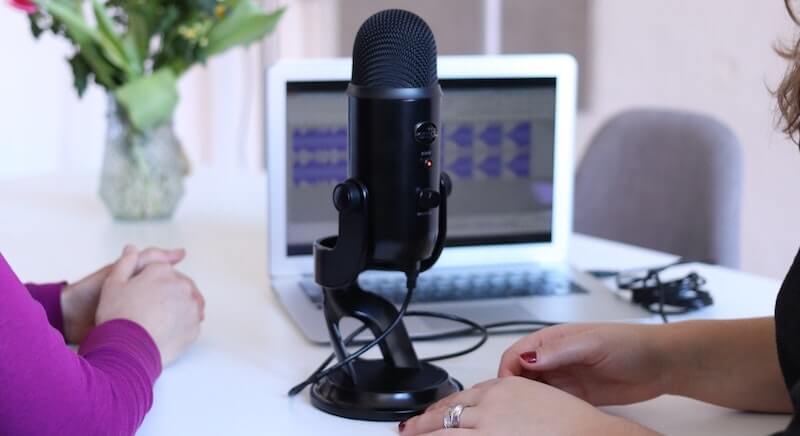 Having said that, as we develop our skills, we find that we want more quality and instinctively want to level-up in search for audio betterness.
All that's being said, is not to be too hasty. Your Yeti mic might still possess all the qualities required for your applications, and might just need a little help to prove itself.
Audio Issues From Blue Yeti Stand
Note: These audio issues are likely occurring without the understanding that you (not your mic) are at fault.
Your audio quality may be drastically improved using the same mic, and that's where a studio arm comes into play!
Desk Noise Pickup By Microphone
While your mic is in use, you'll be doing other things, such as typing on the keyboard, writing things down, tapping on the table surface, fiddling your legs and accidentally kicking the table leg, etc.
All these actions will send shockwaves into your mic as the original stand is in direct contact with your tabletop. A scissor arm however, is designed to eliminate these unwanted noises, even when fixed to your desk.
Lacking Microphone Arm Extension & Adjustibility
The existing Blue Yeti stand is a short mic stand, that can pivot along the x-axis about 270°, and of course, can be rotated along the y-axis by moving the stand itself.
This however involves handling the mic, which pick ups noise vibrations. It's extremely hard not to do this during long sessions, as you are constantly required to readjust positions in order to maintain comfort. Studio arms are designed to glide softly and quietly in different directions, while reducing shock.
Hunching Over & Vocal Strain
Ideally you'd want to find the best position for your Yeti before production. However, you'll inevitably need to hunch over to get closer to the Yeti to retain optimum audio levels, which is troubling for your back and can even add strain to your vocals.
This is particularly true if using the device for singing, where desktop heights are not ideal.
Blue Yeti Audio Directional Pickup Issues
Blue Yeti is a side address mic. This means it picks up audio from the sides of the receiver and not the top.
Therefore the mic has to be closer to you and limits usable desktop space… something that can be overcome with boom arms.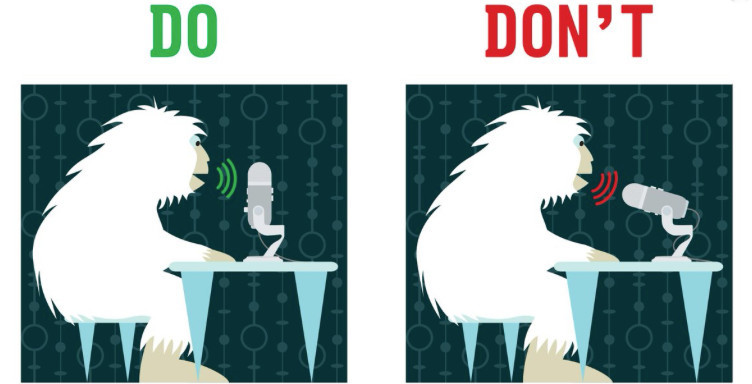 Recommended Blue Yeti Mic Stands To Buy For Perfect Positioning
I do not have the funds to buy all these products and rate them for you. However, what I can do, is carefully research and look at the hits and misses of each product so you don't have to.
So without further ado, here are my recommendations for which blue yeti mic stand to pick from.
#1 InnoGear Studio Scissor Arm Stand
#2 Blue Compass Premium Tube Style Arm
A good looking aluminium tube-styled desktop boom arm featuring internal "quiet" springs and a built-in cable system for clean lines. It's shape gives it a more futuristic look over its competitors as everything is designed to be hidden within.
As it is manufactured by Blue, you can be sure the Blue Compass is compatible with your Yeti mic, and a whole range of non Blue mics (provided they don't weigh over 2.4 lbs (1 kg).
This mount is ideal for desktop setups and perfect for game streaming, Youtube videos, podcasting, voice-over, radio, and more.
#3 Aokeo AK-35 Desk Clamp Mic Stand
Although somewhat old fashioned in look and feel, this stand gets the job done at a budget. It's an adjustable scissor arm stand (with spring mechanism) made out of all steel construction, making it sturdy AND easily foldable for transportation.
The Aokeo AK-35 has a threaded screw adapter at the end of the mount to give you the flexibility to attach a variety of mics including the Blue Snowball, Yeti and many more.
The base clamp / clip has been redesigned for improved grip and can be attached on a desktop thickness of up to 10cm. The design also allows for 360° swivel giving you the option to position your microphone any way you want. Furthermore, the adjustable arm is easy folded for safe stowaway and portability.
With a Max load of 3.3 lbs (1.5 kg), it is not the strongest in the list, but is strong enough to support the Yeti's weight of 2.2 lbs (1 kg)… not bad for a budget microphone stand that also offers a life time warranty.
Factors To Consider Before Buying A Blue Yeti Stand Replacement?
There are several factors to consider when buying your first mic arm. To make things a little easier, I break down 4 of those important reasons below.
#1 Mic & Arm Compatibility
As you've likely found this page through searching "Blue Yeti mic stand", it's obviously important that the mount screw thread is compatible with the Yeti's screw hole in order to attach the microphone to the stand.
If these don't fit each other, you then have a big problem. When doing your research, be sure to find an arm that has a mount with a 5/8″ male mic screw thread, or one that comes with a blue yeti thread adapter.
How To Attach The Blue Yeti To Microphone Stand
Either your stand will come with a male 5/8″ screw that will fit the Yeti, or an adaptor so one end fits the Yeti while you can screw the other end to the mic arm.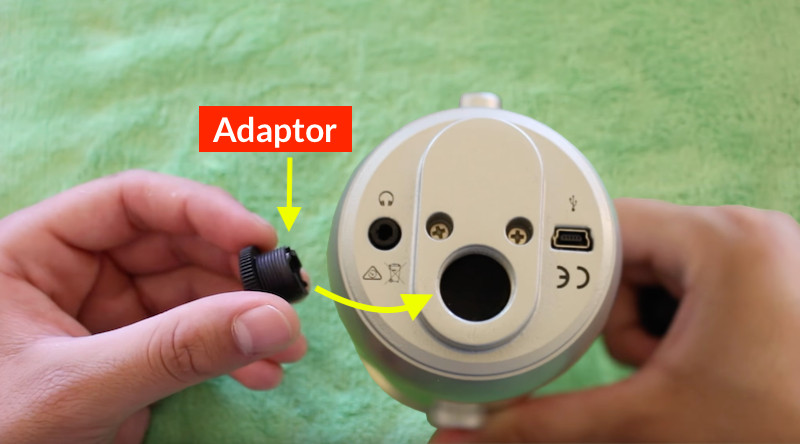 #2 Microphone Weight Restrictions
This is a no brainer, but is often a factor easily forgotten while being too eager to buy your mic arm.
It's important to check the stand's max load capacity and if that load is capable of holding your Yeti's weight?
The Blue Yeti's weight without stand is 1.2 lbs (0.54 kg)
Does your potential stand support this weight? If yes, then you are good to go!
#3 Shock Mount To Fit Blue Yeti Mic Stand
If you're really getting series about your audio setup, the next step would be investing in a shock mount that cradles your microphone to stop it from absorbing those unwanted vibrations being picked up from the floor, your desktop or even while moving it out the way.
Shock mounts essentially work like a basket held in place by elasticated strings / springs that absorb any shockwaves moving up the arm. The idea is for the mic to stay in one place while everything attached to it does the moving (a little like shock absorbers in a car)
#4 Mic & Pop Filter Compatibility
When buying your Yeti microphone stand, you might want to spend a little more and get yourself a pop filter to stop popping sounds. It's important that the pop filter can attach securely to the stand and not fall off during movement.
How To Position The Blue Yeti
Now that you've got the perfect microphone holder, there may be one final thing to do: position the Yeti correctly!
As mentioned, the Yeti is directional and it performs optimally when talking into it from a side angle, rather than directly to the top of it.
[highlight-it color-1]Here's how to position your Blue Yeti mic for optimal audio performance[/highlight-it]:
Place Yeti mic vertically
Mouth to mic approx 6″ (measure using "hang loose" gesture 🤙)
Voice should move slightly downward direction into side of mic
Here's a visual representation for how to position the Blue Yeti!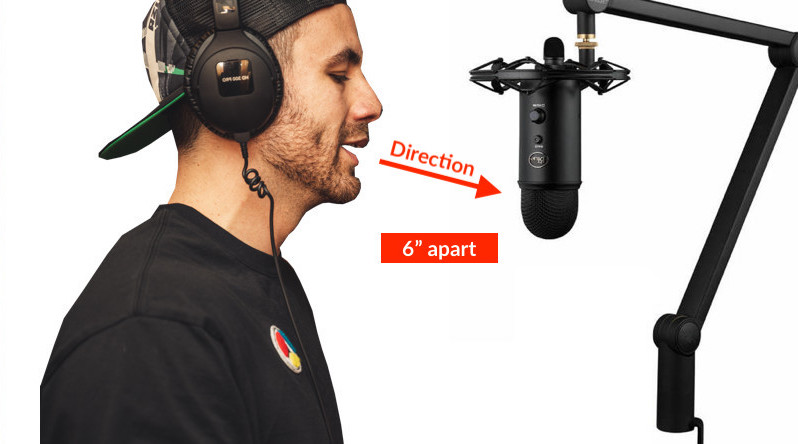 Author's Final Thoughts
In this article, I purposely left out desk mic stands that rest on your office desk or work area. I felt it made no sense to replace one desk standing mic with an other, especially when the Yeti's one is solid and sturdy enough.
The idea was to recommend boom arm models which are better at eliminating vibrations or knocks that run through your desktop area.
My number one choice is the InnoGear Stand, not because I think it is better than the Blue Compass which is specifically catered for the Blue Yeti, but rather because of price.
I feel although there are some differences, their performances are on a par and equally reviewed positively, so why pay more if you don't have to?
Other Accessories For Further Audio Greatness
You may want to further your set up one step closer to professional level, but still keeping it at a somewhat budget cost.
Having a Youtube channel or podcast doesn't have to be expensive.
There are essentially only two more accessories that could be used to further improve your audio quality and these have already been mentioned above:
The difference here is, these recommendations will fit your Yeti microphone!