Printing nylon is possible using various methods. This includes screen printing, heat transfer printing, and digital printing.
Screen printing is the most common method for printing on nylon. It is a versatile system with the ability to print multiple colors (if done correctly). You can also print complex designs using this technique.
Each of these methods has advantages and drawbacks. Choosing the right one for the desired results is paramount for this synthetic polymer.
If you are curious about how to print on nylon, keep reading!
Printing On Nylon Guide
If you're looking for tips on how to print on nylon, you've come to the right place. Nylon is one of those materials that is versatile and used for a variety of applications. These range from clothing to home decor.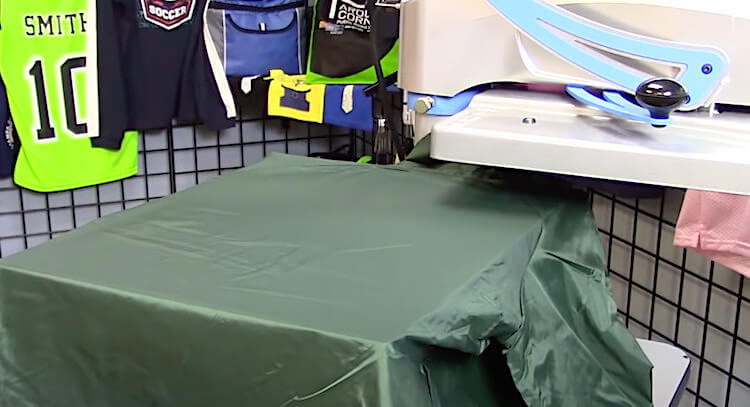 Printing on nylon is tricky, particularly due to its low melting temperature. But with these simple tips, you'll be able to finish the job in no time.
Here are a few steps you can follow to print on nylon:
Step 1: Choose the right type of nylon
There are several types of nylon. So make sure you select the one that will work best for your prints.
Printing on nylon is possible using these methods, screen printing, digital printing, and heat transfer.
Each of these have its own advantages and draw backs. So it is important to choose the right one for your project. If unsure, ask a professional at your local print shop to help you with your ideal choice for prints.
There are two main types of nylon – polyamide, and polyester.
Polyamide is more commonly used for clothing. While polyester is more durable and often used for outdoor gear.
Step 2: Prepare the surface of nylon
Nylon is a smooth material and will need roughening up prior to printing. This will help the ink adhere to the fabric's surface.
Once you have your nylon fabric, you will need to prepare it for printing. To do this, you will need to wash the fabric in warm water and then dry it.
Once the fabric is dry, you will need to iron it. Ironing it will help to smooth out any wrinkles. Once the fabric is prepared, you will need to choose a design.
As nylon is not a natural fabric, it cannot be printed using traditional printing methods. To print on nylon, you must pretreat it with a sublimation adhesive.
Once the adhesive has been applied, you can print your design using your sublimation printer.
Step 3: Use the right ink for the nylon
The challenge with printing on nylon is that it's difficult to adhere to. But with preparation, the right equipment, and printer settings, you can transfer the design without issues.
Not all inks will work on nylon. Be sure to select an ink that is specially designed for this fabric. High-quality ink will less likely bleed and produce superior results.
Finally, you'll need to consider ink durability. Nylon is a tough material, so you'll need an ink that can withstand wear and tear.
Step 4: Prepare your design for printing
Nylon is tricky to print on. You'll want to make sure your design is ready before you start. This means ensuring all the colors are where they're supposed to be and that your design is the right size.
The slippery fabric makes it easy for the ink to smudge. However, there are a few things you can do to prevent this.
Firstly, use a fabric pen or pencil to trace your design onto the fabric. Then, use a sharp pair of scissors to cut out the design. Finally, use fabric glue (or a hot glue gun) to attach the design to the fabric.
Step 5: Use a high-quality printer
A high-quality printer will produce superior results. You'll need to make sure your printer is able to handle the nylon material. Many printers are incapable of doing this. So it's important to check before you begin.
One way to print on nylon is to use a sublimation printer. Sublimation printers use heat to transfer dye onto the fabric, which then becomes part of the fibers. This method is best for printing images and graphics onto nylon.
Nylon filament is a smooth material, so you'll want to use a printer that can handle smooth surfaces. Another way to print on nylon is to use a digital printer. This type of printer uses inkjet technology to print onto the fabric. This method is best for printing text and simple graphics.
When you're ready to print, load your screen with ink and then place your nylon fabric on top of it. Use a squeegee to push the ink through the screen and onto the fabric.
Next, you need to print your design onto transfer paper. You can use an inkjet printer for this. Once your design is printed, use a household iron to transfer it onto the nylon fabric. When using transfer paper, it is important to use a heat press.
If you do not have a heat press, use an iron with an all-metal hot end. However, make sure that the iron is set to the highest setting.
Place the transfer paper on the nylon and press for 30 seconds. Allow the nylon to cool before peeling off the transfer paper. Be sure to use a pressing cloth between the iron and the nylon fabric. Finally, you'll need to peel the transfer paper off of the nylon fabric.
Step 6: Seal the design
Finally, you need to seal the design with a clear coat. After you have printed your model, it is important to seal the surface of the design to protect it from the environment, absorb moisture and make it more durable.
There are many ways to seal a printed model, but we recommend using clear coat spray paint. This will provide a protective layer on the model and help it last longer.
Or, run the fabric under cold water to set the design on your nylon windbreakers for example.
What Is The Right Temperature For Printing On Nylon?
If you're looking to print on nylon, it's important to keep the temperature in mind. The melting point of nylon is around 260°C. So you'll want the printing temperature to be well below that.
Tip: Depending on the type of nylon and the printing process, the ideal printing temperature ranges from 180 to 220°C.
Keep in mind, the higher the temperature, the better the print quality. However, you also run the risk of damaging the material if the temperature is too high.
Printing too high a temperature can cause nylon to become brittle. While printing too low a temperature can result in poor adhesion.
That's why it's important to find a happy medium. Find the best results without damaging the material and keep it flexible.
If your printer isn't set to the right temperature, you run the risk of the nylon filaments not bonding properly, which can lead to a subpar final product. With the right preparation and attention to detail, you can get great results when printing on this filament surface.
With that said, it's always best to consult your printer's manual or the nylon manufacturer for the recommended printing temperature.
In-Depth Replies to Common Concerns
Q1. How do you print nylon successfully?
First, you need to make sure that your nylon is dry and clean. Otherwise, your prints will not look as crisp and clean as you want them to.
Second, you need to use an inkjet printer. Third, you need to use the correct type of ink.
Lastly, you need to use the correct type of paper.
Q2. Which printer can print on nylon?
If you are looking for a printer that can handle printing on nylon, there are a few options that you can consider.
The Canon imagePROGRAF Pro-1000, Epson SureColor P600, and HP Designjet Z3200 Photo are all printers that are designed for nylon.
Each printer has its own unique features and benefits that can make printing on nylon a breeze.
Conclusion
When it comes to printing on nylon, there are a few things you need to keep in mind. First, nylon is a bit more slippery than other fabrics. So you'll need to use a fabric adhesive to make sure your design stays put.
Secondly, nylon can be a bit tricky to print on with an inkjet printer. So you may need to invest in a specialized printer or use transfer paper. But once you've got the hang of it, printing on nylon is a breeze!
We hope our article and tips helped you prepare for the process of printing your prints on nylon surface as the ideal option if you want a durable bond.
More Articles On Printing