Sublimation printing is a popular technique of printing that is frequently used today. It can help transfer desired designs on items quickly and effectively.
But exactly how does sublimation printing work and what is the science behind it?
Key Takeaways
A general explanation on how it works
Sublimation printing uses heat to transfer dye onto a substrate such as polyester. The basic steps for sublimation are as follows:
Step 1
It starts by using a sublimation printer, that prints sublimation ink onto special sublimation paper.

Step 2
The printer paper is positioned on the substrate and typically heated with a heat press to temperatures around 400 °F (205 °C). The heat turns the ink into a gas, making it easier to penetrate to the substrate.
Step 3
Allow the ink to cure completely if you want the artwork to last. Curing time will depend on the substrate material and the size of the printed area.
The process uses heat transfer and pressure. It is an easy and affordable technique for designing different clothing pieces.
Post 15 of 15 in the sublimation printing
If this interests you, continue reading the rest of our article. Find out more about the sublimation process and its technology!
What Is Sublimation Printing?
Sublimation printing allows personalization of various designs on different types of clothing and accessories.
With this method, quick transfer of designs is possible with the use of sublimation paper.
Position the sublimation paper (which has the design incorporated) onto your garment. Once the design is lined up, pressure along with heat is required to transfer the sublimation inks onto the material.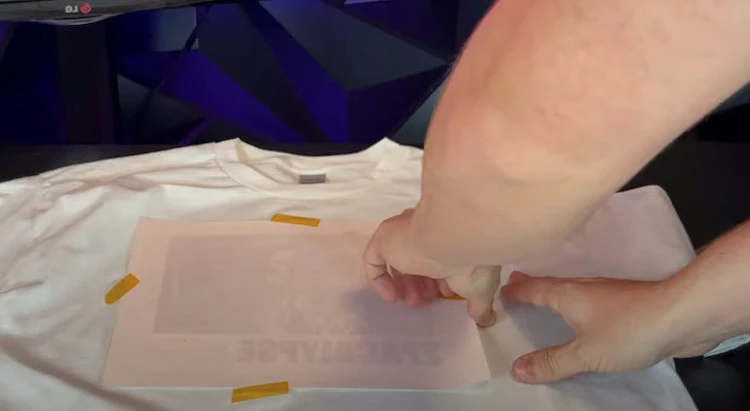 Usually a heat pressing machine produces the adequate pressure along with the required temperature. This is usually between 350 and 450°C, but these temperatures vary depending on the material of the fabric.
Here is our complete heat press temperature guide for different fabric types and printing techniques.
The whole process turns the ink into a gaseous state. This makes it easier for the ink to infuse into the fibers of the substrate, rather than sitting on top of the surface. It is also a fast process compared to other printing methods. Taking only a few seconds for application, making it perfect for mass production.
This printing technique is used by companies worldwide. But it is an excellent option for anyone wanting to get started with printing at home. Best of all, not much previous experience is required.
While you will need to be creative and know how to create the designs, the printing process on sublimation paper and the transfer to the fabric does not require professional expertise.
However, careful attention to the fabrics being used is required. For example, sublimation printing works best on polyester or fabrics containing a high percentage of polyester.
Polyester is a fabric that works extremely well with sublimation. When exposed to heat, the polymers open up similar to the way skin pores open. This allows the ink to enter the fabric easily through its pores. As a result, the ink bonds and grips the fabric once it cools and the pores close.
How Does This Printing Process Work?
To start the sublimation printing process, you will need to have a sublimation printer; otherwise, you will not be able to transfer designs on any range of materials.
Dye sublimation printers are affordable and can be found anywhere online.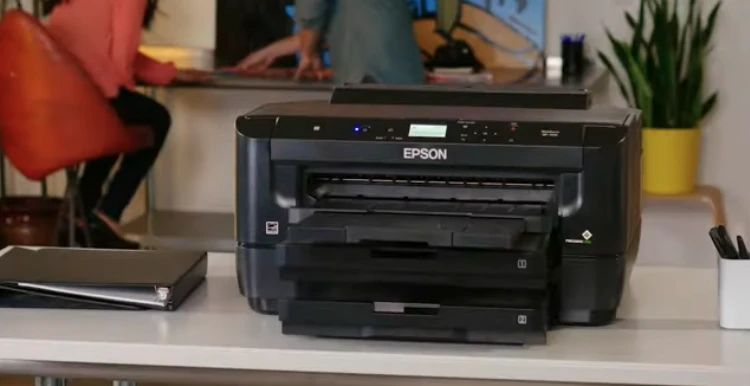 The printer should be connected to your laptop or computer which will contain your artwork – this means that you can also download pre-existing designs and directly transfer them onto the garment without harming quality.
Make sure you position your sublimation prints the right way and that you choose the right printing settings; otherwise mistakes will happen.
Did you know for sublimation printing, you have to make sure your image is mirrored or flipped horizontally before printing?
Once you turn it on and put the sublimation paper into the device, all you need to do is click on Start printing on your computer, and the device will start transferring the design from your software to the paper.
Watch this video: Printer Settings For Sublimation Printing
To save time, skip to timeline 00:23!
You will need to use a special transfer paper for sublimation print because it is the only way you can transfer the design onto the fabric.
Keep in mind that sublimation printing devices work differently to inkjet printers. An inkjet printer cannot be used for sublimation, however, it is possible to convert inkjet printers into sublimation printers and save on cost.
Inkjet printing is entirely different. With sublimation printing, the ink will bond better and stay for longer on the fabric. As already mentioned, this is because the ink turns into a gas state and enters the pores of the fabric once heated by the heat press. This makes it easier for the ink to take a hold and bond better.
Watch this video: What Is Sublimation & How To Do It [03 mins 25 secs]
To save time, skip to timeline 00:16!
In essence, sublimation ink has different properties to inkjet inks. You should also keep in mind that sublimation prints can also be used on ceramics and other materials. So you can print the desired designs onto your coffee mugs, mouse pads or even cell phone case!
What Are The Best Printing Fabrics?
As already mentioned, dye sublimation printing can be performed on a variety of materials. As long as you have a dye sublimation printer and sublimation transfer paper, you can get the job done.
There are a number of materials that work best for this type of printing. Here is a list of the best options for sublimation printing:
Polyester materials
Polyester coating aluminum
PVC
Ceramic
Polymer plastic materials
Polycotton
As can be seen, the best option for the sublimation printing process is mostly polyester and PVC fabrics.
However, it can be used on ceramic too, as the material is enduring and can deal with higher temperatures with little issue.
Also, keep in mind that the sublimation is tricky to achieve on natural materials and cotton garments because they aren't very heat resistant. They also don't have the pores in the material required for the ink to become absorbed. So if you plan on working with these materials, you will need to opt for some other printing options.
What Are The Most Important Sublimation Printing Supplies?
If you want to make sublimation printing your business and come up with unique designs, you will need to invest in some supplies that can provide you with desired results.
These are some things you need for your sublimation printer to create unique designs.
Sublimation Ink cartridges
Ink cartridges are something you will need to repurchase frequently, but they are more lasting than other printing techniques.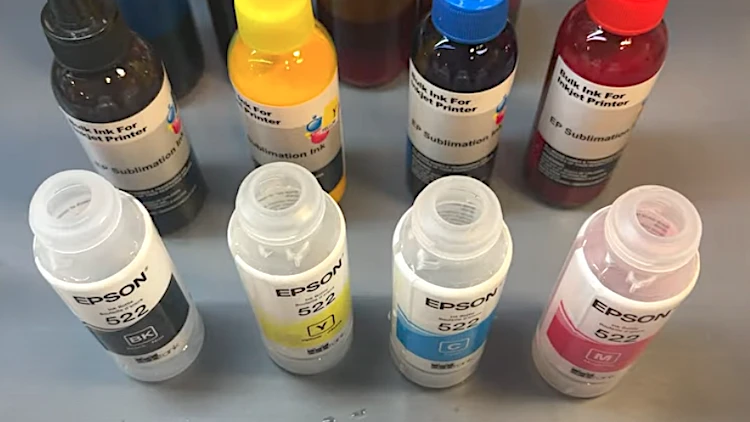 I would recommend you invest in good cartridges, but you can be sure that most of them will do a great job and leave a lasting design on your garment.
Sublimation transfer paper
Transfer paper is one of the most important parts of the sublimation printing process. It is used in other methods of printing too.
Once you install your RIP software, you will be able to control the design and choose what will appear on your transfer sheet before transferring it onto the material.
You can't use simple copy paper for this. You need to make sure the transfer paper you are purchasing is compatible with your sublimation printing device.
I would recommend investing in more expensive ones because the difference will be obvious, although there are exceptions to this rule!
They can be found anywhere, and there are just a few varieties of this paper, so whatever material you may be working with, you can be sure that the paper will do a great job.
Heat press usage and required settings
A heat press is a game changer. If you want your sublimation printing results to be immaculate, then this is the thing you need to invest your money on (not using a domestic iron).
Heat presses come in all shapes and sizes. One of the things to consider when choosing the right one is what materials you will be working with.
For example, if you know you will focus on ceramic printing, then you should purchase those with the largest temperature settings.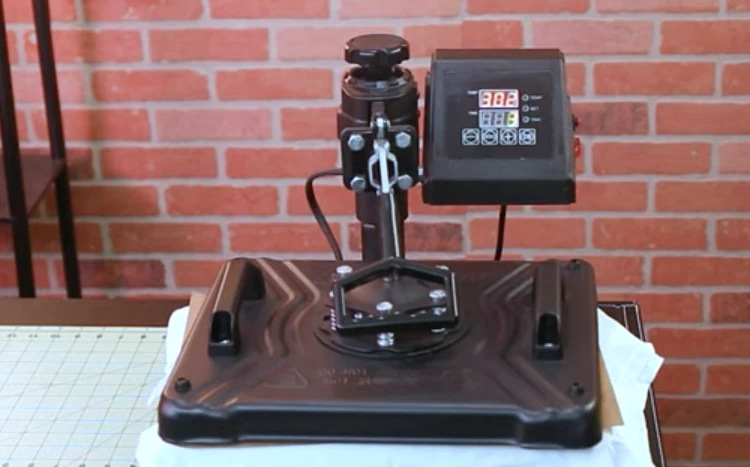 However, if you are working only with polyester fabrics, then you can settle for those that go up to 350 degrees, and get the desired result.
These machines are also useful for pre-heating fabrics. This process does two things:
Removes moisture from the areas you want to print on.
Removes creases to allow for better transfer of design.
Sublimation coating spray
Sublimation sprays are used for protecting the sublimated design. The spray (once dry) creates a protective layer over the artwork, allowing it to withstand the test of time. Consider sublimation sprays designed for different substrates work differently from each other. For example, some spray products have ingredients that work well on fabric, while others are designed for harder surfaces like ceramic or wood.
The instructions will contain the relevant information. Be sure to read this before making your purchase, otherwise the coating will likely have limited impact on doing its job.
FAQ
Can you use a regular printer for sublimation?
You will be able to use a regular printer like a laser or inkjet printer to transfer designs to different materials, but you can't expect the results to be as unique as they would be with a sublimation printer.
Sublimation printers are the best device for this, and not many devices can perform as well.
What is needed for sublimation printing?
The supplies required for sublimation printing are a sublimation printer, RIP software, transfer papers, and a heat press, so you don't need to splurge too much to get the whole equipment.
Is sublimation printing expensive?
Sublimation printing is a lot more affordable than most other printing options, especially digital printing and embroidery printing options, and the whole equipment can be purchased at a much lower price and will last you for a longer period.
Conclusion
Full colors and vibrancy are what makes designs stand out from the rest. Sublimation printing is a good choice for achieving these results on your apparel with little down time. Consider high-quality graphics which are transferred over quickly and you have a potentially high profitable business (due to being able to create higher volumes).
Most people already have a computer and access to free powerful software tools like Inkscape. This makes sublimation printing work one of the most economical printing processes available.
The initial investment will be for a sublimation printer and heat press machine and, thereafter, the only consumables you will have are the inks and transfer paper when they run out!