Sublimation printing is a popular method of printing that is frequently used today. It can help transfer desired designs on items quickly and effectively.
In fact, sublimation printing is so popular, that the global dye sublimation market is expected to reach a CAGR of 16.8% by 2028.
But exactly how does sublimation printing work and what is the science behind this printing method?
This process works by converting dye from a solid to a gaseous state using heat, allowing it to penetrate and bond with the fabric, resulting in vibrant and durable designs.
Key Takeaways
A general explanation on how it works
Sublimation printing uses heat and pressure to transfer dye onto a substrate, such as polyester, for personalized designs on clothing and accessories.
The process involves three basic steps
a. Using a sublimation printer to print sublimation ink onto special paper.

b. Positioning the printed paper on the substrate and heating it with a heat press at around 400 °F (205 °C), turning the ink into a gas for better penetration.

c. Allowing the ink to cure completely for longer-lasting artwork, with curing time varying based on substrate material and print size.
If this interests you, continue reading. Find out more about the sublimation process and its technology!
What Is Sublimation Printing?
Sublimation printing allows personalization of various designs on different types of clothing fabrics and accessories.
With this method, quick transfer of designs is possible with the use of sublimation paper.
Position the sublimation paper (which has the design incorporated) onto your garment. Once the design is lined up, the correct amount of pressure along with heat is required to transfer the sublimation inks onto the material.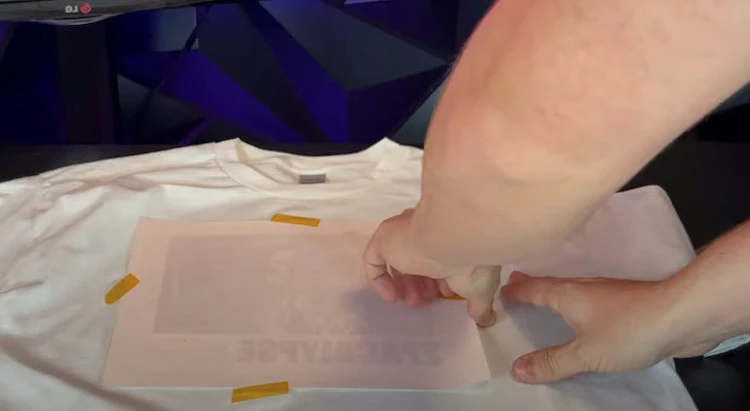 A heat pressing machine produces the adequate pressure along with the required temperature. This is usually between 350 and 450°C, but these temperatures vary depending on the material of the fabric.
Here is our complete heat press temperature guide for different fabric types and printing techniques.
The process turns the ink into a gaseous state. This makes it easier for the ink to infuse into the fibers of the substrate (rather than sitting on top of the surface). It is also a fast process compared to other printing methods. It only takes a few seconds for application, suitable for mass production.
This printing technique is used by companies worldwide. But it's also an excellent option for anyone wanting to get started with printing at home. Best of all, not much previous experience is required.
Although creativity and design skills are necessary, the printing process onto sublimation paper and transferring it to the fabric do not demand professional expertise.
Nonetheless, it's important to pay close attention to the choice of fabrics. Sublimation printing, for instance, works best on polyester or fabrics containing a high percentage of polyester.
Polyester is a fabric that works extremely well with sublimation. When exposed to heat, the polymers open up similar to the way skin pores open. This allows the ink to enter the fabric through its pores. As a result, the ink bonds and grips the fabric once it cools and the pores close.
How Does This Printing Process Work?
So how does sublimation printing work? To start the sublimation printing process, you will need to have a sublimation printer. Dye sublimation printers are affordable and can be found anywhere online.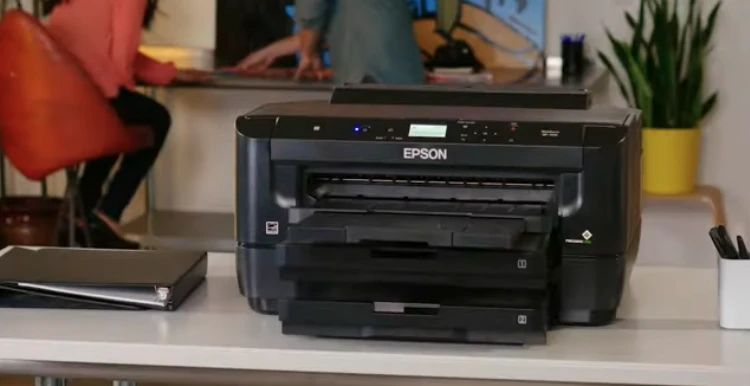 The printer should be connected to your laptop or computer which contains your artwork – this means that you can also download pre-existing designs ready for transfer.
Did you know?
For sublimation printing, you have to make sure your image is mirrored or flipped horizontally before printing?
Turn on your printer and put the sublimation paper into it. Click on Start printing, and the device will start transferring the design from your software to the paper.
Watch this video: Printer Settings For Sublimation Printing
To save time, skip to timeline 00:23!
You will need to use a special transfer paper for sublimation print because it is the only way you can transfer the design onto the fabric.
Keep in mind that sublimation printing devices work differently to inkjet printers. An inkjet printer cannot be used for sublimation, however, it is possible to convert inkjet printers into sublimation printers to save on cost.
Watch this video: What Is Sublimation & How To Do It [03 mins 25 secs]
To save time, skip to timeline 00:16!
In essence, sublimation ink has different properties to inkjet inks. Keep in mind, sublimation prints can also be used on ceramics and other materials. So you can print the desired designs onto your coffee mugs, mouse pads or even cell phone case!
Which Are The Best Dye Sublimation Printers?
Whether you're a first-time buyer or expanding your collection, conducting online research before purchasing a sublimation printer is crucial. There are a wide range of option available at different prices, so how do you make an informed decision with so many to choose from?
He have curated our top 3 picks to simplify your selection process. However, please remember, we are comparing quality with price in order to find that perfect balance!
✂– – – – – – – – – – – – – – – – – – – –
Sawgrass Virtuoso SG400
The Sawgrass Virtuoso SG400 is a popular dye-sublimation printer known for its high-quality performance and reliability in the sublimation printing industry. It is designed specifically for sublimation printing, allowing users to produce vibrant and durable prints on various substrates, such as polyester fabrics, ceramics, and more.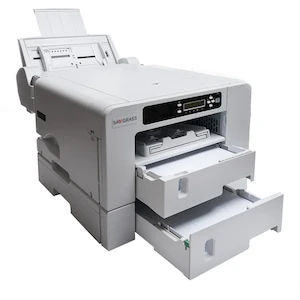 The SG400 model is known for its compact size, making it suitable for small spaces and home-based businesses. It has been a preferred choice for many sublimation enthusiasts and professionals due to its ease of use and exceptional printing results.
Advantages of the Sawgrass Virtuoso SG400
High quality and detailed printing
Printing resolution of 4880 x 1200 dpi
Ease to use, making it accessible to beginners and experienced users alike
Handles various substrates, including polyester fabrics, ceramics, metal, and more
Reliable performance, consistent output and reduced downtime
✂– – – – – – – – – – – – – – – – – – – –
Mitsubishi CP-D70DW
The Mitsubishi CP-D70DW is a dye-sublimation printer that is commonly used in the field of photography for producing high-quality photo prints. Dye-sublimation printers like the CP-D70DW are popular choices for photographers due to their ability to create professional-grade prints with vibrant colors, sharp details, and durability.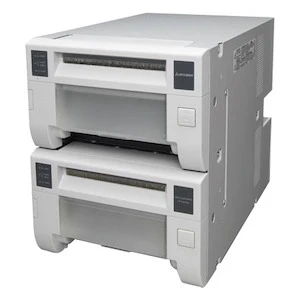 For convenient media replacement, the CP-D70DW features a front-loading mechanism, reducing downtime during busy print sessions. Users can also choose from multiple print modes, including standard, matte, and fine print modes, to achieve their desired print finish.
Advantages of the Mitsubishi CP-D70DW
300 dpi resolution ensures clear, vibrant, and high-quality photo prints suitable for photography applications
Designed with user-friendly features, making it easy to operate and ideal for both beginners and experienced users
Mitsubishi printers, known for their reliability and consistent output
✂– – – – – – – – – – – – – – – – – – – –
Sinfonia Color Stream CS2
The Sinfonia CS2, also known as the Sinfonia Color Stream CS2, is a reliable and high-performance dye-sublimation printer that caters to the needs of event photographers, photo booth operators, and on-site printing services. With its fast printing speeds, capable of producing 4×6-inch prints in approximately 11 seconds, and a sharp 300 dpi resolution, the CS2 ensures efficient and vibrant high quality images with excellent detail and color accuracy.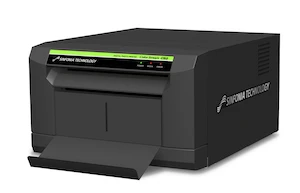 Its compact design makes it easy to transport and set up in various event environments, while the front-loading mechanism allows for quick and hassle-free media replacement, minimizing downtime during busy printing sessions.
Advantages of the Sinfonia Color Stream CS2
The printer supports multiple print sizes, including 4×6″, 5×7″, and 6×8″
Able to hold up to 600 prints on a single roll
Known for its consistent and reliable print quality
Offers rapid printing speeds, allowing users to produce 4×6-inch prints in 11 seconds
Sharp 300 dpi resolution with excellent detail and vibrant colors
✂– – – – – – – – – – – – – – – – – – – –
What Are The Best Printing Fabrics?
As mentioned, dye sublimation printing can be performed on a variety of materials. As long as you have a dye sublimation printer and sublimation transfer paper, you can get the job done.
There are a number of materials that work best for this type of printing. Here is a list of the best options for sublimation printing:
Polyester materials
Polyester coating aluminum
PVC
Ceramic
Polymer plastic materials
Polycotton
As can be seen, the best option for the sublimation printing process is mostly polyester and PVC fabrics.
However, it can be used on ceramic too, as the material is enduring and can deal with higher temperatures with little issue.
Keep in mind, sublimation is tricky to achieve on natural materials and cotton garments because they aren't very heat resistant. They also don't have the pores in the material required for the ink to bond effectively. So if you plan on working with these materials, you will need to opt for some other printing options.
What Are The Most Important Dye Sublimation Supplies?
If your aim is to establish sublimation printing as your business venture and craft distinctive designs, an investment in suitable supplies is essential to achieve the desired results.
Outlined below are the essentials required for your sublimation printer to create unique designs.
Sublimation Ink cartridges
Ink cartridges are something you will need to repurchase frequently, but they are more lasting than other printing techniques.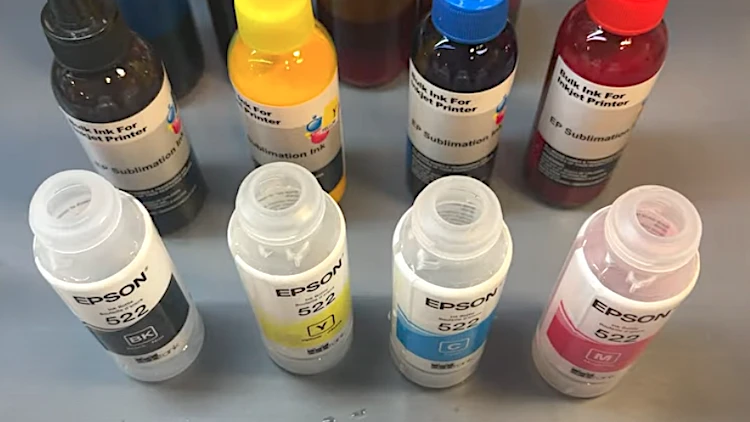 I would recommend you invest in good cartridges, but you can be sure that most of them will do a great job and leave a lasting design on your garment.
Sublimation transfer paper
Transfer paper is one of the most important parts of the sublimation printing process. It is used in other methods of printing too.
Once you install your RIP software, you will be able to control the design and choose what will appear on your transfer sheet before transferring it onto the material.
You can't use simple copy paper for this. You need to make sure the transfer paper you are purchasing is compatible with your sublimation printing device.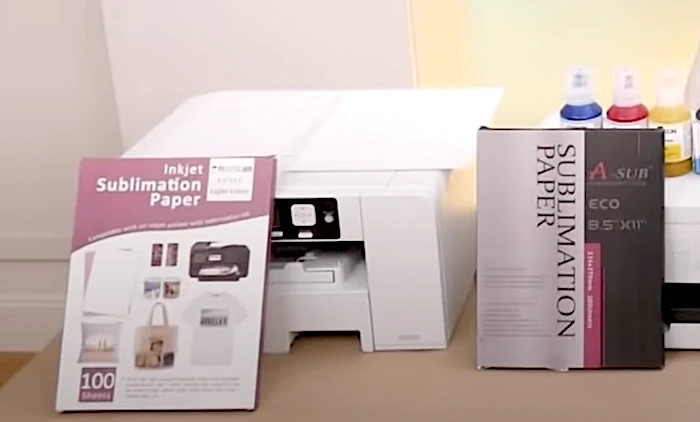 I would recommend investing in more expensive ones because the difference will be obvious, although there are exceptions to this rule!
They can be found anywhere, and there are just a few varieties of this paper, so whatever material you may be working with, you can be sure that the paper will do a great job.
Heat press usage and required settings
A heat press is a game changer. If you want your sublimation printing results to be immaculate, then this is the thing you need to invest your money on (not using a domestic iron).
Heat presses come in all shapes and sizes. One of the things to consider when choosing the right one is what materials you will be working with.
For example, if you know you will focus on ceramic printing, then you should purchase those with the largest temperature settings.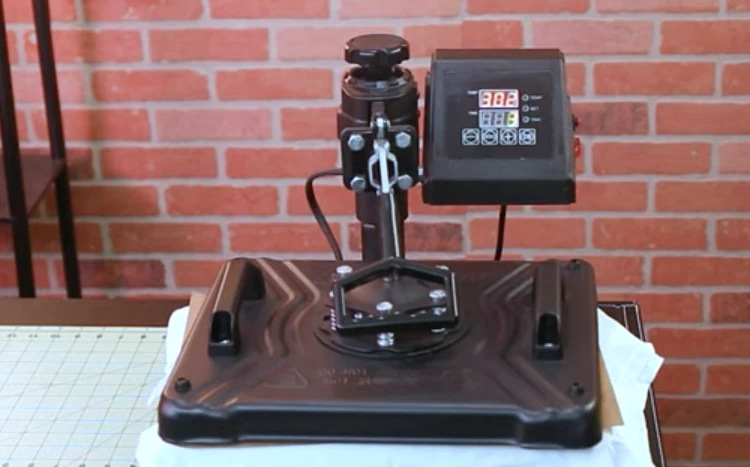 However, if you are working only with polyester fabrics, then you can settle for those that go up to 350 degrees, and get the desired result.
These machines are also useful for pre-heating fabrics. This process does two things:
Removes moisture from the areas you want to print on.
Removes creases to allow for better transfer of design.
Sublimation coating spray
Sublimation sprays are used for protecting the sublimated design. The spray (once dry) creates a protective layer over the artwork, allowing it to withstand the test of time. Consider sublimation sprays designed for different substrates work differently from each other. For example, some spray products have ingredients that work well on fabric, while others are designed for harder surfaces like ceramic or wood.
The instructions will contain the relevant information. Be sure to read this before making your purchase, otherwise the coating will likely have limited impact on doing its job.
Detailed Explanations for Common Queries
Can you use a regular printer for sublimation?
You will be able to use a regular printer like a laser or inkjet printer to transfer designs to different materials, but you can't expect the results to be as unique as they would be with a sublimation printer.
Sublimation printers are the best device for this, and not many devices can perform as well.
What is needed for sublimation printing?
The supplies required for sublimation printing are a sublimation printer, RIP software, transfer papers, and a heat press, so you don't need to splurge too much to get the whole equipment.
Is sublimation printing expensive?
Sublimation printing is a lot more affordable than most other printing options, especially digital printing and embroidery printing options, and the whole equipment can be purchased at a much lower price and will last you for a longer period.
Conclusion
Full colors and vibrancy are what makes designs stand out from the rest. We've answered the question "how does sublimation printing work" and why it's a good choice for achieving these results with little down time.
Consider high-quality graphics which are transferred over quickly and you have a potentially high profitable business (due to being able to create higher volumes).
Most people already have a computer and access to free powerful software tools like Inkscape. This makes sublimation printing work one of the most economical printing processes available.
The initial investment will be for a sublimation printer and heat press machine and, thereafter, the only consumables you will have are the inks and transfer paper when they run out!