Printing on glass surfaces can be both a fun DIY project or a way to promote an already existing business. The advancement in technology has made it more accessible than ever, and the printing options are endless.
Key Takeaways
Methods of glass printing
The 3 methods of glass printing mentioned in this article are:  mod podge printing ,  screen printing  &  digital printing .
Glass preparation (before printing)
Regardless of which glass printing method is being used, it's important to rid of any dirt or debris from the glass's surface. Use alcohol to remove any impurities and rub dry with a cotton ball.
Most versatile printing method
If you are just starting out, it's unlikely you'll be investing in digital printing. However, later down the line, it should be a consideration. This method allows for the printing of a combination of colors and designs. It is also suited for mass production.
The glass printing market globally is projected to grow at a rate of 6% annually. At this rate a market size of $3.6 billion will be met by 2027.
Post 4 of 4 in the ceramic & glass design
Get ready to explore the exciting world of glass printing, but there are a couple of things that should be taken into consideration before starting. Our guide will fill in you with the ins and outs on how to print on glass!
Glass-Printing as a Side Project
If your interest in this activity is purely out of curiosity and not a part of a bigger project, here are a few things that could be helpful:
You shouldn't use printed images, as these home methods aren't optimal for printing on glass.
Either your own artwork or the artwork of your kids is ideal for this project.
Using this method an array of glass items can be decorated, some of them including: wine bottles, drinking glasses…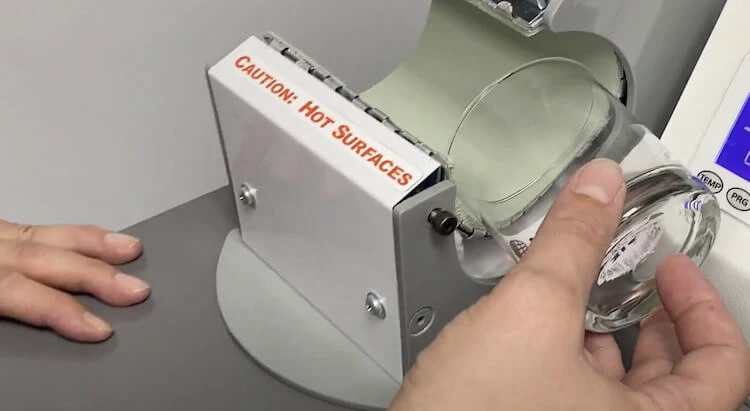 Materials needed for this project are: an image of choice, a glass object or objects, mod podge and a craft brush.
The process
To begin the process, wipe clean your item of choice with alcohol.
Using a thin layer of mod podge and your image of choice, glue it carefully to the item.
Press out any air bubbles that may occur.
Seal the image with another layer of mod podge.
Using a damp cloth, rub away the paper the contain the image.
Note: using this method several materials can be used, like tissue paper or even different patterned fabrics.
Glass-Printing for a Business
Printing on glass surfaces using printed images is a trickier task and will require a digital printer. Using this machine opens an array of options. Here are a few things to keep in mind:
Digital printing on glassware, known also as ceramic digital printing, is a technology that allows its users to print anything they want in high quality. Here are a few helpful pieces of information:
This method allows absolute full control over the format of the printed image.
Manufacturing large quantities of a product is extremely easy using this method.
It is recommended to use primer ink to optimize the end results.
If your goal is to print images that include one to two colors, the best process is screen printing as it is most suitable for such designs.
If, however, you intend on making colorful objects, digital printing is best.
The Screen Printing Process
Screen printing is a practical technique for creating bold canvases and artwork, even on darker backgrounds. This process is also sometimes called serigraphy or silk screen printing on glass. It can be used to print on a number of surfaces, like wood, metal, plastic, and of course-glass. It should be kept in mind that in order to print on glass like a professional, a number of steps should be followed:
A stencil and a mesh screen are used to create a design of choice.
Across said screen, ink is being spread with a swab, squeegee or paint brush.
The stencil blocks and covers certain areas of the glass surface.
All the other areas are left open for the ink to seep through on to the glass.
The ink is then "fired" to adhere to the glass.
This method is ideal for printing commercial materials.
The end product is a sharp and vivid design.
Watch this video: Easy Way To Screen Print On Glass [05 mins 34 secs]
The Digital Printing Process
The digital printing processes appear to be the most popular in recent years and should therefore be researched thoroughly. There are two methods for digital printing: UV-curable printing and digital ceramic printing. Depending on the desired end result, you should decide which process suits your expectations.
UV-Curable Printing on Glass
To cure the ink on the glass surface, organic inks and ultraviolet light are used.
The printer jets the ink to the glass surface.
No drying is necessary; the glass products are ready to be sold as soon as the printing process is finished.
This process opens up an unlimited array of color options.
Something that has to be kept in mind: the durability of the end product can be questionable and there's a lack of functional inks.
Nevertheless, an inkjet printer is an innovative way of printing on glass surfaces.
Digital Ceramic Printing on Glass
A specially formulated substance named ceramic frit is used. It consists of glass nano-particles, pigmented colors, and a liquid medium.
The aforementioned inks get joined with the glass during printing.
This method is extremely durable and permanent.
All of the possible problems that could arise with other methods aren't present in this one as the print quality is very high.
The possibilities are truly endless as special effects can be achieved because of the unlimited color options.
Watch this video: Digital In-Glass Printing Workflow (02 mins 45 secs)
---
Final Thoughts
To conclude, there is a wide array of options when it comes to printing on glass and using a glass printer.
Depending on if you want to use a digitally printed image or a drawing/piece of fabric from your home to create printed glass objects, there are different options for everybody.
Obviously, if your plan is to start a business using this unique technique, you should opt for a form of digital or screen printing on glass. Researching such a vast topic may sound intimidating, but the end goal -a beautifully decorated glass object-will always be worth it.
Thorough Replies to Popular Questions
What Type Of Ink Is Used To Print On Glass?
The glass industry generally uses ceramic inks for producing high-gloss gold or silver effects. These inks are expensive and therefore the popular alternative is hot stamping with UV inks.
Can You Print Directly On Glass?
In order to print in glass, you must use glass printing machines. Then the printer can print flat items like a glass coaster or panel or cylindrical objects like a cup or bottle, or even on glass coasters. Before printing, you have to cover the glass with primers or pre coats. There are two options when it comes to printing on glass: UV curable printing and digital ceramic printing.
How Do You Print Something Onto Glass?
To attach a picture to glass, use adhesive packaging. Soak images on paper with warm water before putting them on the glass and remove the paper. Alternately, you might use a gel transfer film to direct your images onto a glass surface. This method is directed at those who are planning on printing on glass as a hobby, not as a business.