White printing can be a highly complex process simply because there is no way to print white ink directly, as none of the standard ink color combinations give white as their final result.
Transfer paper is often used for white ink printing to bypass this problem. This guide will explain how to accomplish having white text no matter what you print on.
Printing white ink on transfer paper is a complicated yet manageable process that differs depending on the type of text and the color of the transfer paper used.
Additionally, the surface or the fabric your transfer paper will be applied to has to be factored in. The following guide will explain how to print white ink on transfer paper and then use this technique regardless of your shirts' material.
How To Print White On Dark Color Transfer Paper
Printing white text on dark transfer paper can be done with most printers without much issue, though it does require several additional steps when compared to printing other colors.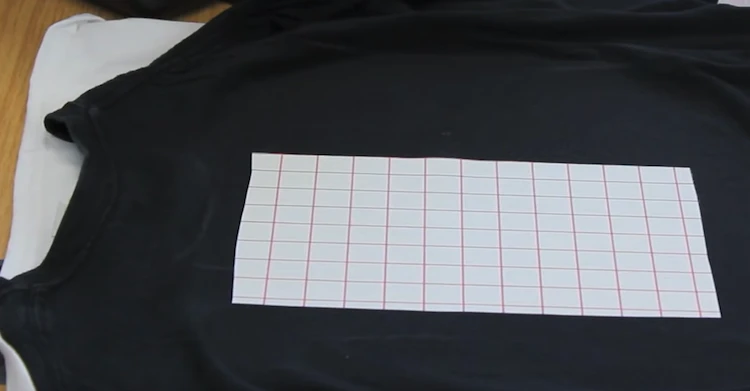 Printing your sticker
First, you will need to print whatever it is that you want to transfer, then cut it out for later use. This can be done with the usual printing methods.
Cutting the sticker and applying it to the surface
Cut your sticker as carefully as possible, then peel it off the rest of the material before applying it to the shirt you want to transfer the white print to.
Applying the sticker
This is by far the most essential part of the process. Not only is there the most significant margin for error, even in the case of dark clothing, but you can also make irreversible changes to your shirt.
Thus, you will need to be particularly careful when applying your print to the shirt. Quickly after peeling the sticker, press it against the shirt with the print side up, then press it with an iron for several seconds. This will ensure that the text is actually applied.
Please wait for the iron to become cool enough to touch, then remove it. The result should be finely printed white letters if you have carefully followed the instructions.
Additional tips:
In the case of a polyester shirt, you can alternatively use sublimation ink and a laser printer instead of heat transfer to print white text.
Making sure that your sticker is correctly positioned on the shirt can be much easier if you mark it beforehand.
How To Print White On Light Color Transfer Paper
Printing on white transfer paper is slightly more complicated than printing on dark paper, as it can only be done with very light shirts. Otherwise, the color of the fabric will still be seen even after you apply your transfer paper.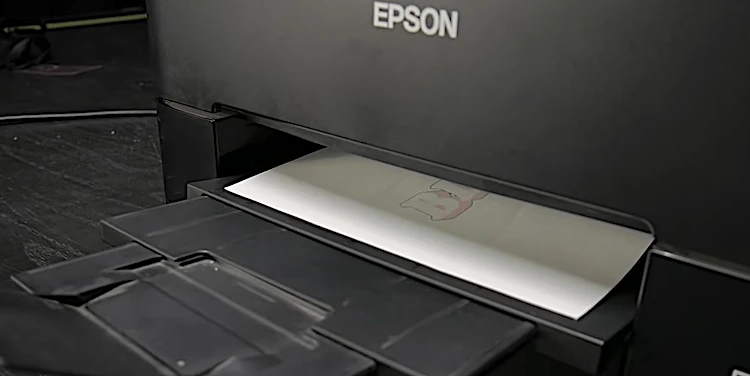 Choosing the right printer
First of all, you are going to need a printer capable of mirrored printing for this one. Thankfully, most modern printers have this ability, so you shouldn't have much issue. Still, check your equipment before you start. If your printer cannot support mirrored printing, there are sets that can fix that issue.
Print out your image
Once you have made sure your printer can do mirrored printing, what you need to do is the image or white text you want to print, and use your usual printing procedures to get it to the transfer paper.
Cutting out the sticker
Carefully cut out the sticker to make sure you are only getting what you want on the future image on your t-shirt, without the surrounding area. There is no need to hurry; ensuring that your design is undamaged is much more critical.
Heat transfer
Press your newly cut-out sticker to the garment you want to apply the image to, then quickly use a heated iron to it, making sure that the surface is smooth and without any wrinkles. By doing this, you can ensure that the images are transferred correctly.
Removing the sticker
Depending on your sticker's size, you may need to leave it under the pressing iron for longer. Anyhow, once the transfer to your shirt is complete, you will have to carefully peel off the background of the sticker in a way that your image doesn't get damaged or incomplete.
Additional tips:
Using heat transfer paper is much easier with laser printers than with an inkjet printer; look to get one if you are serious about heat printing.
Large format transfers take much more time to complete; don't peel off your sticker too soon!
the quality of the cotton fabric and the dye the shirt is made from can significantly impact the printing quality
How To Get The Best Printing Quality When Using Transfer Paper
Regardless of the color, you are trying to get with your printing, you will need to follow some rules to get the best possible quality when using transfer paper. Here we will list some of the most important ones:
Use the maximum image resolution and printing quality you have available, regardless of the size of the image or the type of printer you are using.
This will ensure that the end result is clear and not pixelated, therefore significantly increasing the visual appeal of the image (or images) on your shirt.
Always handle your transfer paper with utmost care. It is much thinner than regular printing paper and can be easily damaged. This is just as true when cutting out a sticker.
Make sure that your hot iron is pre-heated. Having an insufficiently heated iron can negatively influence the quality of the print.
Sublimation inks are an excellent solution for printing on transfer paper regardless of the color of fabric and printers you use.
In-Depth Replies to Popular Inquiries
Can I print a white image on transfer paper?
Yes, it is possible to print a white image on transfer paper, though it can be pretty complicated when compared to standard printing. Mixed colors do not give white as their result, so you will have to use heat printing to get what you want.
Furthermore, there are several differences depending on the color of the fabric you want to transfer your image to, all of which are explained further in this guide. Check it out for more information.
Does white show on transfer paper
Yes, special transfer paper can show white color on it, though you will need to use a special technique in order to transfer that image to the fabric, usually with the help of a hot iron. If you want to know more about transfer paper printing, read the rest of this guide.
Does iron-on transfer paper print white?
Using hot iron to press in an image on transfer paper is the most common way to print white text on a t-shirt or other textile material.
This is a reasonably straightforward process, but a substantial margin for error can make your sticker unusable. For a more detailed explanation of how to print white on transfer paper, check out this guide. It contains all the tips you will ever need.
How to print white on clear paper?
No color combo results in white ink. As a result, most people will resort to transferring paper in order to print white text or images on their clothing or other surfaces.
If you would like to know what this process entails, read the rest of this guide. It contains a step-by-step explanation of how to use transfer paper to get clear white text and images.