Raising money for different causes can be a tricky thing. This is the reason why many try to raise funds by creating campaigns.
A T-shirt campaign is probably the best way to start fundraising. If you want to find out how and what steps to take, we are here to help.
Can I Raise Money By Selling T-Shirts?
Shirt fundraising is a popular way for different organizations and individuals to raise funds. This can be done for all kinds of causes, mainly because they sell well.
Garment pieces like T-shirts, hats, or bags are things everyone buys. If you have something unique and extraordinary to offer, then the larger the buyer potential.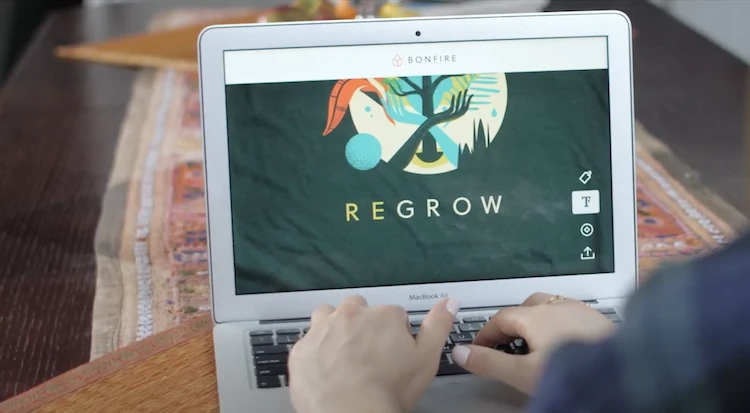 We have seen many brands trying to raise awareness through their clothing. This method has become a main method to raise money too!
So can you start funding your business or charity through apparel? The answer is resounding yes. You need to learn how to do it the right way though.
Here are some of the tips that will help you fundraise through T-shirts collections.
Create a unique logo
A recognizable logo is what sells the brand, whether you are creating a luxury brand or a charity collection of T-shirts that will help you raise money for a nice cause.
If you explore different fundraising websites and see their offer, you will see that no matter what their product may be, all of their products have a unique logo that is easily recognizable and usually connected to their main cause.
For that reason, if you raise money to help save animals, you should come up with a logo that represents that and helps people realize what it is that you are standing up for.
Use design templates
You don't need to hire a graphic designer to create your brand and come up with the most creative logos out there because you are not selling a brand but trying to promote a good cause.
This process can be done quickly through different apps with design templates that will allow you to customize a logo, create your identity and add designs you believe represent your intention and look nice to customers.
Promote it to supporters
It can be pretty hard to get people to purchase your designs if you don't have a niche or target audience, and since you are creating a T-shirt that is meant to help you raise money for a good cause, then the best way to start selling it is to promote it to people who support your ideas and are willing to donate to it.
This way, you will get donations from people who would do that even if you weren't selling unique T-shirts, and when your platform starts growing and designs become seen by several people, it will attract people from the rest of the world who maybe didn't even know about these things before.
These are some of the easiest ways you can start fundraising money by selling your T-shirts, but there are some more important steps you need to take before.
Bets Fundraising T Shirt Ideas
If you want to raise a lot of money for a good cause and attract many buyers, even those not in the world of charity, then you need to have good products and ideas.
These are some of the best T shirt styles you can add to your campaign to help you attract more people and raise money for your charity.
Custom T-shirts
If you want to have a large number of people ordering your T-shirt, then you should offer custom T-shirt designs they can design and decorate however they want.
These T-shirts tend to sell the best, and if you have a certain aesthetic and you are using, for example, only green and blue color, people can create whatever they want that fits into that aesthetic, and you will send it to them shortly.
This way, the goal of your campaign can easily be recognized by the colors or shapes you are using, and you can get people to wear your shirts all the time.
Cool logo
If you have a cool logo, you can sell thousands of T-shirts even to people who have no idea what is the cause behind your charity or action.
A good logo and print that make a T-shirt look cool and desirable will sell it fast, and you will be able to gain a lot of proceeds for the charity.
It can also help your organization gain a lot more recognition.
Good slogan
If you have a memorable slogan that attracts the attention of people and explains your main cause and intention in a good way, then you will have a lot of success in boosting your campaign and selling products.
This will make your charity recognizable and help spread the word because people will see it on others and look up to see what it means, so always try to come up with something cool and memorable.
Unique design
You don't have to stick with regular T-shirt looks when trying to create a fundraising design, and you can experiment a little bit with the shape and cuts.
This also includes a fantastic logo and colors, but if you have T-shirts of different shapes and colors, you will cater to many people and get more fundraisers.
What Are The Best T-Shirt Fundraisers?
If you are looking for a fundraising platform to sell T-shirts but can't find them, we've got you covered, and we have gathered some of the best fundraising websites in one place.
Bonfire
Bonfire is a fundraising platform for T-shirts, and pretty much every campaign that involves these styles is published on this platform.
They can also provide you with high-quality products so people would find it much easier to spend money on something that does a good deed and provides them with a good product.
Ink to the people
Ink to the people is a popular place for all sorts of fundraising events and campaigns, and it has a lot of viewers on a daily basis, so it is a great place to promote your goals and intentions and sell products.
They also offer different designs and styles, and it is easy to browse through different campaigns, so you will get a lot of exposure.
Inkd apparel
Inkd Apparel is a fantastic place for all nonprofit organizations and charity campaigns because they provide you with a lot of great advice, and they have a vast and influential audience which makes spreading the word easier, just like selling your T-shirts and getting more money as a fundraiser.