Sublimation printing is an excellent way to design different things, and sublimation crafts are a very popular DIY project anyone can create at home.
If you, too, want to come up with your sublimation crafting projects and you are interested in all the things you can create, then you should check out all of the things you will be able to come up with on your own.
Post 2 of 12 in the sublimation printing
What Can You Make With Sublimation?
Sublimation projects are a fantastic way to kill some time and create amazing things you can add to your home, and all you need is a different design and a sublimation printer, and you will be able to come up with hundreds of other things.
Sublimation is transferring a design to a blank item with the use of heat, but you need to make sure all the things you are using and transferring to are suitable for sublimation; otherwise, you may not get desired results.
All the involved objects should be made for sublimation, and you shouldn't experiment too much if you don't want everything to explore right in your face.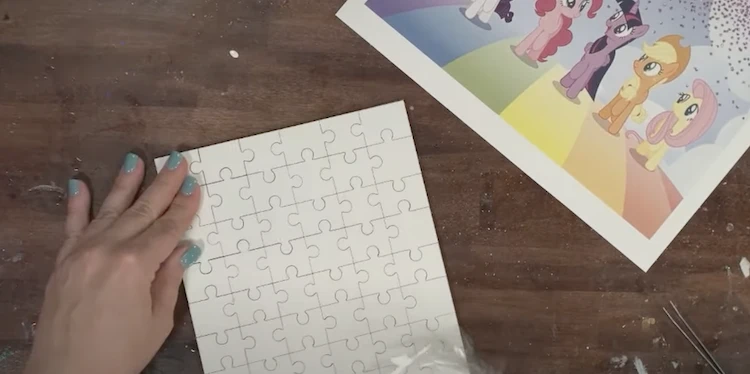 Sublimation works with sturdy and soft materials, too, so you will be able to create anything from a T-shirt to a coffee mug this way.
These are some of the things that are easy to make with sublimation, and they can be made at home even if you have never used sublimation tools before.
Pillowcases
Sublimation died pillowcases are a viral project these days, especially among girls who like to have an ideal space for themselves and feel like they are paying enough time to their self-care routines.
Pillowcases of all materials can be sublimated; it just depends on the type of material, how harsh your heat press should be, and how much effort you will need to put into it.
I would recommend sublimation on silk pillow covers, but covers of all other materials can easily be handled, and you won't even need to use heat resistant tape.
Overall, this is a great way to create a personalized cover for yourself and make yourself feel special even because of the smallest detail.
You can add your name, a subtle image, or craft a Beauty sleep logo that will make your bedroom space much prettier.
Mugs
Mugs can be created with sublimation printers, and you can sublimate pretty much anything on them, even the most detailed images and designs you can find on the internet.
The sublimation process on this one is relatively smooth, and you can transfer all sorts of silhouette designs and creations with just a few presses.
Any sort of sublimation design can be transferred to a material as harsh as that of a mug, so you can be sure it will do well whatever it is that you want to personalize it with.
You will need a bit more skills because they are rounded and the print doesn't transfer that quickly, but overall, the whole process is very simple and you will just need to repeat it 2 to 3 times if you want to get the perfect results.
T-Shirts
This is something most people are learning sublimation for, and you can easily craft projects of this sort with even the most simple sublimation printer out there.
All you need to do is find the type of T-shirt you want to craft, get the desired design or print, and start sublimating.
Before you start the project, make sure your T-shirt is in good condition and that the material can easily be sublimated on; once you have found your print, all you need to do is put it into your sublimation printer and wait for the results.
Any print can be sublimated on T-shirts, but if you are not working with a professional sublimation printer but rather with Cricut projects, you may want to check up on your design and create something that is not too complicated.
Face masks
Face masks are something we still seem to be using o a daily basis, and since they will be here for some more time for sure, the best thing you can do to make it feel like a unique addition to your outfit is to personalize it with sublimation.
Sublimation is a great way to add simple things to your face masks, like your initial, a flower, or a quote that will make it look a bit cooler and not like the regular face masks for protection.
Tote bags
Tote bags are something we tend to use every day, whether going out for a coffee or grocery shopping, and it is a sustainable option that can look cool too.
If you have some sublimation inks and an idea of a print or a logo you can add to your tote bag, then you can easily do it with just a few clicks.
All you need is a simple tote bag in one color and an idea of the thing you can add to it to make it look more exciting and match your daily style.
Depending on the material, you can add anything to it, from a cartoon print to a logo of a random company you have found online.
Cell phone case
Your phone case is probably something you spend a lot of time thinking about, as people are always looking for unique cases that can help them stand out.
If you have sublimation ink and know how to do sublimation crafting, then all you need to do is find the desired design and heat press it on a simple phone case.
It works like any regular sublimation projects, and you can add whatever you want to it, which isn't something we can always do with phone cases.
While you won't be able to personalize it entirely, you can add different quotes or your initials that will make it look way cooler than what a simple pink or white phone case would.
You will get professional quality results even if you don't have the best printer out there because this is something that quickly sublimates and transfers prints onto itself.
Mouse pads
Mouse pads are also something we use all the time, and they tend to be very bland and boring.
If you want to change that and add something a bit different, you can always do sublimation crafting and add a cool print or quote onto it.
Any sort of sublimation ink will work with it, and it is one of the fastest and easiest sublimation projects because the design will get transferred with just one touch of a heat press.
These are some of the most popular sublimation craft ideas you can easily create, even if you have never worked with sublimation or a sublimation printer before.
All of these things can be produced within a minute, but you will need a good heat press and sublimation paper and printer if you want to achieve the desired results.
Sublimation projects of all sorts are possible; you need to pay attention to materials and how you treat different things with heat.
Can You Put Sublimation On Anything?
Sublimation can be done on pretty much any material, just like screen printing, but since it includes a heat press and a sublimation printer, you need to be aware of what you are putting under the heat.
Materials like cotton, glass, ceramics, and similar will do well for sublimation crafts; you can create pretty much anything with them.
They are resistant to heat and won't break down in the middle of the process, so you won't have to worry about them.
However, sublimation crafts should never be performed with materials that have a lot of polymers, like spandex or nylon, and you should make sure you are not creating DIY projects with any of these.
Sublimation craft is very simple, but you need to pay attention to how the heat source and the object you are dealing with react to each other if you don't want everything to blow up.
This is a new way of DIY projects, and although it requires extra cost like getting a particular printer for it, you will have your designs that can be transferred to anything from a mouse pad and coffee mug to your tote bag.
Also, ensure you have a good sublimation paper as a layer between the object and your sublimation printer because this is the best way to transfer designs quickly.
You can even use regular paper or butcher paper if you don't want to splurge on it, and you can be sure the crafting projects will look just fine.
It is a great way to create something that will be an add on accessory or create a personalized gift for someone, and there are plenty of options to try out with it.
All you need is a good printer, a bit of skill, some sublimation paper, or even butcher paper, and you will be able to start creating your projects super easily.