Laminated wood slices can be very useful for various different details and decorations but as the method used in this process is not too hard, there's no reason for you to search for all the designs on the Internet to buy pre-made.
So, instead of purchasing products that are already laminated, you can have a DIY session and make it look exactly like you want it to.
Post 3 of 12 in the sublimation printing
To make it easier for you, I made this step-by-step guide that will help you do everything you need in order to do the sublimation correctly and your sublimation design ready to be used.
Key Takeaways
Wood sublimation requirements
Before starting your project, you will need to have wood as substrate, dye sublimation or heat transfer paper, lamination pouches, either parchment paper or butcher paper, a sublimation printer, and a heat press.
Wood sublimation steps
There are 8 steps that you need to go through when you do a sublimation design on wood slices.
Sublimation on wood results
After going through the steps and having your design completely dry, you will have a nice wooden ornament that looks more special and way neater than just carelessly painted wood.
Sublimation printing will give you very neat results, and it's not at all hard to achieve them.
How To Sublimate On Wood – Step By Step
Before getting into the nitty-gritty of how to do sublimation printing and starting to get your hands a bit dirty, let's see what it is that you need to have on your shopping list before heading to the store.
Some of these items you might already have at your home, and if you are a frequent DIY-er, you probably have most of them, so the shopping list might be short for you.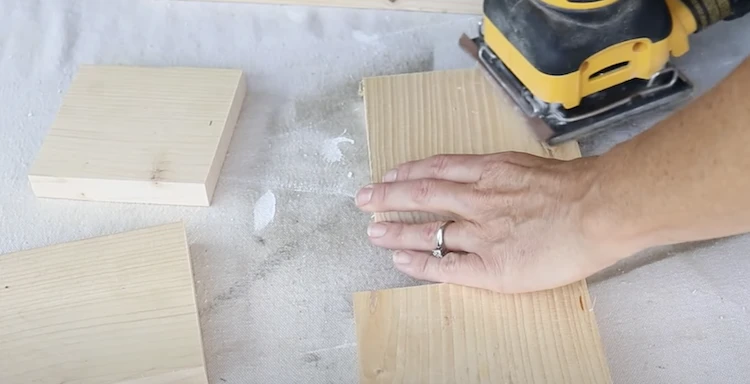 So, let's first see what it is that you need in order to have the best results with sublimation on wood.
Supply requirements
These are the materials you need in order to do sublimation on wood:
Sublimation printer
Laminate sheet pouches
Wood slices as substrate
Heat transfer paper or dye sublimation paper
Butcher paper or parchment paper
A warmed-up heat press
White paint for wood
Craft knife
Paintbrush
Heat resistant tape
Heat resistant gloves
#1 Printing your designs
The first thing you need to do before the sublimation process even starts is to print out the designs you want.
For this, you should use sublimation paper and your sublimation printer of choice.
A tip that I have learned and that has helped me immensely in this process is to get a paper that has a colored background.
This way, you can't mix things up, and you will know which side you should be printing on.
Print as many different things as you want, and don't be afraid to have some excess laminate sheets printed out in case something goes wrong.
#2 Board cutting
To start the process of sublimation on wood, you need to get your wood slices ready.
If you bought whole wood slices, then this is when you should start cutting.
Depending on what shapes you want to have, you should cut the slices that way; just make sure that your edges are smooth and of course, that you have wood that has a thickness that's appropriate for your heat press.
#3 Smoothing your edges
To ensure that your edges are smooth, you will need to do a light sanding.
Get your sanding material and just lightly go over the edges and a bit over the whole surface of the wood slices.
It's easy to get carried away with this, so make sure that you're gentle with your pressure and your touch.
Remember, you can always go in again and do a bit more sanding, but you can't really undo what has been done once it's over.
Once you're finished with the sanding block, you should take a white cloth and wipe down all of the edges and surfaces that you've been sanding.
This same process should be repeated every time you sand something down, so it truly does become completely smooth.
#4 White paint coats
To have your sublimation on wood results be vibrant and have the true color that you imagine them to have, the best way to go about it is to paint the surface white.
When the surface is white rather than just plain wood, the colors will look way more vibrant and uniform, so you're basically priming your surface when you do this.
To have the best results, you will need to do two nice coats on the surface.
To be precise, these coats should be painted on the flat surface of the wood, so the shiny side that's printable and where your design will end up being.
Before you go to put your laminating sheets, here's what you need to do with the paint:
Apply one substantial layer of the paint and make sure that it's even and that there aren't spots that have significantly more paint than others.
Let that coat of paint dry for around 20 minutes, but you can absolutely leave it for a bit more.
Now, repeat the same process and add another layer of paint to your wood.
Leave it for another 20 minutes or so to dry completely.
#5 Setting up the heat press
The heat press needs to be prepped before you actually start working with it.
The temperature on the press should be 365 degrees Fahrenheit, and the time should be at 90 seconds.
That's exactly the time and the temperature that the wood is sublimated on.
#6 Lamination pouch cutting
Take your laminating sheet pouch and start cutting it in a way that will fit the wood board that you've previously cut.
Make sure that when you cut the laminating sheet, it's not the exact measurements that the wood slices have, but rather, the pouch should be 1/8th of an inch larger than the wood pieces themselves.
The way this process works is that the laminating sheet will shrink once the heat is applied, so if you make it the exact same size, that won't end well.
If you don't have this additional space for laminating sheet free, then your design can end up being either very blurry or with edges left unprinted.
#7 Applying pressure
Now, go to your press and take one piece of the butcher paper.
Place that piece of paper on the pad of the heat press.
Now take one wood slice and place it on top of that, making absolutely sure that the side you want to print on is facing up; it's the glossy side, so make sure you remember that.
Now, put the laminate sheet on the wood, and then over that, place a part of the butcher paper over it.
This will prevent the laminate sheets from sticking to the press.
You should use medium pressure for this and leave the temperature and time to stay the same as you've previously set them to be.
Now, all you need to do is press.
#8 Cooling off
The final step is to let everything cool off, and once it does, your laminated wood slices will be ready for use.
Watch this video: How To Sublimate On Wood [08 mins 36 secs]
To save time, skip to timeline 00:40!
FAQ
Can you sublimate directly on wood?
Yes, you can sublimate directly on wood, and you can do such a wide variety of things with it, so your choices and options are infinite.
Just make sure that you have the right tools, and everything will be possible.
How do you sublimate a piece of wood?
To sublimate on a piece of wood, you will need to have a heat press and a printer that is a sublimation printer that prints on sublimation paper.
When you have that, just make the design you want and sublimate it to the piece of wood you want by using these tools.