Wireless headphones have gained immense popularity due to their convenience and the removal of audio jacks from the latest iPhone models.
This article presents a list of the best wireless earbuds from renowned brands such as Sony, Sennheiser, Bose, Apple, and more. By eliminating the hassle of wires, these earbuds offer enhanced mobility and uninterrupted audio experiences.
1 Apple AirPods Pro
The Apple AirPods Pro (second generation) brings several improvements over its predecessor. With easy and seamless integration with Apple devices, including Mac and iPhone, they offer a truly wireless and convenient audio experience.
The AirPods Pro features active noise cancellation, adaptive EQ, and transparency mode to provide immersive sound and allow users to stay aware of their surroundings when needed.
The H1 chip ensures quick and stable connectivity, while the sweat and water resistance rating make them suitable for workouts. The AirPods Pro offer up to 4.5 hours of listening time on a single charge and can be extended to over 24 hours with the charging case. However, due to occasional syncing errors, users need to reset AirPods from time to time with the original version, but that's not an issue with AirPods2.
Airpod Pro Facts & Features
Comes with a wireless charging case, allowing to charge earbuds quickly and easily.
Features an H1 chip, which allows for fast and easy pairing with devices.
Has adjustable fit, allowing users to find a comfortable fit for their ears.
The average sound quality of wireless Apple earbuds is 4.2 out of 5.
Wireless range of earbuds is approximately 30 feet.
Airpods Pro are the most popular wireless earbuds, with a market share of 33.5%.
2. Logitech Zone True Wireless
The Logitech Zone True Wireless earbuds are specifically designed to cater to the needs of remote work setups, providing an exceptional audio experience and a range of features that enhance productivity and convenience.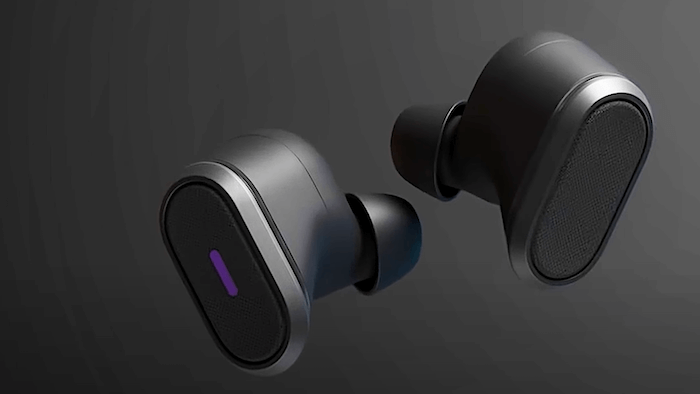 Here's a closer look at their key features and capabilities:
Exceptional Audio Quality: The Zone True Wireless earbuds deliver high-fidelity sound, ensuring crystal-clear communication during calls and meetings. They are equipped with advanced audio drivers that reproduce balanced and detailed sound, allowing you to hear every nuance in your conversations or multimedia content.
Active Noise Cancellation (ANC): These earbuds feature active noise cancellation technology that blocks out distracting background noise, such as office chatter or ambient sounds, so you can stay focused and engaged in your work. ANC allows for a more immersive audio experience, ensuring that your voice is clear and intelligible during calls.
Lightweight and Ergonomic Design: The Zone True Wireless earbuds are designed for extended wear comfort. They have a lightweight and ergonomic design that conforms to the shape of your ears, providing a secure and comfortable fit even during long hours of use. This design minimizes ear fatigue and ensures that the earbuds stay in place during movement.
Extended Battery Life: These earbuds offer up to 5.5 hours of battery life on a single charge, allowing you to stay connected and productive throughout your workday. The included charging case provides an additional 18 hours of battery life, ensuring that you have enough power to last through extended work sessions or travel.
IPX5 Water and Sweat Resistance: The Zone True Wireless earbuds are IPX5 rated for water and sweat resistance. This means that they can withstand water splashes and sweat, making them suitable for intense workouts or outdoor activities. You can confidently use them during exercise sessions or while commuting without worrying about moisture damage.
Seamless Connectivity: These earbuds utilize Bluetooth technology to establish a quick and reliable connection with your Mac and iPhone devices. They have a stable wireless connection that allows for smooth audio streaming and seamless switching between devices. This ensures a hassle-free user experience, allowing you to effortlessly transition between work tasks or personal activities.
With their exceptional audio quality, active noise cancellation, comfortable fit, and convenient features, the Logitech Zone True Wireless earbuds are a reliable choice for remote workers. They provide an immersive and distraction-free audio experience, enabling clear communication during a phone call and meetings. And most of all, they are easy to use!
3. Bowers and Wilkins P15
The Bowers and Wilkins P15 wireless earbuds offer an immersive audio experience with excellent sound quality. These earbuds feature 9.2mm dynamic drivers that deliver great detailed and balanced sound across a wide frequency range.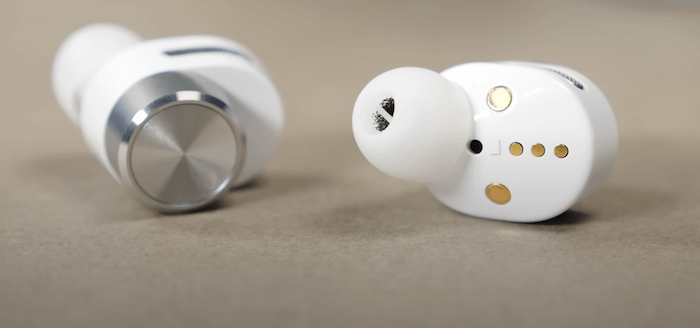 With active noise cancellation, they effectively reduce background noise, allowing you to focus on your audio. The P15 earbuds come with three ear tip options to ensure a secure and comfortable fit. They offer up to 4.5 hours of playback time on a single charge, with the charging case providing an additional three full charges.
4. Beats Studio Buds
The Beats Studio Buds combine style, performance, and convenience. These wireless earbuds feature an ergonomic design that ensures a comfortable fit and secure placement. With active noise cancellation, they block out unwanted external noise, providing an immersive listening experience.
The Studio Buds offer up to 8 hours of listening time on a single charge, and the charging case extends the total battery life to 24 hours. They support fast charging, where a 5-minute charge provides up to 1 hour of playback. These earbuds are also IPX4 rated for sweat and water resistance, making them suitable for workouts.
5. Denon AH-C830NCW
The Denon AH-C830NCW wireless earbuds offer a combination of affordability and performance. These earbuds feature custom 11.5mm drivers that deliver rich and balanced audio quality. With active noise cancellation, they significantly reduce environmental noise, allowing you to immerse yourself in your favorite music or focus on important tasks.
The AH-C830NCW earbuds are IPX5 rated for water and sweat resistance, making them durable for workouts and outdoor activities. They offer up to 10 hours of playback time on a single charge, and the included charging case provides an additional two full charges.
Final Thoughouts
After careful consideration of the various wireless earbuds mentioned in this article, there's one particular option that stands out: the Logitech Zone True Wireless earbuds. These earbuds offer an impressive combination of features, making them an excellent choice for Mac and iPhone users seeking top-notch sound quality, clear phone calls, and user-friendly functionality.
The Logitech Zone True Wireless earbuds boast custom-tuned drivers that deliver exceptional audio across various frequencies, ensuring a captivating listening experience for both music enthusiasts and individuals engaged in important conversations. What sets these earbuds apart is their remarkable active noise cancellation capability, effectively blocking out unwanted background noise and allowing for uninterrupted focus during work or chats. This ensures crystal-clear phone calls, even in noisy environments, fostering seamless communication without any distractions.
Furthermore, the earbuds are designed for convenience, featuring Bluetooth connectivity that effortlessly pairs with your devices and intuitive touch controls for easy management of music playback and call handling. The built-in microphone ensures clear voice transmission, making phone calls and online meetings a breeze. It's worth noting that their premium price may not be suitable for everyone's budget, which is why they get second spot on our list. As an alternative, many users may find the AirPods Pro to be a viable option that offers a satisfying experience.