Have you ever thought about personalizing your tumblers using transfer vinyls? But the main question is, can you apply heat transfer vinyl on tumblers and if so is it easy to do and do you get everlasting results?
The answer to this question is a resounding "yes". Tumblers can be decorated with transfer vinyls and we are about to show you how!
Nowadays, you can have personalized content and ads on your items. You can decorate your tumblers for yourself or make great gifts for your loved ones. Either way, it's a handmade item you'll love.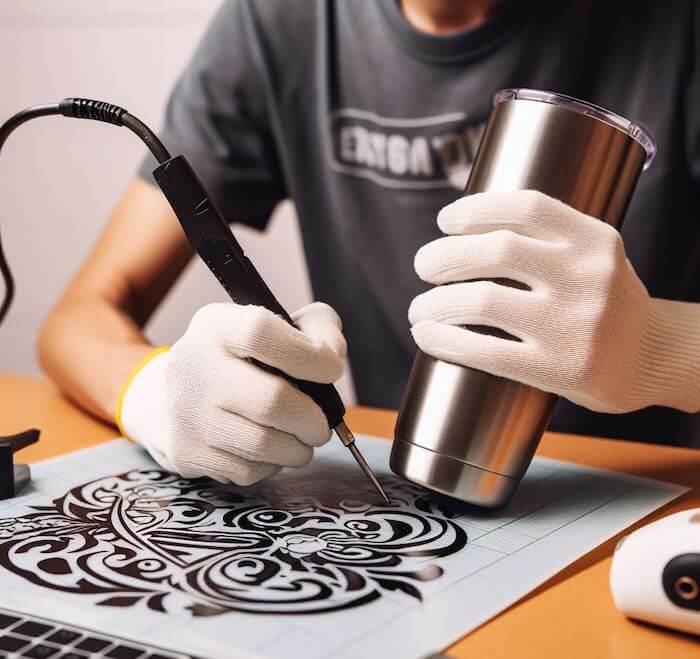 Let's see how you can heat the transfer vinyl and, most importantly, how to decorate your mugs to last for a long time.
Quick Answer to the Query
The answer is a resounding 'yes,' you can personalize your tumblers with vinyl, creating unique and lasting designs. To add heat transfer vinyl to a tumbler, measure and cut the vinyl, apply heat to make it stick, work your way around, trim any excess. Optionally apply epoxy for durability, and get creative with decorations while considering hand-washing for longevity.
How To Put Heat Transfer Vinyl on Tumblers?
The process of heating the transfer vinyl on tumblers requires patience, but it's so easy that you'll want to do it again on every tumbler you have. It will take you just a few minutes to make your cup one-of-a-kind.
Here's the list of the things you'll need with instructions:
Take a tumbler to transform. It can be an old, damaged but still favorite mug or a brand-new one you want to decorate.
Choose the type of vinyl you want, and get some transfer paper, scissors, or scalpel, sandpaper, and epoxy.
Use gloves, a paper towel, or a napkin to protect your hands from the heat.
You can use a heat press, heat gun, EasyPress, mini iron, blow dryer, or a UV lamp.
Prepare some alcohol to clean the surface from dirt, fingertip residue, and grease.
Take a tumbler and measure its borders on the transfer vinyl. It's recommended to leave an inch more to stick out. The idea is to have an extra inch of material in case a mistake is made. You can also use a ruler and a pencil to mark the vinyl's starting edge to ensure it's perfectly straight.
If you're doing this on a stainless steel tumbler, use heat on a small area where the borders of your vinyl will start just to warm it up. This way, your vinyl will automatically stick to the stainless steel when you bring the vinyl close to the tumbler.
Continue to heat the top of the vinyl and gently press it with your fingers. If you're not using heat-resistant gloves, use a paper towel to avoid the burns on your fingertips.
Unlike adhesive vinyl, heating the transfer vinyl requires constant pressure to ensure it is correctly put on the tumbler. So be patient and mix the heating and press with your fingers.
Repeat the heating and pressing all around the tumbler until it's all wrapped in vinyl. Cut off the overhang vinyl with scissors in a straight line. The more patterns the vinyl has, the less visible the vinyl edges or possible mistakes will be. Heat and press again if necessary.
Cut off the excess at the top and bottom of the tumbler (a vinyl cutter can come in handy here). Use the heat again to align the vinyl edges. You can remove the excess on the edges with a small knife or a scalpel.
You can additionally apply epoxy for the scratch-resistant glow and more durable design. If you do, leave it spinning overnight and remove the excess at the top and bottom edges again the next day. Gently go over the edges with sandpaper avoiding hard pressure because it can damage the vinyl.
Finish the process by rubbing alcohol to make it smooth and clean for extra decorating.
Adding extra decorating to the vinyl decal
When the main job is done, you can continue with the fun part that most crafters love… adding extra decoration.
Adding glitter and stars is the most popular way to make a different, personalized vinyl design.
Now is the time to be as creative as you want. But you must take care to the quantity of glitter you put on your project. Don't exaggerate with the layers. Tap the glitter in small amounts to avoid overflowing and dripping down the sides.
Allow the vinyl to cure and put some chalk paint with a paintbrush for extra details.
You can also use heat transfer foils. Putting them onto the tumbler is the same as with heat transfer vinyl.
As a finishing touch, add a layer of epoxy sealant one more time. Spread it gently over the surface area of the tumbler.
Let it spin and dry overnight.
Three Methods To Put Heat Transfer Vinyl on Tumblers
You can put transfer vinyl on your mug in several different ways.
I tried the three most popular methods, which all gave perfect results. It's just a matter of the most convenient method for you.
#1 Heat transfer vinyl with a heat press
A heat press is a very easy way to transfer vinyl because it usually comes with an attachment that allows you to set the tumbler inside and apply it more quickly than with your fingers.
#2 Heat transfer with Cricut Easypress
Cricut machines are very popular with DIY techniques for make-from-home stuff, especially Cricut Design Space. There are a lot of Cricut crafts you can search for on youtube, especially those for decorating your tumblers.
When heating a mug with the Cricut Easypress, you should use a towel to protect your hand that holds the cup. You'll have a mug in one hand and turn it several times under the easy press you'll be holding in another hand.
This method, like the previous one, requires pressing the tumbler with a press multiple times.
#3 Heat transfer vinyl with mini iron
This method is probably the easiest because mini iron has a small heat surface you can easily maneuver. It requires heating inch by inch with continuous pressure by your fingers.
Best Vinyl For Tumblers
Adhesive vinyl
This vinyl is easier and faster to use than heat transfer vinyl. While you have to add pressure and heat to heat transfer vinyl for adhesion, adhesive vinyl doesn't need so much work. You take off the back of the transfer paper inch by inch while you press it on the tumbler. The process is similar but much more accessible than using heat.
Permanent vinyl
Permanent vinyl is probably your best choice of vinyl if you intend to wash your tumbler in the dishwasher. But be careful because not all permanent vinyl is the same. They are waterproof but not necessarily able to be washed in the dishwasher or used in the microwave at high temperatures.
In any case of putting vinyl on your tumbler, it's recommended to hand wash.
Conclusion
You can heat transfer vinyl on ceramic mugs, metal tumblers, or stainless steel tumblers. Using different methods, you can get similar results.
The process of heating is almost the same. It's up to you how you'll make your tumbler personalized.
Hand-washing the vinyl is a better choice if you want your tumbler to last longer.
Detailed Replies to Popular Queries
Q1. Can I heat the vinyl to put it on my tumblers?
Yes, you can, and it's super easy. Get the heat press or mini iron, put your favorite vinyl on your cups and make your tumblers unique.
Q2. What kind of vinyl do I use for tumblers?
You can use adhesive or heat transfer vinyl. The process of wrapping your tumbler is very similar. The difference is in using the heat.