By Alex McIl – 3rd June 2022
When it comes to creating clothing designs, there are a great many different possibilities accessible.
The first things that you should think about are the dimensions and placement of your new logo design. It is common practice to have a left-chest logo. If you are going to start selling shirts, you may want to follow this trend.
Read on to discover the optimal size for your T-shirt design.
What Is The Ideal Proportion For A Logo To Be Printed On A T-Shirt?
If you want to sell T-shirts, you should surely begin to think about the positioning of the printing on the chest of the shirt as well as the size of the logo. A merchandising company, for example, will often opt to position their logo on the left breast and use a 3 by 3-inch size for it.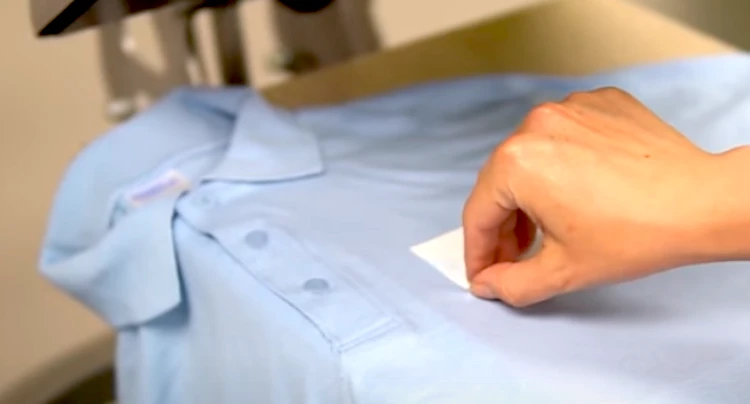 Almost all of the major retailers, including H & M, Zara, and Tommy Hilfiger, are responsible for popularizing the trend of wearing basic T-shirts that have this particular design size.
These days, you can find designs like this printed on a lot of polo shirts and junior shirts. They all positioned them on the left side of the chest. The same principle applies to the work shirts that staff members at restaurants and bars wear.
Why, therefore, do so many businesses and organizations want their logos to be visible on the left chests of the people who work for them and buy their products? What is the first thing that comes to mind when you look at the left chest logo? What kinds of ideas do you have running through your head?
Why Is It Popular To Wear Logos On The Left Chest?
There are a wide variety of customization possibilities for the left chest logo. The left chest is the preferred location for a company logo by the overwhelming majority of businesses and even influential people on social media in today's culture.
What, precisely, is going on here? You have probably never noticed this, but the most custom apparel and company shirts always have this placement. Left chest shirt printing placement seems to be favorable.
People usually have a preference for designs that are "minimal," and they are more likely to buy and wear T-shirts with the minimum amount of design work if it has left chest placement on the garment. It appears that a simple pattern placed on the left chest works best, and the viewer's attention is quickly drawn to it. This is why this is the most popular placement.
As a direct consequence of this, the probability that people will notice your design will rise if you have carefully considered t-shirt placement and chest logo size. A left chest logo is more appealing to the eye. In addition, trademarks that are shown on the left chest are more likely to be noticed. As a result, the recognition of your logo (or mark) for your business will increase over the course of time.
It has been observed that an emblem or logo placed on the right chest or center chest is seen to be more distracting than one placed on the left chest. The location of logo printing on the left breast is gradually becoming more stylish, and it is unquestionably the most preferred spot for a shirt among both adults and children. In addition to this, their production costs are low.
Balance Between The Logo And Shirt Sizes
When it comes to t-shirts that have a custom logo printed on the left breast, you need to consider how the size of the logo you pick will appear on a range of various-sized shirts. The design sizing will vary depending on the shirt size.
Because of this, 3.5-inch logos seem different when printed on men's extra-long T-shirts as compared to the small T-shirts that are available for women. This is because men's extra-long T-shirts have a longer length than ladies tiny T-shirts. And an adult shirt will usually be larger than a youth shirt.
Therefore, before you can even begin to think about your left chest design, you need to have a clear grip on the individuals you want to attract and the sizes of T-shirts they are most likely to buy. This is something you need to do before you can even begin to think about your left chest design.
The size of the chest logo you choose will always be determined by the size of the T-shirt you purchase. Your design for the left chest of your promotional T-shirt should be three inches by three inches in size since promotional T-shirts are often simply plain-looking shirts in conventional sizes. If, on the other hand, you want to sell your shirts or make bespoke gear, you should obviously give some serious consideration to the size of your logo as well as the common positions for it.
Adding An Embroidered Pocket Allows For More Creativity
If you want to have a design that is more creative, you may, of course, choose to have a bigger design on the center chest of your T-shirt, or you can choose to have a collar, an embroidered pocket, or sleeves added to it. When printing on long-sleeve T-shirts, the standard logo size has to be increased by a half-inch in order for the 4 x 4-inch picture to be able to fit on the garments. This is necessary in order for the printing process to be successful.
If you want to construct a shirt that has a popular embroidered pocket on the left breast, you may still place your logo there. However, you will also need to take into consideration the size of the pocket. You should leave at least half an inch of space between the left chest logo on the pocket and the sides of the pocket. This space should be measured in millimeters.
If you don't want to do standard sizes and you want to create an oversized shirt, you need to check that the design is placed properly on the shirt and then move it half an inch closer to the middle of the chest. This is the only adjustment that has to be made. Because the logo will be stretched out, this step is essential.
What Happens If You Desire A Larger Version Of The Logo?
Prints with dimensions of precisely 5 inches by 5 inches have just recently begun to be manufactured by designers. There has been an increase in the number of sales of women's t-shirts with this logo size, which have designs and printing with not quite the perfect placement.
Shirts and other types of clothing for women generally include designs that cover the whole front as well as the upper back when they are this size. Because the positioning of such large motifs may truly make or break the overall appearance of the dress, it is extremely vital that you choose the right arrangement for them. Having said that, smaller left chest designs are still the more popular placement.