Printing designs is a modern way of creating customized apparel pieces. Print providers are looking for the most cost-efficient option on the market.
Key Takeaways
DTG color matching capabilities
Similar to inkjet printers, DTG printers use a CMYK color model. This allows for exact color matching capabilities. As a result, this makes reproducing designs easy and simple.
High quality design printing
DTG printers have the capability of printing detailed high-resolution images. This makes it especially useful for designs containing vibrant colors.
No minimum orders
There are little to no setup costs for DTG printing. Therefore, small or custom design companies need not apply a minimum order quantity for the customer. It's as simple as pressing start on the printer and making a small profit from that job.
Direct garment printing (aka DTG printing) is the most modern. As a result, it is now the most popular printing methods. This is because of its quick and advanced technology that provides exquisite prints. 
You print directly onto the garment. It's no more complicated than using an inkjet printer to print on paper. As a result, the average turnaround time for direct to garment printing is between 3-5 business days.
In fact, the DTG market is growing so rapidly that it's estimated it will grow to $1.6 billion by 2025. This equates to a Compound Annual Growth Rate of over 12% during the period of 2022-2025. 
So if you are looking to incorporate DTG printing into your company or routine in general, then we have all the information you need in this article.
What Is Direct-To-Garment Printing?
This technology is advanced. It saves you time on your project, as there's little setup required. You can print any digital design you can conjure from your PC.
DTG is the process in which water-based inks are sprayed onto the fabric or item of your choice using inkjet technology (a printer).
While it's a relatively new technology (started in the 90s), it's now more available worldwide.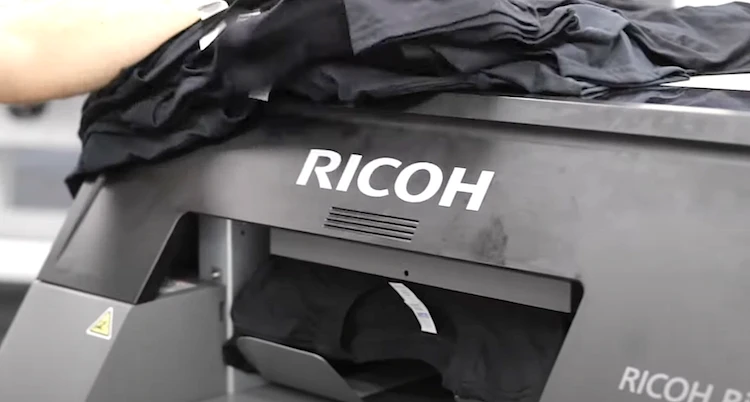 Only in the last decade have businesses been switching to it. Marketers and retail brands can communicate their message or identity with little setup costs. It's even used in the fashion industry.
Other elements including print quality and resolution are fantastic. It's arguably better than screen printing and dye sublimation. And unlike other printing methods, it doesn't create a mess.
There's a range of color options to chose from. This means being able to personalize your prints to the finest detail without affecting printing cost.
This printing technology allows artists, print providers and services to experiment with their designs. This is what makes it popular.
If undecided whether DTG printing is right for you, consider this. It has way more settings and options that allow you to experiment with prints. Imagine the flexibility a regular inkjet printer has. This is close to the same flexibility you get with DTG printing.
How Does DTG Printing Work?
Direct to garment printing is simple. Unlike other printing methods, expertise level isn't required.
While there are some differences in the process (particularly with larger, more complicated machines), these are some general steps you need to follow for a successful print.
Prepare the garment
The most important step to garment printing is preparation.
Depending on the material and color of the garment, you will need to do pre-treatment. This is a chemical product that's applied to the fabric. A squeegee can be used to give a smoother print surface and push the fixative chemical into the fabric.
This allows the ink to soak into the fibers. It also prevents it from fading, extending the durability and life expectancy of the design.
Pre-treatment sprays are emulsions of different chemicals. Spray a generous layer over the area you intend to print. Leave it to soak for less than a minute before you start printing.
3 challenges you'll face while pre-treating
Different fabric types require different quantities of pre-treated chemicals.
Not enough pre-treat results in colors not looking solid.
Too much pre-treat, the ink will flake and crack after the first wash.
Place the garment right in the DTG printer
For a perfect printing experience, dedicate time to placing the garment correctly in the printer.
DTG machines won't allow you to adjust the shirt during the printing process. You must have it placed correctly. This includes keeping in mind the fabric or textile isn't creased either, otherwise the artwork piece may be negatively impacted.
Print the pretreatment
If you want the pretreatment to have the right effect, then you need to print it out on the garment too.
Most people believe this is irrelevant. But after applying an under the base or a pretreatment spray, you need to put it in the DTG printer for a minute to make sure the garment will really get all of the benefits.
At this point, it will make the garment softer. The part where the print goes will be prepared for the process so that the ink will soak in much faster.
If you have a pretreatment machine, all of this is done when you put the garment inside.
Start printing
When you have printed out the under the base, you can choose the colors and the prints for the rest of the process and modify the settings, brightness, shade, contrast and all the other details.
Once you find the settings and the prints that work for you, click the print button.
The process won't last more than a few minutes. You will hear your printer beeping to signal the print is over.
The colors used by a DTG printer are similar to those of inkjet printers. It works with yellow, black, and magenta.
Curing the garment
Once the printing process is complete, your garment will need time to cure. This will ensure the print won't prematurely fade.
You can cure your DTG print with a regular heat press by going over the print several times until you see the print has adhered to the garment and isn't moving around.
On the other hand, if you have professional machines and have already created a business out of DTG printing, you will do it with a conveyor dryer that will cure the design or image perfectly.
Both options are good. If you are not a professional, don't worry, your heat press can do a good job too.
What Materials Can I Use With Direct To Garment Printing?
Unlike most other printers or printing methods, DTG printers work with water-based ink, so even though they will work great with all fabrics, natural ones are the best choice.
Natural fabrics can absorb the ink much better, and your print and colors will look a lot more vibrant, which will make your designs appealing and attractive.
The best materials to be used with DTG printers are:
organic cotton
basic cotton
ring-spun cotton
linen
natural textiles
If you are working with DTG printers, these are the best fabrics to use them with, but make sure to avoid polyester and synthetic materials because water-based ink can't get absorbed well on them, and it may even create problems with a DTG printer.
You can try working with these materials too, but don't be surprised if the results don't look right.
Whatever type of clothing or accessory you are trying to decorate, I would always recommend having at least 50% cotton for the best results.
How Long Do DTG Prints Last?
The DTG technology seems to spark many questions among potential users. Among them is whether it is durable or not.
There are many printing methods that give great results. But many techniques can't create a print with the ability to last.
With direct to garment printing, your apparel business can create clothes that resemble those sold in stores. They will last just as long too.
Since this printing technique spreads ink directly into the garment, it will soak it all in, no matter the complexity, color palette or shape of the artwork. As long as the garment is in good condition, your print will last.
The average duration of a direct to garment print is about 50 washes. This is about the same washes you get with items from fast fashion stores.
This is one of the advantages of direct to garment printing. There are many digital printing methods that replicate a print perfectly, but don't create durable ones.They fade after just a few washes.
If you want to ensure you will get durable T-shirts and that your print will stay on for years, I would recommend pretreating the garment and spraying it with an under the base, so your clothes can last even more than 50 washes.
What Is The Difference Between Direct To Garment And Screen Printing?
Although direct garment printing technique is more efficient and provides you with better results, screen printing is still a much more popular choice among businesses.
The reason is, more people know how to do screen printing. It also provides the best print solution for quality bulk orders.
One of the cons of DTG printing vs screen printing is that it is not ideal for mass production, while screen printing is. In some sense, this is good for certain clients, as order minimums can be reduced, but it does mean higher prices per unit cost.​
For commercial producers, screen printing is still the best option. This is because all prints can be produced within a day.  The only thing limiting your production numbers is the size of your labor force.
On the other hand, direct garment printing will provide better print quality and more vibrant prints. But you're limited to a lower print number, which is a nuisance if there's a demand for the item.
Screen printing can produce great designs too. But mistakes and color problems are frequent. Although it can produce hundreds of prints quickly, it can also create issues that can only be fixed by printing out a new garment.
DTG printing can't print hundreds of garments at once and takes a bit more time. Therefore, if you don't need them all produced within a short period of time, DTG printers can be the right choice for you.
These printers are efficient and rarely make mistakes. If you are looking for top quality, they should be your first choice. But don't expect them to live up to the expectations of mass production.
While garments made for DTG printing take much less time to prepare and print, the process needs to be repeated separately for each of them. This demonstrates it's a device for personal use or small orders.
If you're looking for a printing method that will help you create custom t-shirts and clothing with unique prints for yourself, then DTG machines is an option. But if you're thinking of making this part of your business model and actually selling these garments, you will benefit much more from a screen printer.