Printing on custom designs is a modern way of creating customized clothing pieces, and everyone seems to be looking for the most efficient option on the market these days.
Direct garment printing, better known as DTG printing, has become one of the most popular printing methods because of its quick and advanced technology that provides you with exquisite prints within seconds.
If you are looking for a way to incorporate DTG printing into your routine and get the perfect results, then we have all the information you need.
Direct garment printing, better known as DTG printing, is a process in which water-based inks are sprayed onto the garment with specific inkjet technology.
The DTG printing technology is very advanced, and not only will it save you plenty of time, but it will also provide you with much better results than any other printing technology.
While it is a relatively new technology and it started being used broadly only in the 90s, it has become available to people across the world, and during the last decade, a lot of businesses have been switching to it.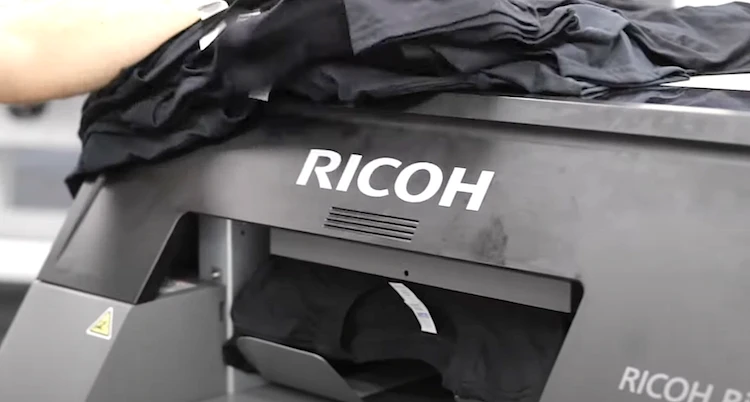 Since it is able to spread ink directly to your T-shirts, pants, or bags, it is a great print on demand tool that allows you to get the desired clothes in just a few minutes.
Because of its simplicity and efficiency, even people who are just producing clothes and garments for their private use have switched to this technique.
The print quality is fantastic, if not even better than with screen printing, because the ink transfers the print directly onto the garment, which leads to it getting replicated perfectly without too much effort.
Unlike most other printing methods, it doesn't create a mess, and the whole printing process goes by smoothly.
Direct to garment printing allows you to choose from a wide range of colors which means you can personalize your graphics and prints to the finest detail.
Once DTG printing was invented, people could start experimenting with different designs that couldn't have been printed out before, so it is one of the best techniques in this field.
If you are still not sure whether DTG printing is the right option for you or not, you should know that it provides you with way more settings and options that allow you to experiment with prints, colors and customize the garments to the smallest details.
In case you are looking for the latest technique to get the perfect printed garments, then a DTG machine and technique are the right options for you.
How Does DTG Printing Work?
Direct to garment printing is very simple, unlike most other printing methods, and you don't need to be an expert to realize how things work.
While some details of the process may differ from one DTG printer to another, these are some general steps you need to follow for a successful print.
Prepare the garment
One of the most important steps in direct to garment printing is preparing your piece of garment for the process.
Depending on the material of the garment and its colors, you will need to do a pre-treatment that will make the DTG process much faster and more successful.
This will make the ink soak into the garment better and prevent it from washing off after just a few wears.
There are several ways you can prepare the garment, but the best option is getting the pre-treatment machine that you can put a shirt or pants into and let it pretreat for the process.
You can also purchase one of the pretreatment sprays sold at stores and spray the shirt evenly on all the places you want it printed out.
Pretreatment sprays are emulsions of different chemicals you should spray all over the place you intend to print on and leave to soak in before you start the printing process.
Pretreatment machines are doing the exact same thing, but they have built-in treatments and emulsions, and all you need to do is put the garment into it and let the machine cover it with the needed emulsion.
If this seems too complicated for you, you can always try the under the base sprays or creams that you just rub into the garment and start printing.
Place the garment right in the DTG printer
If you want your print to look perfect, you should dedicate some time to put the T-shirt right into the printer.
DTG machines won't allow you to move the shirt throughout the process, so you need to make sure you have put it the right way and that the printer is where you want your design to be; otherwise, you won't be able to fix this mistake.
Print the pretreatment
If you want the pretreatment to have the right effect, then you need to print it out on the garment too.
Most people believe this is irrelevant, but after you apply an under the base or a pretreatment spray, you need to put it in the DTG printer for a minute to make sure the garment will really get all of the benefits.
It will make the garment softer, and the part where the print goes will be prepared for the process so that the ink will soak in much faster.
If you have a pretreatment machine, all of this will be done when you put the garment inside.
Start printing
When you have printed out the under the base, you can choose the colors and the prints for the rest of the process and modify the settings, brightness, shade, contrast and all the other details.
Once you find the settings and the prints that work for you, you can click the print button and let the DTG print process start.
The process won't last more than a minute, and once it is over, you will hear your printer beeping to signalize your piece of garment has been printed out.
The colors used by a DTG printer are similar to that of inkjet printers, and it works with yellow, black, and magenta.
Cure the garment
Once you have finished the printing process on your garment, you will need to take some time to do the curing to ensure you will get the best results.
The curing process is done to prevent the print from washing off and make it more resistant, so your print doesn't start facing after just a few washes.
When you are done with printing, make sure to dry your garment so the curing process can be done without problems.
You can cure your DTG print with a regular heat press by going over the print several times until you see the print has adhered to the garment and isn't moving around.
On the other hand, if you have professional machines and have already created a business out of DTG printing, you will do it with a conveyor dryer that will cure the design perfectly.
Both options are good, so if you are not a professional, don't worry, because your heat press can do a good job too.
The printing process with DTG machines is very simple and it won't take up too much of your time.
You don't have to deal with large machines and you can create any print you want with it which makes it the perfect option for all of you with great print ideas.
How Long Does Direct To Garment Printing Last?
The DTG technology seems to spark many questions among potential users, and something you will hear asked frequently is whether it is durable or not.
There are many printing methods that give great results but can't create a print that will stay there for a long time, but it is not the case with DTG printing because it provides users with lasting designs.
With direct to garment printing, you will be able to create clothes that resemble those sold in stores, and you can be sure they will last you as long as these regular clothes.
Since this printing technique is based on spreading the ink directly to the garment, the garment will be able to take it in, and as long as the garment itself is in a good state, your print will be too.
The average duration of a direct to garment print is about 50 washes, and this is a standard of washes you can get with the clothes you are buying in fast fashion stores, so the print on demand technology creates lasting results, and you don't have to worry about your prints disappearing.
This is one of the main advantages of direct to garment printing because there are so many other digital printing methods that replicate the print perfectly but don't create a durable one so it disappears after just a few washes.
If you want to ensure you will get durable T-shirts and that your print will stay on for years, I would recommend pretreating the garment and spraying it with an under the base, so your clothes can last even more than 50 washes.
What Materials Can Be Used With Direct To Garment Printing?
Unlike most other printers or printing methods, DTG printers work with water-based ink, so even though they will work great with all fabrics, natural ones are the best choice.
Natural fabrics can absorb the ink much better, and your print and colors will look a lot more vibrant, which will make your designs appealing and attractive.
The best materials to be used with DTG printers are:
organic cotton
basic cotton
ring-spun cotton
linen
natural textiles
If you are working with DTG printers, these are the best fabrics to use them with, but make sure to avoid polyester and synthetic materials because water-based ink can't get absorbed well on them, and it may even create problems with a DTG printer.
You can try working with these materials too, but don't be surprised if the results don't look right.
Whatever type of clothing or accessory you are trying to decorate with DTG printers, I would always recommend them to have at least 50% of cotton in them to get the best results.
What Is The Difference Between Direct To Garment And Screen Printing?
Although direct garment printing technique is more efficient and provides you with better results, screen printing is still a much more popular choice among businesses.
The reason for that is that more people know how to do screen printing without any problems, and it seems to give the best print quality out of all the mass production techniques.
One of the main differences between DTG printing and screen printing is that the first one is not made for commercial use and mass production, while the other one is.
For commercial producers, screen printing is still the best option because all the prints they need can be produced within a day and there is not really a limit in the number of print outs you can create.
On the other hand, direct garment printing will provide you with better print quality and more vibrant prints, but it will limit you to only a handful of prints in a short time window because of its precision and the delicacy of the process.
Screen printing can provide you with great designs too, but the mistakes and color problems are frequent, and although it can produce hundreds of prints quickly, it can also create problems that can't be fixed except by printing out new garments.
Although DTG printing can't print hundreds of garments at once and takes a bit more time, if you don't need all of them produced within a short period of time, DTG printers can be the right choice for you.
These printers are efficient and rarely make a mistake, so if you are looking for top quality, they should definitely be your first choice, but don't expect them to live up to the expectations of mass production.
If you have a business of any sort, screen printing will still work much better and even when mistakes appear on your prints, you will be able to print out a new garment much faster.
While garments made for DTG printing definitely take much less time to prepare and be printed out, you will need to repeat the process separately for each of them, which shows you that this really is a device for personal use only.
In case you are just looking for a printing method that will help you create custom T shirts and clothing with unique prints for yourself, then DTG machines are the way to go, but if you are thinking of making this a business and actually selling these garments, you will definitely benefit much more form a screen printer.
The right choice is the one that fits your needs and requirements so weigh down on both of the device and see which one should be added to your collection.
Is Direct To Garment Printing The Best Printing Option?
Direct to garment printing is definitely the newest printing method on the market, and it can provide you with spectacular results.
In comparison to the screen printing method and other older ones, DTG printing comes as the best solution, especially if you are not a mass producer.
DTG printers are pretty affordable, and they provide you with quick and excellent results, leaving no space for worrying whether your print will deteriorate after a few washes or fall off.
Since it is based on the newest printing technology and it allows you to print on demand pretty much every picture, graphic or illustration you can think of, it allows you to create all sorts of custom clothing.
However, if you are looking to produce hundreds of garments quickly and print out in bulks, then DTG printing isn't the right choice because it is a precise printing method that does not leave space for mistakes and takes its time with each garment.
In case you don't care too much about the quantity, and you want to have the best quality prints, then DTG printing is the right technique for you.
DTG printing offers different options and settings that allow you to customize the garments and prints, and it makes the print on demand process quick and simple.
You will be able to work with various materials and designs, and you don't have to worry whether something is possible to print out because, with this machine, you can create anything.
It is fast, inexpensive, and can be performed even by an absolute amateur in the field, and the best thing about it is that it provides you with a lot of space to experiment and create the clothes you want.