Patches are a great way to show your personality and style. But it can be tricky to iron them on, especially on polyester.
Polyester is sensitive to heat. Combining a domestic iron with this delicate material can be disastrous. It is only natural to worry when you need to iron a patch on it.
Key Takeaways
Iron settings for polyester fabrics
For polyester materials, it's recommended to set your iron to "polyester" or "warm". Applying too much heat to synthetic fabrics will damage it.
Pre applying patch
It's recommended to first warm up the area of the fabric with an iron (the area where the patch is going to go). This does two things:
1. It helps remove wrinkles on the fabric so that the adhesive on the patch will have more fabric to stick to.
2. The heat on that area helps activate the adhesive, holding the patch in place before ironing it on.
Sit your iron in place
With other materials, you would run your iron back and forth over the patch to attach it to your clothing. With synthetic materials, your iron is set at a lower temperature. As a result, sitting your iron in place over your patch works best. Be sure to practice on old clothing to get a feel for the timing.
This is why we've created a guide on how to iron on patches on polyester the right way. Be sure to follow these instructions along with our tips. You'll have great looking patches in no time!
Ironing on patches to polyester is a simple process. Anyone can do at home with a few supplies. It just requires a little practice.
Quick Steps To Iron On Patches To Polyester
Before starting, always make sure the polyester fabric is clean and free from any debris!
Set your iron to "polyester" or "low heat" (you don't want to melt the polyester).
Pre-heat the fabric for 5 seconds until it's wrinkle free (refrain from using steam).
Place the patch on the desired area. The heat from step 2. will hold it in place.
Apply pressure to the patch with the iron for about 45-50 seconds. Because the iron is on low heat don't run it backwards and forth so much.
Try lift the edges after step 4. If they lift, apply more pressure for about 20 seconds until all the glue melts and bonds to the polyester.
Turn the fabric inside out & apply pressure to the patch (opposite side) for 30-40 seconds.
Allow the fabric and patch to cool right down before wearing and washing the item.
Watch this video: Iron Patches to Synthetic Clothing [05 mins 26 secs]
Alternative To Iron-On Patches On Polyester Clothing
Although not necessarily better than using iron-on patches, you can use fabric glue. Fabric glue will attach to the patch to polyester and work just as well.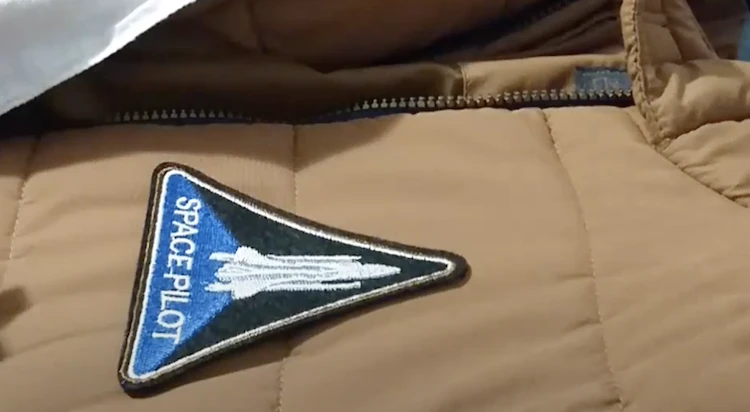 It has more potential to being messy, but a good alternative if you can't source iron-on patches.
Be sure you work on a flat surface before starting.
Add fabric glue to the back of the patch and place on the polyester fabric.
Do not add too much glue as you don't want it oozing out from the sides (spoiling the fabric).
Use a weight or clasp the patch to the fabric for 2 to 4 hrs to allow the glue to cure.
What Is The Best Iron For Ironing Patches On Polyester?
There are a few things to consider when choosing the best iron. The first and probably most important thing is the temperature.
We've already discussed how too much heat transfer can melt this synthetic material. So an iron with a polyester setting would work best.
In general you won't have to worry about an iron with a steamer. We do not want to cause the material to wrinkle. Just a basic iron with a polyester setting or one where you can vary the temperature would be perfect!
How to Remove Them?
Application of iron-on patches onto polyester might sound simple and pleasant. But removing iron-on patches could be harder than most people would have assumed.
It's feasible and usually involves using the same initial tool to, the trusted iron.
Set your iron to polyester
Apply heat directly over the patch (the heat will start melting the glue)
Try pulling the patch off (if this fails, move to step 4.
Let the patch cool right down before moving onto the next step
Soak acetone to the inside of the material (not over the top of the patch).
Wait for 3 to 4 mins before peeling the patch off (apply more solvent if needed).
If the patch leaves a residue, add acetone and use a toothbrush to remove it.
Conclusion
In conclusion, if you're looking to add some personality to an otherwise bland article of clothing, iron-on patches are a great and easy way to do it.
When shopping for patches, make sure to pay attention to the fabric content of the different fabrics so you can choose one that will adhere well to your garment.
Be careful not to overheat the fabric or you could end up with a big mess of melted plastic. With a little bit of care and attention, you can easily add some unique flair to your wardrobe.