Removable vinyl is a type of adhesive vinyl that can be removed from surfaces without leaving any residue. It's perfect for temporary graphics, decals, and signs.
It's often used for temporary or semi-permanent applications, such as decals, wall graphics, and window clings. It is also popular for use in crafting and scrapbooking.
Removable vinyl is available in a variety of colors, finishes, and thicknesses. So, whether you're looking to decorate your home, office, or classroom, removable vinyl is a great option!
Where Can I Use Removable Vinyl?
Vinyl can easily be removed to make a room comfortable. It is very effective when it is applied to smooth surfaces like glass surfaces or ceramics.
However, when the vinyl adhesive has been exposed to outdoor conditions the Cricut's vinyl can't withstand the different temperature conditions.
Your vinyl sticker will be appreciated for a lot of different reasons – perhaps the biggest being that you have the choice to remove stickers anywhere without removing any stickers.
For example, you own restaurants and sometimes change the decal. From Valentines Day, Halloween and Christmas you'll never have to worry about damaging the walls or windows at any restaurant when doing removable vinyl projects..
Temporary graphics
Removable vinyl is a highly versatile material that can be used for a variety of temporary graphics applications. So, what is removable vinyl used for? Common uses for removable vinyl include:
Wall decals
Event signs
Trade show displays
Vehicle graphics
Removable vinyl is a great way to add visual interest to any space without making a permanent commitment like with permanent vinyl. The material can be easily removed and repositioned as needed, making it ideal for temporary or changeable graphics.
Window decoration
Has anybody seen Christmas decorations in malls? Is that a daily trend? Is this what removable vinyl is used for?
Window decoration removable vinyl is a great way to add some personality to your home. They come in a variety of designs and can be easily applied and removed, making them perfect for renters or anyone who likes to change up their décor frequently. They can also be a budget-friendly way to add some style to your windows.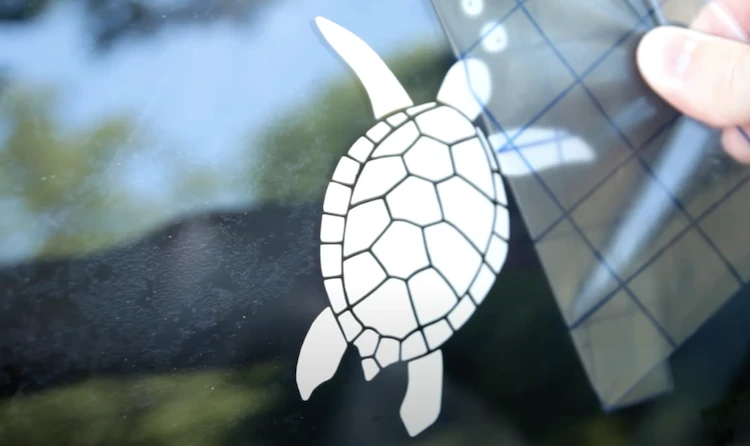 Halloween season? No problem, purchase orange adhesive vinyl and pumpkin decorations.
Christmas holidays? Purchase glossy white adhesive vinyl with cut-out snowflakes.
Valentine's Day? Purchase red adhesive vinyl with cutout hearts.
With cutter plotters and any adhesive vinyl, everything is possible. Alternatively, you can add some decorative vinyl stickers to glassware or dishes for fun or to make your own.
Labels
How can I organize my kitchen? You may label your jars to make your pantry look aesthetically attractive.
You can put labels on spices and nuts and cooking condiments. There are several free printable adhesive vinyl labels for sale on the web.
You can make the kitchen labels more interesting with decorative adhesives or patterns. The best thing of all, you aren't left with a label that is impossible to remove… you know, the ones that take a lot of effort to remove the adhesive.
Both types, permanent and removable vinyl have waterproof qualities too!
Wood signage
Removable vinyl at times is not easy to apply to wood due to it being porous. It is therefore important to seal the surface of the wood using something like polyurethane. Once this is done the removable vinyl will adheres easily to the surface.
This is a great idea for rustic weddings as welcome outdoor signs and backdrops. Or you might want to make an elegant looking custom sign such as the Vanover family has done here: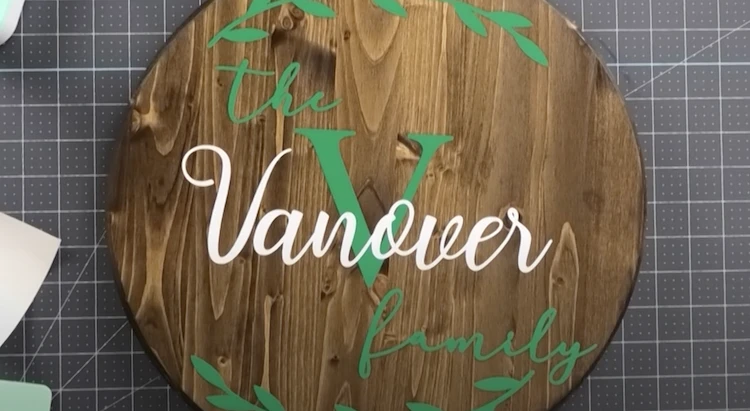 Or wood wall décor such as keyplates, picture frames, and wooden furniture. So a wooden sign should be your personal touch for your furniture or your design.
It's even an excellent idea to give friends a housewarming party. Go buy a rough wood cutting and put their family name to make a home warming party.
Decals for your phones
Have you had too much trouble finding the best laptop & smartphone cases? How would you do this with removable vinyl decals?
This can take place using removable vinyl decals. You may be looking to get new decals for phones or laptops. It is possible to personalize a laptop with names in the case of an iPhone or iPad.
Remember to place removable vinyl decals on the flat and smooth project surfaces as well. You might want to give it to friends. They may use their personal information on the branded stickers and hang it out on their smartphone.
Use stencils for walls in your vinyl projects.
HOW TO MAKE REMOVABLE VINYL DECALS?
Install removable vinyl decals on your cabinet and wall. It can be done quickly with an incredibly high impact! I'm showing you the process for changing the size of the cabinet using the removable vinyl.
A vinyl sticker is an excellent and quick and simple way of enhancing any décor and can be used on most windows and doors.
Also, think of not only the walls and furnishings but appliances and seasonal décor. I've seen so many lists! What a joy to have removable vinyl. You can remove them anytime you want without any sticky marks on your furniture.
This can also be a good solution for landlords who cannot change decor because of the extra cost.
There are a few things you need to know in order to make your own new decal. First, you'll need to purchase some self-adhesive vinyl. This can be found at most craft stores.
Second, you'll need to purchase cutting tools, such as Cricut machines or a Silhouette.
Third, you'll need to create your design. Once you have your design, you can use your cutting tool to cut it out of the vinyl.
Fourth, you'll need to weed out the excess vinyl from your design. To do this, simply use a weeding tool to remove the unwanted vinyl.
Finally, you'll need to transfer your design to your desired surface. To do this, use a transfer tape to apply your design to your surface. You can also use transfer paper when doing heat transfer. Happy crafting!
Wall decals
Is the bedroom wall really the most vibrant part of your home? Easily install removable wall paint. Are unicorns a real treat? You can choose between holographic Vinyl or Galaxy Vinyl to look at the unicorn templates.
If a person changes their mind or wants to put inspiring words on their walls, they can do that too. This is a nicer way to use removable vinyl than permanent adhesives.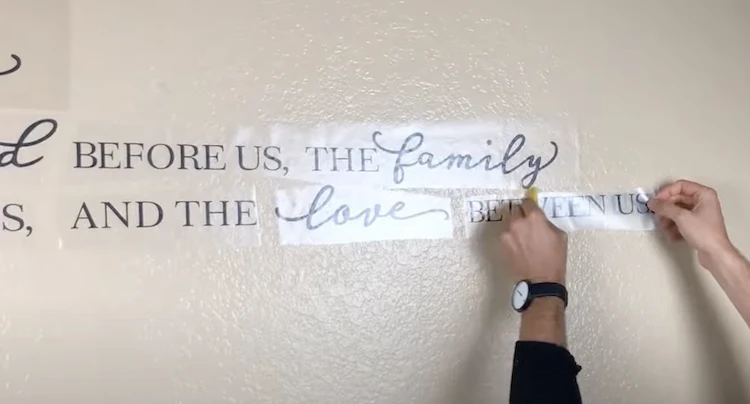 Decals can easily enhance a room's appearance with a temporary application because they are easily peeled off.
Scrapbooking
Removable vinyl is especially well-suited for scrapbooking. This is because it is easy to work with and can be removed from surfaces and it doesn't leave residue on the parchment paper.
First, it is important to choose a vinyl that is compatible with the type of paper you are using.
Some types of vinyl can be used on both coated and uncoated paper, but others are only suitable for one or the other.
Second, it is important to use the right adhesive. Some adhesives are not strong enough to hold the vinyl in place, while others can damage it. Bonus tip: use glitter vinyl for decorating!
Signs
If you're looking for a versatile material that can be used for everything from wall decals to car decals, you need to check out removable vinyl. Removable vinyl is a type of plastic that comes in sheets and can be cut into any shape or size.
It's easy to apply and can be removed without damaging surfaces. Removable vinyl is most commonly used for signs and graphics. It's the perfect material for temporary signage, like event banners and real estate signs.
It can also be used for permanent signs, like store hours or directional signs. If you need to change your sign or graphic, simply peel off the old one and apply a new one. Removable vinyl is also great for car wraps.
Crafting
If you're a crafter, you've probably heard of removable vinyl. But what is it, and what is it used for? Removable vinyl is a type of vinyl that is meant to be temporary.
It's perfect for crafting because it's easy to apply and remove, and it won't damage surfaces. There are endless possibilities for what you can do with removable vinyl.
You can use it to make wall decals, labels, and even temporary tattoos. The sky is the limit! If you're looking for a versatile material for your next craft project, removable vinyl is a great option.
Removable Vinyl and Permanent Vinyl
The main differences between removable vinyl and durable vinyl are in the stickiness, its lifespan, and recommended surface.
Permanent vinyl is used for outdoor use and decals in automobiles, outdoor signage, and glassware are often washed. Removable vinyl offers an ideal alternative for temporary crafts.
There is no one-size-fits-all answer to the question of whether to use permanent or removable vinyl. The decision depends on the specific application and the desired results.
Permanent vinyl is typically used for outdoor signage, vehicle graphics, and other applications where a long-lasting, durable product is needed. Removable vinyl is often used for indoor signage, window graphics, and other applications where the graphic may need to be removed at some point.
Some factors to consider when making the decision include:
The specific application and desired results
The type of substrate the vinyl will be applied to
The expected lifespan of the vinyl graphic
If you are unsure of which vinyl to use for your project, consult with a professional graphic designer or print shop. They will be able to advise you on the best vinyl to use to achieve the desired results.
Advantages of removable vinyl
First, it is very versatile and can be used on a variety of surfaces.
Second, it is easy to install and remove, making it a great option for temporary or changeable displays.
Third, it is durable and weather-resistant, making it ideal for outdoor use. Finally, it is available in a wide range of colors and styles, so you can find the perfect look for your project.
Disadvantages of removable vinyl
Although removable vinyl has many advantages, there are also some disadvantages to consider before using this type of product.
One of the main disadvantages is that it is not as durable as other options, such as permanent vinyl. This means that it is more likely to peel or become damaged over time. Having said that, it was not designed to stay in place for long periods of time as it is designed to be easily removable.
Additionally, removable vinyl can be more difficult to apply than other types of vinyl, so it is important to make sure that you have plenty of time and patience before attempting to use this product.
Where to Buy Removable Vinyl
There are a few places where you can buy removable vinyl for your home.
The first place to check is your local home improvement store. They should have a wide selection of vinyl products that you can choose from. If they don't have what you're looking for, you can also check online retailers.
There are a few online stores that specialize in selling vinyl products, so you should be able to find what you're looking for. If you are looking for a specific color or design, you may need to order it from a company that specializes in that type of vinyl.
How to Apply Removable Vinyl
Here are some tips for applying removable vinyl:
Start with a clean, smooth surface. Remove any dust or debris with a lint-free cloth.
Measure and cut your vinyl to size. Use a craft knife or scissors for the best results.
Peel off the backing of the vinyl, being careful not to touch the adhesive side.
Position the vinyl on the surface and smooth it down. Use a credit card or squeegee to remove any air bubbles.
Allow the vinyl to dry for 24 hours before use.
Watch this video: How To Apply Removable Vinyl [01 mins 19 secs]
How to Remove Your Temporary Vinyl Design
Vinyl is a great way to show your personality and style, but sometimes you want to change it up. Here's how to remove your temporary vinyl design.
Gently peel back the vinyl from one corner. If it's resistant, use a hairdryer to heat up the adhesive.
Once the vinyl is removed, use a cotton ball soaked in nail polish remover to remove any residual adhesive. Wash the area with soap and water to remove any residue.
Dry the area thoroughly before applying a new design.
You can use a hair dryer on a low setting, or you can use a heat gun. You can also use a heat Press. If you use any of these methods, be sure to use a Press cloth or something similar to protect the vinyl from heat damage.
You can also try to remove the vinyl with a razor blade, but be careful not to damage the paint underneath.
FAQ
What can you do with removable vinyl?
Removable vinyl is a great way to add a personal touch to any space. It can be used to decorate walls, floors, furniture, or any other smooth surface.
Removable vinyl is also easy to apply and remove, so it's perfect for temporary or permanent decorating.
What is removable vinyl best for?
Removable vinyl is best for temporary or removable signage and graphics. It is easy to apply and remove, making it ideal for short-term projects.
It is also durable and can withstand outdoor conditions, making it a good choice for both indoor and outdoor use.
What does removable vinyl stick to?
Removable vinyl can be applied to most clean, smooth surfaces. It is important to make sure that the surface is free of dirt, dust, and oil before applying the vinyl.
Once applied, the vinyl will bond to the surface and can be removed without leaving any residue.
Should I use permanent or removable vinyl?
If you need a vinyl that will last for a long time, then permanent vinyl is the way to go. However, if you need a vinyl that can be easily removed, then removable vinyl is the better option.
Ultimately, the decision of which type of vinyl to use is up to you.
Conclusion
There are many different uses for removable vinyl, from residential to commercial applications.
It is a versatile product that can be used for a variety of purposes, and it is also easy to install and remove, making it a great option for those who want to change up their look often without damaging the surface of where the vinyl is places.
Whether you are looking for a temporary or permanent solution, removable vinyl is definitely worth considering.