T-shirts are more than a simple garment! They are a canvas for self-expression. The techniques for customising t-shirts are endless. They go from screen printing to heat transfer, manually done or achieved by machines.
Key Takeaways
Screen printing method
This method is the most common for t-shirt printing. It requires a stencil (or template) and sublimation printing inks to be transferred onto the shirt. Its advantage is being able to print large quantities at once (ideal for mass production and reducing resources).
Direct-to-garment method
This method uses a special printer to apply the ink (t-shirt design) directly onto the shirt's fabric. With little setup costs and high-quality prints, it is ideal for complicated designs. It is only suitable for small and personalized running jobs and doesn't require a steep learning curve.
Sublimation method
This method uses heat and pressure on sublimation ink to transfer the design onto the fabric. It is great for highly detailed and full-color designs. It works best on polyester fabrics and therefore has some limitations on other material types.
But have you ever wondered which method of printing t-shirts is best for your design and style? Depending on your needs and/or target market, you can go for several options. And today, so you don't have to figure things out, you'll learn everything you need to know about each t-shirt printing technique.
After that, you can determine whether you want to print your designs, invest in a DTG printer, or trust professionals with their own companies to apply any of these printing techniques for you.
What Are The Different T-Shirt Printing Options?
There are different types of t-shirt printing methods. This includes doing it as hobbyists or starting a printing company.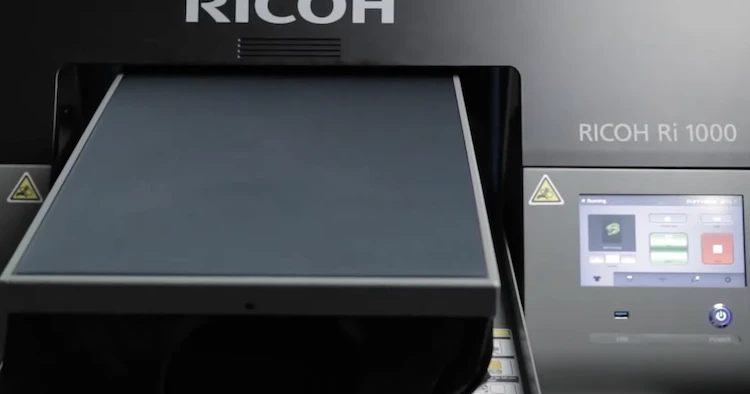 The chosen method will depend on the kind of design wanted and the garment fabric type to print on.
In this article we have 8 different types of t-shirt printing options that can work for you. Best of all, you can choose more than one.
#1 Screen Printing Method
Screen printing is a printing process where screen printing inks are pressed (using a squeegee) into the fabric through a stenciled mesh screen.
It's also called silkscreen printing technique or serigraphy. If you've heard these terms before, know that they all mean the same thing.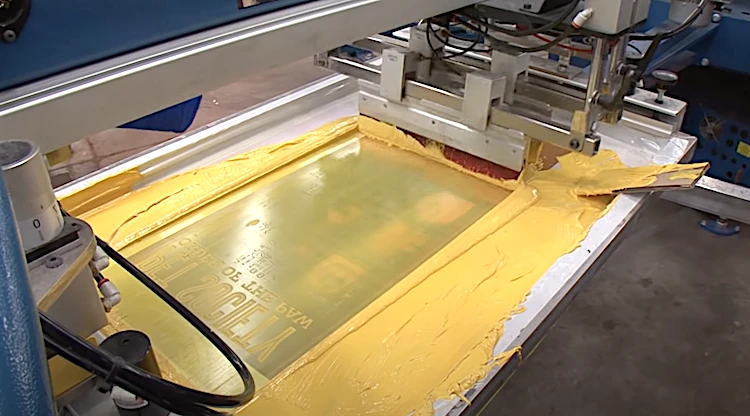 This method is mainly for printing on bigger items like posters, canvases, and general artwork. But it also works well on fabrics and textiles, too! Traditionally, the process was done by hand, but like anything in the modern world, it can be done by printing machines.
First, make a stencil/template that blocks negative space and is held in place by the mesh. Push ink through the stencil which creates an imprint on the surface that's under it. The mesh count of a screen determines the amount of ink that gets pushed through.
It's easier to work with only one color rather than multicolor designs. For multicolor designs, each color would need to be applied on different layers (using different screens), which takes up more time and makes it harder to scale.
Screen printing is cost-efficient and allows for repetition (and replication) of designs, making it a popular choice for your t-shirt business.
Advantages of this technology
Cost-efficient for bulk orders.
Deep penetration of ink.
The silkscreen printing panels are reusable.
Works on most fabrics.
Designs durability.
Can be used on most materials, including cotton and polyester t-shirts.
Disadvantages of this technology
The process can get a bit messy.
Lots of practice and maintenance are required.
#2 Direct To Garment Printing (DTG) Technique
Sometimes known as the inkjet printing method. It's a process for printing graphics directly on clothes & textiles.
For direct-to-garment printing, a special inkjet printer for t-shirts is required. It works the same as paper printers, with the difference that you print on fabric. The information (artwork) is sent from the computer to the printer.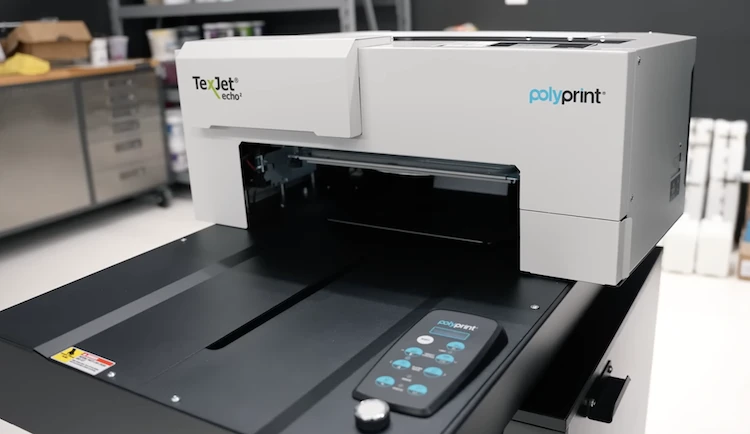 This t-shirt printing method provides flexibility. Whatever piece is on your computer can be printed directly onto your t-shirt with great design quality as a result.
The reason this method gets much love is because it can work with almost 16 million colors (and all in a single pass) and printed at speed. This is a fantastic solution for creating high-quality artwork with amazing detail and accuracy.
Find out more on what is direct-to-garment printing and its benefits by following the link. This guide expands on how it works and what the limitations are!
This is a good option if design ideas are complex and possess creativity. But for quality prints, it is advised to use a printer of great quality, otherwise you'll finish up with dotted patterns.
Pros of this technology
Great for complicated multicolor images and complex designs.
Fast process, good for medium-size orders.
High degree of accuracy from program to printer.
Minimal ink spill and mess.
Prints result in a smooth and soft feel.
Minimal experience required for operational purposes.
Cons of this technology
Printing is limited to light colored or white garments.
Best suited for cotton t-shirts (unsuitable for others).
Investment – high upfront price for a printer.
#3 Dye Sublimation Printing
For designs that cover the entirety of a T-shirt, dye sublimation is the option for you.
This is one of the T-shirt printing methods that works best on polyester fabric.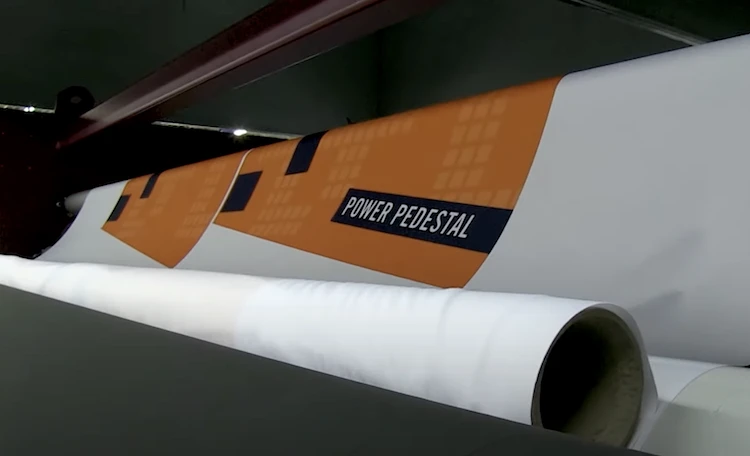 The process of dye sublimation is complex on a chemical level. When heat and pressure are applied, the ink turns directly into gas.
That design is later printed onto transfer paper, and then with a high-pressure roller, the ink from the paper is turned into gas and transferred to the fabric. In fact, it's as though the dye becomes a part of the fabric because of the way it bonds to the fibres.
That's how the whole process is sealed.
The design is done with this special heat transfer paper, which is durable and high-quality but also very effective for massive orders.
Advantages of this technology
Designs are smooth and soft.
The design doesn't fade with time.
Great for polyester.
The print doesn't crack, peel, or fade.
Disadvantages of this technology
Expensive to start.
Armpit areas that have creases and folds are hard to dye.
#4 Heat Press Printing
When it comes to beginners and printing methods that are on the simple and easy side, then heat press printing can be the right option for you.
All the equipment required for the heat press method is a printer and some transfer paper.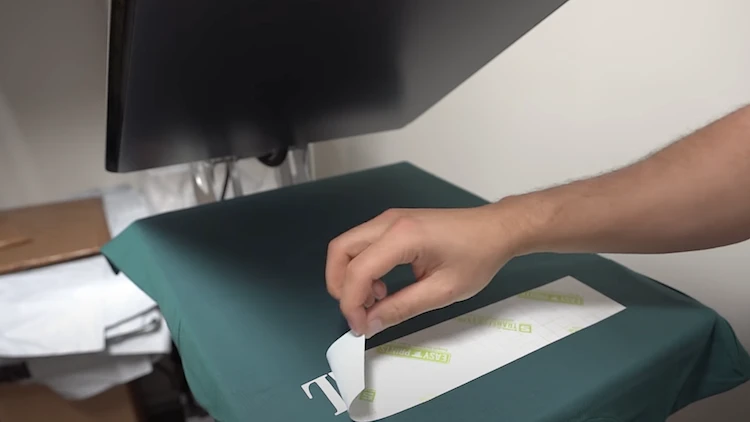 Or it can also be done with a vinyl cutting machine, but either way, a heat press machine is needed. This method is particularly good for transferring designs, such as brands and logos.
Start with a digital copy of the image. It can be any kind of design you want.
Then print that onto the special heat transfer paper, keeping in mind that it should be done on the side the wax coating is on. Once it's printed, set the paper on top of the garment you want to print on.
After that, go to the heat press that activates the adhesive material of the paper and transfers the design to the shirt.
The other of the paper side will be covered with a glossy kind of a cover that's removable; however, read up on the instructions, as not all heat papers have the same use.
This process is generally on the more affordable side, but it can get more expensive when buying specialized equipment.
Pros of this technology
Easy to use and set up.
The prints are very good visually.
Good for quite complex designs.
Cons of this technology
Not good with dark fabrics.
#5 Heat Transfer Vinyl Process
When applying the heat transfer vinyl printing method, it differs a lot from other methods where vinyl is used as a medium, mainly in the way that it's used.
The way this heat transfer printing is used, is that the vinyl is printed onto the garments using heat and pressure.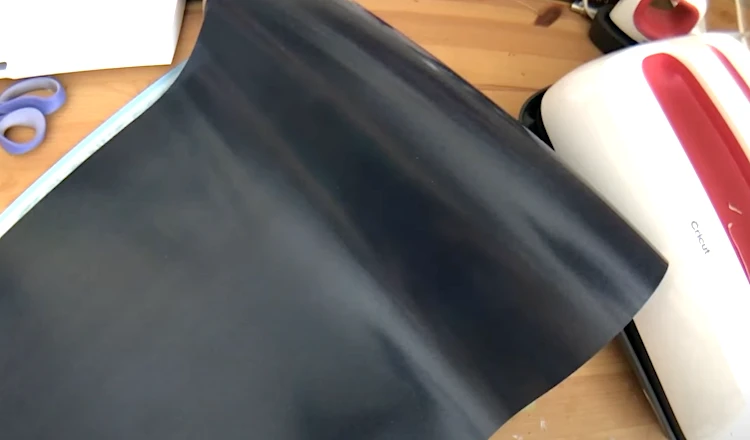 Firstly, cut the vinyl into shapes you wish to have as designs on your T-shirt, using a special vinyl cutter, and then these shapes are transferred to the fabric.
This is done with a heat source which can be a basic iron or a more specialized machine. If you plan to do a lot of t-shirts prints for business purposes, I would recommend a clamshell type of heat press.
The vinyl printing technique is mainly used for printing some slogans on t-shirts or for tiny graphics.
This implies that vinyl printing is quite easy to use, and it is, making it a generally good choice for beginners.
And not only that, but it's also one of the cheaper methods to opt for, so even if you, for example, need to make a gift for a special occasion, vinyl printing can be the way to go, too.
Advantages of this technology
Durable results.
Very easily adjustable designs.
Simple to be done by people of all ages.
Disadvantages of this technology
Can't work with heat-sensitive materials.
#6 Plastisol Transfer
Similar to screen printing, the plastisol transfer uses a special kind of screen to have an image imprinted on a T-shirt – a plastisol screen, hence the name.
It's essentially another kind of using heat transfer to print designs onto T-shirts and other kinds of garments.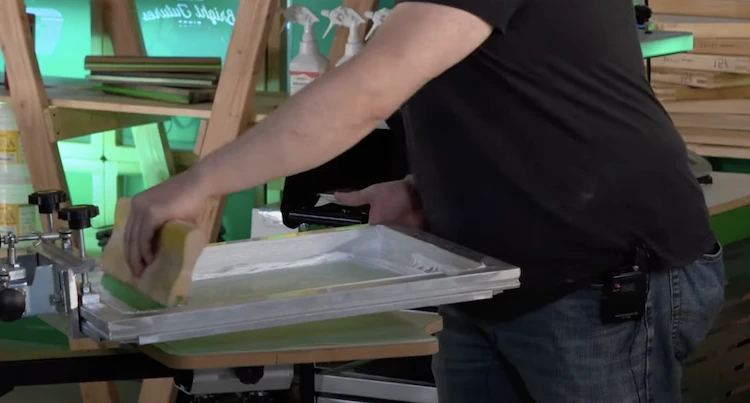 The dye is first transferred to the plastisol, and only after that is it transferred to the T-shirt.
The major benefit of this strategy is ordering the transfer products in bulk. As orders come in, you may heat press them on the shirts.
The design that you print on the plastisol screen can be cured and then stay unchanged in storage for a long time and then re-used when the number of orders goes up again.
Overall, this method is as versatile and convenient as heat transfer, but the designs end up being better for washability than a screen print design.
Pros of this technology
A great option for bulk printing.
Very durable designs.
No minimums for transfers.
Cons of this technology
Stencil Printing Approach
Consider stencil printing to be similar to silkscreen printing.
In the manufacturing industry that's automated, stencil printing is a technique that involves printing with some kind of conductive adhesives such as solder paste, silver epoxy, or another epoxy onto writing boards.
Stencil printing is a favorite for doing at home, as you need only a basic printer, paper, or some kind of a card, and a cutter.
The way you do this is that firstly, you make your design, then print it in some form of thick paper or card and then cut it out in order to make a stencil from it.
Then, you will need to fix the stencil on the garment you want to print on with some tape, and after that, you send it off to printing.
It's quite easy, and it can be done as a DIY, so if you're looking for a way to have some fun with crafts and maybe even make some gifts, try this one out!
Advantages of this technology
More affordable when it comes to equipment.
Doesn't take up too much of your workspace.
Works quite efficiently.
Disadvantages of this technology
A lot of waste is made while printing like this.
#7 Tie-Dye Strategy
There are various traditional tie-dye variations around the world, each one unique yet all similar.
Tie-dyeing is a technique where the material is tied or folded in a specific manner before being immersed in dye.
The final design is determined by the pattern of the folds and whereby creating unique and colorful designs.
It's a very creative form of doing different prints on T-shirts, and each one you make will be completely unique.
To some extent, the eventual outcome may be predicted and controlled with skill, but the surprise is part of what makes tie-dye a fascinating and interesting art form that even a novice can master.
Anyone can do this method, and tie-dye designs are something that always makes a comeback in fashion, so there's no bad time to start doing it.
Pros of this technology
Fairly simple even for beginner designers.
Quality prints don't fade, peel or deteriorate in any other ways.
Very creative and unique designs.
Cons of this technology
It takes time to gain control over the results.
Other Printing Design Options
As stated, we have a variety of t-shirt printing options listed above. However, on the off chance you require other pieces of printing methods, we have listed some below that might be of interest:
Airbrushing
Direct-to-Film Printing (DTF)
Embroidery sewing (not technically printing)
Computer-aided Design (CAD) Cut Printing
Be sure to do a little research on these, as they may serve you better than the ones mentioned here!
Author's Conclusion
To sum up, the T-shirt printing industry is dynamic and versatile, presenting a range of printing options. Deciding on the appropriate technique relies on several factors, such as the design and material of the fabric.
Among the commonly used methods are screen printing, direct-to-garment printing, and dye sublimation printing. Each of these techniques has its benefits and drawbacks, making them appropriate for different situations.
With the right tools and expertise, artists can create stunning artwork that appeals to customers across the market, even with budget constraints. Business owners who understand the various printing methods and their advantages and disadvantages can make informed choices that result in successful T-shirt printing companies.
FAQ
What is the most efficient method of t-shirt printing?
The direct-to-garment printing methods are the most efficient as you only need a printer, and you can do as many loads as you want.
You also get a lot of color options, and you can basically print whatever you want on your garments.
Which type of printing is commonly used in t-shirt making?
There are many methods that are quite common, but mostly it's screen printing or direct-to-garment printing methods.
These are mostly very efficient and not too expensive for a business to start with, so it's not surprising that a lot of people who work with T-shirt printing choose that.
What are the different types of shirt transfers?
Mainly, all T-shirt transfer methods are somehow related to using heat and pressure, so the main type of T-shirt transferring is by using heat press printing.
You can also use vinyl printing for transferring designs to T-shirts, as well as direct-to-garment printing methods, and even tie dye, and it just depends on what you want to do.