Sublimation projects are popular, especially among creativity enthusiasts. The sublimation process allows for custom product design using personalized images, designs, and phrases on multiple substrates.
The process begins with an idea of what you want printed and on what substrate. We can assist with creative ideas and inspiration.
For those new to the concept of sublimation printing, we can assist with sublimation printing ideas. Our ideas are simple and don't require advanced skills.
Sublimation is an affordable option for arts & crafts projects and requires:
A computer
A heat press
An appropriate printer
Sublimation blanks
Dyes
Heat tape
Transfer paper.
What Can You Add Sublimation Prints On?
You may be ready to get started, but might lack ideas for printing. Don't worry though, here are 15 simple ideas for your next sublimation project:
Baby bibs
Bandanas
Beverage coasters
ID tags
Keychains
Household ornaments
Bottle openers
Microfiber towels
Sequin pillows
Ceramic mugs / vases
Glitter HTV
Socks
Face coverings or masks
T-shirts
Innovative sublimation crafts
#1 Baby bibs
Designing a baby bib is easier than other apparel due to its single layer construction, eliminating the need for a paper sheet to prevent sublimation ink bleeding through fabrics.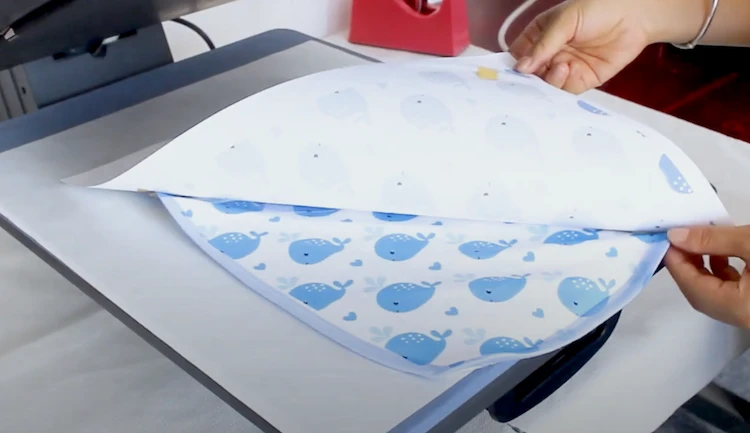 Designing a baby bib is easy with options for small graphics and larger texts.
Take inspiration from the abundant retail bib options on the market. The fabric allows for even custom quality photos. Some great gifting options include eating slogans, holiday themes, or personalized bibs.
#2 Bandana
A bandana also serves as an easy print transfer option. It might deliver some overhang while using the heat press, but, you deal with only a single layer of clothing.
Designs on a bandana can range from specific patterns to a personalized photograph. In addition, you can implement a sport, team, or club theme as well. Bandanas are great options for both people and pets. They serve as impressive promotion items as well.
#3 Beverage coasters
Coasters serve as great rigid sturdy blanks surfaces. They are flat surfaces and therefore easier to work on.
Some sturdy blanks are difficult to work on. This is because they are available in odd shapes while featuring multiple contours. For instance, tapered tumblers can appear the same as standard ones. However, it is difficult to obtain the desired results with tapered tumblers without using a specialized setup or equipment.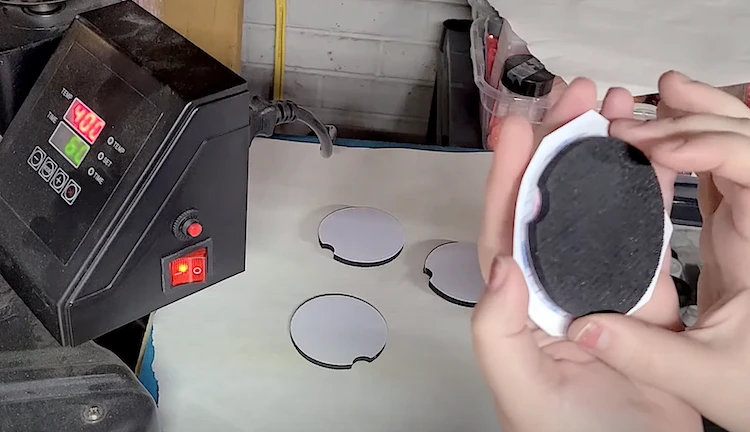 As a beginner, you can practice setting up rigid sublimation blanks using heat tapes and handle hot items from the heat press. With sublimation, coasters can feature simple patterns or complex custom photos. Designing coasters with sublimation is a creative way to unleash your imagination.
#4 ID tags
ID tags are easy to work on due to their flat and small size. They can be efficiently pressed with a heat press. ID tags are not hot to the touch after being removed from the heat press.
ID tags can be worn as necklaces, used as labels, and can also serve as pet tags. Sublimation ink is permanent and won't fade or wear off. Customized ID tags make good first sublimation projects for special events or labeling.
#5 Keychains
A keychain is yet another rigid product on which you can start the process of sublimation printing. It is a small-sized product. Still, they are increasingly simpler products to handle than tumblers or coasters. In fact, keychains are one of the easiest products to apply the process of sublimation.
With keychains, there is no requirement of worrying too much about handling them effectively as they come right out of the heat press. It is because they do not retain heat significantly and cool down easily.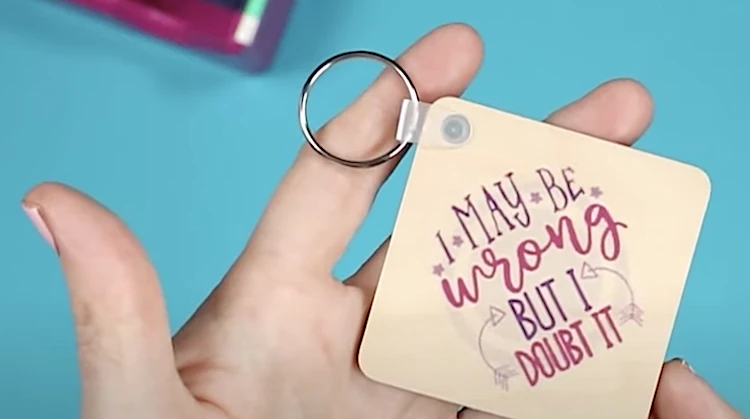 In case of keychains, you can start over with simple designs like creating labels. At the same time, you can advance to complex and creative images and patterns. It serves to be a great way to start over with different stages of the sublimation process.
Almost everyone out there makes use of keychains in some way or the other. Even when you go ahead with designing a simple label-based keychain, they will last longer. Sublimation prints on keychains tend to be permanent. Whatever design you will put on the keychain, it will last for the entire lifetime of the product.
#6 Beautiful ornaments
Everyone loves a strikingly beautiful and personalized ornament for a festival or some special occasion. If you are executing a sublimation project, a piece of ornament is a great product to start over with as a beginner. Ornaments can be designed in different shapes and sizes. However, they are not too bulky or large.
Most blanks for ornaments are made out of a poly-type plastic material. Still, you can access some wooden blanks as well. Still, sublimating on wood can be a challenging process.
It is easier to deal with ornaments during the design phase. If you are in search of innovative ideas to execute on ornaments, you can think of including special event themes, personalized images, or even holiday themes. While sublimating ornaments, there is no fear of committing mistakes -even as a beginner.
#7 Bottle openers
If you are a beginner, you can think of using sublimation printing on bottle openers. A bottle opener is a product that might not come to your mind right away while starting off with a sublimation project. However, they are great for beginners.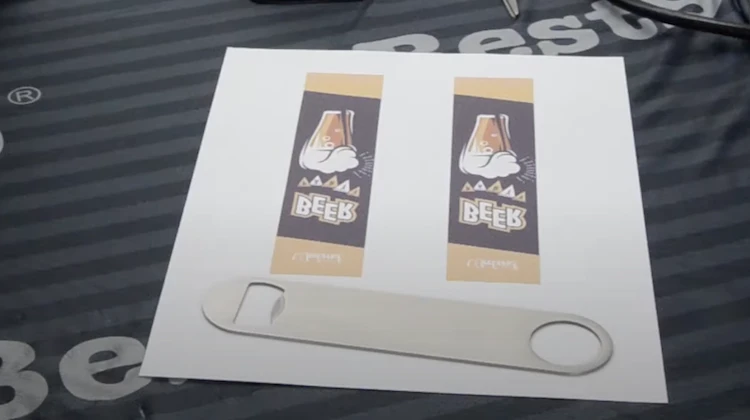 It is easier to work with bottle openers as these are smaller in size. Some blanks feature an insert on which you can sublimate while snapping in afterward. This makes the overall sublimation process easier. Bottle openers with personalized prints or themes serve as great promotional items for your brand. At the same time, they also function as great personalized gifts.
#8 Microfiber weave towels
If you have access to a heat press, you can start over by designing top-quality microfiber weave towels for your next sublimation project. Sublimation will require the involvement of polyester in comparison to the cotton material. Therefore, you need to replace standard tea towels with microfiber content to allow the sublimation ink to stick to the surface.
The waffle-design weave towels are impressively creative to work upon. The use of microfiber material makes the product a highly sought-after one. Moreover, with interesting designs or patterns that you infuse on the surface will make it even more appealing.
#9 Sublimation sequin pillows
A classic reversible sequin cushion or pillow is easier to design than you would think. To top it all, these are highly sought-after gift options in terms of personalization. To design a beautiful reversible sequin pillow case, some basic items you need are:
Heat press
A reversible pillow cover with sequins
Sublimation paper
Sublimation printer
The two items that traditionally cost the most on this list are the heat press and sublimation paper. However, if you are starting out, there is a way to source these items inexpensively.
Firstly: You can purchase a handheld heat press such as these ones for a few dollars, rather than using heavier duty ones that press the entire area at once.
Secondly: It is entirely possible to convert an Epson Ecotank inkjet printer into a sublimation printer, but note, this isn't possible on all inkjet printers. This might be a decent option for you as sublimation printers cost considerable more.
#10 Ceramic mugs
There are several materials -ranging in terms of hardness, to choose from while designing ceramic mugs with the process of sublimation printing. The design will serve as the base for whatever material you choose. The design should be according to the settings of the sublimation paper.
While sublimating ceramic mugs, it is recommended to make use of heat tapes. The heat press should be heated to around 400 Degrees while pressing the mug for around 3-4 minutes in the heat press. To remove the accessories, you can use a glove. It is because the items might get hot.
#11 Glitter HTV
With some products, it might be difficult to sublimate the entire fabric. It is because of the involvement of the polyester material. With 50 percent polyester and 50 percent cotton, you might not obtain the desired results. A better result can be obtained with 65 percent polyester for fabrics.
With Glitter HTV, it is possible to sublimate any type of fabric. All you are required to do is to come up with a great design using a reliable designing software. Once you have finalized the design, you can print it out with the help of a sublimation printer. Upon receiving the print, you can place the same on top of the material and make use of heat press to obtain the final results.
As you heat up the heat press to around 400 Degrees, you need to ensure that you are covering the Glitter HTV with a high-quality Teflon sheet. Press the product for around 1 minute. Upon completion of the heat process, you can remove the paper. The design will be ready.
#12 Socks
Socks are available in a myriad of sizes. Therefore, as a beginner, it is recommended to make the design according to the paper and size of the material. The pair of socks should be 100 percent polyester to ensure the best ink transfer outcomes.
The design of the socks is a demanding aspect of the sublimation project. You should aim at creating attractive sock designs to draw the attention of the end buyers. Once you have prepared the desired design, you can ensure the best-ever print with the help of a premium-grade sublimation printer. Then, you can place the material with the printed design onto the heat press.
Make the heat press reach the temperature of 400 Degrees. As the heat press gets heated up, press the sock material for around 40 seconds while using important safety gears like a heat tape. Remove the paper to get the desired design imprinted permanently.
#13 Face coverings or masks
Face masks are yet another interesting products on which you can implement your sublimation project idea to create designer products. As these are small in size, it is easier to execute the sublimation idea. Take the design you wish to imprint on the face mask. Print the design with the help of a sublimation printer. Ensure that you are using proper sublimation paper as well as ink to obtain the desired results.
Place the product with the design onto the heat press. Ensure that the position of the product properly fits onto the heat press. Use all important safety gears to maximize protection during the heating process. Once the desired time has been achieved, remove the paper and go through the sublimated mask.
#14 T-shirts
Do all of your favorite t-shirts appear worn-out or faded? Do you wish to renew them like brand-new t-shirts? Do this in the cost-effective way by sublimating them with quirky designs. Sublimation printing is a specialized t-shirt printing technique. Detailed designs are possible that rarely fade or wear out
T-shirts sublimation makes use of heat-reactive inks and dyes, along with the involvement of higher temperatures to convert the dye into gas. The gas bonds with the fabric of the t-shirt to create a detailed design. The process of sublimating t-shirts requires:
Sublimation ink / dyes
A heat press
t-shirts (polyester works best)
Sublimation paper
Sublimation printer.
While it is not possible to utilize sublimation printing directly on black or a dark-colored fabric for t-shirt designing, you can learn the art of sublimating on dark colors by making use of specialized vinyl sheets. The only difference between this process and the standard sublimation process is that you will end up printing the desired design directly onto a specialized sublimation heat-transfer vinyl material. You can then make use of the heat press to sublimate the design into the respective HTV while also adhering the HTV to the final fabric.
#15 Innovative sublimation crafts
If you are implementing a crafts project, you should be aware of sublimation crafts to take you ahead. Sublimation crafts involve the process of transferring dyes directly onto the given crafting surface. It is also known as dye sublimation.
The technique of dye sublimation makes use of heat to transfer the dye (a special ink) from a single surface to another -commonly referred to as the blank. It is a specially-coated blank surface.
The strategy to implement dry sublimation effectively is that the ink should go from its solid to gas state -completely doing away with the liquid state. Therefore, in dry sublimation, there is no requirement for drying. Moreover, the intended design gets infused into the coating of the blank surface effectively.
The dry sublimation process is highly versatile. Therefore, an increasing number of crafters and creators are interested in this technique. You can think of utilizing the technique to come up with custom designs on a wide range of soft as well as hard surfaces -like ceramics and fabrics. When you are thinking of sublimation project ideas like pillow cases, mugs, easypress mats, polyester content, t-shirts, pillow covers, mouse pads, or other great gifts, you can attain success with your sublimation crafting project.
FAQs
What projects can you do with a sublimation printer?
With sublimation printing, you can execute a wide array of ideas to come up with creative products and designs. Right from t-shirts to pillow cases, coffee mugs, cushion covers, coasters, and much more -the options are endless. If you are a beginner, you can explore a wide number of options by sublimating products and creating ample brand awareness for your sublimation business.
What is the easiest program to use for sublimation?
There are several sublimation printing software solutions that help you with designing personalized products on the go. If you are a beginner, you can think of using interactive, user-friendly programs or applications for sublimation. Some leading ones to consider are CorelDraw, Illustrator, and Adobe Photoshop.
What are some items that you can sublimate on?
When you have access to the right heat press, it is easier to execute the process of sublimation printing. There is a wide range of products available in the market on which you can sublimate creative designs. Some of the common products to know about are ceramic mugs, MDF coasters, ceramic tiles, polyester cushion covers, aluminum sheets, polyester bags, polyester mouse mats, and so more. 
What are sublimation projects?
A sublimation project is the one in which you print the desired customized design onto paper with the help of special inks and a sublimation paper. Later on, the design is transferred using a heat press onto particular sublimation blanks -including home décor items, coffee mugs, t-shirts, ornaments, and so more.
When you execute a sublimation project, you should know that sublimation designs are permanent. You can go ahead with printing detailed images -not requiring weeding like in the case of vinyl, to the project.
Closing Comments
Let's be honest. As someone who is in the field of printing and crafts, it is unlikely you will need an informational source to come up with sublimation project ideas. However, as someone starting out in this field, we hope such a source will come in handy… at least enough to trigger your mind to come up with more ideas!
Incase this list is not comprehensive enough, I have taken the liberty to add some more project ideas in the closing comments of this article:
Mouse pads
Baby onesies
Blank puzzle set
Smart phone back covers
Eyeglasses cases
Picture frames
Luggage tags
And the list goes on
Good luck and happy crafting!