Screen printing is exciting and a creative hobby, using color inks and applying them on a stencil. Most engaging screen printing do so to start producing their original textile design.
Key Takeaways
Keep it simple and practice
Start with simple designs, this makes it easier to determine where issues start and how to rectify them. Practice printing these on different surfaces and materials to better understand the outcomes of each.
Experiment with different ink colors and types
Experiment with a simple design that has different colors. This usually means building up layers. As well as different colors, try different inks types to see how they affect the final print.
Mesh count and their affect on prints
Experiment using different mesh screen materials and mesh counts. These achieves different print effects, particularly with different ink types.
If you are a beginner in the field and don't know what art to create, then we've got you covered. We have information on 6 screen printing ideas for beginners in one convenient place.
Post 1 of 5 in the screen printing
Alternatively, you might first want to learn more about what screen printing is and how it works, before moving on!
Best Starting Point For Ideas
There are no limits when it comes to DIY screen printing. As long as the print areas fit under a screen printing machine, it can be printed using this technique.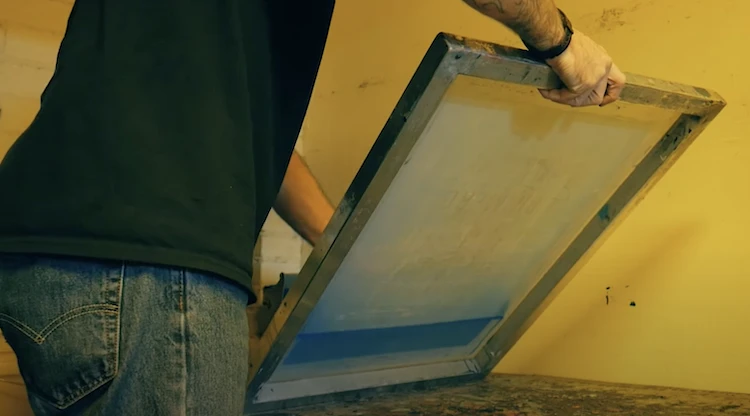 Typically, we think about creating posters and T-shirts with this technique. But other cool things can come up that will make excellent additions to your lifestyle.
#1 Coffee mugs and cups
Coffee mugs are great additions to your workspace or living space. Especially mugs with cool print editions that reflect your personality and interests.
Looking for coffee mugs with prints or quotes that you like, but you can't seem to find anywhere? Why not create them by yourself?
Directly printing details or text on mugs is popular. Practically any print can be added on any type of surface. However, some care is required for the print to transfer well.
A cool mug can add some style to your dining set line and make it much prettier.
#2 Ceramic containers or vessels
Ceramic vases, plates, or decor that need personalizing with cool features can be done with screen printing.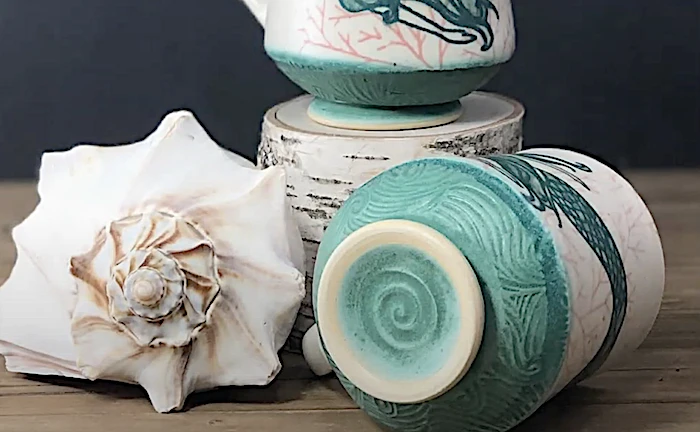 Screen printing equipment works well with ceramic, but some care is required. I wouldn't recommend adding something complicated with dozens of colors. This is because the awkward shape of the units makes lining up complicated.
So why not add that personal touch to your home?
#3 Wall decor
Wall decor is an easy way to enrich your living space. Keep in mind you can add any poster or decoration to walls with screen printing.
You can work with different types of paper and customize wallpaper in different shapes, sizes and patterns.
This allows you to create different pictures and quotes in the sizes you like. Then add a metal frame that works for you.
If you are looking for a print that can't be sourced at stores. Or if you want something customized parts of your room, then this is the best way to get it.
So why not enrich your space in an authentic way and stand out from the rest?
#4 Glassware
Here are some screen printing tips: Surprisingly, glass can be transformed through screen printing using the right supplies and kit.
Glassware is a common household item that people often overlook as a canvas for creativity. Imagine embellishing a water glass, a glass vase, or even shot glasses with stunning paint designs. This artistic touch adds elegance to your living space or makes for a remarkable gift.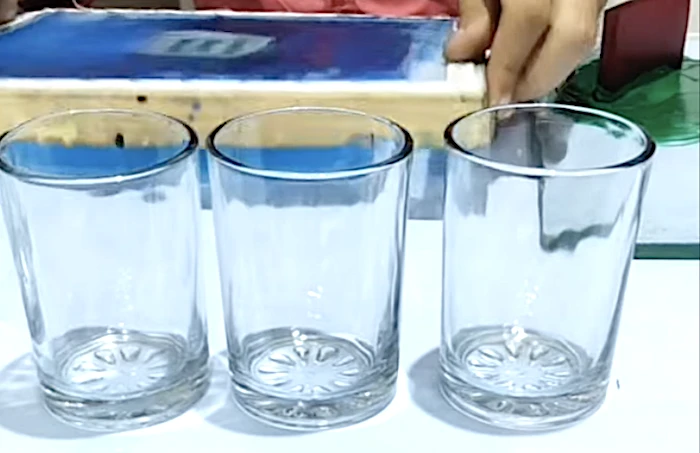 Screen printing projects offer a personalized approach to glass decoration. Creative individuals showcase their artwork imprinted on glass, infusing their homes with a distinctive aesthetic. It's a wonderful way to introduce something new and captivating to your space, even with designs that are elegantly simple.
#5 Aprons & kitchen linens
Let's explore aprons, essential items for the kitchen. Consider a custom printed apron as a valuable tool for anyone who spends considerable time in culinary pursuits.
Finding a high-quality apron with a personalized print or design can be a challenge. However, when it comes to screen printing, you have the power to overcome this obstacle.
The screen printing method enables artists to adorn aprons with fantastic images, quotes or a sign. Moreover, as an example, you can even select your preferred color, adding an enjoyable touch to the creative process.
Custom printed aprons make delightful gifts for wives, mothers, or mothers-in-law who enjoy cooking. Even for those less inclined in the kitchen, it adds an element of irony that sparks intrigue. That's because, traditionally, the kitchen is a part of life.
Incorporate cool artwork that captures their personality and charisma, ensuring a laughter-inducing surprise.
#6 Sports equipment
If you spend time doing different types of sports and can't seem to find the right athletic gear, then screen printing is an option for you.
There are plenty of excellent sports gear out there, but if you are training your team or participating in one of them, it can be hard to find the equipment that is in your size and has all the slogans and prints.
If you need to overcome this problem, the best thing to do is to explore the options of pointless gear, buy the one that suits you, and then add the desired print and logo to your screen printer.
This is one of the main reasons why so many local sports clubs are screen printing their own clothes. It can be very time-consuming, but it pays off in the end.
As you can see, you can create many cool things with screen printing, whether clothing or decor pieces.
You can come up with any project you want, and as long as you are dealing with high-quality materials and know how to handle them to get the desired result, you will be able to create anything.
There are many different techniques, and you can create with vinyl, mesh, textile, and pretty much any material you can find out there.
You can also experiment with designs using graphics tools like Adobe Illustrator and come up with something way better than you could find in stores. There are plenty of free tips and tutorials on using these tools.
What Can You Screen Print On?
Screen printing offers endless possibilities, allowing you to unleash your creativity on a wide range of materials. Follow these guidelines to achieve stunning results.
Wood, polyester, cotton, glass, metal—these materials are all fair game for screen printing, not to mention fun to do too. Embrace the versatility of black ink and vibrant colors without limitations.
Each material comes with its own set of rules. Familiarize yourself with the accompanying screen printing guide to ensure flawless execution and avoid any mishaps.
Before you dive into your creation, take the time to thoroughly understand the preparation and screen printing processes outlined in the beginner's guide specific to your chosen material.
Exercise caution when working with wood, glass, and metal to prevent accidents or damage. Prioritize practice sessions to enhance your skills before taking on your next project.
Your screen printer is equipped with step-by-step instructions, ensuring a seamless transfer process. Remember to maintain a protective layer throughout for optimal results.
While screen printing accommodates a vast array of materials with a little patience, it's crucial to steer clear of certain substances at all costs. Acrylic, for instance, is highly flammable and can damage your printing device even with minimal exposure to heat. Always inspect your piece for any traces of acrylic.
Likewise, avoid rayon and acetate, as they tend to burn easily and impede ink transfer, even under professional conditions.
In conclusion, embrace the possibilities screen printing offers by experimenting with various materials. As long as you adhere to the provided guidelines, remarkable outcomes are within your reach.
How To Screen Print As A Beginner?
Screen printing is an easy hobby, and even if you have never dealt with things like this before, you will be able to learn all you need to know within a few days.
You should take a few easy steps to start producing screen prints, and we will try to take you through them quickly.
For inspiration, this is how you can start screen printing now and the crucial steps you need to follow for a successful performance:
#1 Find your print
You can choose to design your print through different design programs or apps, or you can find exciting prints on the internet you would like to see on your T-shirt or houseware.
There is also an option to purchase different kits that will allow you to design your print on paper and prepare it for the screen printing process.
Once you have found or designed your print, make sure you download it to the device you will connect to your screen printer and save it in a proper format that can transfer onto the material.
#2 Cut the design
To prepare the print for the process, you will need to cut it carefully, so only the outlines of your print are left, and it is best to use a professional craft knife and a solid mat so the design won't move around.
Your print should be cut precisely if you don't want to have ink spilling all over or transforming into a completely different shape, so pay attention to this step.
#3 Apply ink
To start the screen print, you will need to apply ink over the top side to spread it over the whole print with a squeegee.
This is the easiest way to do it, and you don't need to be extra careful to keep things going the right way.
All you need to do is ensure there is enough ink over the whole print and that the color is present because it means you won't need to add too much pressure to get the design transferred well.
You should also add a layer over it to ensure the whole process will be successful and that the fabric will be able to get the ink and color well.
The emulsion shouldn't be too thick, so make sure everything is spread nicely if you want it to fit into the screen frame.
Once your ink is evenly spread, and the print can be defined, you can start the screen printing process.
#4 Start printing!
Take action and get your design into your screen printing machine and prepare for the process – I would recommend you to check up on the design once again to make sure everything is fine before you start printing it.
Depending on the material you are working with, you will need to preheat it or clean it up to avoid any mess on the print, and after you are sure everything looks fine, you can click the button and start printing!
You should also always check out the settings on your screen printing device because it will notify you if some colors need to be added or if there is a light or detail that is interfering with the process.
Each press has its own settings, so check these things out before you start trying different techniques and materials because you will probably need to work things differently with each of them.
Closing thoughts for beginners
In conclusion, screen printing offers a world of creative possibilities for beginners to explore. By following some key tips and tricks, beginners can embark on their screen printing journey with confidence and create impressive designs.
Starting with simple designs is crucial as it allows beginners to identify and rectify any issues that may arise. Through practice on various surfaces and materials, they gain a deeper understanding of the outcome of each print.
Experimentation with different ink colors and types adds a vibrant dimension to screen printing. Layering colors and exploring various ink effects create visually striking prints.
Achieving desired print effects heavily rely on factors like mesh count, and by using different mesh screens with varying counts, beginners can discover unique outcomes and learn how different ink types interact with the material.
The possibilities for screen printing are virtually limitless. Whether it's coffee mugs, ceramics, wall decor, glassware, aprons, or sports equipment, each item presents an opportunity for personalization and creativity.
Screen printing's rich history and versatile techniques allow beginners to work with diverse materials like vinyl, mesh, and textiles. With the aid of graphic tools like Adobe Illustrator, they can surpass store-bought designs and create something truly exceptional.
Armed with a screen printing kit and the right information, beginners can confidently embark on their screen printing endeavors. By paying attention to guidelines, material handling, and choosing suitable designs, they can unlock a world of creativity and bring their ideas to life.
In summary, screen printing is a rewarding and accessible hobby that empowers beginners to explore their artistic talents, personalize items, and unleash their creativity. With passion, patience, and the right techniques, aspiring screen printers can craft impressive designs and make their mark in the vibrant world of screen printing.