Screen printing is exciting and a creative hobby, using various color inks and applying them on a stencil. Most of those looking to engage in it do so to start producing their original textile design.
Key Takeaways
Keep it simple and practice
Start with simple designs, this will make it easier to determine where issues start and how to rectify them. Practice printing these on different surfaces and materials to better understand the outcomes of each.
Experiment with different ink colors and types
Experiment with a simple design that has different colors. This usually consists of building up layers. As well as different colors, try different types of ink to see how they affect the final print.
Mesh count and their affect on prints
Experiment using different mesh screens, particularly ones with different mesh counts. These will achieve varying print effects, particularly when applying different ink types.
If you are a beginner in this field and don't know what and don't know what create, then we've got you covered. We have gathered 6 screen printing ideas for beginners in one convenient place.
Post 3 of 12 in the screen printing
Alternatively, you might first want to learn more about what screen printing is and how it works, before moving on!
Best Starting Point For Ideas
There are pretty much no limits when it comes to DIY screen printing. As long as the print areas fit under a screen printing machine, it can be created with this technique.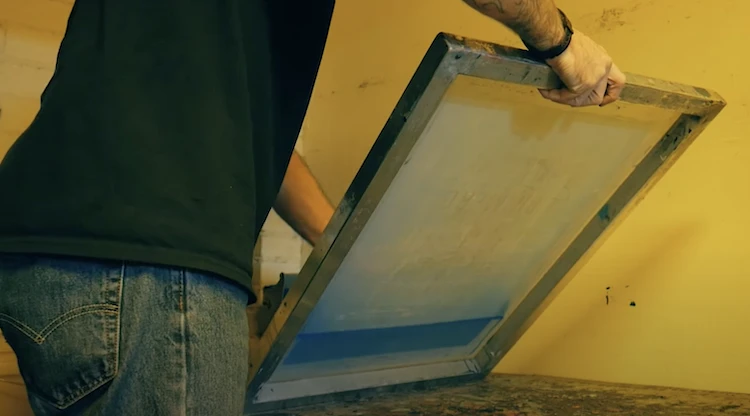 Typically, we think about creating posters and T-shirts with this technique. But there are other cool things you can come up with that will make excellent additions to your lifestyle.
#1 Coffee mugs
Coffee mugs are great additions to your workspace or living space. Especially mugs with cool prints that reflect your personality and interests.
If you are looking for coffee mugs with prints or quotes that you like, but you can't seem to find anywhere, then why not create them by yourself?
Directly printing details or text on mugs is popular. Practically any print can be added on any type of surface. However, some care is required for the print to transfer well.
This is a simple process. A cool mug can add some style to your dining set and make it much prettier.
#2 Ceramics
Whether you have ceramic vases, plates, or decor and want to personalize them or add a cool feature, screen printing is a good option. It can help you add a personal touch without much effort.
Screen printing equipment works well with ceramic. But you need to be careful while handling it. I wouldn't recommend adding something complicated with dozens of colors. This is because the device and material may get overwhelmed and break down.
This is a great way to add something cute to your home decor. Even a little flower on your flower vase or plate can make it look unique. So why not add that personal touch to your home?
#3 Wall decor
Wall decor is an easy way to enrich your living space. Keep in mind you can add any poster or decoration to your walls with screen printing.
You can work with different types of paper and customize wallpaper in different shapes, sizes and patterns.
This allows you to create different pictures and quotes in the sizes you like. Then add a metal frame that works for you.
If you are looking for a print that can't be sourced at stores. Or if you want something customized parts of your room, then this is the best way to get it.
So why not enrich your space in an authentic way and stand out from the rest?
#4 Glass
Most people are not aware of this, but glass can be screen printed.
Glassware is something people tend to purchase for their homes. You can add paint designs to a water glass, a glass vase, or even shot glasses. This will add a more elegant touch to your space or be a great gift for someone.
People use this technique to personalize their glasses. You will see the homes of creative types who have artwork imprinted on glass. It is an excellent way to add something new to the space without the design having to be too complicated.
#5 Aprons
An apron is something we use lots in the kitchen. A custom printed apron is an excellent tool for every person who spends a lot of time in the kitchen
It can be hard to find a high-quality apron with custom print or design. But if you are engaging in screen printing, it shouldn't stop you from adding it!
This allows artists to add an excellent image or quote to the apron. You even have the option to choose your preferred color, which is an enjoyable part of the creating process.
They are also excellent gifts for the wife, mother or mother-in-law if they are into cooking. And even if they are not, it adds an element of irony.
Add some cool artwork that will represent them and their charisma to get a laugh out of them
#6 Sports equipment
If you are a person who spends time doing different types of sports and can't seem to find the right athletic gear, then screen printing is an option for you.
There are plenty of excellent sports gear out there, but if you are training your team or participating in one of them, it can be hard to find the equipment that is in your size and has all the slogans and prints.
If you need to overcome this problem, the best thing to do is to explore the options of pointless gear, buy the one that suits you, and then add the desired print and logo to your screen printer.
This is one of the main reasons why so many local sports clubs are screen printing their own clothes. It can be very time-consuming, but it pays off in the end.
As you can see, you can create many cool things with screen printing, whether clothing or decor pieces.
You can come up with any project you want, and as long as you are dealing with high-quality materials and know how to handle them to get the desired result, you will be able to create anything.
There are many different techniques, and you can create with vinyl, mesh, textile, and pretty much any material you can find out there.
You can also experiment with designs using graphics tools like Adobe Illustrator and come up with something way better than you could find in stores. There are plenty of free tips and tutorials on using these tools.
What Things Can You Screen Print On?
As we have already mentioned, screen printing can be performed on pretty much any material, as long as you follow the guidelines.
Whether wood, polyester, cotton, glass, or metal, you can use black ink and multiple colors on it without any problems.
Every sort of material has its rules; you need to follow the guide to screen printing that comes with them if you want to ensure you won't mess up anything.
There is a beginner's guide for every material, and you need to know how to deal with the preparation process and the screen printing process, so make sure you have read everything several times before you start creating it.
Wood, glass, and metal should be handled carefully because you don't want to burn yourself or make the piece you are dealing with fall apart, and it is always best to practice a little before you go for the next project.
Your screens on the screen printer will also show you every important step, and as long as you keep a layer over everything, you will ensure a good transfer process.
Overall, everything can be screen printed with a little bit of patience, but there are some materials you need to avoid at all costs because they should never be screen printed on.
Acrylic is one of the materials you need to avoid at all costs because if it gets to just a little bit of heat, it will burn, and your printing device can also be harmed.
Whatever piece you are dealing with, check if it has any acrylic because even the smallest concentration of this material can create problems for you.
Rayon and acetate should also be avoided because they burn easily, and ink can't transfer well on it even if you have the most professional conditions.
Besides this, you can try out any material and get great results as long as you work with the guidelines.
How To Screen Print As A Beginner?
Screen printing is an easy hobby, and even if you have never dealt with things like this before, you will be able to learn all you need to know within a few days.
You should take a few easy steps to start producing screen prints, and we will try to take you through them quickly.
For inspiration, this is how you can start screen printing now and the crucial steps you need to follow for a successful performance:
#1 Find your print
You can choose to design your print through different design programs or apps, or you can find exciting prints on the internet you would like to see on your T-shirt or houseware.
There is also an option to purchase different kits that will allow you to design your print on paper and prepare it for the screen printing process.
Once you have found or designed your print, make sure you download it to the device you will connect to your screen printer and save it in a proper format that can transfer onto the material.
#2 Cut the design
To prepare the print for the process, you will need to cut it carefully, so only the outlines of your print are left, and it is best to use a professional craft knife and a solid mat so the design won't move around.
Your print should be cut precisely if you don't want to have ink spilling all over or transforming into a completely different shape, so pay attention to this step.
#3 Apply ink
To start the screen print, you will need to apply ink over the top side to spread it over the whole print with a squeegee.
This is the easiest way to do it, and you don't need to be extra careful to keep things going the right way.
All you need to do is ensure there is enough ink over the whole print and that the color is present because it means you won't need to add too much pressure to get the design transferred well.
You should also add a layer over it to ensure the whole process will be successful and that the fabric will be able to get the ink and color well.
The emulsion shouldn't be too thick, so make sure everything is spread nicely if you want it to fit into the screen frame.
Once your ink is evenly spread, and the print can be defined, you can start the screen printing process.
#4 Start printing!
Take action and get your design into your screen printing machine and prepare for the process – I would recommend you to check up on the design once again to make sure everything is fine before you start printing it.
Depending on the material you are working with, you will need to preheat it or clean it up to avoid any mess on the print, and after you are sure everything looks fine, you can click the button and start printing!
You should also always check out the settings on your screen printing device because it will notify you if some colors need to be added or if there is a light or detail that is interfering with the process.
Each press has its own settings, so check these things out before you start trying different techniques and materials because you will probably need to work things differently with each of them.