Last Updated: April 26th 2020
this article
you will see it is more directed towards beginner to intermediate users.
Let's be honest, the professionals out there know everything they need to know about producing the best audio quality for their videos and/or songs.
With non audio geeks (like me) it becomes hard to know what to get that suits your needs. There are many factors to consider and even when you feel you found the right product to maximise your audio performance, one more factor can stand in the way like a bouncer at a nightclub entrance… price!
So let's get started!
| | | | |
| --- | --- | --- | --- |
| #1 | AUPHONIX Pop Filter | | Comes in small & large (4 & 6-inch diameters) with simple clamp attachment. Good all-around budget filter |
| | | | |
| --- | --- | --- | --- |
| #2 | InnoGear Pop Filter | | Two-screen system for eliminating all plosives with free angle adjustibility and flexible gooseneck. |
| | | | |
| --- | --- | --- | --- |
| #3 | InnoGear Pop Filter | | Two-screen system for eliminating all plosives with free angle adjustibility and flexible gooseneck. |
If starting out, it does not take breaking the bank to get your vocals to sound great. That's not to say that these pop filters are the best in the market (they are not).
However, they do a great job (for the price) and will serve you well until you feel the time has come to step up your game (this applies more to the beginners and intermediate audience).
What Is A Pop Filter & Why Do I Need One?
During speech or singing, we have many stop words that produce a type of "popping" sound.
Chantelle Henriques eloquently describes popping by doing a small test to understand it.
Generally, plosive sounds are those heard on letters like "p" and "b," and they occur naturally in speech. If you imagine that you are holding a lit candle in front of your mouth while you're speaking, these sounds would make the flame flicker.

Chantelle Henriques
So say the word "Stop" out loud and carefully list to the "P" at the end of the word. You'll here a popping sound, and it is that popping effect that microphones pick up and accentuate in the audio (horrible).
Typically a pop filter screen is made of one or more layers of semi transparent material stretched over a frame (usually circular). Depending on quality, the materials is designed to allow audio to go through but also cuts the high end and the low end of the pop.
Can I Get Any Pop Filter For My Mic?
Yes, however, in this article we are talking specifically about a pop filter for blue yeti microphones.
The Yeti is a very convenient mic designed with USB plug and play compatibility. It's therefore important to note, not all pop filters are designed to fit the original Yeti stand.
Things To Consider When Buying A Pop Filter
Shield Screen Size
It goes without saying that the screen area must be large enough to cover your microphone's receiving end…luckily we have you covered as the filters we recommend are designed specifically to fit the Yeti.
Best Screen Shape For The Job
To simplify matters, we will say that there are two types of pop filters:
For the price, flat filters are the way to go, but it requires that you speak directly into the centre of the filter, whereas, curved filters give you the flexibility to move around while recording as you can work from an angle.
Mount Attachment
There are different attachments / mounts for different filters.
And as you are a Blue Yeti fan, you need to find pop filters that can be mounted on this specific microphone stand.
As mentioned, we got you covered 😉
Without further ado, here are the best pop filters for your Blue Yeti microphone in relation to price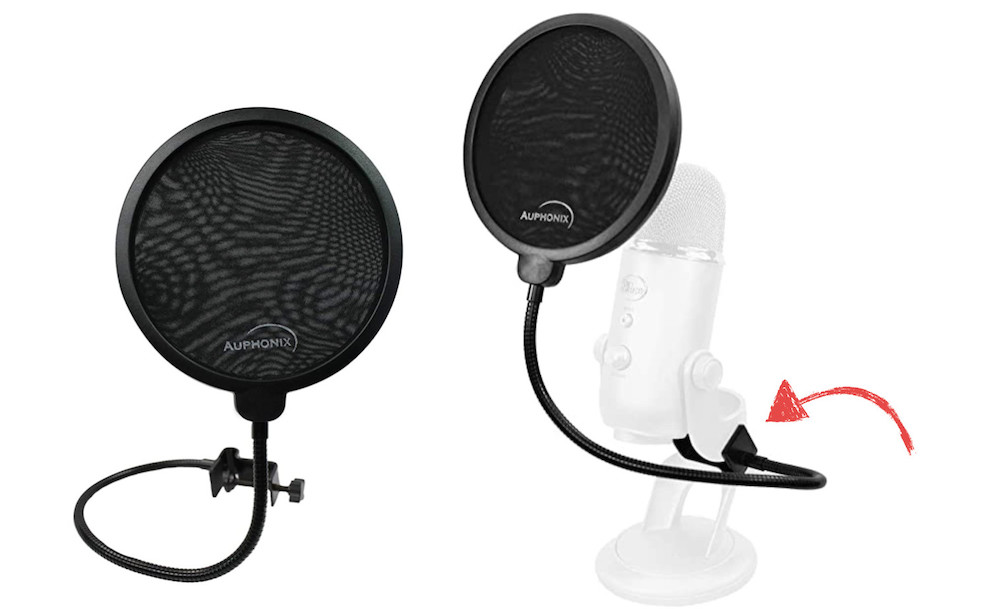 The Auphonix pop filter is made in both 4″ & 6″ screen diameters, both of which are big enough to occupy the surrounding area of the microphone's head.
The simple clamp is designed to sit snuggly to the side of the Yeti stand, all that's left is to tighten it up. The other advantage of the clamp is it can be attached to other mic stands of different shapes and sizes.
The gooseneck is easy to move at different angles but also keeps its rigidity when selecting the desired position (it stays in place and does not drop).
A good budget pop filter that does exactly what it says on the box.
Pros
Good material mesh quality
Great at filtering plosives
14.8″ gooseneck (long)
Easily adjustable
Cons
Clamp a little clunky (eye sore)
Rubber pads on clamp known to come loose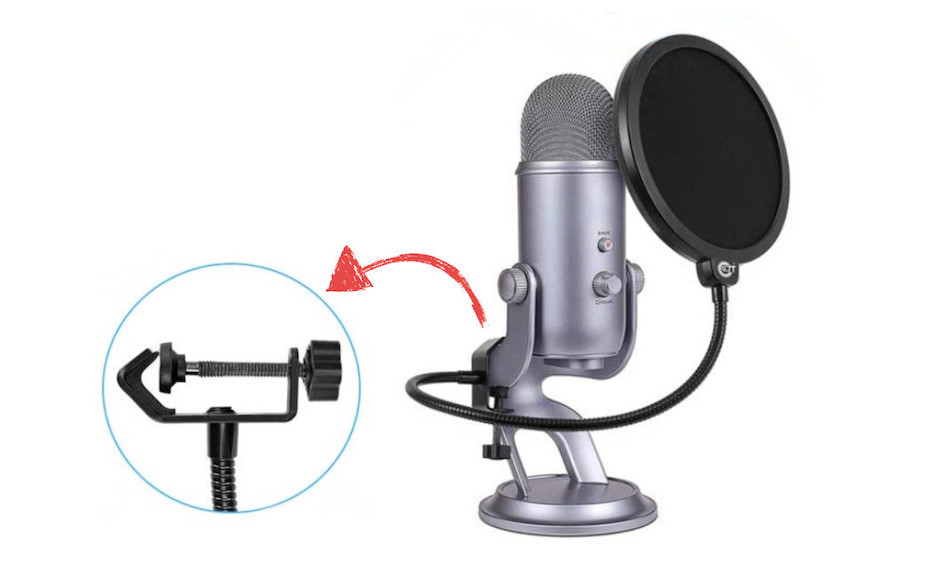 The two-screen system is designed so the first screen dampens the air blast with the gap in the middle dispersing the shock waves and the second screen makes sure any residual pop is completely contained.
The clamp is like many, has a scratch-proof gripper and capable of being fastened on most tubular boom arms and mic stands up to 1.6″ in diameter.
The InnoGear pop filter mount is free angle adjustable, so not only can you adjust its position with the gooseneck, but you can swivel it too, giving you maximum flexibility in positioning your filter against your mic.
Pros
Easy to set up
Two screen filters
Adjustable gooseneck
Cons
Slight floppiness to Gooseneck
Clamp known to scratch desktop surface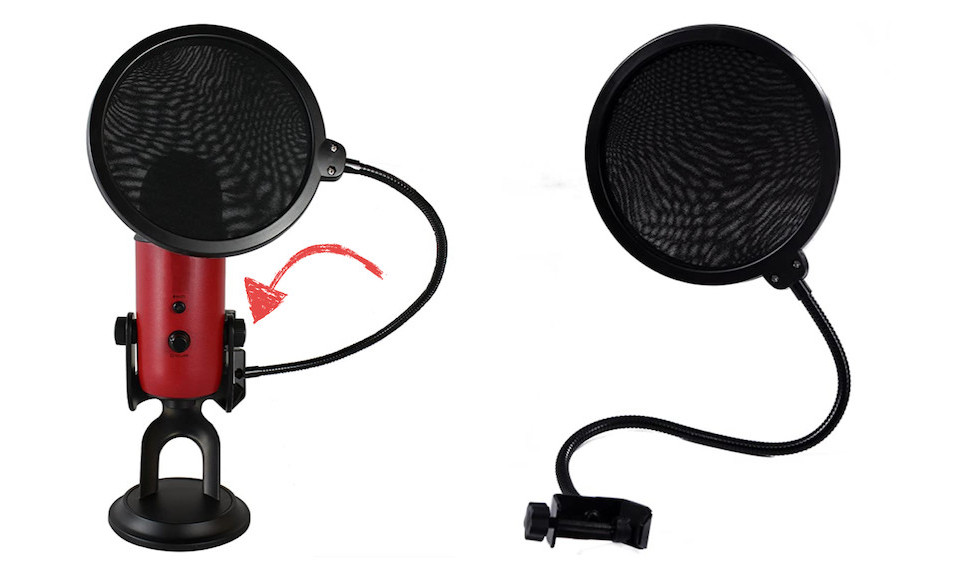 Yet an other double meshed filter that not only reduces wind interferes and plosives, but also acts like a Blue Yeti mic cover preventing saliva from entering your hardware and potentially extending its life span.
The HDE pop filter a 360° degree flexible gooseneck that allows for trouble free positioning and placement, yet strong enough to support the weight of the shield.
The clamp is designed to attach to most mics including desktop USB microphones (hint, the Blue Yeti) and screws on easily.
Shield diameter: 6-inch
Flexible gooseneck: 14-inch (2-inch adjustable)
Pros
360° flexible gooseneck
2″ adjustable clamp
Nice sturdy build
Clear crisp recording
Cons
Known issues with flimsy gooseneck
Clamp could be better designed for snug fixture
Full disclaimer: I cannot review all suggested products on this article because I do not have the funds to do so, but will be happy if anyone wishes to send them my way! ←
Don't forget, pop filters do not only come in shield form, if you are looking for a less conspicuous solution, then maybe you should consider a Blue Yeti foam cover instead?
Yeti Foam Cover Recommendations
Here are a few colorful choices!
Remember, these don't only act as an audio filter, but also help protect your mic from dust, saliva and moisture damage.
Aedor Sponge Mic Cover For Blue Yeti

High density, great elasticity & durable foam
Protects mics from dust and moister
Good for vocals, musical instruments, podcasting & conference calls.
Red