An iron on patch also goes by the name as 'cloth badge.' It is available as an embroidered piece of cloth that can be sewn to any fabric or attached with the help of a pin. There are advanced methods of attaching a cloth badge to the fabric -including iron on patches, Velcro, or adhesive. The advent of computerized machines has concerted this once-rare piece of art into mass production.
Post 3 of 6 in the patches for clothing
An Insight into Iron On Patches
Iron on or embroidered patches came into existence several thousands of years ago. Back then, these patches were utilized as important means of identification for military and other personnel adorning uniforms. In the modern era, these are utilized across sports teams, government organizations, and corporate organizations to specify position, rank, or some specialized function.
Military patches feature ample metaphor -from the images to the overall colors used. For instance, white in military iron on patches implies peace, green & blue imply loyalty, and gold implies generosity. The use of animals on badges or patches -including tiger, elephant, lion, and others, imply courage.
For several years, the concept of embroidered badges or patches was used only for practical reasons -like labeling in uniforms or covering up holes on fabrics. However, quite lately, their meaning has changed significantly.
Note: Ironing on a patch is not the only means of applying your patch to your garment. There is an other method that is a little more tedious. That is to sew your patches on either by hand or machine, preferably after ironing them on! This method will add an extra level of strength which is essential for areas of clothing that move or flex a lot.
How Have Iron On Badges Become Trendy?
During the early '60s, there were several protests on the streets regarding the Vietnam War. During that time, a new culture of protest emerged. People started using signs and badges for signifying peace and other gestures. Therefore, they made use of patches, flower head bands, and peace signs.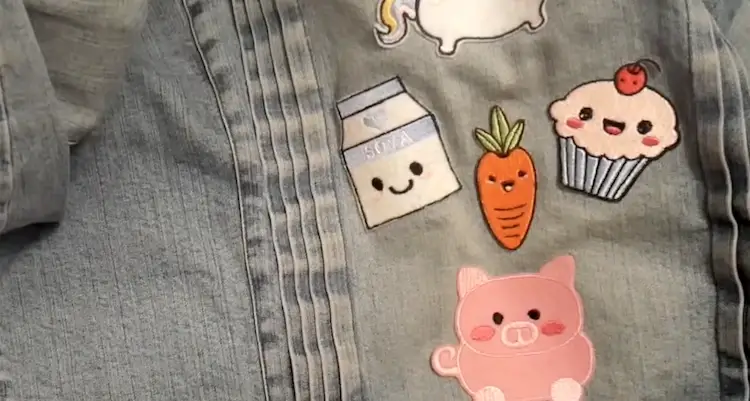 As hippies started receiving second-hand and military clothes, they started embellishing and decorating them with decorative, stylish embellishments or patches. These designs revealed icons of the reforms.
Even since, the concept of using patches for fashion and day-to-day look kept reviving and adapting from one generation to another. Modern patches tend to be iron-on. This implies that they will feature a type of adhesive on the back. This can be ironed-on and attached to the fabric of your choice.
Using Iron-on Patches for Interesting Ideas
Whether you need to create something quirky or you are a DIY-enthusiast, you can make use of interesting ideas for iron-on patches to make every item truly yours. With the latest modern trends, you can look forward to purchasing a product with patches that are already embroidered on the fabric. However, if you look for more creativity and fun, you can create custom patches based on your imagination level.
Here are 7 creative iron on patch ideas for your wardrobe.
#1 Hippie Style
It is not possible to talk about patches unless we mention its glorious history. For executing an authentic hippie look, you can make use of quirky, designer patches on your jeans or denim jacket. Aim at keeping the design sweet & simple -including lollipops, sunshine, rainbows, unicorns, and so more.
#2 Creative Punk Look
Do you wish to bring about a modern take on the punk look? You can consider wearing or adorning black skinny jeans or jeggings with leopard creepers, a studded vest, and a contrasting hair color. The characteristic punk look can be completed with interesting patches throughout your jeans or jacket. Finish the entire look with a classic leather-wrap bracelet and a black bandana.
#3 Opt for Less
One of the easiest ways of incorporating the unique patch trend into your collection is to take up an old tee, look for an interesting motif, and iron-on the same. With a simple, minimalist patch, you can achieve more out of your otherwise plain t-shirt. Pair your renewed tee with jeans and a tattoo choker for a creative look.
#4 On a Coat or a Cool Blazer
Place a cool collection of patches and pins on one side of a simple classic blazer. This makes sure that you are a hero in every fashion outing. This type of embellished jacket will truly make your entire outfit.
#5 On Your Track Jacket
Pair the classic retro jacket trend with interesting patches and you are good to go! Place some cool DIY patches to the contrasting-colored jacket. Keep your remaining outfit simple and stylish.
#6 On Your Jeans
One of the most common ways of using embroidered patches is by ironing on them onto your jeans. While pants and trousers might appear slightly busy, they can work great with a graphic or even plain tee. You can add a funky bag, a matching scarf, and a leather jacket to complete the look.
#7 Create a Stylish Metallic Look
For the classic, 80s metal-head look, you can include a series of bold & interesting patches. You can also include catchy metal studs to your leather jacket while wearing it over a band t-shirt and jeans or a denim skirt. To finish your outfit, you can include a dog-tag neckpiece and a bullet belt.
How to Apply Iron-on Patches?
Add text here
Heat Up the Iron
You should set the iron to the highest setting to ensure that the patch will adhere properly to the fabric. If you do not have access to an iron, you can make use of a hair straightener to achieve the purpose.
Plan the Design
Place your clothing or fabric on the ironing board. Place the desired patch on the intact place wherein you would like to stick the same. The adhesive side should be place flat against the fabric. If you are ironing the patch on the hat or shoes, stuff its insides with napkins or towels to make the surface flat.
Place a Thin Cloth Over the Patch
It will serve as a proper barrier between the patch and the heated-up iron. This will protect the fabric from intense heat. You can make use of a single sheet, a pillow cover, or a damp towel for the purpose.
Iron on the patch
Place the iron on the desired patch. Hold the iron for around 30 seconds. If your embellished patch has specific instructions, you can follow that as well.
Remember, as already mentioned, you can add an extra layer of strength by sewing on the patch on top of the adhesion. I would recommend this on areas where the patch will flex, torque and stretch plenty.
Flip & Repeat the Step
Once you have fixated the patch on the fabric, you can turn the cloth inside out. Lay on the ironing board again. Place the thin sheet of cloth on the patch's backside and iron again.
Conclusion
This article brings you a few design ideas that can be used on patches and where those patches can be fitted. It was written as a guide to give you the incentive to find other ideas.
Truth be told, these patch ideas should represent your interests, a brand or something to show off to others that represents something about you! Only you know what represents you, so you should already have the "idea" at hand.
The next thing to do is get a designer to translate those ideas into digital art, ready to be made into a patch!