InPixio 11 Review: The Latest In Editing Software
By Alex McIl – 20th Sep 2021
Inpixio is one of the most popular photo editing software that can be used for different types of professional photo editing. It is a very simple software that has a lot of basic features, but also advanced options that can help you improve the quality of your photos remarcably.
The newest Photo Studio 11 version was released on the market this year, and it has some amazing additions that will help you create beautiful photos with ease. In this inPixio review, we will discuss all this photo editor software has to offer, its value for money, and exciting new features.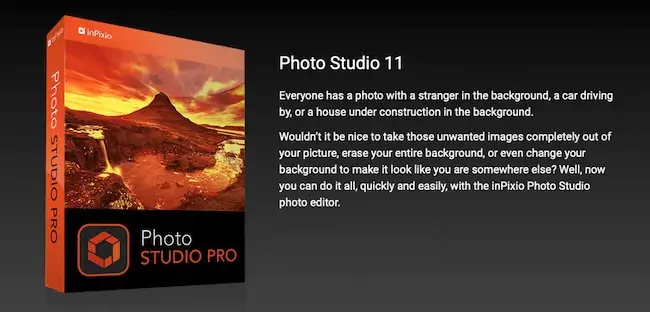 inPixio Photo Studio 11: A Quick Overview
InPixio 11 photo studio is a new software that has managed to gather all the new and useful inventions in the photo editing world into one software.
Even though InPixio photo studio 10 was also great and it allowed you to edit images perfectly, this version has made the whole editing process a lot easier, and it has an auto correction tool that will completely change your experience.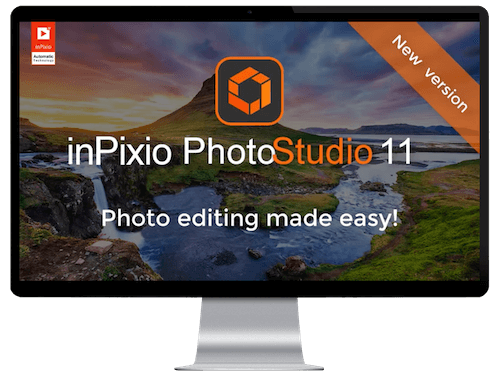 Combining power & simplicity to photo-editing. Crammed pack with powerful features that are easy to use and designed to save time!
Editing programs often add some features just so they can claim the software to be a "professional version" or charge it way more than before, but this is definitely not the case with InPixio, and many InPixio reviews will tell you the exact same thing.
This digital photo editing software has so many photo editing tools you will spend hours finding the one that you like the best, and it provides you with perfect image editing.
If you want to optimize images and learn how to get the sets out of this InPixio software, then read the rest of our review.
Features & Capabilities
If you are a professional photographer who has used several editing programs before, you already know this one has all the regular features all software that can be installed on Windows PC do.
Its performance is amazing, and you can use it in 11 different languages, which may not be the most important addition, but it is certainly something worth mentioning.
Here we will discuss some of the best new versions you will be able to explore both in the Pro version and in the Trial version of this software.
RAW Editing
The RAW editing feature allows you to control basic tools and parameters by using sliders that will be located on the right part of your desktop.
It allows you to easily control highlights, exposure, contrast, shadows and saturation, and even temperature and hue without compromising image quality as it's in RAW format.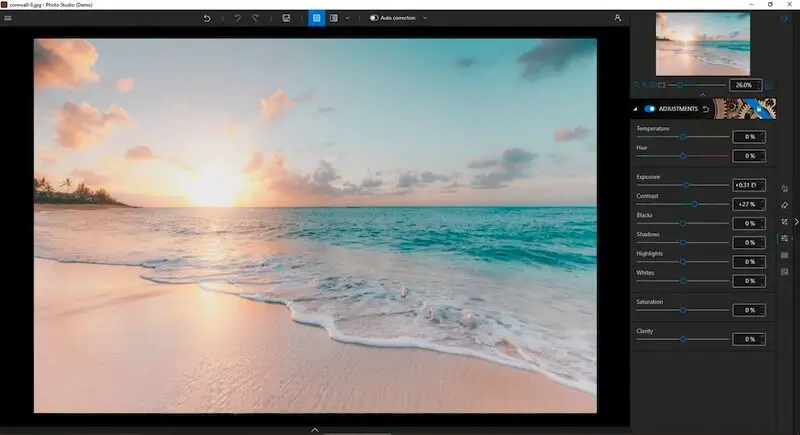 Breakdown of inPixio's Controls
Color Temperature: Often termed white balance. When an object or entity on a photo is meant to be white (like snow), we use the color temperature slider to revert it back to white so that the rest of the scene looks in accordance to what the naked eye would otherwise see.
Hue: This is referred to the base color. Think of a color wheel with 360° of color, starting from red, to yellow, to green, to aqua, to blue, to magenta and back to red.
Exposure: Essentially, this is the amount of light that enters your camera's sensors. To much light is considered overexposure, resulting in faded looking images and too little light (underexposure) results in dark images that may even be hard to make out what they are.
Clarity: Adding more detail and structure to your photo by removing blurriness and graininess.
Eraser tool
Photo eraser is a very important feature if you want perfect photos, and InPixio programs were always known for offering some of the best eraser tools.
Nowadays, this tool allows you to remove unwanted objects from the photo easily while keeping the pictures perfect.
It also takes care of the color correction, and it is able to tone curves that may appear due to the removal of different objects on the picture.
InPixio photo eraser has an AI technology that is able to create the perfect background the moment you remove an object from the picture, and it also allows you to add other images and create a completely new photo out of it.
Don't worry about deleting something way too big from the picture because the AI will be able to fix perspective distortions without any problems.
There is also the auto erase function in the new version, but you will have to turn it on by yourself if you plan on using it.
Let's look at how the inPixio eraser tool works:
Step 1: Load the photo you want to work on.
Step 2: Select Selection Brush on panel (adjust the size if need be).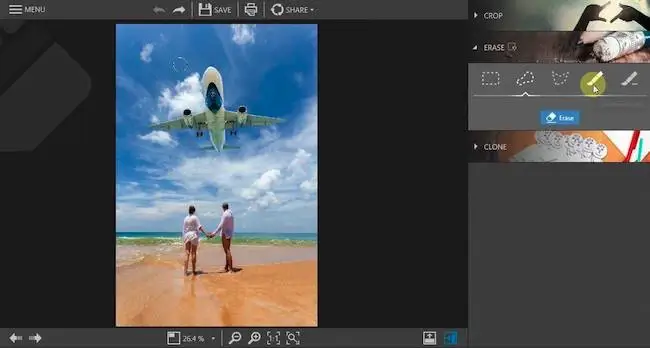 Step 3: Draw over the element you want to erase (highlights in red).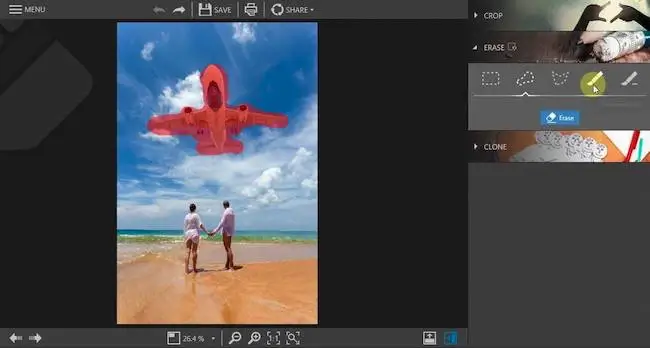 Step 4: Hit the erase button and watch the element disappear.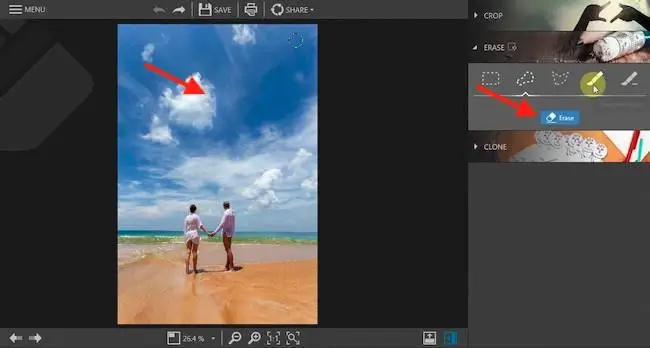 Job done!
InPixio photo cutter
Their photo cutter is also a great feature for all people who are extremely careful when editing photos, and you will be able to create professional looking photos even if you remove a big part of the original photo or you add something completely new to it.
The photo cutter has an amazing technology that is very user friendly and allows you to manipulate the image the way you want it to be and still receive perfect quality in common image formats.
This photo editing program probably has the best photo cutter, and out of all the features, this may be the most useful one.
If you are looking for photo software that can provide you with a good cutter, then look no further.
Usability
Usability is probably the most important thing when we are talking about any photo editor, and the usability of InPixio Photo Studio is pretty high.
Its whole design is very minimalistic, and it is user friendly; it allows you to edit photos, transfer photos and even contact technical support with just one click, which is quite impressive.
The creative filters it has are some of the best features on the market and are rarely found in other free photo editor programs.
InPixio Photo Editor also provides you with tutorials that will make the whole photo editing process a lot easier, and the image editing with it is very easy, whether you are using a Windows or Apple PC.
The editing screen is also well-designed, and it allows you to use the photo focus, one-click image correction photo maximizer easily.
You can use it to easily filter images or create photomontages, so its use is very versatile, and this is something you will certainly read in most InPixio reviews.
Required Hardware Performance
Before jumping the gun in a mad dash to purchase inPixio, you have to makes sure your computers has enough of the required specifications to run the tool.
I've made that mistake once with a different tool and it is a hassle having to request a refund and chase support.
Here are the minimum hardware requirements:
Processor: Intel Core i3 or higher
Memory: 8GB RAM
HDD: 1.5GB available HDD space
Screen Resolution: 1024×768
It's impressive how such a versatile tool with such capabilities can work smoothly under specifications that are considered pretty standard for computers now days.
Price
When it comes InPixio cost, it is certainly among the most affordable photo editing software on the market, and you can choose between two versions of it – standard and professional one.
The pro version is the one that has all the newest features, and that makes it so much better than the Photo Studio 10, and it is actually only 10 dollars more expensive than the standard one.
If you want to get into professional photo editing, then you should really invest 60 dollars in the pro version and get access to the highest picture quality.
The standard version is 50 dollars, and it really lacks a lot of features that can make your raw images look perfect, so I would suggest adding 10 more bucks and purchasing the professional one.
There is also a trial version that can be bought for 8 dollars and tested for 7 days, but there is no possibility of getting InPixio free editor in any way.
My Final Thoughts
As you can see, the InPixio photo software is really one of the best photo editor programs on the market, and it is also not very expensive, so it is a worthy investment for everyone who is working with raw files.
Its newest, 11th version, has some of the best photo editing features you will ever come across, and it works well both on Apple and Windows PC.
If you are looking for an amazing photo editing software that comes at a reasonable price, then the InPixio Photo Studio 11 software is the right choice for you.
Frequently Asked Questions
✓ Is InPixio better than Photoshop?
InPixio far more user friendly than Photoshop, but it certainly doesn't have as many features and options.

Photoshop is definitely a more professional photo editor, but you will be able to perform great while using InPixio, too, especially if you are not a professional in this field.
✓ What is the easiest free photo editing software to use?
here is plenty of free photo editing software similar to InPixio, and these are some of the best on the market:

- PhotoZoom Pro
- ACDSee
- Adobe Lightroom Classic CC
- Canva