Blender is open-source software for 3D animation. It is a good program for both professionals and beginners alike in 3D art.
This guide was construed to help you learn all about the main commands. At the moment of writing this article, the Blender version 3.0.0 was the latest one. It has improved much, so it is definitely a recommendation that you upgrade if you haven't done it so far.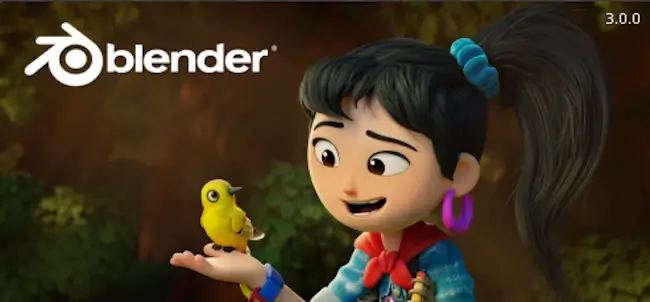 Object VS Edit Mode
There are two modes in which you can (and will) work. They are equally important and used for different purposes.
The Object Mode is the default mode of Blender. It is helpful for manipulating objects as a whole. For example, objects can be moved around in space and give them their positions, they can be rotated and even animated throughout the scene.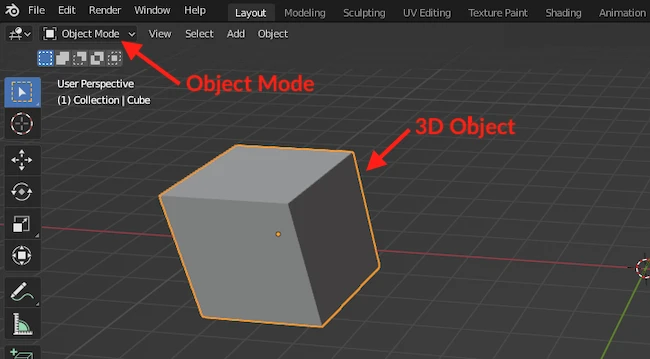 The Edit Mode is used for access the mesh data of the object. While in edit mode you will be able to manipulate vertices, edges and faces to change the shape of your mesh. Once finished, you'll be able to toggle back to object mode, to move the object as a whole.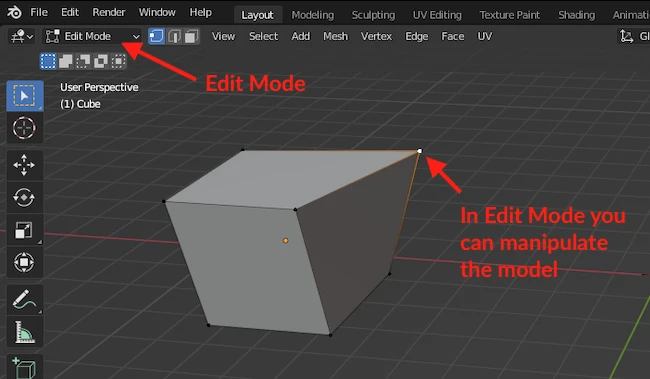 How to Undo in Blender
Everyone has done an accidental action and wanted to undo that last operation. The Blender Undo command is very useful for this, and this is probably an understatement of its significance.
If you want to reverse the last value you changed in Blender, Undo is the first option under the Edit menu, in the top-left corner. The universal shortcut for the Undo action is to press Ctrl+Z. The preferred method to undo a point depends on you.
Main Menu → Edit → Undo
Ctrl+Z
This command can be repeated many times, and you just need to keep undoing the last operation until you reverse all the previous steps to the specific point that you need. This command is separate for the Edit Mode and the Object Mode.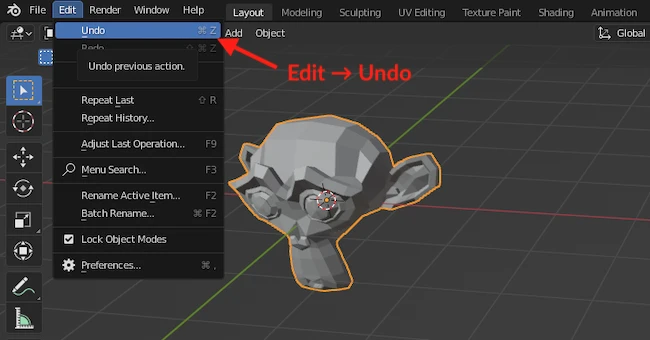 Undo History Feature
Oftentimes, you need to undo more than just one last operation. To press Ctrl+Z so many times can be so exhausting, impractical and a waste of time. Hence, Blender has the option Undo History.
This option can be accessed only through Edit on the main menu.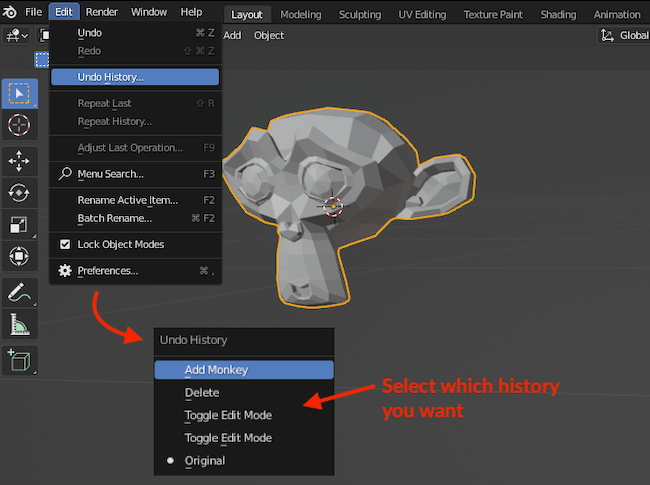 However, if you want to use the keyboard to access the Undo History menu, you can create a new shortcut.
Another way is to add it to the Quick Favorites menu (this menu will pop up when you type Q).
Main Menu → Edit → Undo History
(to create a keyboard shortcut) Edit → Undo History → Assign Shortcut
(to add it to the Quick Favorites) Edit → Undo History → Add to Quick Favorites
This gives you a pop-up list, an Undo timeline of the user actions you have done so far (if you want to have a complete list, you need to go to the settings and adjust the number of allowed most recent actions recorded).
You can choose one of them (a small icon next to an item indicates the current status), and when you click it, the program will undo steps from the Undo History menu until that particular point.
Once you exit Blender, this list will disappear. To recover lost work, you can see the Troubleshooting section.
How to Redo In Blender
Another thing that may happen is the overuse of the Undo actions. You probably didn't want to reach the current status but some point before it.
In that case, after you hit the break with Undo, Redo is what you need to perform. So what is Redo: Undo of an Undo.
In the same way as Undo, Redo can be found in the Edit menu. Next to its name, you can see the keyboard shortcut: you need to press Shift+Ctrl+Z.
Main Menu → Edit → Redo
Shift+Ctrl+Z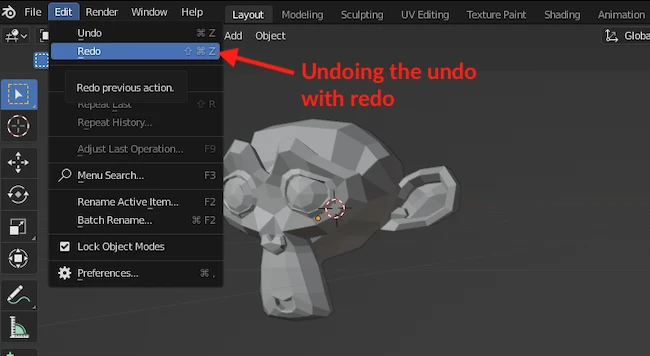 Similar to Undo, you can repeat the Redo action as many times as you need, up until the last operation you have done. As for Undo, the Object Mode and the Edit Mode have separate Redo actions.
How to Repeat Last in Blender
The function Repeat Last is very useful, though it is not used as often as the previous two. It is neither Undo nor Redo, though it may seem similar. This function will repeat your last operation.
It is convenient when you want to create two or more objects that are the same. It is great when you want to have some operations produce many tiny objects to replicate (nuts, arrows, drops, etc.). However, this doesn't work for any other operations outside the main viewport, such as changes to settings or the viewport camera.
To perform repeated actions, you can go to the Edit menu and select Repeat Last. As it is written there, the keyboard shortcut is Shift+R.
Main Menu → Edit → Repeat Last
Shift+R
Let's take a look at an example.
Imagine you are in edit mode trying to create a particular shape which involves several of the same steps to be repeated. Rather than doing each individual step over again, using Repeat Last will save you time as it will repeat the exact process with a click of a button.
Step 1:

Define The Shape You Want To Repeat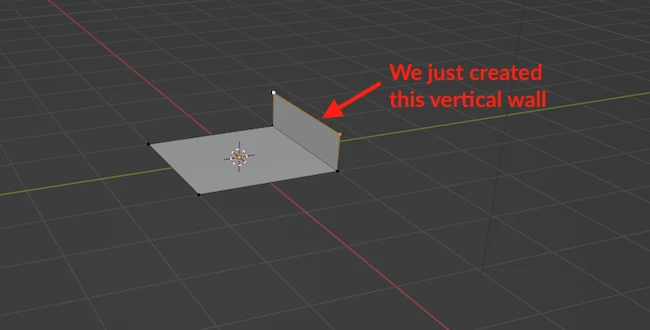 Step 2:

Repeat Your Last Action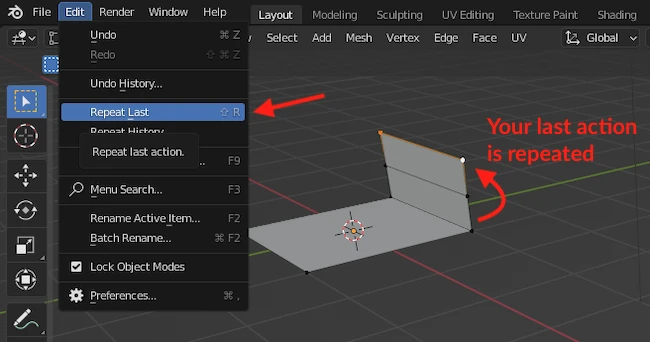 Repeat History
In the Edit menu, under the Repeat Last option, there is another useful option – Repeat History.
Main Menu → Edit → Repeat History
(to create a keyboard shortcut) Edit → Repeat History → Assign Shortcut
(to add it to the Quick Favorites) Edit → Repeat History → Add to Quick Favorites
This Repeat History feature leads you to the pop-up Repeat History menu. It contains a list of all the operations from which you can choose an individual point. However, this list shows only repeated actions, not all of them.
When you choose one action from the Repeat History menu, it will pop up at the top of the list as the last operation performed. Also, a thing to bear in mind is that if you undo an action that is on this list, you will not see it there anymore.
How to Move in Blender
Moving about in the 3D space in Blender is a bit more complex than it seems. There are two entities to mention: the viewport navigation (the 3D world we see on the screen) and the camera view (how the scene looks if seen from a camera object). They are separate but equally important. For development, the viewport navigation is a choice much better than camera objects because the latter is harder to move.
Viewport Navigation
The basic controls here are rotate, zoom, and pan. Hold the scroll wheel (the middle mouse button), Ctrl, and Shift for the respective functions and move the mouse cursor around.
These are general actions and are completed by having an invisible point as a reference. You can also zoom and rotate the scene in relation to one object: select the object and press period from the number pad. There is also the option to zoom or rotate around the mouse position.
When you press Shift+C, you will activate zoom, focusing the entire scene, with the invisible point being in the middle of it.
To see how the scene would look like if you were moving about it, you can enable the fly or walk navigation mode. You can use the WSAD keys to control your movement and Shift to go faster.
Orthographic and Perspective Views
The orthographic view is the one where an object is shown of the same size as it is, without shrinking in the distance. Seeing your design from different angles: front, top, or side views will trigger the orthographic perspective in Blender.
The perspective view shows the scene and any object in it as we would see them in the real world. This starts automatically when we rotate something, even if the orthographic view was enabled. You can toggle between the two by pressing 5 on the number pad or in User Preferences.
If you want to change defaults, Blender has a special User Preferences folder where it keeps all the changed default settings.
Conclusion
Blender is a very useful tool for 3D artists. Using it to create realistic and fantasy scenes is not as hard as it may seem, so don't quit Blender but give it a shot. This text has shown you the most important tools listed. Now you can start Blender and begin creating magic!