If you have perhaps in your free time been interested in the art of embroidery and have, through a lot of time and effort, developed a skill that could even bring you some profit, you might be interested in how to start an embroidery business.
Post 3 of 6 in the Embroidery & sewing
Whether it be a home based embroidery business developing custom embroidery or an embroidery company you're looking to develop, a few things should be kept in mind:
The Embroidery Supplies Needed
First of all, to start an embroidery business, you must have embroidery skills and, if possible, own an embroidery machine.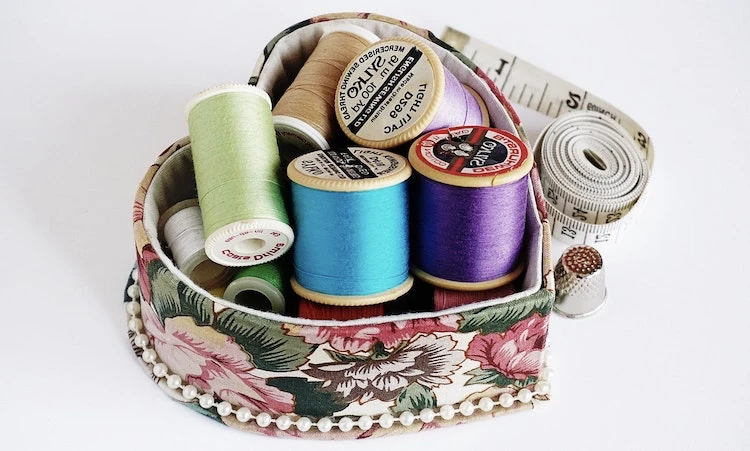 It could even be a computerized embroidery machine! So, the supplies needed to start an embroidery business are as follows:
An embroidery machine
Different fabrics or clothes which you can decorate with embroidery (t shirts, heats, etc)
Embroidery thread
A spare room in which you can work undisturbed
An easy-to-follow embroidery design that you can further develop as you gain the speed necessary to make multiple embroidery-decorated pieces or gift items
Starting An Embroidery Business
Maybe friends or family have asked you to make them something with a cute design and that could be a relaxing hobby, but if your plans are oriented towards being a business owner, you must develop some skills and invest in professional equipment:
Offer the option of making custom designs so that your customers can have most of the creative freedom and you will therefore not have to worry about coming up with ideas
Get a bigger office space, maybe even outside of your house where you can work with no distractions
Look into developing your own embroidered patches (this could be a business within a business!)
Have multiple embroidery designs that you have practiced thoroughly for your customers to choose from
Join local markets and local businesses to spread the word about your small business
Types of embroidery machines
When pursuing this hobby/business opportunity, the first thing that you should invest in is an embroidery machine. Here are a few types of them:
Single needle embroidery machines (cost between $800 and $4000)
Multi-needle semi-professional machines that contain between 4 and 10 needles
Multi-needle professional machines that contain between 9 and 16 needlesAnother way to distinguish the different types of embroidery machines is:

Free-motion machines (leave a zig-zag pattern that can be limiting)
Computerized embroidery machine
Starting An Embroidery Home-Based Business
Embroidery is extremely profitable because everybody buys embroidered goods, even other businesses regardless of their size! So, if your plans are a bit more down-to-earth but you still want to start an embroidery business, a few things should be kept in mind:
The easiest way to go about this is to own a website, and open your own embroidery shop! One of the most popular websites to do this on is Etsy.
You should buy a stock of materials/clothes that you will work on, but be careful to stay within your business plan and not spend all your budget at once!
Being a business owner and building your own embroidery business can take over a decade of hard work, so if you want this hobby to prove profitable, be ready to put a lot of time into building it
You could opt for commercial embroidery to appeal to larger companies, but this might require your business to grow abruptly
Have a business plan and think of a business name, also have a financial plan and balance sheet
Keep in mind that smaller businesses should leave an effect of authenticity so maybe even consider the technique of hand embroideryHand embroidery
Hand embroidery is the practice of embellishing a piece of material with thread and beads. These designs are usually floral or nature-based, but depending on who you are and what kind of an embroidery business you own, you can switch up your designs into something more innovative and out-of-the-box! Maybe you could even start a custom embroidery business that would give your customers all the creative control. The three main types of this kind of embroidery are:
Free/Surface embroidery
Counted embroidery
Needlepoint/Canvas workDepending on the size of your art piece and the technique that suits you the best, one of these options should be chosen.In order to start an embroidery business you should know the following types of stitches:

Running stitch
Backstitch
Split stitch
Satin stitch
French knot
Chain stitch
To conclude, in order to turn your passion for embroidery into either a small business administration or a bigger one, proper supplies and organization skills should be acquired. The most important piece of equipment for this business is an embroidery machine that should be picked out based on your business expectations and budget.
The best embroidery machine for you could be a lot different from the best one for someone else! There are many different embroidery techniques and embroidery supplies in embroidery businesses, which can appear overwhelming, but in order to have a successful embroidery business, you should take time aside to properly organize and decide which options are the best for you.
How Will Customers Find You?
Another thing that should be considered is how you will promote your embroidery business. There are many ways to do this, some of which include:
Word of mouth advertising-simply telling the people around you about your business
Online marketing-also called engine marketing, if someone is researching embroidery businesses, your new businesses will show up
Outreach-an ongoing effort to meet people, this could be achieved by going to trade shows and meeting prospective customers there and in that way becoming a part of the embroidery industry.
How Profitable Is An Embroidery Business?
If you run your machine for 8 hours you can make up to 2,000 dollars every day, the home-based embroidery business can be very profitable!
Is It Worth It To Start An Embroidery Business?
I think so! PROFITING – embroidery is profitable in a home-owned business. Many of the customers who started out with 15 needle embroidery equipment are now getting 4 heads, with plenty of customers. The low cost of embroidery equipment makes this a great business venture.