Removing iron on transfers can be challenging. Sometimes, it takes even more time than the transfer process itself.
Depending on the fabric you have used and how many heat transfer vinyl layers you have, the process can be a bit longer. You also need to be careful not to ruin the garment.
Key Takeaways
Prepare a heat source
The easiest way to get rid of vinyl on any garment is by heating it. Find a heat source like an iron or heat press and heat it to the highest temperature.
Once the device is around 300 Fahrenheit, start the removal process by pressing onto the print area.
Iron the garment
The easiest way to remove heat transfer vinyl is to put the garment on an ironing board and over it several times with an iron or a heat press until you see that it starts falling apart on the edges.
How many times you will repeat the process depends on the garment and on the type of vinyl, but this is the fastest way to get rid of it.
Pull the garment tight and go over the print until you see it separate from the garment.
Peel of the print
After exposing your heat transfer vinyl to the heat enough times, you can remove the print simply by peeling it off on the edges.
Peel it off with your hands and wash the garment if there is any residue you want to get rid of.
If you are looking for the easiest way on how to remove iron on vinyl, you've come to the right place. We have gathered all the best ways to do it!
Can You Remove Iron On Vinyl?
Removing heat transfer vinyl can take more time than creating designs, but it doesn't have to be tough.
Although most people believe it is impossible to remove iron on transfers properly, all you need is a bit of practice and some excellent materials to remove it for good without leaving a single trace of it.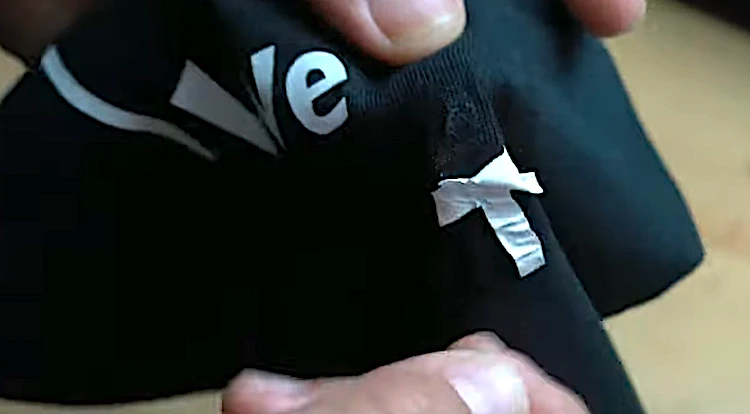 No matter the type of heat transfer vinyl used, be it on a T-shirt, bag, or hat, you can remove it. This is also possible without harming the material.
Whether you are dealing with a piece of vinyl that has started peeling off or want to remove an ugly print from your T-shirt, everything can be solved, and most iron on transfers will dissolve as if they have never been there.
How To Remove Iron On Vinyl From A Shirt?
You can remove iron transfers from different fabrics in many ways. But the most common and most efficient way is by using a heat press or iron.
Whether you are dealing with cotton, polyester, or spandex. This technique works equally well.
Prepare your iron or heat press
The materials needed to remove vinyl from fabric are pretty much the same as those you need to transfer it. So you will need to prepare your iron or your heat press machine for this process.
Depending on the type of heat transfer vinyl you are dealing with, heat it to a needed temperature. I would recommend that being around 300 Fahrenheit for the best results.
Preheat the iron or heat press for 2 to 3 minutes and prepare your garments.
Pull the garment tight
The key to removing a heat transfer is keeping the garment tight under the iron or heat press. This ensures enough heat transfer on the print and not ruining the rest of the garment.
Make sure you have put the garment the right way and always do it with a very hot iron because if you start doing it step by step and let the iron start heating throughout the process, it will take you ages to get rid of that heat transfer vinyl print.
Go over the vinyl as many times as necessary. Do this until you see it starting to peel off.
Peel off heat transfer vinyl completely
While you are going over the garment with your heat source, you will see that the vinyl starting to peeling. Once good amount of your print has separated from the garment, you can finish the process with your hands.
The majority of your vinyl will be gone. But if you have had some glitter vinyl or specialty vinyl, you will see some residue left over.
Removing Left Over Residue From Transfer Vinyl
Here are 2 ways of removing left over residue from your garment:
1. Wash the garment
If you want to have your heat transfer vinyl successfully removed entirely, then if you see there is some leftover residue or adhesive material on your T-shirt, you should just put it into your washing machine.
Washing it just once can remove all the vinyl waste left on the shirt, and it will keep your clothes looking fine.
You can also try doing it with a steamer. But I recommend this option only if the residue is stubborn and over a larger area.
Overall, the removal project is quite simple. You don't need to be an expert to learn how to remove the vinyl from a shirt.
2. Blotting technique with Goof Off
Place a paper towel over the residue area. Pour Goof Off (or equivalent solvent) on the back of the fabric. The solvent dissolves the residue and then soaks into the paper.
For any left over residue, now pour the solvent directly over it. Get a toothbrush and scrub at the residue. Repeat this process until no residue is visible.
What Is The Easiest Way To Remove Heat Transfer Vinyl From Fabrics?
Aside from an iron and heat press, there are other ways to remove vinyl.
Here are 4 more methods of removing heat transfer vinyl from fabrics:
1. Removing heat transfer vinyl with a commercial remover
The first thing most people tend to buy when they need a vinyl letter remover or need to get rid of a print on the fabric is a commercial heat transfer vinyl remover that can be bought at every supermarket.
These removers should be able to dissolve the backing of the vinyl, which would lead to it peeling off of the material quickly.
There are not too many supplies needed, and if you apply it over the print in a circular motion, you will be able to get rid of the print completely within a few minutes.
However, it is too strong, and you must be careful if you don't want to ruin the garment.
2. Use a hair dryer
As we have mentioned above, heat is the best way to remove your heat transfer vinyl, and if you don't have a functional iron or a heat press at home but you want to get rid of it as soon as possible, then you can try using your hair dryer.
You will need to make the hot setting as high as possible and spend a bit more time going over the vinyl, but the hair dryer can also provide good results if you use it at the hottest temperature.
3. Use a nail polish remover
Although you probably didn't hear of this technique before, rubbing alcohol or nail polish remover is also how people remove or correct heat transfer vinyl mistakes.
Since it is made out of acetone, a solvent chemical, all you need to do is rub it around the edges of your heat transfer vinyl until it starts separating itself from the garment.
It will take you some time, but the results are good, and you don't have to deal with a strong adhesive remover or other chemicals, although the smell of this one is also quite strong.
4. Use petroleum jelly
Using petroleum jelly is probably the hardest way to do this, but it is very simple.
You need to turn your garment upside down and put some cardboard to make sure it goes flat.
The back of your heat transfer vinyl should have a lot of petroleum jelly on it, and you can push it into the garment in a circular motion.
If you want faster results, you can add a bit of soap or laundry detergent to make the emulsion thicker and more aggressive.
After you rub it in for a few minutes, you will see the vinyl will start to separate, and there will be clumps.
To remove heat transfer vinyl for good, put it under the hot water, rub it in a bit more, and gently pull it.
After you have finished the process, rinse your garment once again, and wash it in the machine if there is any residue.
You can use a detergent made for stains to get rid of the oily stain that is usually left after you remove heat transfer vinyl, so you will get your shirt or bag back in perfect condition.
As you can see, there are several ways to remove heat transfer vinyl from your garments, and depending on how much time, material, and skills you have, there is definitely an option that works best for you.
While removing it with heat is the fastest and most efficient way, there are some other options that can provide you with decent results too.