Creating custom baseball caps and printing different designs on hats has become a trend worldwide, and it seems like everyone wants to get their unique piece.
However, printing hats is not an easy task, and you need to know a thing or two about it before you get into the business.
Key Takeaways
Pre-heating cap for better results
We recommend you pre-heat your cap to smooth the fabric before applying your transfer paper. This will allow better bonding of the print and therefore a longer life expectancy.
Improving placement of transfer paper
As hats are awkward in shape, it can be tricky to place the transfer paper in the desired location. Cutting away as much excess (unwanted) paper will make placement easier. This will also ensure less paper snagging against the heat press during that vital moment of transferring the print onto the hat.
Delicate heat press use
When applying pressure on your heat press, it is imperative to close it smoothly. Initially pull down on the lever smoothly and lightly and gradually increase the force until it locks in place. Any sudden movements could move the transfer paper causing the design to smudge.
We have decided to provide you with the easiest way to print on hats and help you create your designs.
Post 1 of 1 in the transfer paper
Easiest Way To Print On Hats?
The easiest way to print hats, whether it is a classic baseball cap or a custom hat with several designs, is by using Laser EZ Peel Transfer.
This Peel transfer can be used on T shirts, hats, different types of equipment, and even hard materials such as wood. This paper contains the design which is printed on it, whereby you then apply it like a sticker on your hat or garment.
Watch this video: How EZ Peel Paper Works [07 mins 15 secs]
Peel papers combined with a good heat press will be able to transfer the print to the hat quickly.
This is how you can print on your hat easily.
Print the design
All you will need to do is print the design you want to transfer and make sure to print it in high quality; otherwise, it will not transfer the right way. The higher the print quality, the better the design will look after the transfer, as there is often some toner loss during transfers!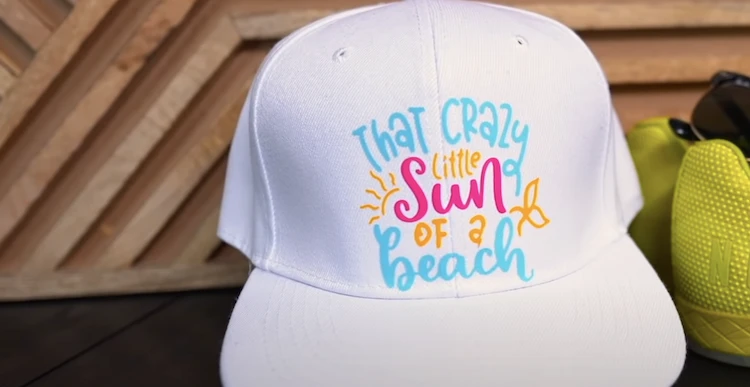 Whether you are creating your own design or you are using a pre-made one, you should make sure it is of high-resolution and it is printed out well.
We recommend using vector graphics software for custom designs. These file formats allow for your design to be scaled up or down without any loss of quality.
On the subject of size, you have to make sure when printing the design on the paper, it is the right size to fit where you want it on the hat.
Prepare the EZ peel transfer paper
A hat or baseball cap are a little awkward in shape and size. So you will likely have to cut the excess unwanted paper away first. This will allow you to place the transfer paper on the desired location of the hat.
Because of the curvature of a hat, you will need heat tape to keep the transfer in place ready for the heat press. This tape can withstand high heat so it doesn't melt.
Heat press the transfer paper
We are back on the shape of a hat. This means a regular flat heat press is just not going to cut it here.
To transfer the heat onto your transfer paper, you are going to need a heat press that is specifically design for hats (curved heat plates). The more professional units that lock in place can be a little pricey, but they do the job well.
Alternatively, if you are not mass producing and just working on DIY projects, you can purchase a smaller handheld version similar to the one on this review video.
Watch this video: Honest Handheld Hat Press Review [20 mins 52 secs]
If you press everything well and you keep the heat on the transfer log enough, your design will transfer over onto the hat!
Is Printing Better Than Embroidery?
You will see that most people getting into hat design are choosing embroidery because it provides them with more originality, and it tends to be a more lasting option.
Printing is not only much faster than the embroidery process, but it will also help you create more custom hats.
With printing, you don't need to have too many skills to get the desired results, and you don't need to spend hours trying to put one letter onto your hat.
Whether you want to create basic trucker hats or a classic baseball cap, the printing technology will make the design look smoother and even fit better onto the material.
The thing with transfer printing is that you can accustom it to fit the material and design of your hat a lot better, so it will work on all sorts of custom caps, no matter how complicated they may seem to be.
It is also much faster, and if you need to print something urgently, you will be able to do it within 10 to 15 minutes, while the embroidering process can take hours.
Creating a transfer for clothing and caps is also much easier, and you don't need to go through the process of creating the design and then having to digitize it for embroidery machines. This extra step adds time to the process and there's always the possibility of the design not being digitized properly due to the files getting corrupt.
Whether it is a letter, a crown, a flower, or anything else, all you need to do is find the design you want to print, get it in the format you want and start the heat press process.
There is no technology that can provide you with more versatility than printing, and with just one simple device, you will be able to print on caps, T shirts, coats, accessories, and everything else.
Conclusion
As you can see, print transfer is a fantastic way to style different pieces of clothing and hats. It is one of the easiest technologies that will save you a lot of time and money, and you can even build your own company with it.
If you were thinking about starting a printing hats business, then this is something you need to devote your attention to!
Clarifications to Questions that are Asked Frequently
What do you need to print hats?
The best way to print hats is by using the heat press technology that will allow you to transfer all sorts of designs and ink to your hat within minutes.
You will need peel paper and a transfer and the heat press, so it is much cheaper than the embroidering technique, and you can find these devices anywhere.
Can I screen print on hats?
Yes, you can screen print on hats, but you need to pay attention to the shapes and the format of letters or images you are trying to print on them because a few details can make a large difference in the overall look of your hat.
How do you print something in a cap?
Printing something on a hat is relatively easy; all you need is good printers and heat press technology that will help you transfer whatever you want to your hat.
Make sure you invest in high-quality materials and devices because this is the only way you can get desired designs.