If you are into interior design and you are always looking for a way to improve and decorate your living space, then I am guessing you've thought about creating decals.
Decals are a fantastic way to decorate your rooms and walls, and they are not too complicated to create, especially if you have an inkjet printer at home.
For those curious about how to create their decals with an inkjet printer, we have a step-by-step guide that will help you handle the whole process easier.
What Are Decals?
Decals are a special transfer paper that will allow you to transfer any sort of design or graphic to your wall, table, plastic, or cloth.
There can be different types of decals made for other materials, but in general, you can use one simple decal paper for all of your materials and designs.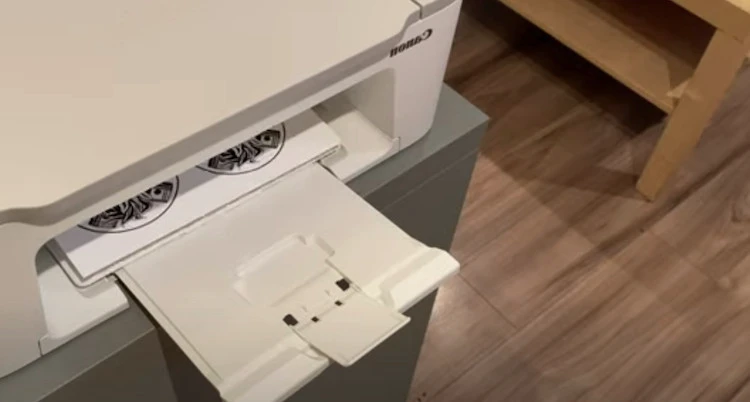 You can use it to decorate walls, to replicate a physical picture on your chair or table, and it is something every DIY enthusiast needs to have because it can help them make every single one of their ideas come true.
They are not like stickers or labels, and they are not adhesive, so you can't put the decal on your wall as a design – you need to use it solely as a transfer paper that will replicate the desired design.
It is also mainly used outdoors because it doesn't react well with a lot of water, and it can't really endure the storms, so make sure you don't use it on things you are placing outdoors.
You will be able to add decorations with decals and come up with original designs and graphics that you believe would look cool in your home.
This provides you with the freedom to experiment with all sorts of graphics and even to come up with a design that will then become an essential part of your home.
Creatives who have ideas about how their home should look like but are not able to find any design options in stores are usually turning to decal sheets because they are easily made and are very affordable, so you can decorate your whole home without spending thousands of dollars.
The whole process is very easy, and you can create decals with inkjet printer you have at home, so it can be the right option for your interior design process and something you can make a home business out of.
How To Make Decals With Inkjet Printers?
Even though making decals with an inkjet printer is not that hard, it is tricky because you will need to be precise to get the desired results.
While you will need to purchase some supplies for this process, they are pretty affordable, and you won't need to spend a thousand dollars on this process.
Everything can be found at your local Target and market, and if you want to be sure of what you are buying, you should purchase everything through Amazon.
This is how you can create your own decals with an inkjet printer.
Gather all supplies
There is a short list of supplies you need to purchase to start creating your custom decals:
Photo editor or graphic tablet
Waterslide transfer paper
Inkjet printer
Acrylic sealant spray
As you can see, you don't need a hundred things to start your inkjet printer making decals process, and you can find all of these things at your local shops.
The most important device you need is a good inkjet printer – it doesn't matter how expensive it is, what its the brand of it, or how great its performance is because as long as it is working well and it has a good scanning feature, it will work perfectly.
If you are getting high-quality prints with your inkjet printer, it is a good option for making decals.
In case you don't already have an inkjet printer, then you can always check out the best-rated ones on the market, and I am sure you will find the option that is within your price range.
To start creating your designs or even downloading existing ones, you need an excellent graphic design device, whether a simple tablet or a computer with a good design program.
If you are a creative looking to create your high quality printouts, you will need a suitable device where you will be able to create or download your decal designs.
This is also where you will be able to modify your decal design, widen it for a few inches or change the colors, so it would be best if you had a graphics tablet that can help you do all of this quickly.
The whole process can be performed on a computer too, so if you are not trying to create some complicated designs and prints, then you can solve it in simple software too.
Decal waterslide transfer paper is the key supply in this process, and I would recommend you invest in a good one if you are trying to get the best decoration for your apartment.
Also, make sure its dimensions fit your design space and the design you want to transfer because you can't perform the action in two steps.
An acrylic sealant is also a must, and it will help you seal your decals; you can find plenty of sealants made specifically for this.
Double check whether you have all the supplies or not before you start the process because you don't want to be running to Target in the middle of it.
Start your inkjet printer
You first need to start your inkjet printer and make sure it is connected to the device where your design is.
The first step to making decals is also to check all the settings and cables to make sure everything is in the right place.
Scan or download your desired design
This is the crucial step, and whether you have decided to come up with your own decals designs or downloaded existing ones, you need to make sure they are already on your device and ready for print.
Make sure you prepare the designs you want to see on your decal sheet and perform all the needed edits before entering the printing process.
When making decals, you need to make sure the sizes of the designs and decal sheet are the same; otherwise, you will not get the result you want.
Your design should be something that fits on your transfer paper, and you should make sure it is of the best quality possible; otherwise, you will not get high quality printouts.
The best resolution is around 600 DPI, but if you are dealing with a very big design, you can go for 300 DPI.
If you are downloading the design from an online platform, check out the dimensions and the quality before because you don't want to be negatively surprised when your print comes out.
One way around this is to download vector graphic designs. These are in a file format that allows you to increase (or decrease) the size of the design without it pixelating or losing quality. However, a specific software like Adobe Illustrator (paid) or Inkscape (open source) is needed to read the files.
Download PDF: → 31 best sites to download free vector designs
Insert the transfer paper
The next step is inserting the waterslide transfer paper into your inkjet printer, and make sure you insert it the right way.
Your coated side of the paper should be facing the inkjet head, and your printer should be set to the preferred settings.
control the position of your paper a few times before you start to make decals with inkjet, especially if you are printing several decals.
Use the acrylic sealant
Once your design has been printed out, to make the best decal designs, you will want to spray the design with an acrylic sealant spray, and you should do it twice.
You should let every coat of the waterslide paper dry and then respray the designs before you start putting them on walls or materials.
Put transfer paper in water
After your decal sheets have dried out and are well-sealed with an acrylic sealant, you should put them in bowls of water with a maximum of two inches of water.
Keep an eye out on paper, and remove the water slide decal when you feel you can keep it between your fingertips.
Cut the decal
When you have gotten this paper out of the water, and you believe everything is done well, you can get it out of the water by keeping the printout flat.
Cut the decal as soon as possible, and make sure you don't harm the design or squeeze your printout too much.
As you can see, the whole process is relatively easy, and even if you have never used a waterslide transfer paper or an inkjet printer this way, as long as you keep following the steps carefully and make sure everything is completely dry before you try to design with it, you will get excellent results.
Detailed Responses to Common Questions
Can you use an inkjet printer for decals?
Yes, inkjet printers can be sued for printing water slide decals, but you need to make sure your printer is compatible with this sort of paper because not all of them are.
How do I print a decal on an inkjet printer?
Making decals with inkjet printer is relatively easy, and we have explained the whole process in our step-by-step guide above.
Can I make a decal in a printer?
Yes, you will be able to make a decal but only in an inkjet printer.
A laser printer will not be able to provide you with great results, and your decal design will get ruined because this device doesn't have a part like an inkjet head that can transfer the designs to glossy paper.
Tips To Get The Best Results
However, if you want to make sure the whole process will go smoothly and that you will get desired results, then there are some more tips you should follow to get the best printed designs to decorate walls.
Never layer a wet transfer paper – if you want to layer your transfer paper with an acrylic sealant, then you should make sure it is dry from the first spraying process before you try to put it again; otherwise, you will just ruin it
Make sure the surface is gentle – if you want to check whether your transfer paper is ready for use or not, then make sure the surface is gentle and you have the printout flat; otherwise, you will need to wait a bit more for it.
Spray the paper three times – if you want to get the best results, then you should spray your waterslide transfer paper with an acrylic spray three times to make sure your ink will last for a longer period of time.
Get good cutting tools – if you want your images and designs to transfer well to the surface, then you will need to cut them well, so make sure you have a precise cutting tool that can help you around the edges and prepare your design for the transfer process.
Check the compatibility – not every inkjet printer can deal with decals, and that is fine, but before you purchase everything to make decals make sure your inkjet printer can work with transfer paper; otherwise, everything will be a waste of time.
Download the image of the highest quality – whatever kind of design you are trying to print; you need to make sure you have it in the best quality possible; otherwise, you will end up being very disappointed with the results. The best resolution to download images in is around 300 DPI, and I wouldn't recommend you to settle for an image that is not available in a resolution this high.
Conclusion
As you can see, making decals with inkjet printer is not that hard, especially if you have a good inkjet printer and purchase the right decal waterslide transfer paper for your device.
The whole process can be performed in just a few minutes, and it will provide you with excellent results shortly, so if you are looking for the easiest and most affordable way to decorate your home, you should pay attention to our step by step guide.