Creating distinct apparel designs has gained immense popularity, and one technique that stands out is iron-on vinyl. It's a mission embarked upon by many to transform everyday items into unique clothing decor.
The art of layering various vinyl colors onto garments represents a truly unique design method. Our exciting tutorial sheds light on just how straightforward this process can be, inspiring people to incorporate it into their clothing and item design endeavors.
If you're eager to learn the art of layering iron-on vinyl, look no further. We've compiled all the essential tips and tricks to ensure your decor items turn out as charming as you've envisioned.
While managing multiple layers of vinyl decals might initially seem complex, our user-friendly tutorial will demonstrate just how straightforward the process truly is following these simple and easy instructions.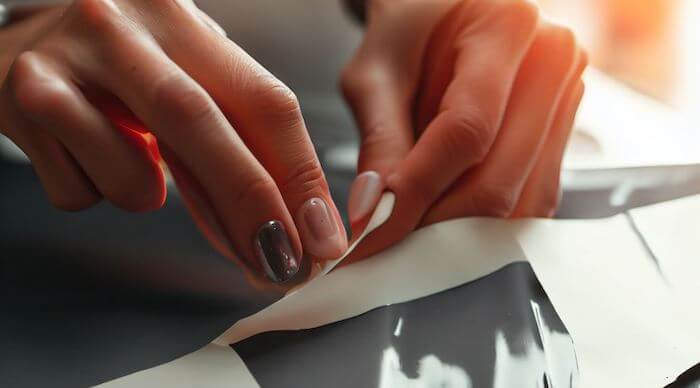 A bit of practice and precision will be enough to create your perfect printables. You will see how many amazing crafting pieces can be created using this process, adding a special touch to your apparel.
Key Takeaways
Layering Vinyl in the Correct Order
Ensure your layered design sticks flawlessly by placing special vinyl on top and regular vinyl as the base layer. Special vinyls such as glitter, foil, and opal prints should always be the topmost layer to avoid adhesion issues during the transfer.
What fabric works best with iron on vinyl?
Cotton withstands high temperatures and pressures, making it the best choice. Polyester works too, but with lower temperature and pressure requirements. Avoid delicate acrylic, as it's prone to melting and unsuitable for heat transfer vinyl.
Proper Heat Press Technique
Prepare materials and your heat source, setting it to around 300°F (avoiding temperatures above 310°F). Press each layer for at least 20 seconds for cotton fabric, adjusting for other materials. Wait a few minutes before removing the carrier sheet, using one for each layer to prevent sticking.
With a few easy steps, we'll help you learn how to iron vinyl on. This is possible on shirts or any other material for that matter. This skill is valuable for your future crafting DIY projects and can turn mundane items into captivating decor pieces.
Stay tuned because we have gathered all the best tips and ideas in one place.
1. Choose the Design
Decide what it is to transfer. Look for pictures, designs, or you may even want to create your own illustration in svg format.
Once your design is ready, all that's need is to choose and source the vinyl color wanted.
Using a cutting machine, you can cut out the require design on the vinyl. Make sure you have a stable mat and the vinyl is held firmly in place on the mat. To be extra safe, use ducting tape to hold the vinyl in place during the cutting process.
The cutting machine will be able to adjust everything, including the blades. It will cut your vinyl perfectly.
2. Weed the Heat Transfer Vinyl
Once you have cut the design on the vinyl, you should weed it. This is done with a unique tool or a weeding pen.
Your heat transfer vinyl should be put on the cutting mat on the shiny side and needs to face it down.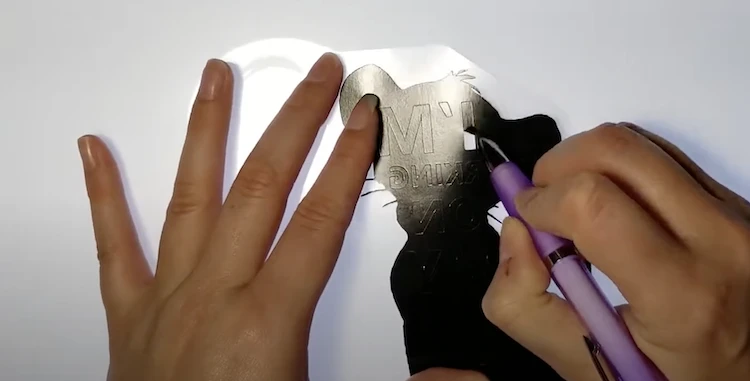 The weeding process is done to ensure you get rid of excess material to create your design. Take some time and care not to damage the vinyl you require. Gently remove the excess!
3. Layering Materials in Correct Order
A common mistake people make is placing regular vinyl and special vinyl in the wrong order.
Your special vinyl should always be the top layer. The regular vinyl should be the base and needs to be placed underneath.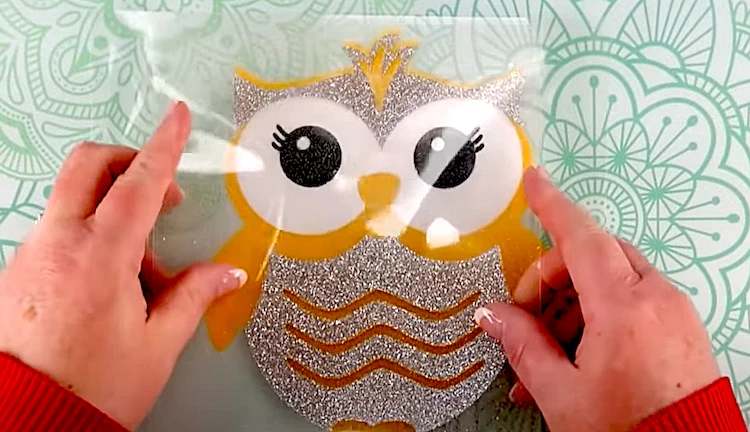 If you place them the opposite way, the transfer process won't adhere well.
These so called "special vinyls" are glitter, galaxy prints, opal prints, and foil vinyl. So if you are including any of them, make sure they are applied on the top layer.
4. Line Up Your Design Accurately Against Your Garment
Say you are working on applying vinyl to a t-shirt. This tutorial will guide you step by step, ensuring you have a fantastic final product that could even serve as a beautiful decor item in your home.To define the center point, you can use the method of folding it vertically in half and iron over it as if following a paper template.
Inevitably, this will give rise to a distinct vertical crease bang smack down the middle of the shirt, like a planned image. You'd be correct to have concerns about the potential for the crease to disrupt the bonding process of the vinyl. However, we'll be addressing this issue by pre-pressing the fabric prior to application.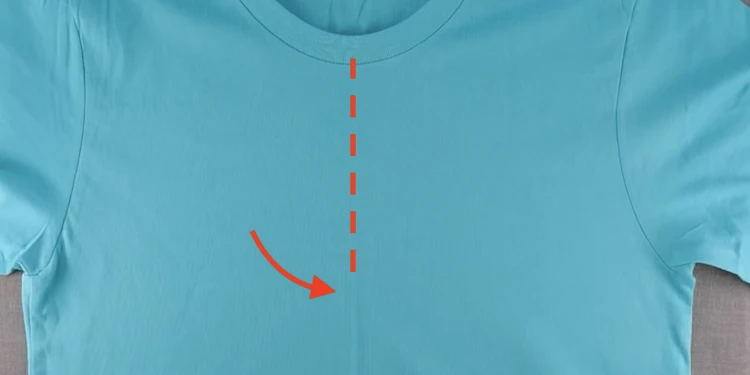 Using a crease, like a visual guide on paper, aids in locating the center position of a t-shirt
Next, a useful trick is to make a notch to mark the center point of your vinyl. Then all you have to do is line up the notch with the vertical crease of the t-shirt–just like matching lines on a template–and voila, everything is now centered.
5. Prepare Your Materials
To start the heat transfer process, prepare your iron or heat press machine. Switch on your heat source and set it to the required temperature.
The best temperature for layering iron on vinyl is around 300°F. Make sure not to exceed 310°F, or you risk melting the material.
Your other materials and garments should also be prepared for the process. Make sure you have pre-pressed them. This is to get rid of additional moisture that can interfere with the adhesive during the transfer process.
Pre-pressed recommended temperatures & times
For pre-pressing using a heat press machine, set it to 315°F for 15 seconds. For an iron, set it to what the material of your fabric is and iron for a good 30 seconds.
The last step before applying the vinyl is to remove any lint, fuzz or pet hair from the fabric. These contaminants can affect the adhesive from doing its job. A lint roller does the job perfectly.
6. Start the Heat Press Process
Once everything is set up, start layering your vinyl with your heat source. The whole process is simple and easy.
You need to press the iron for at least 20 seconds if dealing with cotton. For other materials try 30 seconds or more until they stick.
The heat should be high enough so that your heat transfer vinyl sticks to the fabric. If you see it doesn't transfer well the first time round, try to heat it up a bit more. Also try applying more pressure.
Wait at least 2 to 3 minutes before removing the carrier sheet. This ensures everything will cool down and stick well.
Repeat the process for every layer. Don't bother using a different carrier sheet for each layer. Each carrier sheet can work for up to 10 layers.
Tip: When layering vinyl designs on garments, use less heat and a shorter pressing time for the bottom (first) layer. Additional layers will expose the bottom layers to extra heat, so it's essential to avoid overheating the vinyl.
Layering vinyl is not a complicated task. It takes a bit more time than when you have just one layer.
Depending on the type of your vinyl and on the number of layers, you may need to take a break or make a change here and there, but overall, multiple layers are not something you need to struggle with because the process is very simple and only requires your precision.
What Is The Key To A Good Layered Design?
It's a common struggle to create an excellent layered design. It always feels like something is just one step away from going off the rails.
But remember, much like creating an intricate paper template or a detailed image, time and practice are required to achieve the desired result. But it certainly isn't impossible. The trick is persistence.
Here are some of our top tips to help you master how to layer iron on vinyl perfectly.
1. Always start with the largest design
Always prioritize the biggest design, as it should always serve as the base material. It needs to be the first layer, acting as the foundation for the subsequent layers. Placing the largest layer on top would conceal the other layers–it just wouldn't make sense!
Finally, your smaller designs are layered on top, akin to creating a paper collage or image. As mentioned before, do your best to ensure your specialty vinyls (glitter, foil, opal vinyls etc) make it to the very top. You cannot adhere other vinyls on top of these, their surface don't allow for the adhesive to bond and hold well.
2. Let the design cool down
Do try applying a new layer the moment you've adhered the previous one.
However, remember to be patient and make sure your design was able to cool down for at least 2 minutes before working on the layer; otherwise, you may mess up the previously made design.
3. Use carrier sheets
The worst thing you can do when dealing with multiple layers is to avoid using a carrier sheet because it may lead to different layers and designs sticking to each other, which can mess up the whole process.
A carrier sheet will come in a package with every heat transfer vinyl, and one sheet is enough for the whole process, even if you have 6 or 8 layers.
4. Iron every layer separately
People can get lazy and try layering iron on vinyl together in one go. This simply won't work, not unless you want your decals to adhere properly.
Not even two layers can get heat pressed together, let alone several layers.
For that reason, heat press every layer separately to get the desired results.
5. Seal the design from the underside too
If you want to ensure optimum adhesive bonding, seal it with the heat from the under side if possible.
This will help keep the design where you originally placed it, and it is a perfect method to giving that final finish to your design and ensure your transfer process has succeeded.
These are some things I would recommend doing whenever you are transferring iron on vinyl. It can make a notable difference to the final results which I think you will be happy with.
Fun Fact: You can typically apply 3-5 layers of iron-on vinyl to a fabric or garment.
Supplies Needed For Layering Iron On Vinyl?
Layering iron on vinyl is simple. You don't need a fortune to get all the materials needed and they can be sourced quickly.
No matter what type of vinyl and how many layers of it you have, these materials are all you need for a successful project.
Cutting machine
Heat press machine or iron
Preferred garment
Preferred vinyl
Weeding tools
Cutting mats
Lint rollers
Additional tapes or knives
None of these materials are expensive, and you can find most of them at your local craft stores.
What Type Of Vinyl Should I Use?
Most people think there is only one type of vinyl they can use while layering. The truth is, you can not only use any vinyl for this process, but also layer different ones with little difficulty.
However, all of them need to be heat transfer vinyl which can be transferred with an adequate heat source such as a heat press or iron.
Every heat transfer vinyl comes with a plastic carrier sheet which allows it to stick to the surface of any material.
For this process, you can use specialty vinyl too, and whether it is holographic, glitter or opal vinyl, you will be able to layer it without difficulty.
No matter what type of material you are dealing with, all types of heat transfer vinyl will work with it.
Is an Ordinary Iron Sufficient for Great Results?
Many people question whether a standard iron can deliver the desired outcomes when working with heat transfer vinyl. The reality is that it can perform comparably to a dedicated heat press machine.
However, using a basic iron for layering multiple vinyl pieces can present some challenges. You'll need to be vigilant about the temperature and placement, considering the impact on previous layers. Unlike a heat press, which offers precise temperature, pressure and timer settings, an iron lacks this built-in advantage.
While a basic iron can still get the job done, it's worth noting that the design space was initially conceived with the intention of using this common household tool.
Nonetheless, if you plan to engage in numerous DIY projects, investing in a heat press machine might be a wise choice. Heat presses offer quicker results and uniform coverage across your design, thanks to superior pressure distribution… it also speeds up the process considerably.
In the end, the results achieved with a basic iron and a heat press machine are quite similar. Your choice between them should be based on your specific needs and preferences.
Watch this video: How To Layer Vinyl On A Shirt [21 mins 00 secs]
Common Questions Answered
Q1. How long should I press the iron on vinyl to my garment?
The time you should press the iron on the vinyl should be between 3-5 seconds for each layer. However, failing this you can apply the heat one more time to get the vinyl to stick!
Q2. What temperature does my heat press need to be set?
The temperature of the heat press should be set between 305-320 degrees Fahrenheit (150-160 degrees Celsius) for the best results when layering iron on vinyl. Practice on a cloth until you get the desired results.
Q3. What material is iron on vinyl most compatible with?
Iron on vinyl is compatible with most fabrics, including cotton, polyester, and spandex.
Cotton fabrics provide an ideal surface for the vinyl to adhere to because of their natural fibers and porous texture