ceramic & glass design
Post 2 of 2
And here is an idea for all of you hot beverage lovers out there!
No matter your favorite choice of beverage, be it tea, coffee, hot cocoa, or if you just like collecting mugs, a new handmade addition to your "mug life" will always bring a smile to your face.
And even if you're not a hot beverage lover, a DIY mug will make a brilliant homemade ornament or gift for someone special in your life!
Post 2 of 2 in the ceramic & glass design
So here are multiple personalized design ideas that can be incorporated on a ceramic mug:
1. Nail Polish Marble
This first method we will be talking about might be a bit messy, but in all that mess, you will get completely unique and unrepeatable patterns on your mugs.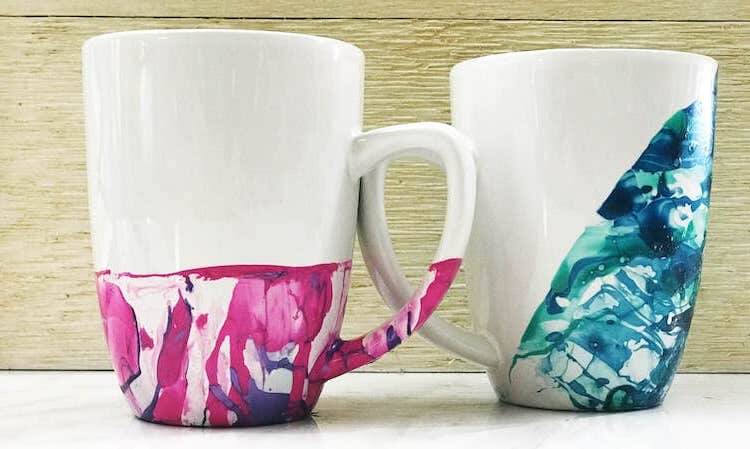 What you will want to do is fill a bowl with tepid water, but make sure that your bowl is deep enough that you can dunk a mug in it.
Next, add nail polish in colors you want on your mug and then use a toothpick or a q tip to make marble patterns in the nail polish.
Keep in mind, though, that you will want the nail polish to stay on the surface of the water. Don't stir it in completely.
Now dip the mug in the nail polish.
You can either just dip it in and out, or you can dip it in and use a stick to remove the surrounding nail polish.
It would be good not to get the nail polish on the inside of the mug, as you will ideally be drinking from it.
Let the mug dry on its own, and your new mug is all set and ready for a delicious drink!
2. Paint Drip
You might remember the old popular DIY project with crayons and a hair drier.
Basically, you would take the crayons, stick them to a canvas and then use the hair drier to melt the crayons and the drip would make fantastic art.
Now here is something similar for mug lovers.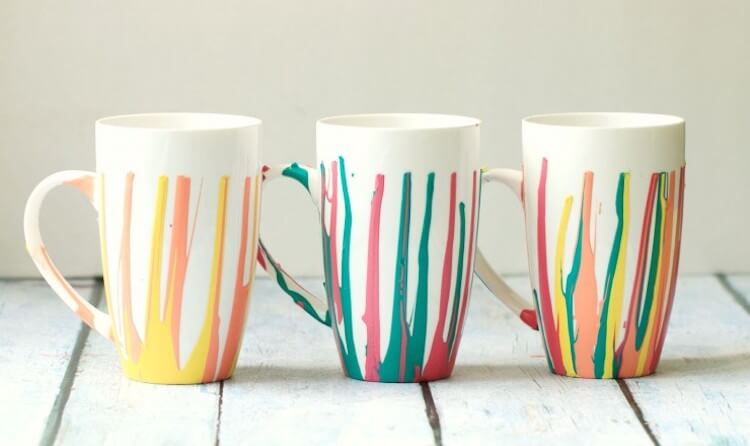 The first thing you will want to do is use tape to cover the part of the mug where your mouth will go. You really don't want to get a taste of paint with every new sip!
Once covered, find a place you don't mind making a mess on, or just add a piece of paper that you can dispose of later on.
Prepare acrylic paint in your favorite colors, turn the mug upside down and pour the colors on the bottom (now top) of the mug or a cup.
Now be patient, let the paint drip over the edge of the mug/ cup and when it dries completely, remove the tape and cover the mug in mod podge. It will give the mug extra durability and make it dishwasher safe.
And here's a new decorated addition to your collection!
3. 3D Decoration
Another fun way to decorate a mug would be using polymer clay.
Pick out a motif and the colors you want to use, make a shape and gently press your creation onto the mug.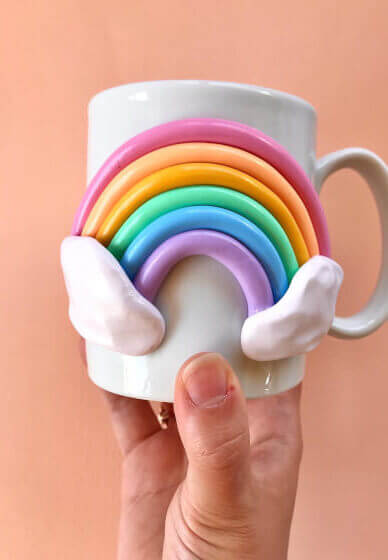 Then, read the baking instructions on the clay package, and bake it according to the instructions.
Most likely, you will have to put the mug in a cold oven and bake it until the clay hardens.
Wait until the mug's completely cooled and then you can cover it with a layer of Mod Podge for extra sturdiness. It will also be microwave safe, so you don't have to worry that the clay will just drop off.
If there was a perfect gift for a Mother's day or a Father's day, it's this DIY mug!
4. Glitter Mugs
Another great gift idea that is also cute is this glitter mug!
All you will need is a plain mug from a dollar store, some glitter and glue or spray adhesive from a local craft store and ideas.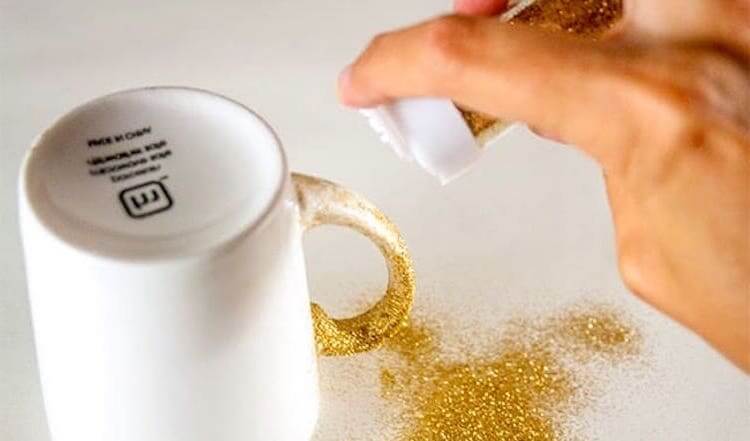 Once again, find a place you don't mind making messy or something that you can clean quickly, and get ready to be crafty.
Cover the part of the mug you want to decorate in glitter in glue or spray and pour glitter over it.
Let it sit for a while, and when the glitter is stuck, you should repeat the whole process – glue/ spray, glitter, wait.
And repeat until you get the desired glitter coat.
Ideally, let it sit overnight and cover with Mod Podge.
You can also use regular sharpie markers to add some extra drawings to the mug and make it super special.
This coffee mug is an easy diy project and it makes a great gift!
5. Vinyl Mugs
If you have some extra permanent adhesive vinyl laying around, here is a project for you!
You might haven't thought of this, but you can easily decorate your mugs with vinyl too!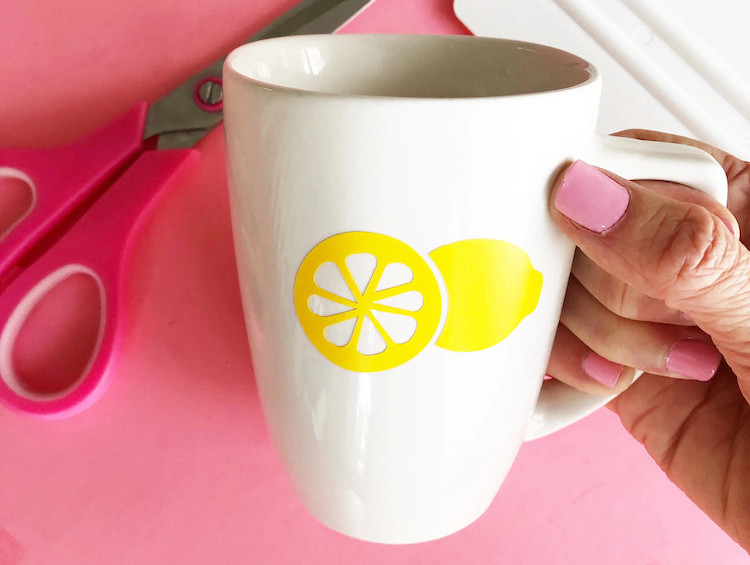 What you will want to do for this project is make some fun stickers and add them to your cute cups and mugs.
Vinyl stickers can be made in all shapes and sizes, and you can also combine them with other techniques, like oil based sharpies or polish to make new creative designs.
The more ideas you combine, the better and cuter mugs you will make!
6. Sharpie Mugs
Another simple idea for you – a DIY sharpie mug!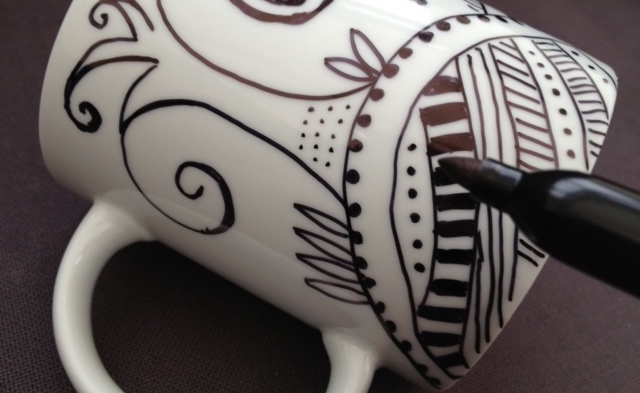 There are literally hundreds and thousands of creative designs you can make using sharpies.
What you will need are regular sharpies, oil based paint pens, a plain white mug, time and creativity!
Simply pick out your favorite colors, and draw on cups and mugs!
This is a fun idea for a DIY project with your kids, and these DIY sharpie mugs will make a wonderful gift!
AND, they are food safe, so you don't have to think if the mugs will be used for drinking or only as ornaments.
7. Tissue Paper Mugs
This is yet another fun idea that can get you a lot of amazing designs, and it's pretty simple and straightforward!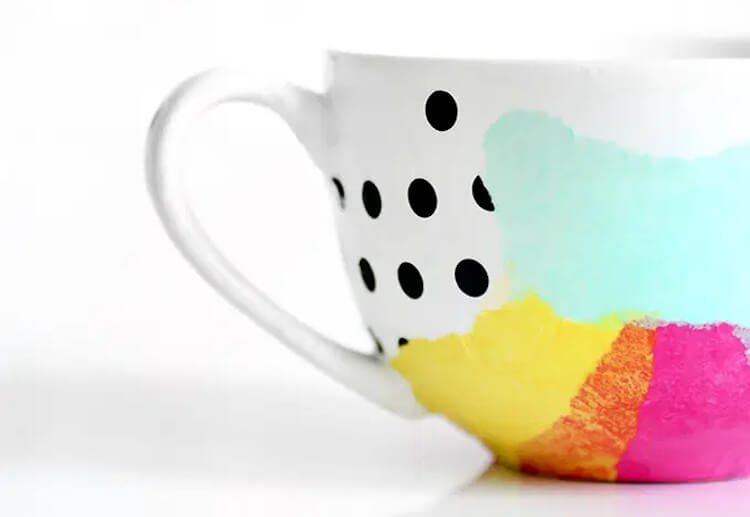 All you want to do is cut some paper, or even make some stickers out of it, stick it to the mug to decorate it, cover it with Mod Podge, add more paper (stickers), and keep repeating until your design is ready.
Once done, cover with another layer of Mod Podge which will make your mug dishwasher safe (and hand wash safe!), and let it sit for a few hours, or ideally overnight.
And in the morning, your new mug will be ready for some delicious coffee!
8. Spray Paint Mugs
Another fun idea for diy coffee mugs is decorating them with spray paint.
This might not be as colorful to decorate your coffee mug with diy sharpie or glitter or dripping paint, but you can produce some elegant and minimalist pieces that everyone will love.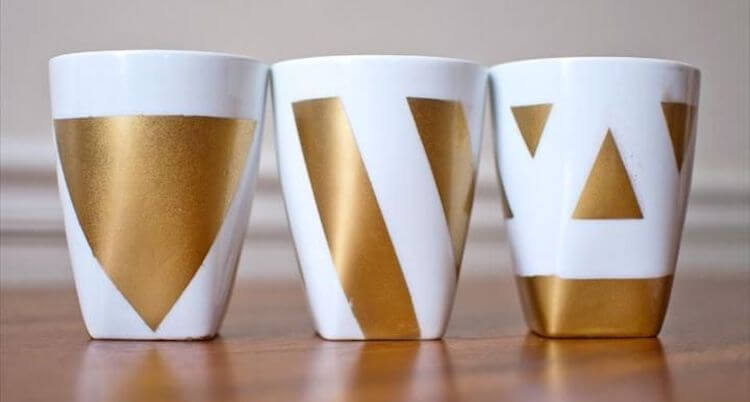 Cover your plain white mugs, or actually, any color mugs, in tape, creating different shapes and designs, and then use the spray paint to apply some color to your mugs.
You can also use several colors and layers to make more intricate designs, but overall, this is a straightforward and simple method to make unique diy mugs.
FAQ
Can regular Sharpies be used on mugs?
The answer is YES! Any Sharpie paint color can also be used, but take into consideration that depending on the color used, sometimes they will get darker after baking.
What can I use to decorate a mug?
As mentioned in this article, we demonstrate 8 ways to decorate your mug. These include but aren't limited to:
1. Nail polish
2. Acrylic paint 
3. Polymer clay
4. Glitter
5. Vinyl stickers
6. Permanent marker (Sharpies)
7. Tissue paper
8. Spray paint
Final Word
There are truly countless ways to decorate mugs and make beautiful designs that everyone will love.
No matter if you're looking for a project to do alone or with kids, no matter if you want to make something for yourself or a present, a handmade one is always the most personal and warm gift one can give or receive.
We can't wait to see your creations!