How to create sublimation designs has become easier over the years. You can produce sublimation designs on almost anything. This includes surfaces like polyester, ceramics, metal and wood.s, etc.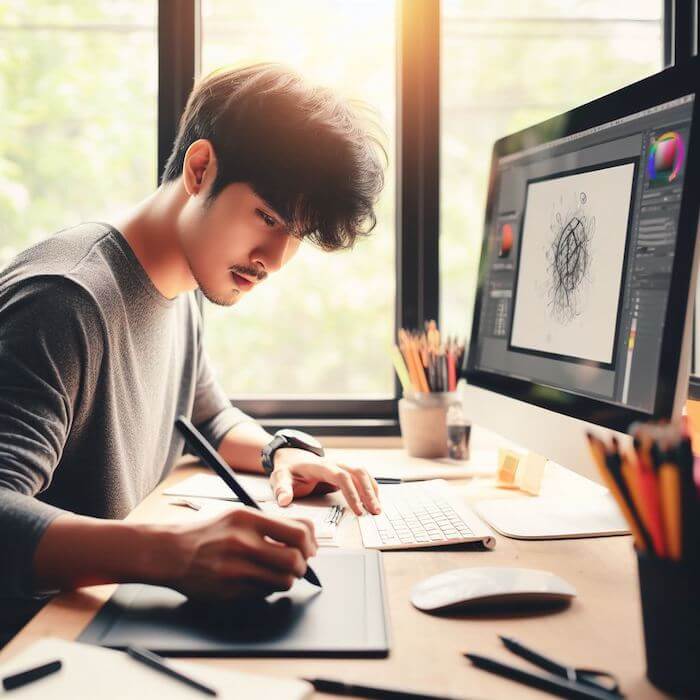 The process of sublimation designing is simple. As such there are both small and large-scale companies in this business.
This article will shed light on the sublimation process. This includes the different types of applications utilized for photo editing and the creation of sublimation images from scratch before printing.
Key Takeaways
The tools mentioned
There is a choice of paid and free tools to install for your designs. Or a choice of web-base tools that can also be used for free!
Which tool suit me best
It's recommended installing or using a web-based design package that is free. Once proficiency improves, upgrading to a paid tool is likely. They tend to have improved features that get more complicated task achieved quicker.
Starting the design process
As this is a "getting started" guide, we've added a section on how to get your creative juices started using Canva. Canva is a popular free online graphic tool that allows making branded images simple. It's drag and drop features makes it easy to use.
Converting designs into sublimation prints
This guide focuses on the design process. It does touch on how to make sublimation prints, but for that, we recommend reading this extended guide on the topic.
Which Sublimation Design Software is the Best
There are several sublimation design software to pick from. With them, you get to develop outstanding and distinctive designs. Sublimation software is of two types, one with monthly subscriptions and the one without.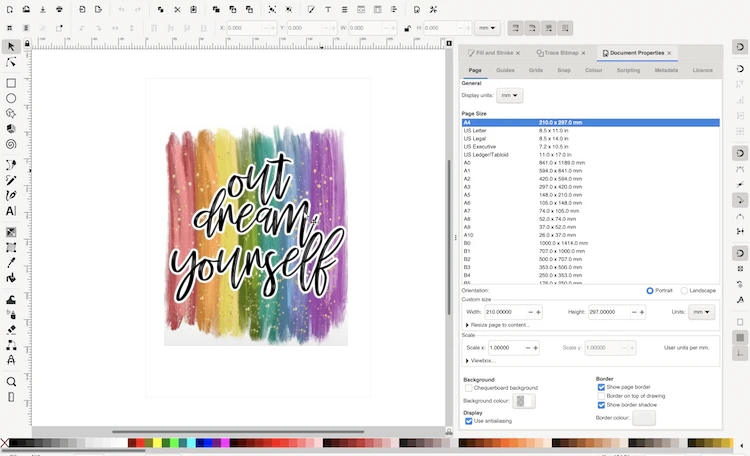 For novice users, free or open-source programs can be used.
More proficient users will likely opt for software with a monthly subscription. You will have a lot of power at your disposal.
Which ever you choose, these tools are designed to maximize the brightness of your print ready for sublimation. It is just a question of which suits your needs the most and if you are willing to pay the subscription price.
Few of the best sublimation software are explained below;
1. Adobe Illustrator industry standard
This is a sublimation software with a monthly subscription. It is a bit costly, but is the industry standard. As of writing this, the monthly fee is $19.97.

It's equipped with all the essentials an experienced graphics designer requires
This paid software is on the high side for amateur designers. If you are an amateur in the graphic design game, you can consider watching the video recommendations a customized tutorial has to get a full understanding of how to use this software.
2. CorelDraw graphics suite
CorelDraw has been found helpful by numerous designers for sublimation images. As of writing this, the monthly fee is $26.17, although you can opt to pay yearly too.

The designers find its outlines attractive and it is developing fast as a close second to Adobe Illustrator, its costly price regardless.
Another remarkable aspect of CorelDraw is that you can personalize the software outlook to your preference.
The design instruments and the rest of its outlines can also be fixed to your choice.
3. Sketch designer toolkit
Sketch can be as well said to be largely relevant, most common, and the best design equipment when it comes to developing websites and apps.
Sketch is also a decent software for sublimation designs. It utilizes vector and raster images to make designs.
The application is paired with Apple gadgets or any electronic machine that can access and process data.
One of its many notable features is its attention to teamwork. You and your team of designers can work on the app without disturbing one another.
Furthermore, its monthly payment plan is low when compared to other software.
4. Canva web-based graphics software
If you cannot afford the software with a monthly plan, then you should opt for the payment-free version for your sublimation designs.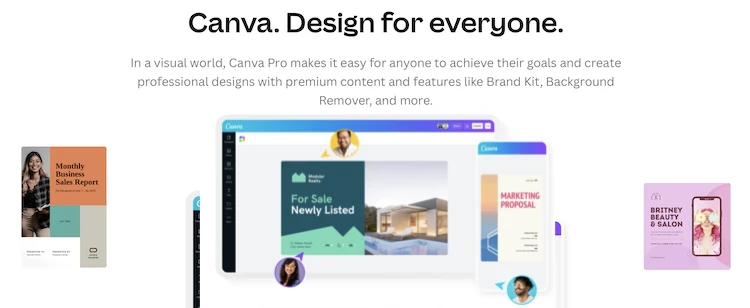 Canva is a payment-free website used by millions of people. You get to generate your own sublimation designs either by:
Redesigning a free image
Develop your artwork from a new template
It has adequate features and tools that can be utilized for generating quality and outstanding sublimation prints.
The greatest benefit of utilizing Canva is that it saves time. You can create and recreate images in a few minutes.
However, the downside to it is that you cannot have access to every piece of equipment because it is not detailed as the other software programs that are not free.
You can acquire the Canva 'PRO' for a lesser price than PRO graphic software.
5. Inkscape open source drawing application
To enjoy the features Inkscape provides, you can watch recommendations a customized YouTube tutorial has in detail.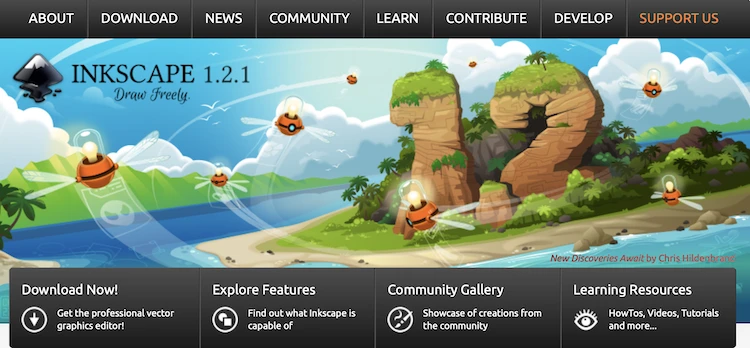 Inkscape has an enormous user base. They dish out their expertise and assistance online to amateur & pro designers alike.
It also has an important attribute known as the Cricut design space, which is utilized for developing outlines.
This application is the best payment-free design platform to get enormous popularity. It is comparable to Adobe Illustrator and CorelDraw.
How to Make Sublimation Designs
Several applications, websites, and instruments have been developed over the years to make the sublimation design process easy and straightforward.
These apps comprise of Adobe Illustrator, Photoshop, Canva, Inkscape, Sketch, GIMP, and many more.
These apps are both free and paid and they have various features that make each one desirable to its set of users.
The characteristics of each software make them distinct from one another. The differences are clear in the designs they make.
For any software you use, you can make your artwork by using a ready-made template or design, or you can make your sublimation designs from the scratch.
The options usable for you are unlimited. Also, when properly set up, the ICC profile in the software helps to produce the design in the same color variants in which they appear on the computer screen.
ICC means International Color Consortium and it enables the production of prints in the best representation of their appearance on the computer screen.
How to Create Designs with Canva
Canva can be utilized by most sublimation business proprietors to brush up their design game.
They can employ it to improve their photo editing skills and designs by following these points:
1. Creating an account
Creating an account is the first point to take note of. There are a lot of payment-free images to select from to make your first free design.
Canva is equipped with lots of free images in various sections to make your
2. Click on create a design
The canva software gives you numerous options to choose from.
For an amateur, it is advised to use ready-made artwork or a free template for your first design.
You can also alter the size of your work to fit the size of the material you want to work on.
3. Customizing designs
To customize is the next course of action to take, you can customize your artwork by making necessary changes where appropriate.
The details required in your sublimation print can be added to the fresh design you are developing.
4. Select the print for the image
The size of the text is important when developing a canva design.
Selecting the font size for the design print bestows it a sense of uniqueness.
There are different text sizes to select from when using Canva.
5. Saving the image in PDF format
The result of your work is often needed to be in good condition.
Therefore, designers should save the image in PDF format before printing it by utilizing sublimation printers.
How to Make Sublimation Prints
Immediately you have your desired print, up next is to move forward to sublimation printing by utilizing a sublimation printer.
Sublimation printing requires equipment like a lint roller, a heat press, some sublimation dyes, some sublimation inks, and the materials you wish to print on i.e. mugs, t-shirts, polyester fabrics, tote bags, etc.
Once you have all the material at your disposal, then you can start printing.
These are the steps to take when you wish to start sublimation printing.
1. Knowing the sublimation element
Knowing your sublimation element is the first thing you should do if you want to get a good sublimation outcome.
The type of materials you want to work on will determine the outcome of the print.
This is why you should use top-notch clothes when you want to sublimate.
2. Making use of a sublimation printer
using a sublimation printer for sublimation printing will give you the best outputs of sublimation designs.
You should also remember that your images have words in the and you should use the mirror setting of your sublimation printer.
Also, your sublimation paper size will be determined by the size of your image.
The quality of the sublimation paper should be of a high standard so that it can soak up and retain ink properly.
3. Use a lint roller and a heat-resistant tape
A heat-resistant tape is used to hold down the sublimation paper to deter paper from shifting because any motion will affect the design.
Movement can cause ghosting and this will reduce the outcome of the image.
A lint roller, however, is used for the exterior of the material the design wants to be positioned
4. Using Teflon sheets
Teflon sheets are used to safeguard the fabrics o want to sublimate on as well as your heat press
5. Heat press
The heat press machine is utilized to make imprints on the material through a controlled heat and pressure application.
Therefore, you can make imprints on materials like clothes or mugs by utilizing the heat press at a controlled level.
6. Removing the safety materials from the design
Once the process is finalized, you will remove all the materials utilized in the process carefully, and then, your print is ready.
How to Print Sublimation Transfers
The method of printing sublimation transfers is entirely straightforward.
You can do it yourself if you have the required skills and kit. You can also have a professional do the sublimation printing for you.
These are the steps to follow if you want to do it yourself.
1. Fill your printer with sublimation dyes
Sublimation dye is utilized to print images on the surface you want to work on.
You should make use of a sublimation printer that is specially designed for sublimation work.
2. Insert your transfer sheet
The paper has to be properly put into the sublimation printer to obtain the perfect print.
3. Check if you need mirror image
Before you commence printing your sublimation transfers, check if you need to mirror the design.
You will need to discover the imaging component on your software program if the image doesn't need mirroring.
4. Send the file to the printer
When you are done with the design, you transmit it to the printer, and voila, the print is ready for sublimation.
Without sublimation ink, not all printers can function properly. Therefore, you need sublimation ink for decent sublimation printing.
Conclusion
Adobe Illustrator, Sketch, GIMP, Canva, Inkscape, etc. are all software that aids the creation of vector graphics, raster images, etc for sublimation printing.
They are comprehensive and distinctive and software for design. Amateur designers get free graphic image templates online for free.
All the above software are made to help ease the design process. However, which software you pick will depend on your proficiency of design.
Some of these tools are designed to make the creation process easy for beginners, but will have limitations for more complicated artwork. While other tools are catered for the person more proficient in design… meaning, the tools will be more complicated to master, but when you do, the results will be outstanding!
Replies to Widely Posted Inquiries
Q1. Does sublimation printing reduce the quality of materials
One of the many advantages of sublimation is its lasting attribute, sublimation does not reduce the quality of fabrics it is printed on, rather, it adds beauty to it.
If the materials being printed on are of good quality, then the sublimation prints do not decrease their quality.
Sublimation allows the ink to penetrate the surface of the materials being printed on and the cloth won't scratch or peel.
The colors will remain bright after numerous washing.
Q2. Can I sublimate designs on dark fabrics?
The answer is no. Sublimation designs cannot be printed on dark fabrics because the fabrics are already too dark.
However, you can use dark ink if you want to do sublimation printing on dark colors to make your visible.
Q3. What is the importance of a heat press on sublimation printing?
A quality heat press helps to produce decent prints on fabrics.
If it's absent in your design process, then the fabrics might wrinkle, and in case it's a hard surface, it will fade off.
A good heat press delivers the best value for money.