Sublimation printing is popular and is increasing in interest in recent years. This is due to its ability to produce high-quality and long-lasting prints on various materials. Not only that, it can be done in the confort of your own home!
Key Takeaways
Importance of cost when getting started
Dedicated sublimation printers tend to cost more than inkjet ones. But the cheaper inkjet printers can be converted for your sublimation craft. This is done at a fraction of the cost. However, not all inkjets can be converted!
Which Epson model printers can be converted?
Epson models that can be converted include: WorkForce 78, WorkForce 7210, EcoTank 16000 series, EcoTank 28000 series, EcoTank 48000 series.
How to convert my Epson printer into a sublimation printer?
This article is dedicated to this topic. Watch this video if you can't be bothered to read on.
Pro tip
Make sure you keep your ink topped up! Allowing the printer to print without ink can damage the print head! This is known as ink starvation!
However, purchasing a dedicated sublimation printer can be expensive, leading many considering alternative options such as converting their existing inkjet printers. These alternatives are a good bit cheaper than dedicated sublimation printers and thus save on cost.
In this context, I thought I would provide a detailed guide on converting printers into sublimation ones. This way, readers will have a better understanding of the significance of this topic and the potential of not losing out on the opportunity of starting this craft in fear of cost!
One such brand that is popular for conversion is Epson. This is the brand we will demonstrate in this conversion tutorial.
How Much Can I Save by Converting a Printer?
Don't have the money for a sublimation printer? Your Epson Ecotank printer can be converted and anyone can do it!
Sublimation printer prices are $650 and up. While a regular Epson printer can be purchased for as little as $300.
That is at the very least a $300 savings, but the savings can be a lot more when comparing higher end sublimation printers.
Sublimation printers vs Epson Ecotank Inkjet
| Printer model | Printer type | Price |
| --- | --- | --- |
| Epson Ecotank ET-2850 | Inkjet | $299 |
| Epson SureColor F170 | Sublimation | $399 |
| Epson SureColor F570 Pro | Sublimation | $2495 |
| Sawgrass SG500 | Sublimation | $699 |
Why do many people opt to convert the Epson inkjet printer into a sublimation printer? – value for money!)
Related article: For an extended description on how sublimation printing works, we recommend clicking on the link to find out more!
How To Convert Epson Printer To Sublimation?
Converting your Epson Ecotank printer is easy to do. No more than 20 minutes is required. Just follow these conversion guidelines.
It's best to do the conversion on a brand-new printer fresh out of the box. Used printers need the print head flushed and a nozzle check to prevent cross-contamination.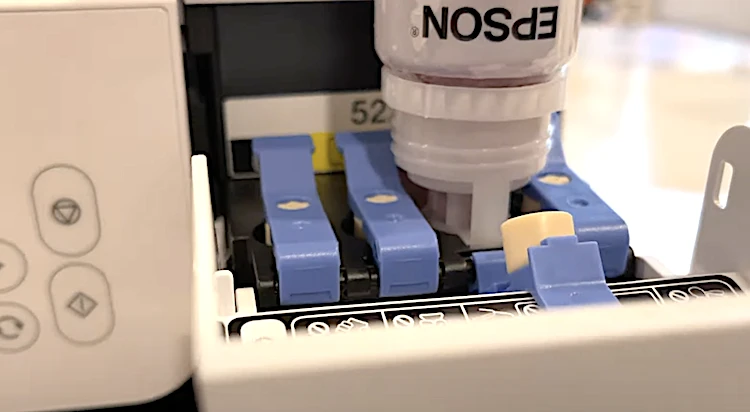 In line with purchasing a new printer, it's important your Epson printer has no ink in the tanks. Again, we want to prevent contamination between the two ink types.
Here is the step-by-step process. Make sure to follow the information carefully.
#1 Set up your printer
Carefully read the printer instructions. This includes installing the drivers on your computer, so both devices can communicate with each other.
Don't fill the ink tanks with anything. That is when the conversion process begins.
#2 Open the compartment doors for ink
Your Epson printer should have ink compartment doors on its right side. There should be an individual compartment for every color.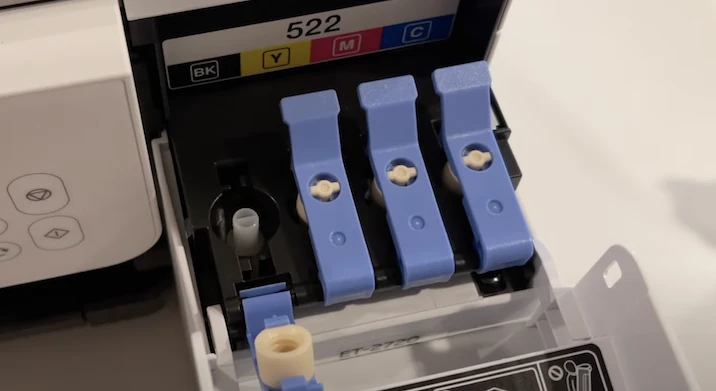 The printer should be off at this point. Make sure it's not turned on until all the ink cartridges are full. This includes allowing the ink to settle.
#3 Add your sublimation ink
Hiipoo sublimation ink is a good, inexpensive recommendation. Don't shake the bottles much before adding them to ink compartments (this creates air bubbles). Also, don't squeeze them, let gravity do its job.
Open your Hiipo bottle carefully. Make sure your ink bottle matches that of the printing compartment.
Carefully open the tank cap and insert the bottle into the slot. To avoid having to remove printer ink from your skin , wear rubber gloves at this point.
Make sure the ink does not pass the "Max level" range indicated at the top of the tank. At this point, remove the bottle from the ink tank slot. If there's any ink left in the bottle, just close the lid and save it for later.
#4 Fill all color compartments
The Epson Ecotank printer has 4 color compartments. One for black, yellow, magenta and cyan inks.
These tanks have small windows that indicate the maximum and minimum ink level. Fill up each tank with the corresponding ink color. In this case, no syringe is required. You simply use the Epson bottles designed for the printer and allow gravity to do its thing.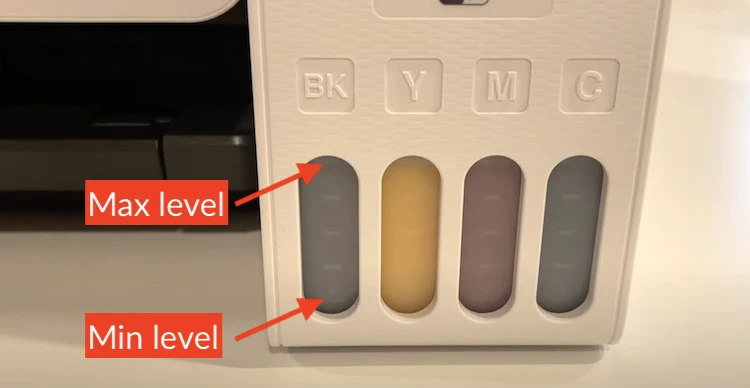 It is important not to over fill in order to prevent a mess. Conversely, it's even more important not keep printing when the ink reaches below the minimum level.
Doing so will cause what's called "ink starvation" and damage the printhead. Once the printhead is damaged, the printer may never work the same again. It may stop working altogether.
Pro tip: Test a few sublimation prints on a sublimation blank. This provides an idea of the print details. From my experience, this is the fastest way of testing different printer settings to improve print quality.
#5 You are done!
The Epson Ecotank printer has shown great results in sublimation printing. This makes them fantastic products for conversion, making them an affordable part of the process.
No additional research on settings is required. It will work like a true sublimation brand printer.
Make sure the ink settles for at least 10 minutes. If not, it may be a bit watery, affecting the quality of how your photos, images or illustrations come out.
Bonus video: Convert Epson EcoTank Printer to Dye Sublimation Ink [09 mins 22 secs]
How To Do Sublimation Printing On Epson Ecotank Printer?
Sublimation printing with a converted Epson printer is as easy as printing with a conventional inkjet printer. To get started, choose the design you want to print and edit it to achieve the best quality picture.
Be sure to have your printer settings ready, selecting portrait mode and 8.8 x 11 format. Opt for matte paper as it works best with sublimation inks, and always print in color, even if the design is black and white.
To avoid sublimation blanks and stains, avoid using high-speed mode and choose Adobe RGB for color correction and complicated designs. Experiment with different settings on sublimation paper to find the best options for your designs.
Use a handheld lint roller to remove any debris or dust from the substrate before printing, and pre-press your material to remove moisture and creases.
Cover the back of your clothing with sublimation paper while printing and use heat-resistant tape to keep it in place to avoid shifting.
Apply pressure on the design for at least a minute to get the best results, and cool your material down before starting the sublimation printing process.
With a converted sublimation printer and good sublimation cartridges, you can create various items such as T-shirts, hats, tote bags, wall prints, mugs, and earrings. Try out different colors, things, and ways to see the possibilities of Epson printers and find the best techniques for your projects.
What Other Types of Printers Can I Convert To Sublimation?
Although your Epson printer can get converted to a sublimation one, that doesn't mean that every printer on the market can do it.
There are several options you will come across that can get converted within a few steps, and we have gathered all the types of printers that fit your criteria.
Printers with thermal print heads
All printers with thermal print heads can easily be turned into sublimation printers because they are able to boil the ink and create a bubbly vapor.
The bubble that is formed throughout this process will cool and transfer to the paper or material and you will get your desired design.
Since they are working on water-based inks, there won't be too many problems for them to get accustomed to sublimation ink and almost every Canon printer is working on this technology, so they are easy to find in any tech store.
They give amazing sublimation results and they are able to complete the whole project and keep printing correctly even for a longer period of time, so you don't have to worry about the success of your conversion process.
Printers with a piezo print heads
Piezo heads are those that have a thin layer on their head that is always exposed to electricity and leads to the head vibrating.
The pressure that is building up in the head will cause it to move and it will allow it to make precise moves.
Piezo printers work well with any sort of ink, so you can use water-based ones, oil inks, sublimation inks or gel inks and you will still get great results, so which one you will choose depends on your printer preferences.
This is the type of printer that can provide you with any sort of DIY project and is easy for sublimation converting because it requires you just to fill up the tanks with the desired ink.
However, they are not easily found on the market, so you will probably have to spend some time looking for them until you find the right one with a Piezo head.
They are also not as cheap as Epson ones, so if you are just looking for sublimation crafting at home, you can find cheaper options.
Can Every Epson Printer Be Converted?
Most Epson printers can get converted into a sublimation printer, and the newest ones have a set of settings that allow you to immediately start sublimation printing, without any conversion process.
The oldest ones were also able to get converted, so if you have an Epson that is a few years old, then you will probably be able to convert it with a few clicks too.
Epson printers that get converted the most frequently are also those that are best selling, so if you want to find the right one for yourself, choose it from this list.
Epson WorkForce 784
Epson WorkForce 7210
Epson EcoTank 16000 series
Epson EcoTank 28000 series
Epson EcoTank 48000 series
Conclusion
Epson printers tend to get converted the most fequently and their print settings are amazing, which is the reason why beginners tend to choose them!
They work smoothly and as long as you have a brand new printer, you will be able to get amazing results after the conversion process. However, keep in mind that Epson printers come with a 2 year warranty, but once converted the warranty is voided.
Their printers shouldn't be used for regular printing once converted. Meaning once it is converted theirs not going back to using it as a regular inkjet again!
Overall, most of them can get converted, but once you do it, there is no way back and you can't expect from Epson to take care of your device or help you out with potential problems.