If you often use a heat press, you are probably familiar with accidentally printing the wrong way.
You printed an inverted transfer or ended up with ink or adhesive residue on a platen. Or, your attempt to heat print the polypropylene bag at too high a temperature resulted in a melted mess of plastic. Those new trousers with fashionable buttons may have been ruined but it doesn't mean your machine has to.
Post 5 of 12 in the sublimation printing
Don't worry, mistakes happen even to the best. The real magic is to know how to correct them, in this way – how to clean a heat press platen.
When Should You Clean Your Heat Press?
Every piece of equipment needs maintenance regularly. This especially concerns heat presses which are very sensitive and need to be precise and clean. Anyone working with heat presses has to clean them on a regular basis to work properly.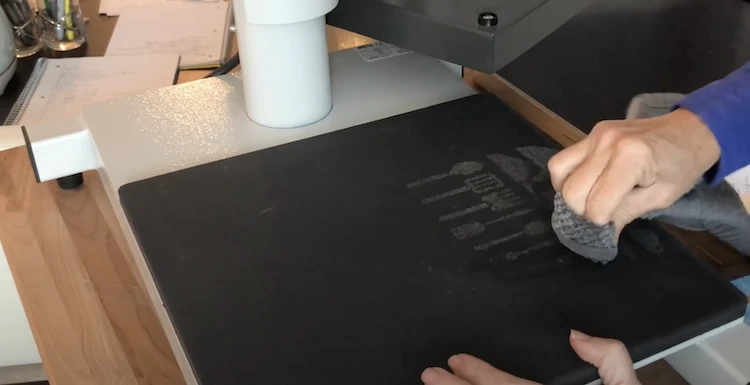 Situations, where the heat press can be soiled, are various:
When you unintentionally press a transfer upside down and the plastisol ink goes right on the top platen;
When you are not familiar with the material of the fabric and don't print it adequately;
When the heat is so high that it melts the exposed fabric or its parts;
When the starches of the clothes fall off and stay for some time in the press;
When you don't wipe the heat press after the cleaning with the cleanser products.
If you have been in some of those situations and didn't know what to do, here are the steps you can follow the next time to make your platen clean.
Step 1: Timing is everything
Be quick. As soon as you notice that a plastisol heat transfer is on the top platen instead of on the T-shirt, remove the rest of the transfer. You need to cool down the press so the ink doesn't melt even more.
Step 2: Lower the temperature & unplug the press
You don't want to burn yourself or make more damage to the press. Use heat-proof hand protection to protect yourself from burnings. Turn off the pres machine and lower the temperature. Leaving the press warm (not completely cooled down) will remove the ink easily.
Step 3: Be gentle to your press
Use a soft cloth, cotton-made, and some gentle cleanser like a non-abrasive hand cleaner. Sometimes a mild soap and water or a rag with soapy water will do the job.
If your press is with a non-stick coating, wipe down the platen softly. Avoid an abrasive cleaning pad if you don't want scratches and marks on the platen. The rubbed-off or damaged coating can result in future problems with the pressure and temperature as well as not adhering to the transfer to the fabric properly.
If you have a press without a non-stick coating, you can use light sandpaper or some cleaning solution with grit but still be careful with the pressure.
Step 4: Do preliminary tests
Before starting a real printing, it can't hurt to try the press out. Turn the press on and use some of your old T-shirts or piece of fabric to test the platen. This is how you can see if there's any dirt from the cleaner left and prevent coming printing to be ruined.
Step 5: Extend the life of your heat press
Once you have your platen clean, start thinking in advance. You need to protect your press from possible printing issues in the future. Utilize screen-printed transfers with a cover sheet or protective paper. Add a lower platen protector to preserve the platen from dirt. Periodically clean your heat press with a light iron cleaner to keep it nice and ready for use.
Watch this video: Cleaning A Heat Press [06 mins 08 secs]
To save time, skip to timeline 00:38!
Tips For Keeping The Heat Press Clean
Try to:
Clean it regularly;
Hurry up, clean it right after the mess is there;
Always have a simple household iron cleaner.
What to avoid:
Pressing anything you think could melt in your heat press even if you're using a Teflon sheet;
Overexposing the fabric to high heat for a long time;
Zippers, buttons, and other sharp objects to prevent scratches on your upper platen;
Cleaning a Teflon-coated heat press (a press with a non-stick coating on its upper platen) with any abrasive cleaning pad;
Using any sharp cloth.
Preventative measures:
Always use a Teflon sheet;
Easy with the grit – use a non-abrasive cleaner for cleaning to avoid scratching the heater;
Wash your T-shirts, clothes, and any other material before using a press;
Use non-stick material;
Have the EZ-Off Hot Iron Cleaner by your side, a tube product that can help you with scratches, scorches, and unknown residues;
Stop ongoing exposure of the transfer when you notice you made a mistake.
Conclusion
Proper usage of a heat press and heat printing by instructions is essential for the life span of your machine and the running of you business. Essentially, cleaning it regularly and not handle it to roughly will prevent printing failure and a longer lasting press.