Preparing garments for sublimation is time-consuming and challenging, especially for dark clothes.
Pretreating dark-colored fabrics can be tricky and bleaching them can be a challenging task for beginners.
Key Takeaways
Use a bleach solution specifically designed for sublimation
Regular bleach and hydrogen peroxide can damage the fibers of your shirt if not diluted correctly. To prevent this from happening, you can use a "sublimation whitening agent" designed specifically for sublimation.
Allow the shirt to dry completely before printing
If you bleach before the sublimation, be sure the fabric is completely dry before printing. Otherwise, the ink won't bond to the shirt well.
Rinse the shirt thoroughly before wearing
To prevent chemical burns, rinse the shirt in water thoroughly before wearing it. Soak it in a bucket of water for 5 mins, then rinse, and repeat the process again.
If you want a tutorial on how to bleach a black shirt for sublimation, then you'll love this article! We answer your questions and take you through the process.
But first, here is a list of supplies required for sublimation bleaching:
Dark shirt
Clorox bleach
Paint brush
Heat press
Lint roller
Scissor (to trim sublimation paper around the design)
Heat resistant tape
Butcher paper (aka parchment paper)
Bucket
Rubber gloves
Hair dryer
How To Bleach Black Garments For Sublimation?
Bleaching is a must for preparing colored garments for sublimation. More so is the case for darker garments like black or gray ones.
A bleached canvas is what you need to make your design area stand out. It is a crucial step for sublimation printing.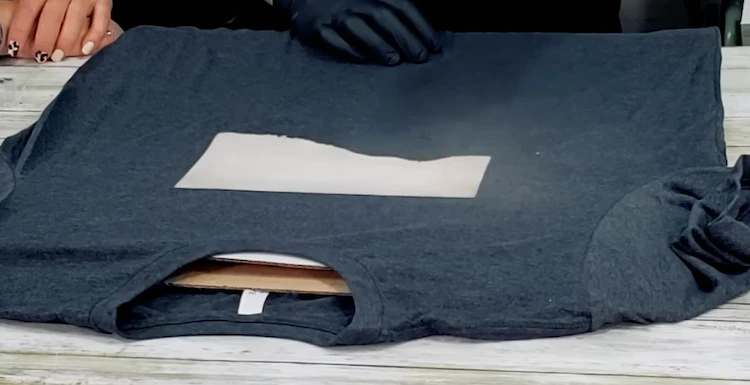 Depending on the success of the bleaching process, your print results will either be excellent or average. Care is needed to make sure you get things right!
If you're looking to unleash the full potential of bright and bold sublimation designs on dark fabrics, then read our guide!
Prepare Your Sublimation Printer And Heat Press
Most people believe that bleaching shirts should come after the sublimation process. This way, they can see how much bleach is needed and where to apply it.
There is also an option to bleach shirts before sublimating. But we will cover that later!
For the best results, switch on your heat press and heat to the highest temperature. This removes moisture that may affect the transferring of ink to the fabric.
After you have prepared your sublimation printer and the right sublimation paper, it's time to follow these steps:
Pre-Heat Your T-Shirt
For the sublimation design and the bleached areas of the shirt to look perfect, always pre-heat your T-shirts. This can be done with a heat press or easypress that applies heat and pressure.
Preheating your shirt removes moisture from the fabric. This allows the sublimation ink to adhere more effectively and provide a longer lasting design.
This helps the sublimation print details to adhere to the garment more effectively. It will also prepare the garment for whichever bleaching methods you choose. Allowing the changes in color to take a more natural look.
Make sure remove lint or debris from your t-shirt. This can cause problems during sublimation or bleaching. A simple lint roller will do the trick!
Tape Down Your T-Shirt
For the perfect sublimation printing and bleaching process, make sure to tape down your T-shirt to your work surface.
This will prevent the garment from moving during the ink transfer process. Otherwise, smudging and ghosting may occur. The tape should be heat-resistant, or else it will melt on your t-shirt.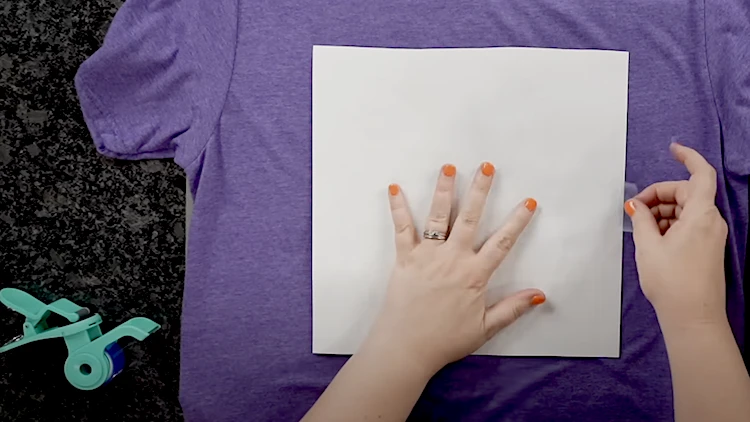 You should also use this tape to cover all the parts of the T-shirt you don't want to bleach later. This way you don't have to worry about making a mistake and bleaching the wrong part of the T-shirt.
Sublimate your T-shirt
Now that you have prepared all the devices and shirts for sublimation and bleaching, you can turn on your sublimation printer and start the process.
Press the shirt for around 60 seconds to transfer the sublimation design. Place butcher paper inside the shirt. This prevents ink from passing through the other side of the t-shirt. Let the garment cool down before you move it.
If your sublimation transfers look the way you want and you have got the perfect sublimation design, you are ready for the next steps.
Heat press the design in the end, to ensure it will last and adhere to the garment perfectly.
Protect Your T-Shirt
To prepare your sublimation shirts for the bleaching process, you will first need to protect them well so you don't bleach the wrong part.
The best way to protect your shirts is to keep the heat tape on the parts of the garment you don't want to treat with a bleaching spray, but if you don't want the bleach to leak on the back of the shirt, you will need some other tools.
If you want to make sure bleach won't come onto the other side of the garment either, it is best to put a piece of a cardboard box inside the T-shirt to stop the bleach from bleeding onto the other side.
You can also use a garbage bag for this, but the cardboard box will soak in all the bleach without transferring it to another side of the garment.
Outline Your Design
To start the bleaching process, you will first need to outline your design with bleach so you know what places you should bleach entirely.
Be very careful and precise during this process because you want to define the bleached area and avoid any problems or bleach leakages.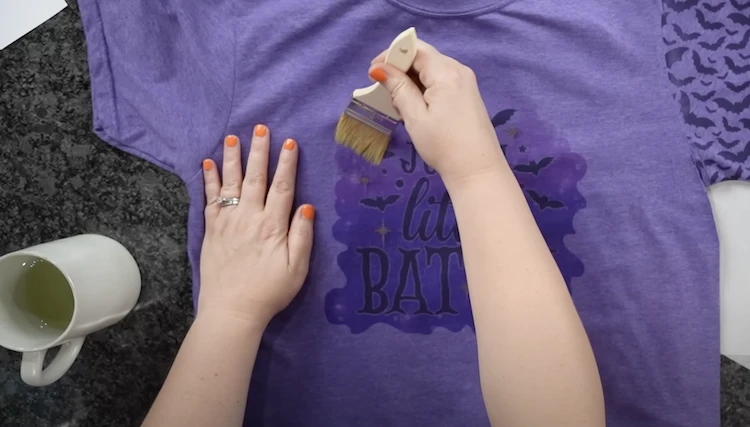 I would recommend using a paintbrush that isn't too broad. This way, you can follow the outline by using the top of the bristles with ease.
If you aren't getting the desired results, add more bleach or water to the mix.​
Bleach The Rest Of Your Design
After you have outlined the design, it is time to make it into a complete bleached shirt. So, choose the technique that seems to work the best for you.
While some people will prefer bleaching the rest of the sublimation design with the brush, some will also enjoy using a spray bottle with their bleach emulsion.
Both of these options are great, but a bleach spray bottle seems to be a bit easier because you will be able to spray a large amount of bleach onto a specific part of the shirt quickly.
If you have protected the rest of your garment, then you can spray the shirt without too much thinking and get your perfect bleached shirt.
Get a good quality spray bottle that won't push out too much product because it is very important to only spray within the bleached area.
This tool won't cost you too much, but it will improve the look of your design significantly, so always test spray bottles out and get the one that disperses bleach the best.
Bleach the shirt as long as you don't remove the black color from your T-shirt and get the perfect bleached design.
Dry The Bleached Shirt
After you have finished the process and bleached shirts the way you want, it is time to let them dry for a while.
Make sure your shirts have dried completely before you try to do anything else with them. The sun can really help activate the bleaching action while saving on drying time. Alternatively, use a hair dryer to aid with the process.
Wash Your Bleached Shirt
The final step is to wash your bleached shirt in cold water. You want to do this before wearing it.
You can wash the shirt with other clothes in the washing machine without special settings or protectants. However, try not to use a powerful detergent. This is to protect the newly applied ink that makes up your graphics.
After you have washed your bleached shirts in the cycle, you are ready to go. You can wear them however you want!
Bleaching shirts isn't complicated. All you need is a bit of time to get the perfect results.
You don't need too many trials for it except for regular sublimation supplies and whatever type of bleach you want.
Can I Bleach Shirts Before Sublimation?
Although or how to guide has taught you how to bleach shirts after the sublimation printing process has been finished, and you can perform this action before too.
When you decide to bleach spray shirts, it doesn't matter when the action will take place. You can perform the whole bleaching process before you put the shirt in a sublimation printer.
However, most people prefer bleaching shirts after the sublimation process. They see where the sublimation design is, and it is easier for them to bleach precisely.
If you don't know how big your sublimation design will end up being and where exactly you will put it, it is best to wait and bleach the shirt after this process has been finished.
Also, if you are putting a sublimation design on a bleached shirt, you may have some problems with the print transfer because the bleach will already stress out the garment.
In some cases, your bleach may be too strong, so the design won't be able to adhere well to the garment; so if you use spray bleach, I would recommend doing it after sublimation printing is over.
You will also need to go over the design with a heat press after you put it out of the sublimation printer, and if your garment is already soaked in bleach, this may not end well.
For that reason, I would always recommend bleaching after the sublimation ink has settled in and the printing process is finished, but if you believe the other way would work better, then do it!
Can You Sublimate Dark Garments?
Dark garments can be very challenging to work with, but with a bit of practice, you will be able to perform the sublimation process without problems on them too.
Most people think that because the color is so strong, sublimation ink won't do much on dark garments, but you will be able to print on them without any problems.
However, that's where the bleaching process comes in because none of your sublimation designs would look so good if they weren't bleached just a little bit.
You can bleach all types of dark garments without problems. And you can bleach sublimation shirts without fading or ruining the design.
While you will need a bit more time and skills to sublimate and bleach spray shirt of a darker color, there won't be any differences in the quality of the design or print, so you don't have to eliminate dark garments from your sublimation DIY projects.
Make sure you get a good bleach, sublimate only prints of high quality, and always choose garments with many polyesters, or at least with a polyester count higher than that of cotton or other materials.
You may not see the sublimated design immediately, but once the garment goes through a bleaching process, you will see the results.
People mostly bleach shirts for sublimation when they are dealing with darker garments, and this step will provide you with amazing designs similar to those you would find in stores, so don't miss out on it!
Is Bleaching Needed For Sublimation Printing?
The bleaching process is not a must when dealing with garments of white or lighter colors. The sublimation process can be done on those without issues.
However, when your shirts for sublimation are dark or of a darker and more vibrant color, you will need to bleach spray them if you want to get a good sublimation print and create a cool clothing piece.
Sublimation designs can't stand out on dark garments. You will need to bleach them to get your design style or image to pop.
Dark garments will do well with sublimation designs of a white or light color. But if you are trying to transfer a design in a color similar to it, you will need to bleach it first.
This is also very important when you have a shirt that is not made out of polyester or doesn't have a high polyester count. This is because other materials are not able to soak in ink and the design that well.
If you want your design to adhere and get a sublimated shirt that looks and feels amazing, then you'll need to bleach your items.
Bleaching the T-shirt before the sublimation or after is something that depends on you. I will leave that decision to your personal preference.
However, if you want to create and wear clothes of black or any darker color, designed with sublimation prints, then the bleaching process is something you will need to do.
Can I Bleach Mixed Garments?
How much bleach you will need depends on the type of garment and its color. So you'll need to do a little research before starting the process.
Plenty of shirts are made from mixed fabrics. So, if you are looking to sublimate and bleach a shirt made from a mixture of cotton, polyester, and acrylic, you will need to be more careful.
While it is safe to bleach garments made from a mix of cotton and polyester, you will need to spray bleach on it slowly and carefully. See how well the process is going and stop if it seems like too much bleach.
Garments made from cotton and polyester tend to be a bit harder to sublimate and bleach, especially if there is a higher percentage of cotton
For that reason, if you want to sublimate and you know you will need to have bleached shirts for that process, it is a lot better to pay attention to the fabric and choose the ones with a higher polyester percentage,
However, the best options for the sublimation and bleaching process are shirts made solely from cotton because cotton alone tends to react a lot better with bleach and will provide excellent results.
All types and blends of garments can be sublimated and bleached, but depending on the percentage of certain fabrics, you will need to be more careful and use different techniques or amounts of bleach.
Author's Final Thoughts
This article provides a guide to bleaching a black shirt for the purpose of sublimation printing. The focus is to achieve the perfect results, as dark dyed fabric hinders the sublimation ink from showing.
We cover the importance of using a bleach solution specifically designed for sublimation. The bleaching process can be applied before or after sublimation printing. Which method you choose will depend on your desired results, but we cover both steps for you and demonstrate their differences.
Just don't forget, if you are going to bleach your shirt first, make sure it's complete dry before sublimation!