Direct to garment printing has become one of the most popular printing techniques in the past years. Plenty of businesses and individuals are switching to it.
It's modern, fast and produces high-quality prints directly to garments. This makes it the perfect option for custom designing.
Are you thinking about working with the direct-to-garment technology? Maybe you want to find out how durable and convenient it is? Then you are in the right place because we have all the answers.a
Direct to garment (DTG) printing is relatively new to the market. People therefore have questions regarding its durability, garment compatibility and overall quality.
One of the most frequent discussions is whether DTG prints are durable. Followed by whether this technology is better and more lasting than screen printing.
The truth is direct-to-garment printing is not as long-lasting as screen printing. You can't expect it to provide prints that last for years. So is it worth the investment?
People are investing in this printing method because it's quick, has less setup costs and provides better quality results. There's nothing fiddly about this technology which is why demand for it is increasing. But durability is something that must be considered.
Key Takeaways
DTG prints' lifespan
DTG printing offers convenience and vibrant designs but typically lasts around 40 to 50 washes. This makes it ideal for occasional wear and custom creations.
Enhancing durability
Improve DTG print longevity with pretreatment for resistance, appropriate design software, avoiding hot water washing, and gentle drying methods, preserving the design's vibrancy.
Screen printing vs. DTG
While DTG produces impressive results, screen printing remains a superior choice for long-lasting prints, especially on cotton garments, due to its enduring plastisol ink.
The direct-to-garment printing method is convenient. It is fast, extremely flexible and works on almost all fabrics and garments. It is essentially an inkjet printer, but you print on fabric instead.
However, it has a some disadvantages.
DTG prints only last somewhere between 40 to 50 washes. The reason, water-based inks for textiles are only used with this print technology.
Since the ink is soaked in the garment, the more you wash it and treat it with detergents, the more it fades. Machine drying also stresses water-based ink.
Factors that can affect print longevity (other than washing)
The longevity of DTG prints is influenced by a several factors. To create garments that stand the test of time, it's essential to understand how these elements interplay and impact the lifespan of your printed creations. This also makes it hard to determine how long DTG prints generally last!
Ink Quality: High quality pigment inks are more fade-resistant.
Curing Process: Under & over curing leads to premature fading.
Sunlight Exposure: Prolonged UV exposure fades DTG colors.
Ink Density: Excessive ink coverage is prone to cracking.
Design Quality: Finer details are susceptible to fading and blurring.
So, how long can you expect it to last?
So how long does DTG printing last? The simple way to answer this is by means of how many machine washes it can withstand. DTG prints can last for approximately 50 washes, and even this is the best case scenario.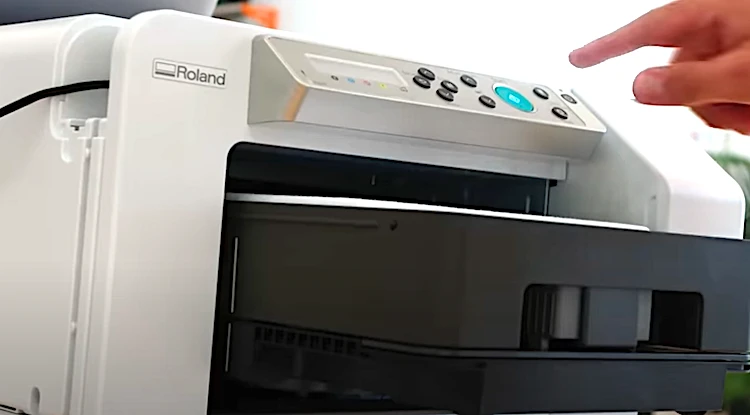 This isn't necessarily bad. Water-based inks are a lot more convenient, and an eco-friendly option.
It is also why businesses are switching to it. In today's throw away society, most customers don't expect to wear garments for long. And if you are buying eco they know what they are getting with the option.
How long prints last depends on the quality of the garment. So if you have created a print on cotton or cotton blend, you can expect it to last at least 50 washes, if not even longer.
DTG printing technique isn't used for mass production. These machines and ink were designed to help people create unique, custom designs you can't find in other stores. So it isn't really used on the garments you are supposed to wear every day.
You should know that DTG printing is mainly used for customers with different preferences. Brands use them on souvenir garments or personalized T-shirts, which are not a part of your daily outfit.
Since these pieces are'nt worn frequently, and DTG printers seem to be the ones that provide people with the highest quality designs, they seem like a logical choice to get the coolest and the most original T-shirts.
It also explains why DTG printing is popular even though it doesn't give the best results in the long run.
They may not be the best option for uniforms or basic T-shirts you wear daily, but a DTG print is fantastic for an excellent accessory.
Can You Improve The Longevity Of Direct To Garment Prints?
You can't expect DTG-printed to last as long as screen printing. But there are ways you can make them last longer and get way more use out of them.
These are some techniques and tools you can use during the DTG printing process to make your custom prints last longer.
Use pretreatment
The easiest and cheapest method to making your garments last longer is by using a pretreatment or treating the garment with a pretreatment machine.
People mostly choose pretreatment sprays because they are the cheapest. They will also provide you with excellent results.
You must spray the garment on the surface you want to print on. Let it soak the spray in for a few minutes, and then print over it.
In case you have a printing business, or printing dozens of garments simultaneously, you should probably consider purchasing a pretreatment machine. This machine will help you prepare any garment for printing much faster.
The pretreatment will make the print resistant to washing and drying. So it can make your printed garments last even more than 50 washes.
This process is not time-consuming. It is very simple to apply and is the perfect option for maintaining print quality.
Importance of using the right software
Depending on the type of print or graphic you are designing and printing your garments, you will need to use different design software to get the best results.
Since a DTG machine is mainly used when creating unique and detailed designs that also include small details, using the right type of software is the only way to get the desired result.
Good software will be able to save the design in the format you need it without downgrading its quality and to save it in the DPI you want, so you can always get a print in full color that is clear.
When your DTG printer is dealing with a colorful, vibrant, and high-quality design, it will not only create a much better print, but it will also be more lasting because it will be produced in a more consistent and intensive color, which will help the garment absorb it much better.
All designs created with special software and saved in the highest quality possible will look much better on the garments and resist harsh detergents, bleach, and washing.
Don't wash in hot water
If you want your DTG printing products to last you for a long time, then you should avoid washing them in very hot water.
You wouldn't wash your regular pants or T-shirts in hot water, so don't do that with DTG printed ones either because you don't only risk the print fading but the whole garment falling apart.
Don't dry them in a machine
Just as you should avoid hot water, you should also avoid any other sort of hot environment, especially a drying machine.
Even if you have a DTG printing business, this is something you shouldn't do no matter what because too much heat will make all the particles of the print start falling apart, and you will be left with a faded print after just a few washes.
The best way to dry a DTG print is by simply keeping it in the sun and letting the garment dry naturally.
These are some of the easiest ways you can make your DTG prints last longer on garments of all types, but you should be aware that there is no magic formula to protect them from washing and drying throughout time.
How long will your DTG-printed T-shirt, pants, or bag last you depends on how colorful the print is and how often you wash it and dry it, so don't be surprised if some DTG-printed garments last you only for a few months, and others still look the same after a year or two.
What Is The Quality Of Direct To Garment Prints?
The quality of direct-to-garment prints is also one of the main concerns of its potential users, but it is something you don't need to stress about because this print method will provide you with some of the most vibrant designs out there.
Since the ink is sprayed on the garment directly and the whole printing process is very simple, you can expect a high-quality product, especially if you are working with great garments like cotton or cotton blends.
The DTG prints are much higher quality than any other screen print because the garment soaks the ink entirely, and it isn't like a print you add with a heat press that could start peeling at any moment.
DTG printed T-shirts, pants or hats can be created with any color, and you can replicate the design perfectly, making it look like the picture or the graphic has been glued to the material.
The garment fibers will absorb the ink perfectly, and not only will the print look amazing, but it will also look as good as your garment, and the better your materials are, the longer the print will last and the better it will look.
With DTG prints, you can expect to have vibrant colors at all times, and even if your T-shirt or tote bag has been worn and washed several times, they will still keep that original look.
It looks way better than any screen-printed design, and a DTG machine will help you create even the most colorful and complicated prints without any problems.
Is Direct To Garment Printing More Durable Than Screen Printing?
Although DTG printing has become very popular during the past few years, the truth is that screen printing is still a much better option, especially if you are a mass producer.
The durability of the products is the main problem of DTG printing, and although you would think that technology as modern and as simple as this one would provide you with lasting designs, this is still one of its biggest disadvantages.
Screen-printed garments pretty much can't be destroyed, and I believe all of us have at least one childhood T-shirt or jacket with a plastisol print that still looks like it's brand new.
Digital printing is a lot faster and can look much better, but since it is done with water-based inks, its prints deteriorate over time.
A regular screen print will usually last twice as long as the DTG one, if not even more, when done on a cotton garment.
Traditional screen printing typically relies on plastic, and even though its prints may not look as aesthetically pleasing as DTG ones, they will last you for years, and you won't have to worry about your print falling apart after a few washes.
The screen printing process works very simply, and there are not too many printing methods that can provide you with lasting results as this one, especially not DTG printing.
The DTG ink may be unique, and the print will look so realistic, but even the high-quality DTG printers can't provide you with a T-shirt or a bag print that will last forever, no matter how much you take care of it.
While DTG technology is fantastic, and you can even create some things that are not possible with screen printers, if you want clothing pieces that will last you a few years, then you should avoid it and settle for screen-printed ones, even if they are of a bit worse quality.
Your Queries, Our Clarifications
Q1. Are DTG prints as durable as screen printing?
DTG prints are not as durable as screen printing, but they are much more cost-effective for small runs.
Q2. How can I improve the longevity of DTG prints?
To ensure the longevity of the print, it is recommended to wash the garment inside out in cold water and hang dry.
Q3. Can I dry clean and iron directly onto DTG prints?
 DTG prints are not designed to be dry cleaned or ironed directly onto the print.