Thermal printers have been around for some time. Whether they are used in critical business operations such as printing barcodes or for light home use, they are here to stay.
Key Takeaways
Thermal Transfer Printing
Thermal transfer printers have a thermal head that's used to get the ink from the ink ribbon to the paper. This is a permanent type of printing, and it also uses high heat and pressure to be bonded to the label.
Direct Thermal Printing
This type of thermal printing technology uses thermal paper. This paper has the ability to darken once the thermal print head heats it. The main benefit of this type of printer is that you don't need additional toner, ribbon, or ink.
Thermal Printing Uses
Most commonly, a thermal printer (aka label printer) is used for receipt printing and labels. So, whenever you need help in making a label, whether it's shipping labels or some custom labels, thermal-based technology will be what you need.
But how does a thermal printer work? Are there different types, and what are the advantages and disadvantages of these interesting machines?
Whether you want to know about thermal transfer printers because you need one for your business or because you want to create prints directly with desktop printers at home, I've got you covered!
What Is A Thermal Printer?
There are mainly two types of thermal printers. The main feature that they have in common is the technology behind them. That is, the printing process is either liquid ink or toner (powder-based).
All thermal printers, no matter if they're basic thermal printers or other direct thermal models, work in a way where nothing is actually transferred to the paper itself. Rather, the thermal head heats the areas of the paper, and then the image appears.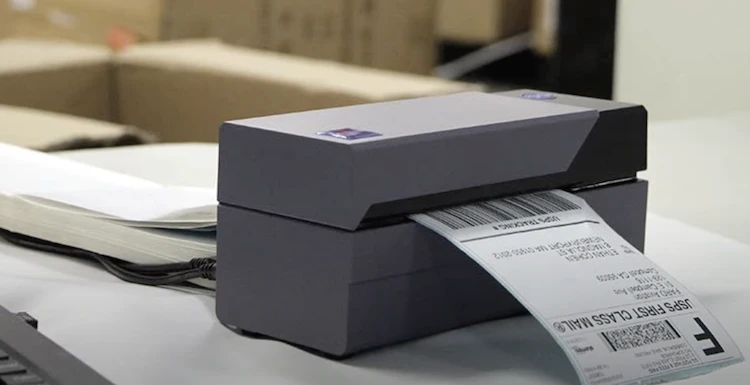 When it comes to all the component items needed for thermal printers, it's ribbon or cartridge, and that's what's replaced once the ink runs out.
Because with inkjet printers, the only item that needs changing is the paper roll. This makes it an affordable option for homes, office and industrial environments.
How Do Thermal Printers Work?
There are two main types of thermal printers. A different process creates the images for each of these label printers.
When it comes down to it, they are similar. But there are some important distinctions in their features! That's why we'll explain how you get high print quality with each one of them.
Thermal printing is the process by which heat (coming from the printer head) heats up thermal paper to create a print. The thermal paper has a heat-sensitive coating that turns black when exposed to heat.
Direct Thermal Printers
Direct thermal printers have a metal or plastic head that produces heat. This heated printhead (through heating elements) transfers heat onto the heat-sensitive media, like thermal paper. Direct thermal transfer is what creates the image, text or content to appear on the printed material.
The print appears because the heat is applied to specific areas of the paper. As the paper is rolled through during print jobs, the areas receive heat. The paper, being sensitive to heat, reacts and turns black in color.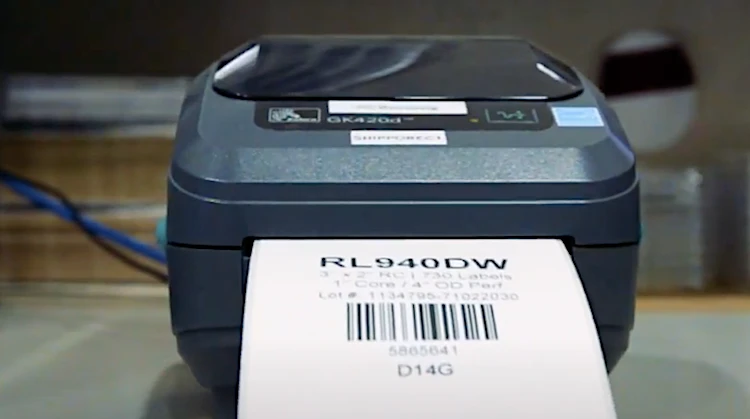 With these kinds of on-demand printing technologies, you are somewhat limited when it comes to image quality. This is because the paper contains the dye. As this type of paper will usually contain only a black dye, it's no surprise their format is used mostly for printing labels and receipts.
One drawback to this technology is that printed items are prone to fading over time. This is because the thermal paper is sensitive to sunlight and heat. This is why old receipts fade over time. You may also notice folded receipts in your pocket or wallet fade faster than expected. This is because of the heat generated by the body in confined spaces.
There's just one type of thermal paper that contains solid ink in a variety of colors – yellow, magenta, and cyan. Different colors react at different temperatures coming from the thermal printhead. Combining both the temperature control and the heat pulse lengths, will produce different colors on the paper.
Finally, one of the main things that affect the print quality is the dot per inch (dpi) of the thermal printhead. The higher the dpi number, the better the resolution.
Most direct thermal printers will have between 200 and 300 dots per inch. But industrial printers or something like ZINK will have much more.
Thermal Transfer Printers
Thermal transfer printers work a bit differently. The main difference being these machines use an ink ribbon.
They also use a heated printhead, and the heats melts the wax on the ribbon. The ink will be absorbed onto the media you are printing.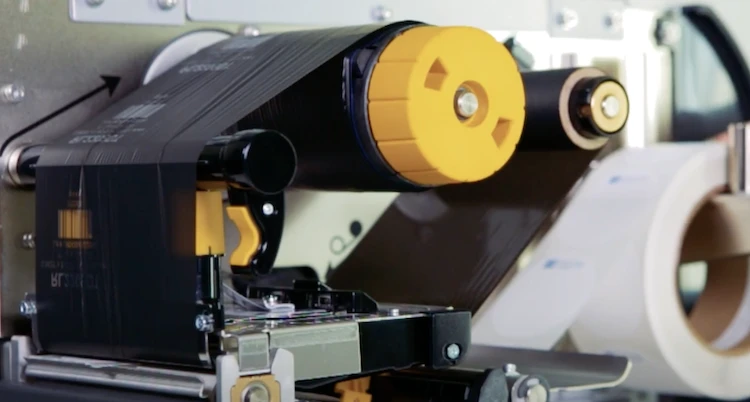 The ribbon of this type of printer is made from a variety of materials. It's mostly wax, but it can also be made from resin or a combination of resin and wax. With heat and pressure involved, it bonds with the label surface.
The ink will become a part of it, which means that the overall quality of your image will be better. It will also be way more durable, since the ink is truly absorbed by this system.
Another advantage, because of the way it works, means you can use thermal transfer printers for a wider variety of media. Some of the most common things they are used for are polyester, paper, and polypropylene materials.
Watch this video: Difference between direct thermal & thermal transfer printers (04 mins 27 secs)
Thermal Printers For Personal Use
Thermal printers are widely used in business environments. But they are just as good for higher volume printing at home. These printers are amazing for labels. So if you're in need of labelling your inventory, this can be a handy tool.
Some brands have developed mobile printers that feature wireless connectivity. They can be connected to tablets, phones and other mobile devices. Depending on which ones you get, they range between $50 and $90 and vary in quality.
Amazon even has its printer for sticky notes that has a paper that comes out backed with adhesive.
You can even use these thermal printers to print out your photos in full color.
Where else are thermal printers used?
As mentioned, these printers are used for a number of applications. The fact they are fast, portable and have lower printing costs makes them attractive across multiple industries.
These industries include but aren't limited to:
Retail
Government
Logistics & transportation
Health care & hospitality
Manufacturing & industrial
Thermal Printer Advantages
Having a thermal printer comes with several advantages. Here are the main ones:
Minimal maintenance & greater reliability
These printers require minimal maintenance. As they don't have many parts, they therefore have lower chances of breaking. Since they are so easy to maintain, you won't need to play around with them way too much. This extends the life expectancy of the machine. This means a thermal printer could be more reliable and run for longer than an inkjet printer.
Durability & no ink smudges
The finished results that you get with a thermal printer tend to be durable and hard to come off, especially under different weather conditions. Since there is no ink to be spilled and worn down, the chances of the print getting ruined are lower.
Greater application flexibility
The options for printing are wide when a thermal printer is used, as a lot of materials can be used with it. You can use it for basic documents and labels, but also lots of different signs. Some of the signs can even be the arc flash labels, as well as different graphics that are used for floor marking and extreme conditions, including cold storage.
Thermal Printer Disadvantages
While thermal printers have a lot of benefits, there are some disadvantages that you should consider before purchasing one. Let's cover these now!
Limited color choices
The main downside when working with this type of printer is that, unlike inkjet printers, the color options are really limited, and you mainly just end up having black. Of course, there is the ZINK printer, but that's not the most common one among users. Also, the fact that not all materials are temperature resistant, and to activate printing, drastic temperature ranges need to be involved makes the resin and wax choices even more limited. Not only is the color limited, but so are the application options.
Higher price tags
Compared to inkjet printers and print engines, these thermal printers tend to have a higher price tag. For example, to get a basic thermal printer, you're looking at least a hundred dollars.
Responses to Common Questions with Detailed Explanations
Do thermal printers run out of ink?
There are two types of thermal printers, and one of them, the thermal transfer ones, does require ink. Since they require ink to work, they can run out of it, and that's when you would need to get some new ink. On the other hand, direct thermal printers don't run out of ink.
What are the disadvantages of a thermal printer?
The costs of having a thermal printer can be very high as they are generally on the pricier side compared to basic laserjet printers that people usually have in their homes.
Also, because of the wax and resin, it's made of, the color choices tend to be limited.
Can you print anything on a thermal printer?
The reason why people love thermal printers is that they are very versatile, especially when it comes to things needed in business.
To be precise, thermal printing is mostly done on receipt papers, plastic, and composite materials.