With demand for custom printed t-shirts constantly increasing, more people decide to try their hand at this by getting a t-shirt printing machine for personal use or starting up their own business.
The question thus arises, which are the types of t-shirt printing methods to considering and more importantly, what inks should therefore be used?
In this guide, we will attempt to answer that question by providing you with everything you need to know about each type and recommending some examples.
Best Ink For T-Shirt Printing
When choosing the best ink for t-shirt printing, you will have to consider several factors, such as the color of your garments, the material from which the t-shirt is made, and how often you expect it to be washed.
Making the right choice of ink can greatly increase the quality and longevity of the print, so choose carefully.
Water-Based Ink
The first ink type we will discuss is water-based ink. Primarily used for light-colored t-shirts due to its lack of opacity, this ink is nevertheless a great choice for t-shirt printing. It doesn't impact the softness of the fabric the way plastisol ink does while also being more eco-friendly.
Furthermore, water-based inks are the easiest ones to print with, making them a great choice for amateur or DIY prints.
Here are some of the best water-based inks:
Smalltongue Fabric Screen Printing Ink, 8 Colors x 4 fl oz(120ml)
One of the best ink choices for both home and professional use, this set from Smalltongue provides you with all eight basic colors, allowing you to mix them and get custom colors that would otherwise be hard to find.
Furthermore, the ink is fully water-soluble, making getting the right thickness simply a question of diluting it with water.
Another important feature of this ink is its sun and heat resistance which kicks in as soon as the paint is completely dry, 24 hours after the printing process is completed.
Additionally, this ink is proven to work on both natural and artificial materials, as long as their color is light enough, making it a great choice for screen printing on cotton and polyester t-shirts and other fabric types.
Overall, testing has shown that the t-shirts printed with this ink are highly wash resistant and last a long time. One downside is the annoying smell this water-based ink gives away until it dries, so make sure you provide your freshly painted shirt with good ventilation.
About This Ink
Speedball Fabric Screen Printing Ink Starter Set, 6-Colors, 4-Ounce
This water-soluble screen printing ink from Speedball possesses a number of features that make it one of the best choices on the market today.
Firstly, it can be used with cotton and polyester and other materials such as linen, blended fabrics, etc. As a result, you will be able to screen print on just about any light-colored t-shirt you have, no matter what it's made of.
Furthermore, the print quality achieved by this ink is both consistent and durable to washing and sunlight, making it a great choice for a custom t-shirt you intend to wear daily.
In addition, the ink doesn't give off the rough feeling usually associated with plastisol inks, making your t-shirt much more comfortable to wear.
Overall, this water-based ink performed admirably during testing, providing vibrant, durable prints with all of the different screen printers we tried in.
It is a great choice for anyone looking to get into screen printing t-shirts. Just remember to give your shirt enough time to dry off after printing before you try to wear or wash it.
About This Ink
Magicfly Fabric Screen Printing Ink, Starter Set 6 Colors x 4 oz, Water Based Screen Print Ink
Another high-quality 6-color screen printing ink set, this time from Magicfly, this set allows you to create beautiful, vibrant images on your t-shirts.
First of all, the inks can be mixed to achieve various color combinations, making them far more versatile and usable for complicated, detailed images.
Furthermore, this water-based ink is usable on all kinds of materials, such as cotton, polyester, linen, and blended fabrics. As a result, you will need just this one ink set for all your t-shirts.
In addition to that, the ink is very easy to store and has a long shelf life as long as you carefully close each bottle after use.
Finally, the images produced by this ink are very durable once dried and can be freely washed and exposed to sunlight.
Overall, we are looking at an excellent water-based ink set that provides some of the best results in the screen printing industry, with our custom printing lasting weeks after the initial testing despite repeated washing and daily use.
About This Ink
Plastisol Ink
The most common type of ink to be used by professionals, the main advantage of plastisol ink is that it can be used with just about any material and color of the fabric, resulting in an unmatched versatility.
The prints produced by this ink are also quite durable, making the shirts suitable for daily use and repeated washing.
On the downside, however, images printed in this way make the garment more rigid and less comfortable to wear.
Speedball Opaque Fabric Screen Printing Ink Starter Set
An excellent plastisol ink set from Speedball provides you with shimmering, bright prints regardless of the fabric's original color due to its high opacity.
The ink isn't flammable and doesn't require any solvents to be used. In addition, it can be easily cleaned from surfaces with just water, making it an excellent choice for beginners.
Another great feature of this ink is its versatility. It can be used with all sorts of fabrics, such as cotton, polyester, and linen, so you will be able to print on all your t-shirts regardless of what they are made of.
In addition, the feeling of a dried print is much softer compared to your standard plastisol ink, so you won't have to sacrifice any comfort when wearing it.
Finally, the colors are very durable and last for quite some time after printing.
Overall, this is one of the best plastisol ink sets currently available on the market, performing great during in-house testing.
About This Ink
Top 10 Fabric Ink Sellers On Amazon
The list is data gathered by APM Designs. It shows which specific screen printing inks are the most sought after on Amazon.
Popularity is determined by the number of 5 star ratings a particular brand of ink receives by verified purchases only! In this case, purchases on ink sets were considered and not individual jars or tubes.
In short, APM Designs is only looking at the quantity of people who actually made a purchase on Amazon and left a 5 star rating!
| Position | Ink Brand | Verified 5 Stars | Avg. Ratings |
| --- | --- | --- | --- |
| 1 | Speedball | 4220 | 9.4 |
| 2 | Individuall | 728 | 8.4 |
| 3 | Speedball Water Block | 510 | 9.2 |
| 4 | Speedball Starter Set | 476 | 9.0 |
| 5 | Smalltongue | 402 | 8.8 |
| 6 | Speedball Water Block | 269 | 9.2 |
| 7 | Speedball Metallic | 203 | 9.2 |
| 8 | Jacquard Versatex | 138 | 8.6 |
| 9 | Marabu | 37 | 8.2 |
| 10 | Speedball Fabric | 11 | 8.0 |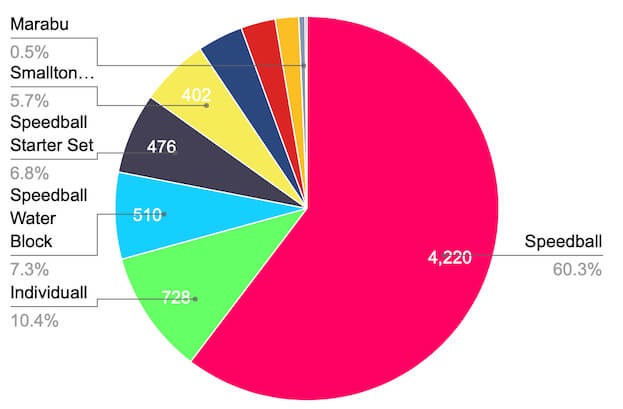 Common Queries Addressed
What kind of ink is used for t-shirts?
There are several types of ink one can use for t-shirts, but they mostly go in two categories: plastisol and water-based inks. Each of these types has some advantages over the other, but they both have downsides as well, so making the right choice for your fabric and color is important.
What ink is best for clothing?
No single brand or type of ink is best for all clothing. Instead, your choice will depend on the type of material your shirt is made of and its base color, so pay attention to those things when selecting your printing ink.
What is the best material for t-shirt printing?
Today t-shirts are made from all kinds of materials, from polyester to cotton, with each material having its pros and cons and serving a specific purpose. However, one thing to watch out for is that different materials will require different colors to print with.
Our Favorite Choice
We understand when running a business it is unlikely you will purchase ink starter sets. More likely you will require purchasing in bulk in order to drop the unit cost of ink, especially if you have high production volumes.
This article was created for those who are dabbling or like to produce their own custom t-shirt designs. Even if you are involved in small projects, it is still a good idea to seek quality inks that at the same time won't break the bank.
Our top pick for water based ink goes to Smalltongue ink, as it dries completely after only 24hrs and is designed to be heat and sun resistant. For plastisol ink, our top choice goes to Speedball, as it is non-flammable and requires no solvent use.