One of the best ways to print on a t-shirt is by using heat press machines. These items operate with a temperature range that is more customizable than that of a simple heating plate, adjustable pressure settings, and a whole host of other attributes that make them an excellent choice for printing t-shirts.
No matter if you have larger or smaller projects, the need for a quality heat press is required, and if you can get one on a budget, then even better. Several elements contribute to the quality of such a equipment, such as a heat press temperature control, heating area size, portability, etc.
We have carefully reviewed some of the most popular options currently available on the market, seeking to help both individuals and businesses find the best choice possible for their crafting ventures.
Here is a list of the best heat presses for t-shirts and other garments.
TUSY 15×15″ Slide-Out Heat Press Unit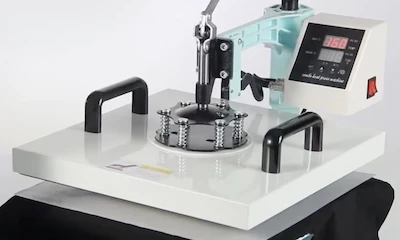 Your ultimate solution for professional-quality heat transfers! Transform your creative crafting visions into reality with this versatile tool from the trusted TUSY brand. This Swing Away style heat press is a game-changer, making pressing on a budget a breeze, especially for small business owners.
It has a Teflon-covered platen that safeguards against burning garments and protects your precious vinyl. Thanks to its thickened silicone and sponge pads, your projects are subjected to even heat and flat pressure, ensuring flawless results every time.
Experience enhanced control with dual handle grip swing-away design, offering a full-range pressure-adjustment and a 360-degree rotation for safe and precise application. The intuitive LCD display grants you absolute command over time and temperature settings, while the extra slide-out lower platen rail maximizes your workspace by 35%, guaranteeing safe and flexible transfers.
Dive into expansive creativity with the generous 15×15 heater plate, facilitating vibrant transfers onto various materials like ceramics, glasses, and textiles. Whether it's sublimation or dissolved printing ink, these kind of presses deliver exceptional outcomes with the precise amount of heat required.
PowerPress Industrial-Quality Digital Heat Transfer Unit
Unlike the other heat presses on this list, this heat press finds itself aimed toward professional users, which is reflected in its specifications.
Large enough to handle high volume, even on the largest pieces of textiles, the unit features a high-temperature range from 35 to 455 degrees Fahrenheit, providing it to be used for printing on various types of material.
In addition, the silicon mat is fully removable, which makes cleaning your heat press and replacing it much easier.
That is just the beginning of this heat press's advantages over its more casual competition. The bottom handle that is included in the design allows you to open and use an already heated press much more safely, preventing burns and making damaging the transferred image by handling far less likely.
There are several other protections put in place as well, such as a control chip and a replaceable fuse, both of which are aimed at making the heat press more secure to use.
Overall, the quality of this heavy-duty heat press is undeniable, with many characteristics that aren't found in cheaper alternatives. Unfortunately, this is also reflected in its price and lack of portability. As a result, we recommend this equipment only for professional users that don't mind making a large investment.
VEVOR 15 x 15 Inch, 6 in 1 Combo Heat Press
A superb, cream of the crop multi-function heat press with a large collection of accessories. This heavy-duty apparatus is primarily meant for industrial use, however, homes and small businesses find they benefit from it as well.
It features an LCD display that makes it a breeze to operate and adjust heat and pressure, with all the relevant parameters visible at all times. As a result, you will always know what your press is doing.
Furthermore, the 360-degree rotation of the heating element provides the user with a much greater degree of mobility while also making the it secure to use.
Another great thing about these presses is the adjustable spring plate designed to handle printing on various odd-shaped items such as cups, caps and not just ordinary shirts. While primarily a t-shirt heat press printer, things such as cups, hats, and even dining plates are supported thanks to the interchangeable lower platen… making it suitable for smaller objects!
Finally, the several heating plates with a Teflon coating included grant this tool an unmatched versatility. There is a total of 6 different plates that can be selected depending on the size of the printing area.
Overall, the testing process has shown that the press provides not just high quality of the transferred design, but is also very versatile and easy to control. All of this makes it a great choice for amateurs and professionals alike, though you will need some time to get used to its controls.
HTVRONT Auto-Open & Close Feature Heat Press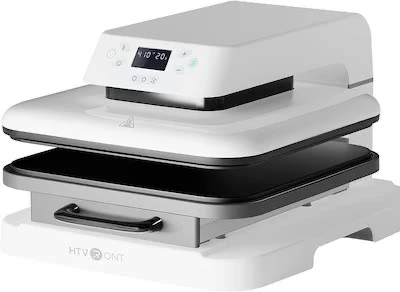 Elevate your creativity with the HTVRONT Auto Heat Press for T-Shirts – a game-changer in heat transfer projects. This smart T-shirt press is your path to professional-quality results.
With HTVRONT's auto press feature, simply load your project, gently push the ironing board inside, and press the "R" button. Watch it close automatically and adjust to your project's thickness, only to auto-open release when the timer ends – no more burnt apparel and reduced operator fatigue during larger volume production!
Heating up within a mere 4 minutes, this 15×15″ heat press stands out with its rapid and even heat distribution. Unlock a world of possibilities with multiple practical modes, making heat transfers quicker and simpler than ever before. Safety is paramount, and HTVRONT ensures it with separated components, keeping your loved ones safe.
Not limited to T-shirts, this press can handle wood, ceramics, and other items up to 1″ thick. With a 1-year manufacturer warranty and lifetime customer support, HTVRONT stands by your side 24/7.
Closing Comments
In the world of heat presses, the journey from creative concept to professional-quality reality has never been more enticing. These items, a symbol of upgraded technology and precision, hold the power to transform your imagination into tangible results. With their advanced features, such as auto-open release mechanisms, rapid heat-up times, and adjustable platens, the barriers to efficient and stunning heat transfers are breaking down.
Whether you're a small business owner aiming to scale up production or an aspiring crafter seeking a reliable companion, heat presses open doors to a realm of possibilities. The potential to tackle high-volume production without succumbing to operator fatigue is now a reality. As these tools redefine the landscape of personalized merchandise, they promise to weave your creative vision into the fabric of success.
In the ever-evolving world of heat presses, where innovation meets artistry, these tools stand as silent partners in turning dreams into reality. As you step into this exciting realm, remember that the journey doesn't end at the heat press – it's the gateway to a universe of inspired production and remarkable creations.