Custom t-shirt design printing is valued in the billions. It is estimated to grow by 10% in the next decade. This indicates the printing business is not only popular, but also profitable.
However, some think it's as simple as printing attractive designs off the internet. Then transfer that graphic on a t-shirt, but it's not that simple.
Key Takeaways
Safest way to avoid copyright infringements
Getting a design created from scratch is the only way to be confident of avoiding copyright infringements. It is a toss up between doing it yourself and knowing you'll avoid any infringements and getting a professional designer (who will likely do a better job) and trusting the design was not copied.
What if you want to add a quote to a t-shirt
Public domain authors can be quoted on t-shirts or within your design work. Generally speaking, these are authors who have passed away more than 70 years ago. But if in doubt, ask!
Consider public domain websites
There are some Public Domains that can be accessed for materials, and also free. These can be used directly, or adapted to create a unique design. Such sites include Pexels, Wikipedia commons and Public domain picture, check them out!
Copyright laws make it illegal to use certain designs you find online.
This is why understanding copyright infringement is crucial to prevent serious legal consequences.
Post 1 of 3 in the logo design & measurements
Want to learn more about how copyright law works? This article is for you then.
What Is Copyright & Its Purpose?
Wikipedia defines copyright as:
"A type of intellectual property that gives its owner the exclusive right to copy, distribute, adapt, display, and perform a creative work, usually for a limited time."
This means no one has the right to use another person's creative ideas (intellectual property)without permission. Doing so could result in legal repercussions.
Copyright is not limited to designs on t-shirts. They can be rights on literary works, audio recordings, movies, songs, sculpturals, and other visual artwork.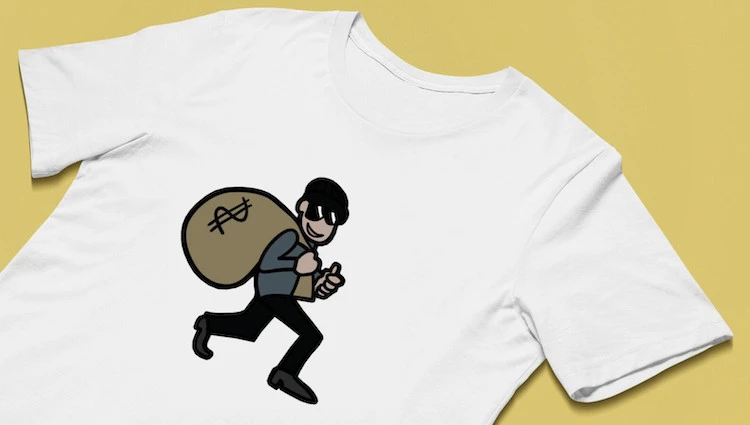 Copyright grants creators exclusive rights to their content and guards against imitators.
In other words, copyright rules ensures that no person uses your design ideas for commercial use or personal benefits.
A Brief History Of Copyright Laws
The first copyright law in history was the Statute of Anne, which was passed in England in 1710.
This Act established set terms of protection, and introduced that only the owner of the work is its sole copyright holder.
After the passage of this law, copies of works protected by copyright needed be listed at Stationers' Hall and placed at designated copyright libraries.
Hence, there was no more instant copyright protection for unreleased works.
The Statute of Anne inspired legislation in many nations, including the United States. However, there was still no international coordination of copyright enactments.
This led to the Berne Convention which was adopted in 1886 to facilitate the creation of worldwide norms for copyright protection and to allow reciprocal recognition of copyright across member states.
The United States passed copyright legislation in 1790. But it didn't start defending intellectual property rights until 14 years later.
Since 2006, the present law has changed and is now being amended.
The purpose of copyright law is to support the right of artists and researchers. In essence, it's designed to protect the funds they invest in their work.
How Does T-shirt Design Copyright Infringement Work
Infringement is when a creator's unique and original work is unlawfully copied and might commercially be gained from it.
According to the U.S. Copyright Office:
"Copyright infringement occurs when a copyrighted work is reproduced, distributed, performed, publicly displayed, or made into a derivative work without the permission of the copyright owner."
Therefore, T-shirt design copyright infringement, in simple terms, is when a designer's work is used without their permission.
You might be perplexed or confused by the numerous copyright laws and principles. Copyright applies to all original creative work. It is forbidden to copy and use it unless the creator has given permission.
Copyright breaches can be avoided by incorporating original design into the shirt production process. Numerous software programs provide easy-to-use tools for producing and editing graphics designs, which are frequently challenging tasks.
Copyright infringement should be a significant concern for any t-shirt design business. Knowing how it works is essential to avoid facing any unpleasant legal issues… and believe me, the can be hefty!
Potential penalties associated with infringement
| Criminal penalties | Civil penalties |
| --- | --- |
| $250,000 per offense | $750 – $30,000 per offense |
| Up to 5 years imprisonment | Up to $150,000 per offense (willful) |
Source: UA Little Rock (Copyright Infringement – Summary / Potential Consequences)
National emblems, flags, and the portraits of political figures can be used, as well as coats of arms. This is because they aren't protected by copyright or trademark laws.
You are also legally allowed to quote from authors who have been dead for more than 70 years, as such t-shirt quotes are secure. However, please check for any co-authors who might still be alive (just in case).
What To Do When Someone Copies Your Design
If someone violates your copyrights, there are several legal channels to hold the offender accountable. To begin with, ensure your original work is registered so you may start a case for infringement.
Once that is done, you can file copyright infringement lawsuits against the imitators. You can also opt for a less expensive choice which is obtaining an interim restraining order.
This will help to formally stop the manufacture, distribution and sale of your material.
In the US, many law schools provide small firms with free legal advice. Thus, if your small business is short on funding, you can contact these law school faculties that collaborates directly with students who help entrepreneurs.
Five Tips on How To Avoid Copyright Infringement With T-shirts
Now that we have an in-depth insight on how copyright infringement works, the idea is to best protect yourself from infringement and having issues with the law.
Here are five useful tips to prevent the potential damage of unlawfully copying someone else's designs.
Create a custom design from scratch
Find non-copyright designs from public domains
Check designs for its copyright
Buy the t-shirt design
Manipulate existing designs until they are unique
1. Create your designs from scratch
The only sure way of steering clear of copyright infringement is to create your designs from scratch. This will guarantee originality of the design.
There are numerous programs offering easy-to-use tools for creating and editing t-shirt designs. Even as a newbie, some of these platforms provide a step-by-step guide to generate your own graphics without paying a dime.
Good examples of such media include Canva, Picktochart, and Snapseed.
If you are an intermediate user who wants to level up your design skills, such software as Adobe Illustrator, InkSpace, CorelDraw, and Adobe Photoshop are recommended.
2. Find non-copyrighted designs
With so much emphasis on copyrighted designs, there are still many non-copyrighted images online, and sourcing them is an excellent way to avoid legal troubles.
A perfect example includes works under the authorship of the public domain.
Public domains are images or graphics that are not guarded under copyright laws; hence you can use them without hesitation.
Some sources are Wikimedia Commons, Wikisource, internet archives, etc.
You can also opt for royalty-free images. These images have a license allowing creators to pay a one-time bill, after which they are at liberty to use the pictures numerous times without paying any other royalty.
Royalty-free images are easily found on search engines like Google by filtering your search to display license-free results.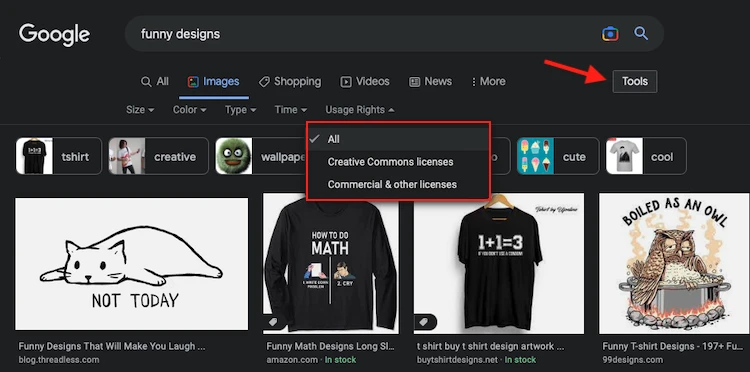 Some companies provide a variety of royalty-free images that can be used on t-shirts, but you have to pay a token before you are granted access to these designs.
Similarly, Creative Commons allow the legal use of some rights reserved images for free.
However, the Creative Commons license requires you to cite the owner of the content used. Examples of the sites for Creative Commons are Pexels and Unsplash.
Useful resources for non-copyright infringement images
3. Check design for its copyright before using it
It is important to confirm the copyright status of designs before using them. Never assume, but if you're unsure, there are numerous ways of checking.
One key thing to look out for is the copyright symbol which is '©️.' Any picture or design or material that carries this symbol means it is protected by copyright laws, and as such is not available for use by anyone other than the rightful owner.
Another thing to watch out for is a watermark sign. A watermark is a logo or piece of text that shows the owner of a particular piece. If a design is watermarked, then it must not be used without the owner's consent.
You can also check for additional information on the internet to ascertain the rightful owner of a design.
It is important to note, even designs with no copyright indication are still protected by copyright laws as far as they were created in fixed form ie embodied in a tangible and concrete form.
4. Pay for designs
A safe way to avoid copyright infringement is to simply buy the t-shirt designs. You just need to ensure you are purchasing non-copyrighted or original pieces.
There are several sources to purchase graphic designs for t shirts from.
You can buy designs from stock image websites. These websites have a variety of techniques to pick from, all you need to do is adhere to their terms of service.
They also offer memberships to buy images for commercial use. Examples of stock image websites include Placeit and Envato.
Additionally, you can hire a professional designer to build any desire of your choice.
Just make sure to have a clear contract with the designer outlining the details of the project and the desired design outcome.
5. Change existing designs to make them your own
Under the transformative copyright law, it is allowed to alter any existing design as long as you abide by the fair use guidelines.
This rule permits you to tweak the design and create a copyright-free version of it using a small portion of the original artwork.
Your modifications should not substitute for the work's intended usage; rather, they should contribute something new with a different purpose or character.
The Repercussions of Copyright Infringement
The implications of using a copyrighted design without legal permission are numerous. It can even lead to imprisonment with fines on top of that!
A lawsuit can be filed by the rightful owner of the design. This is common with large companies that have a standard legal team.
However, filing a lawsuit can only happen if the copyrighted design is officially registered with the US Copyright Office.
Small creators that can't charge to court would instead opt for takedown notices or cease and desist letters to be sent to the imitators.
As the name implies, a cease and desist letter notifies of copyright violations and forbids further use of such design, particularly for profit.
On the other hand, a takedown notice might require paying some penalties depending on the court's verdict, after which the imitator takes down the design.
Furthermore, additional criminal penalties under copyright laws include a maximum fine of $150,000 per imitated work, a possible five-year prison sentence, and a $250,000 fine.
If charged, court costs and attorney fees will also cause extra expenses.
In addition to legal repercussions, other outcomes include complete financial waste, loss of customer patronage, and eventual business closure.
Detailed Explanations of Often Raised Concerns
1. Do I need to copyright my t shirt design?
Copyrighting your t-shirt designs simply means legally protecting them, and identifying as the original design owner. Suppose you do not want any random person on the internet to steal, copy or imitate your designs for commercial purposes or personal benefits, then yes, you need to copyright your t-shirt designs.
2. Can you copyright a saying on a t shirt?
The United States Patent and Trademark Office (USPTO) can protect words, slogans, or sayings. However, there are restrictions on terms that can be trademarked or copyrighted. For example, words that serve to identify the source of the t-shirt are eligible for trademark protection. However, generic, deceptive, or immoral words can not be copyrighted.
3. Is making a t-shirt for personal use that uses a copyrighted image legal?
No, it is not legal to use an image that is copyrighted for personal use. It is an infringement on the intellectual property of the actual owner of the image, and it is an offense punishable by law. Therefore, it is advisable to desist from using images or designs that have been copyrighted without the owner's consent, whether for personal use or for making a profit.
A Final Note By The Author
In conclusion, knowledge about copyright laws cannot be overemphasized. It is vital for creators to safeguard their work and not end up in legal trouble.
As the adage goes, It's better to be safe than sorry. Therefore we recommend following these 5 tips on avoiding copyright infringements and do whatever it takes to protect yourself (this practically true if you have a business that sells these designs).
It is always advisable to strictly abide by copyright legislations and should you be uncertain, it is likely you know people in the same industry as you who can point you in the correct direction.